An abundance of books on drones have been published this year. These publications deal with a host of issues ranging from the legal and ethical dimensions of targeted killing to practical guides for budding drone hobbyists. A few of these books take a longer view of the drone. For example, in Predator, Richard Whittle profiles America's most lethal drone.The American Way of Bombing contains a series of essays that address the history of aerial bombardment. The books listed below are a diverse collection of perspectives and approaches to the issues surrounding drones. For anybody looking to bulk up on your drone knowledge this holiday season, we've compiled a list of this year's noteworthy drone books, as well as a few standouts from years past.
Published This Year
Predator: The Secret Origins of the Drone Revolution
Richard Whittle
Henry Holt and Co.; First Edition edition (September 16, 2014)
For our interview with Richard Whittle, click here.
Drone Warfare
John Kaag and Sarah Kreps
Polity; 1 edition (August 11, 2014)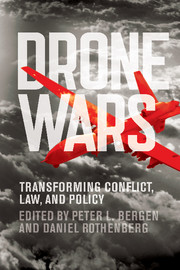 Drone Wars: Transforming Conflict, Law, and Policy
Peter Bergen (Editor), Daniel Rothenberg (Editor)
Cambridge University Press (December 8, 2014)
The American Way of Bombing: Changing Ethical and Legal Norms, from Flying Fortresses to Drones
Matthew Evangelista (Editor), Henry Shue (Editor)
Cornell University Press; 1 edition (August 19, 2014)
Drones and Targeted Killings
Sarah Knuckey
IDEA Publications (December 19, 2014)
Drones and Targeted Killing: Legal, Moral, and Geopolitical Issues
Edited by Marjorie Cohn, foreword by Archbishop Desmond Tutu
Olive Branch Pr (November 3, 2014)
Sting of the Drone
Richard A. Clarke
Thomas Dunne Books; First Edition edition (May 13, 2014)
For our interview with Richard Clarke, click here.
The Beginner's Guide to FPV
Alex Protogerellis
lulu.com (March 17, 2014)
Drone University
John M. Glover
DroneUniversity (October 18, 2014)
Disaster Robotics (Intelligent Robotics and Autonomous Agents series)
Robin R. Murphy
The MIT Press (February 14, 2014)
Drone / UAV Dictionary: Includes 300 Commercial UAV Applications
Dr. Jerry LeMieux
CreateSpace Independent Publishing Platform; 1 edition (May 9, 2014)
Classics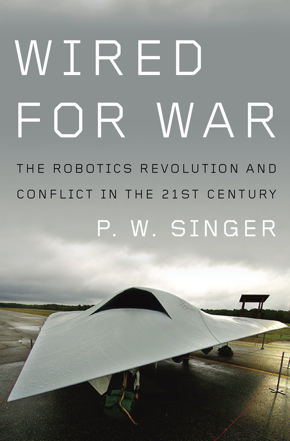 Wired for War: The Robotics Revolution and Conflict in the 21st Century
Peter W. Singer
Penguin Books; Reprint edition (December 29, 2009)
Kill or Capture: The War on Terror and the Soul of the Obama Presidency
Daniel Klaidman
Houghton Mifflin Harcourt; 1 edition (June 5, 2012)
For our interview with Daniel Klaidman, click here.
Drone Warfare: Killing by Remote Control
Medea Benjamin
Verso; Fully revised and updated edition (April 9, 2013)
For our interview with Medea Benjamin, click here.
Predator: The Remote-Control Air War over Iraq and Afghanistan: A Pilot's Story
Matt J. Martin and Charles W. Sasser
Zenith Press; First edition (November 12, 2010)
On the Horizon
A Theory of the Drone
Grégoire Chamayou
New Press, The (January 6, 2015)
Drone (Object Lessons)
Adam Rothstein
Bloomsbury Academic (January 29, 2015)
For our conversation with Adam Rothstein, click here.
Building Your Own Drones: A Beginners' Guide to Drones, UAVs, and ROVs
John Baichtal
Que Publishing; 1 edition (May 11, 2015)
[includeme file="tools/sympa/drones_sub.php"]