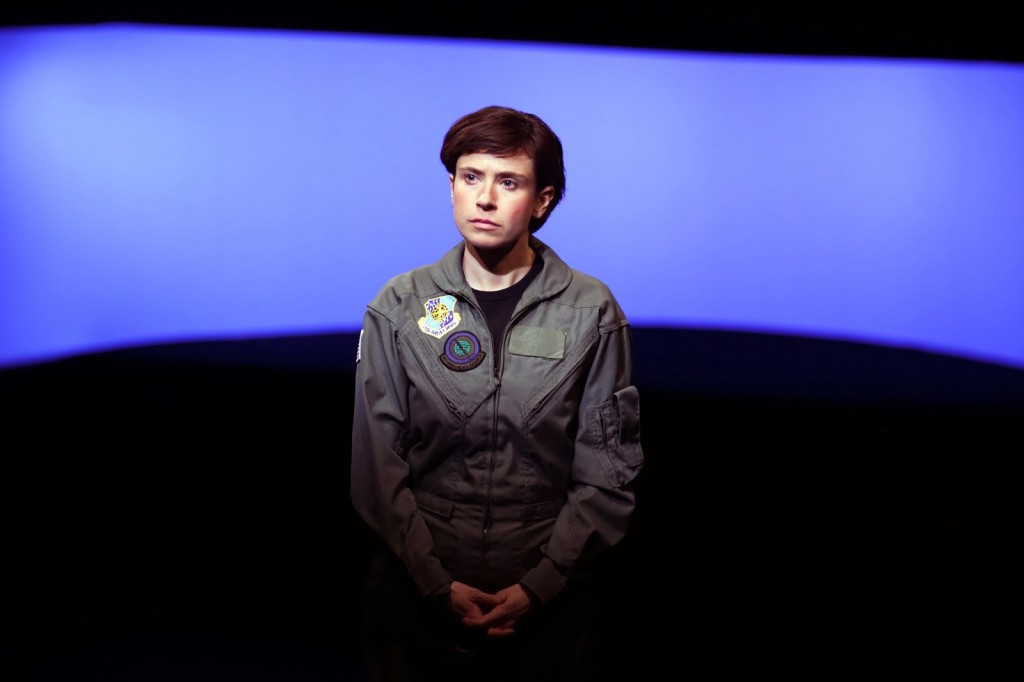 By Joey Sims
This article contains spoilers.
In the ongoing debate around America's drone warfare campaign, much of the focus is naturally placed on President Obama and the highest levels of his national security infrastructure. But George Brant's new play Grounded, which is currently making its New York debut, offers a far more personal perspective.
Brant's single-character show looks at the gradual unraveling of one drone pilot as she tracks terror suspects day after day from a base outside Las Vegas.
This small-scale story has received a surprising amount of attention, a testament to the play's timeliness. Features on the New York run have popped up in The New York Times and The Nation; and the play has already been produced across the country and internationally in venues ranging from Indiana to England.  The play is a powerful visual compliment to Matthew Power's sobering GQ profile of a drone pilot, which takes a similarly intimate and personal perspective and itself received widespread attention last year.
A post-show panel on January 23rd served to draw out the show's place in a larger debate. Hina Shamsi, director of the American Civil Liberties Union National Security Project, zeroed in on a significant question that the play raises: What is the responsibility of the drone pilot who receives the orders?
"Pilot," the nameless central figure in Brant's play, an Air Force pilot who is assigned to operate drones after returning from maternity leave, initially takes delight in her missions. Each surgical strike on a gathering of "military-age males" leaves her almost giddy. She longs for more kill orders. There is no question in her mind that all of her targets are "guilty." Yet her self-assurance soon gives way to doubts. At the play's climax, she is ordered to take out a suspected Taliban leader as the man holds his young daughter in his arms. "Pilot" disobeys the kill order when she hallucinates that the child on the screen is in fact her own daughter.
The play meditates on an internal culture surrounding drone warfare that could best be described as "shoot first, ask questions later." Pilot and her fellow soldiers never question the guilt of the unnamed figures on their screens. Panelist Bob Dreyfuss, a contributing editor at The Nation, said that videos of real drone operations bear out this depiction. Indeed, real transcripts have pilots declaring, "Pick up a weapon and you're a combatant, it's how that works," and insisting that suspects praying was an indication of their guilt: "Praying? I mean seriously, that's what they do."
Of course, Grounded is a work of fiction, and it may simplify some aspects of drone warfare for narrative purposes. One major question was the likelihood of the play's dramatic climax. The commanders in charge of the operation are depicted as barely batting an eyelid when a little girl enters the picture. Would the killing of a child truly prompt such little hand-wringing? A similar incident recounted in the GQ piece involved more careful consideration—yet the account suggests that a child might not change the equation. Either way, the unseen commanders seem like evil caricatures in this moment, and Brant's climax loses some impact as a result.
That said, nobody can claim to have authoritative knowledge of a program that remains shrouded in secrecy. Requests for greater transparency are often met with the same reply, said Shamsi — that "it is a matter of national security." Naturally, Brant is approximating the truth. And naturally we rely on works of fiction like Grounded to bring us into contact with an experience that is taking place behind closed doors.
Panelist Sarah E. Kreps, an assistant professor of Government at Cornell University, summarized the U.S. public's attitude to drone warfare as, "It's okay as long as it's somewhere else." Grounded challenges that apathy. But while Brant's protagonist realizes her own abstracted culpability, Kreps said she has not seen similar soul-searching in the politicians and officials that she has interviewed.
[includeme file="tools/sympa/drones_sub.php"]