This post is part of a series of posts and resources on drones and the world of intelligence. For a complete guide to drone hunting, click here. For an in-depth look at the U.S. communications infrastructure at the heart of drone operations, click here. For our Multimedia Portal on drones and intelligence, click here. 
Aircraft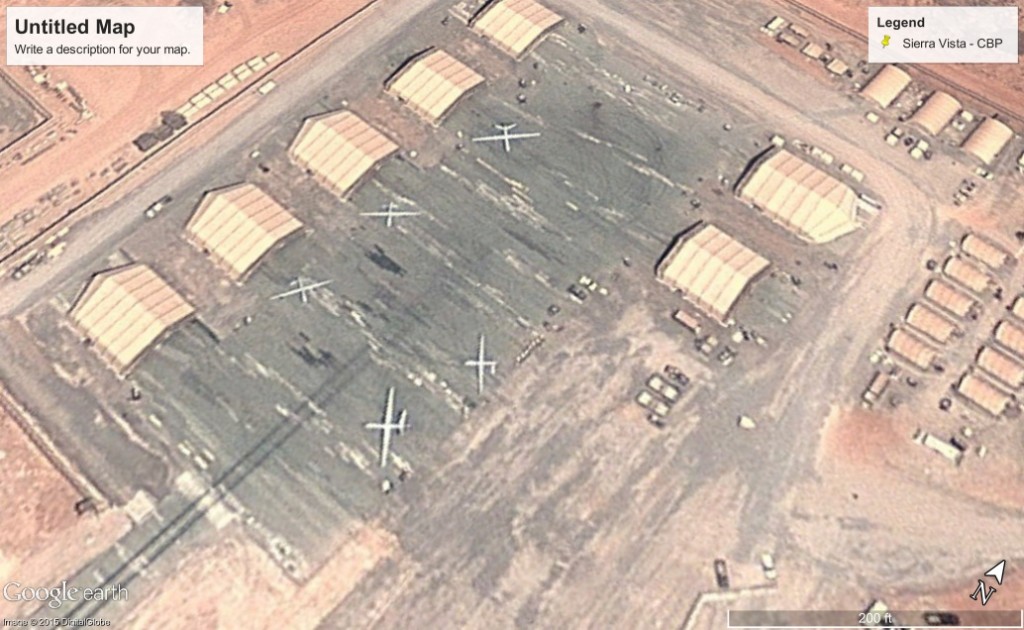 Predator and Reaper aircraft at Chabelley Air Field in Djibouti in 2013. Note the tail shapes and the wingspans to differentiate between aircraft. Imagery: DigitalGlobe. 
MQ-1B Predator
Length: 27 ft (8.22 m)
Wingspan: 48.7 ft (14.8 m); MQ-1B Block 10/15: 55.25 ft (16.84 m))
Height: 6.9 ft (2.1 m)
MQ-9 Reaper
Length: 36 ft 1 in (11 m)
Wingspan: 65 ft 7 in (20 m)
Height: 12 ft 6 in (3.81 m)
RQ-4 Global Hawk
Length: 47.6 ft (14.5 m)
Wingspan: 130.9 ft (39.9 m)
Height: 15.3 ft (4.7 m)
RQ-4 Global Hawks at Beale AFB in California on 7/9/2010. Note the distinctive white wings and gray body. Imagery: DigitalGlobe
Other Aircraft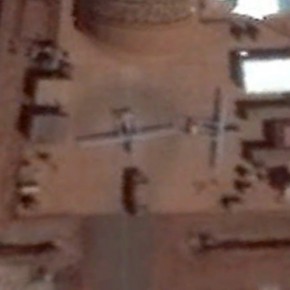 IAI Heron
Length: 8.5 m (27 ft 10 in)
Wingspan: 16.60 m (54 ft 5 in
Range: 350 km (189 nm, 217 mi)
Two EADS/IAI Harfang drones pictured here in in Niamey, Niger on 11/6/2014. The Harfang is a variant of the Israeli-made IAI Heron.The IAI Heron is one of the most prolific drones in the world. Unlike many American drones, the Heron sports a twin boom with two vertical stabilizers.
Length: 30 ft. (estimate)
Wingspan: 55 ft. (estimate)
The BZK-005 is a Chinese long range, medium altitude drone. In September 2013, the surveillance drone was spotted flying over the Senkaku Islands-known in China as the Diaoyu Islands-in the southern region of the East China Sea. Like the Heron, the BZK-005 also features a twin boom design. Pictured here at an airfield in Shahezhen, China on 3/13/2014.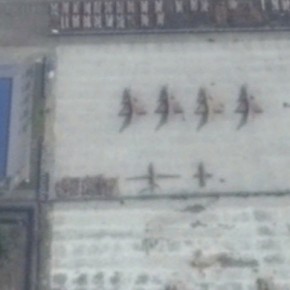 Wing Loon WJ-1 (aka Pterodactyl) 
Length: 9.05 m (29 ft 8 in)
Wingspan: 14 m (45 ft 11 in)

Range: 4,000 km (2,485 mi; 2,160 nmi)
The Wing Loon is a Chinese drone that closely resembles the American Predator UAV. It is manufactured by the Chengdu Aircraft Industry Group. It is believed to be pictured here at an airfield in Chengdu, China on 12/11/2014.
---
 Structures
Control and Communications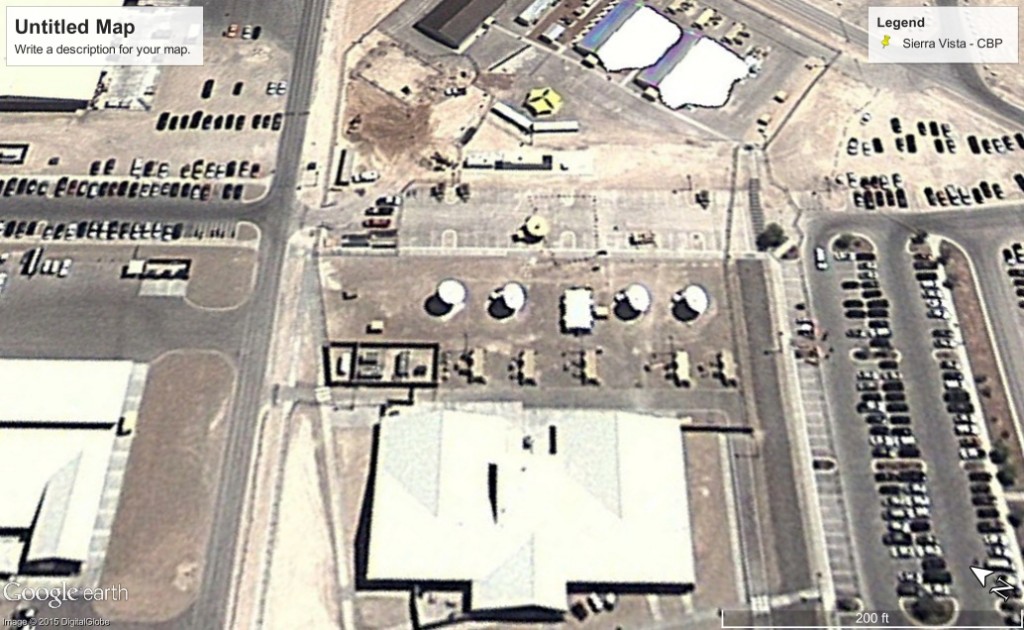 Satellite terminals and Ground Control Stations at Creech AFB. Note that air conditioning units are attached to each GCS. Imagery: DigitalGlobe 2/11/2011
Satellite and Ground Control Station at Creech AFB in 2008. Credit: Bryan Jones
Hangars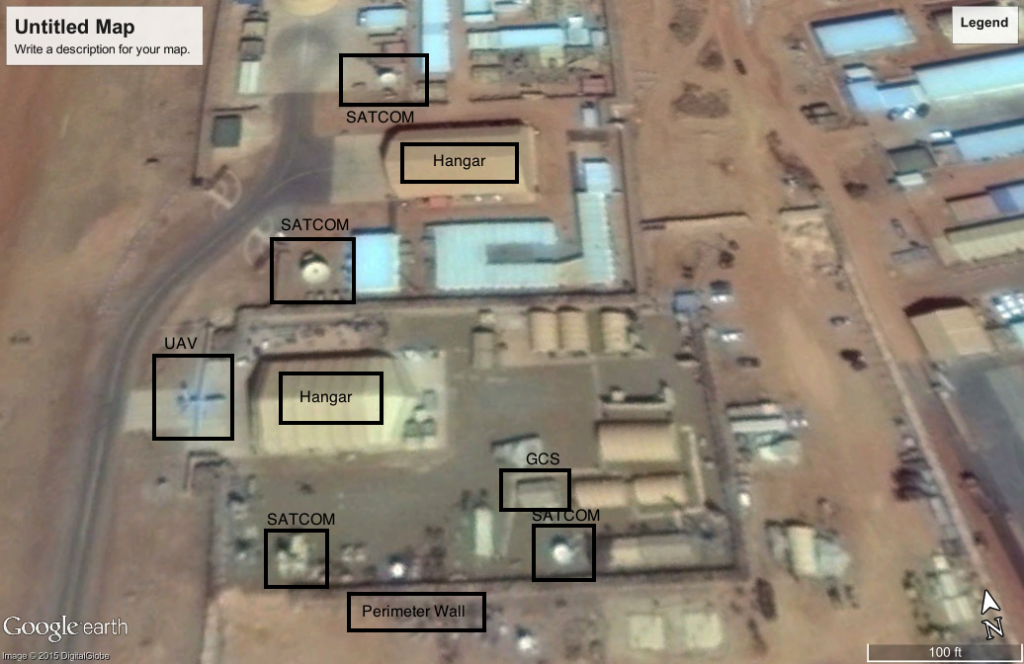 French and American drone operations in Niamey, Niger. Imagery: DigitalGlobe 11/14/2014
MQ-9 Reapers in a clamshell re-locatable fabric tension aircraft hangar.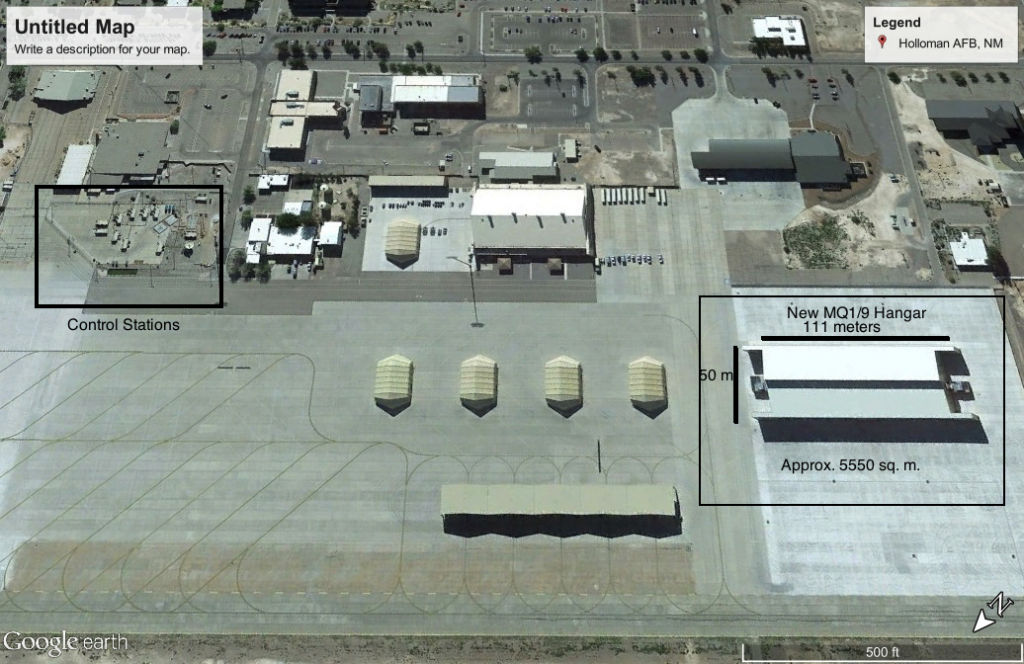 Holloman AFB MQ1/9 Aircraft Maintenance Hangar (right). Imagery: DigitalGlobe 2013
---
Blogs and Documents
"Engineering Technical Letter (ETL) 09-1: Airfield Planning and Design Criteria for Unmanned Aircraft Systems (UAS)"
Air Force Budget Documents
Open Source Imagery and Geospatial Intelligence blog – Google Earth Tools
"The Chinese People's Liberation Army's Unmanned Aerial Vehicle Project: Organizational Capacities and Operational Capabilities" – Project 2049
For updates, news, and commentary, follow us on Twitter.
[includeme file="tools/sympa/drones_sub.php"]