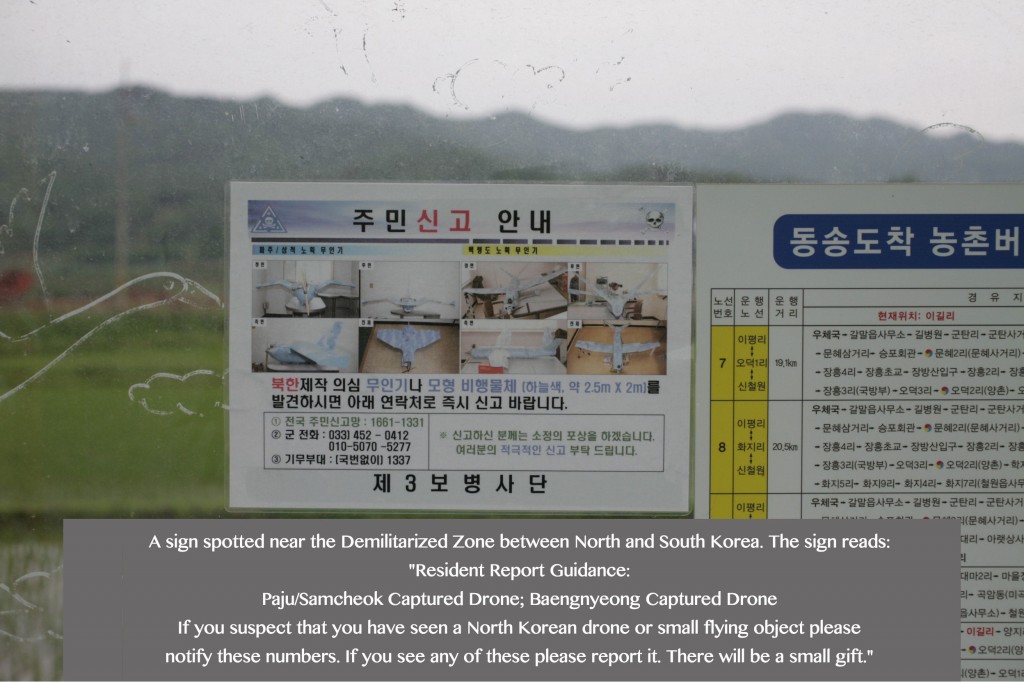 By Dan Gettinger
The South Korean government is warning its citizens to be on the lookout for any North Korean drones. The Center for the Study of the Drone acquired photographs of signs posted near the Demilitarized Zone that warn local residents that North Korean drones have trespassed south before and could again. The notices offer a reward to anyone who reports drone activity and provides the phone number for the National Intelligence Service, South Korea's foreign and domestic spy service. South Korea will have to rely on attentive civilians to spot future drone incursions, as it is almost impossible to pick up North Korea's slow, small drones on traditional radar systems. Two of the four North Korean drones that have recently crashed south of the border were discovered by farmers and fishermen. As tensions with the north remain high, South Korea has strong reason to encourage its citizens to keep an eye on the sky.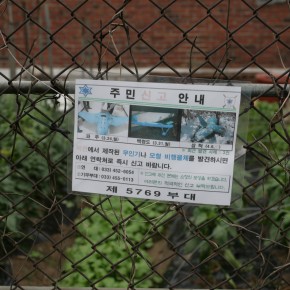 Between October 2013 and April 2014, South Korean authorities discovered three North Korean drones that had crashed mid-mission. The first was discovered near the border last fall by a wild ginseng digger. On April 2, the Chosun Ilbo newspaper reported that another two drones suspected to be of North Korean origin had crashed in South Korea sometime in late March. One of the aircraft crashed near Paju, a medium-sized town that lies just below the 38th Parallel. The other drone was found on Baengnyeong, an island located on the maritime border between north and south and home to a South Korean Marine regiment. It crashed during an exchange of artillery fire between the two Koreas. This second drone appeared to be very similar to a drone that was exhibited in a 2012 North Korean military parade. These rudimentary drones contain basic surveillance camera equipment. Memory chips recovered from the onboard cameras, contain a stock of potentially sensitive images, including photos of South Korea's presidential palace and military installations.
After conducting an analysis of the drones' flight paths, the Ministry of Defense concluded that the aircraft were launched in North Korea. They had flown over key military facilities and were on the return flight north, evidence of what Defense spokesperson Kim Min-Seok said was a "smoking gun." The relatively inexpensive drones enhance Pyongyang's intelligence-gathering capacity; North Korea, unlike the south, lacks satellite surveillance assets. The aerial imagery found onboard the drones demonstrates Pyongyang's push to narrow the intelligence gap between the two countries.
There are considerable doubts as to whether North Korea has the technological capability to sustain a drone development program. In a post on the blog North Korea Tech, Martyn Williams alleged that the downed drones were in fact of Chinese origin, or at least knockoffs of a drone produced by China Trancomm Technologies, a Beijing-based company that specializes in wholesale electronics and communications technology. A side-by-side comparison of one of the North Korean drones and China Trancomm's Sky-09 UAV shows that, besides sharing a physical resemblance, the drones contained a number of rubber pads in mirror dispositions on the underbelly of the aircraft. The Sky-09 drone is also advertised on the website of a second Chinese company, Taiyuan Navigation Friend Aviation Technology. In a statement to the South China Morning Post, a representative of China Trancomm denied knowledge of, or participation in North Korea's drone program.
After a bitter exchange of accusations between the two Koreas, little was said on the drones issue over the summer. Then, on September 15, the wreckage of a fourth drone was found by a fisherman in the waters off Baengnyeong Island. On October 21, the South Korean military said that plans were on track to deploy a defensive radar system in the coming months that will guard against low-altitude aircraft like drones.
South Korea also plans to have its own fleet of drones. According to Yonhap News Agency, the government in Seoul hopes to become the world's third largest producer of drones by 2023. So far, the Smart UAV program has emphasized the development of tilt-rotor vertical takeoff and landing (VTOL) drones, a difficult technology that could prove to be useful investment considering South Korea's mountainous northern border. On March 24, just one week before the discovery of the North Korean drones, South Korea announced that it would go ahead with the purchase of four Global Hawk surveillance drones from Northrop Grumman for $814 million, a complete reversal from its previous position. South Korea will be the third country, after the United States and Japan, to deploy the Global Hawk drone in the region. North Korea may soon have to put up drone advisory signs of its own.
For updates, news, and commentary, follow us on Twitter.
[includeme file="tools/sympa/drones_sub.php"]