Press Contact: Mark Primoff
845-758-7412
FOR IMMEDIATE RELEASE
U.S. MILITARY SPENDING ON DRONES SET TO JUMP 21 PERCENT IN 2018 TO $6.97 BILLION, SAYS NEW REPORT FROM THE CENTER FOR THE STUDY OF THE DRONE AT BARD COLLEGE
Study Finds 2018 Budget Boosts Spending on Research and Modernization Efforts, Including Significant Increases to Key Unmanned Sea and Ground Vehicles
ANNANDALE-ON-HUDSON, N.Y.–– A new study from the Center for the Study of the Drone at Bard College finds that the U.S. Department of Defense (DoD) plans to spend $6.97 billion on drone technology in 2018, a 21 percent jump over this year's budget and far more than the military previously predicted it would spend in 2018. The report, "Drones in the Defense Budget," which analyzes trends in military spending and examines unclassified Pentagon budget documents, provides further evidence that drones are becoming an increasingly important part of the U.S. military's current and future force.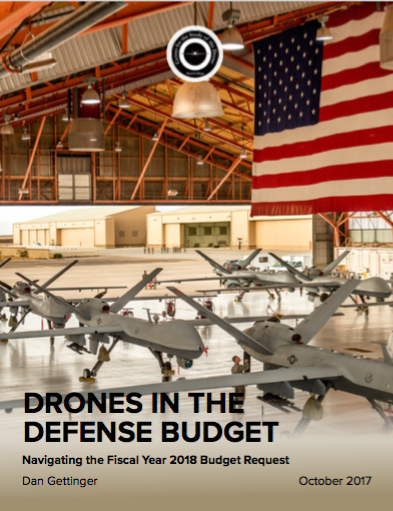 "Even though some of the large drone programs from the previous decade are coming to an end, spending on unmanned systems has increased overall," said Dan Gettinger, codirector of the Center for the Study of the Drone and the author of the report. "The public budget documents indicate that the military is purchasing more drones than it had predicted it would and that large modernization budgets have inflated spending on drones beyond expectations."
"Drones in the Defense Budget" compares the Pentagon's requested fiscal year 2018 budget to the previous five years, and finds that the DoD is spending 90 percent more on drones this year than it forecast in 2013. The report also reveals increases in funding for special operations drones and advanced research initiatives, such as underwater drones, robots, and counter-drone weapons technology.  The report is available for free online at dronecenter.bard.edu/drones-2018-defense-budget/.
Founded in 2012, the Center for the Study of the Drone is a research and education initiative that looks to expand the public's understanding of the opportunities and challenges associated with the development and proliferation of unmanned technologies. The Center creates inquiry-driven content on unmanned technologies and their impact in both military and civilian spheres for stakeholders and the public at large. For more information, visit dronecenter.bard.edu or e-mail [email protected]