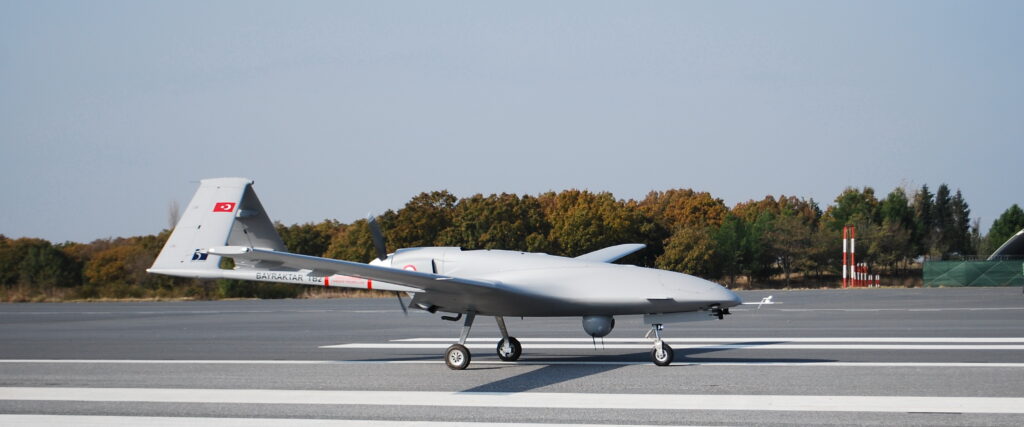 January 14, 2018 – January 20, 2019 
If you would like to receive the Weekly Roundup in your inbox, please subscribe at the bottom of the page.
Top Stories  
The U.S. Federal Aviation Administration unveiled a proposal to allow drone operators to routinely conduct flights at night and over people. The FAA currently requires drone operators to seek a waiver for such operations. The loosened rules could pave the way for the integration of more complex operations such as drone deliveries. (Bloomberg)  
Ukrainian President Petro Poroshenko confirmed that his government has purchased six strike-capable Bayraktar TB2 drones from Turkey. The deal, which was first reported by Ukrainian press outlets in November, is valued at approximately $69 million with delivery expected within a year. Ukraine is the second export customer of the Bayraktar TB2 after Qatar. (Defense News)  
Drone maker DJI is conducting an internal investigation into corruption at the company, according to a report in a Chinese state-run media outlet. The Shenzhen-based firm is investigating at least 40 people for activities that are estimated to have resulted in more than $150 million in losses. (Reuters)  
The head of Yemen's military intelligence division was among those killed in a Houthi drone strike earlier this month. The strike, which targeted a military parade at the al-Anad Air Base, threatens to upend a ceasefire between Saudi-backed government forces and the Houthi group. (Deutsche Presse-Agentur)  
Know Your Drone  
The U.S. Defense Logistics Agency has issued a request for information for unmanned aircraft that can deliver urgent supplies to remote areas following disasters. (Avionics International)  
U.S. startup Pensa Systems has unveiled a multirotor drone that can autonomously track product inventory on supermarket shelves. (Popular Science)  
Unmanned boat maker OceanAlpha has unveiled the Smart Jetboard FF I, an unmanned jetboard that can be used as a lifebuoy. (AUVSI)  
Spanish firms Indra and Ingeniería Gaerum have begun simulated flight testing of the Targus optionally manned fixed-wing aircraft. (Unmanned Systems Technology)  
German radar maker Hensoldt has conducted a successful test of a collision warning radar for large unmanned aircraft. (Defense News)  
A team from Purdue University is developing integrative language and vision software that enables robots to navigate complex environments and interact with humans. (AUVSI)  
U.S. firm InstantEye Robotics unveiled the InstantEye Mk-3 GEN4-D1, a multirotor surveillance and reconnaissance drone. (Unmanned Systems Technology)  
Drones at Work  
The Saudi-led coalition in Yemen announced that it has destroyed a Houthi command and control center used for directing drone operations. (Reuters)  
In a post on Twitter, Turkey's Undersecretary for Defense Industries announced that the Turkish Armed Forces conducted the first combat mission of the Anka-S strike drone. (Yeni Safak)  
The Los Angeles Police Department used a multirotor drone to peer inside an apartment building during a nine-hour standoff with an armed suspect. It was the agency's first operational use of its unmanned aircraft. (Los Angeles Times) Center Co-Director Dan Gettinger was interviewed for this story.  
The Organization for Security and Co-operation in Europe has reported that its surveillance and reconnaissance drones have detected Russian military equipment—including howitzers, tanks, and launch rocket systems—in eastern Ukraine. (Interfax Ukraine)  
A number of British racecourses have reported that drones are being used by punters to gather real-time footage of horse races to gain an advantage for in-running bets over punters who rely on slower satellite TV feeds of the event. (The Guardian)  
The Brazilian Air Force and Brazil's Federal Police have launched a joint program to operate the Israel Aerospace Industries Heron 1, a medium-altitude long-endurance surveillance drone. (Jane's)  
The Russian Navy is reportedly preparing to deploy up to 32 Poseidon unmanned submarines equipped with thermonuclear bombs. (The National Interest)  
Industry Intel  
The U.S. Navy awarded Textron Systems a $10.8 million contract for the Unmanned Influence Sweep System vessel. (Military & Aerospace) 
The French Defense Procurement Agency awarded FLIR Systems a contract valued at up to $89 million for Black Hornet 3 nano drones. (Press release)  
General Atomics Aeronautical Systems, SABCA, Thales Belgium, Esterline, DronePort, and Newtec have launched a partnership to sustain Belgium's planned acquisition of the MQ-9B SkyGuardian. (FlightGlobal)  
CyPhy Works, a Boston-based company that specializes in tethered drones, announced that it is rebranding as Aria Insights and shifting focus to drone analytics. (TechCrunch)  
SLS Land and Energy Development acquired Global Drone Surveying & Inspections. (WVNews)  
SeaTree, an Israeli agriculture drone startup, raised $11.5 million in a Series A round led by Hanaco Ventures. (TechCrunch)  
MicroDrones has acquired Aircam UAV Technology, a Chinese manufacturer of inspection and mapping drones. (Inside Unmanned Systems) 
Japan's Terra Drone has partnered with Plimsoll UAV to create Terra Drone Brazil, a venture that will focus on using drones for inspecting offshore oil and gas facilities. (Drone Life)  
QuadSAT, a Danish startup that builds to drones to test antenna systems, raised approximately $800,000 in a founding round led by the Danish Growth Fund. (Tech.eu)  
Commentary, Analysis, and Art  
At Gizmodo, Adam Clark Estes explores the ways in which drones can be used for good.  
In a statement, U.S. Senator Ed Markey argues that privacy protections must accompany the FAA's proposal to expand permitted drone operations.  
At Defense News, David Larter writes that the U.S. Navy plans to shift focus from acquiring comlex manned warships to smaller, unmanned vessels.
Also at Defense News, Grant Turnbull looks at how a recent British army exercise provided an opportunity to experiment with large military robots in the field.  
At Globes, Assaf Uni writes that a group of German legislators who oppose the use of armed drones are seeking greater oversight of Israel's training program for German drone pilots.  
Also at Globes, Yuval Azulai writes that Israel Aerospace Industries appears to be unwilling to outbid Rafael for Israeli drone maker Aeronautics.  
At AUVSI, Brett Davis writes that autonomous and unmanned capabilities were a highlight of the CES 2019 show.  
At ABC News, Stephen Dziedzic looks at how drones are delivering life-saving vaccines to remote islands in the Pacific.
At Slate, Faine Greenwood argues that drones are often too easily blamed for unexplained disturbances in the sky.  
At SecurityInfoWatch, Joel Griffen explores some of the common challenges and misconceptions surrounding counter-drone technology.  
In an interview with Atinka FM, a member of Ghana's parliament argued that the government's medical drone delivery drone deal was "catastrophically wrong."  
At Front Page Africa, Samuel G. Dweh speaks with representatives of a Chinese geological and geochemical company that is using a CH-3 drone to locate mining resources in Liberia.
At the Marine Corps Times, Shawn Snow looks at the ways in which the U.S. Marine Corps is seeking to boost its fleet of small tactical drones.  
For updates, news, and commentary, follow us on Twitter.