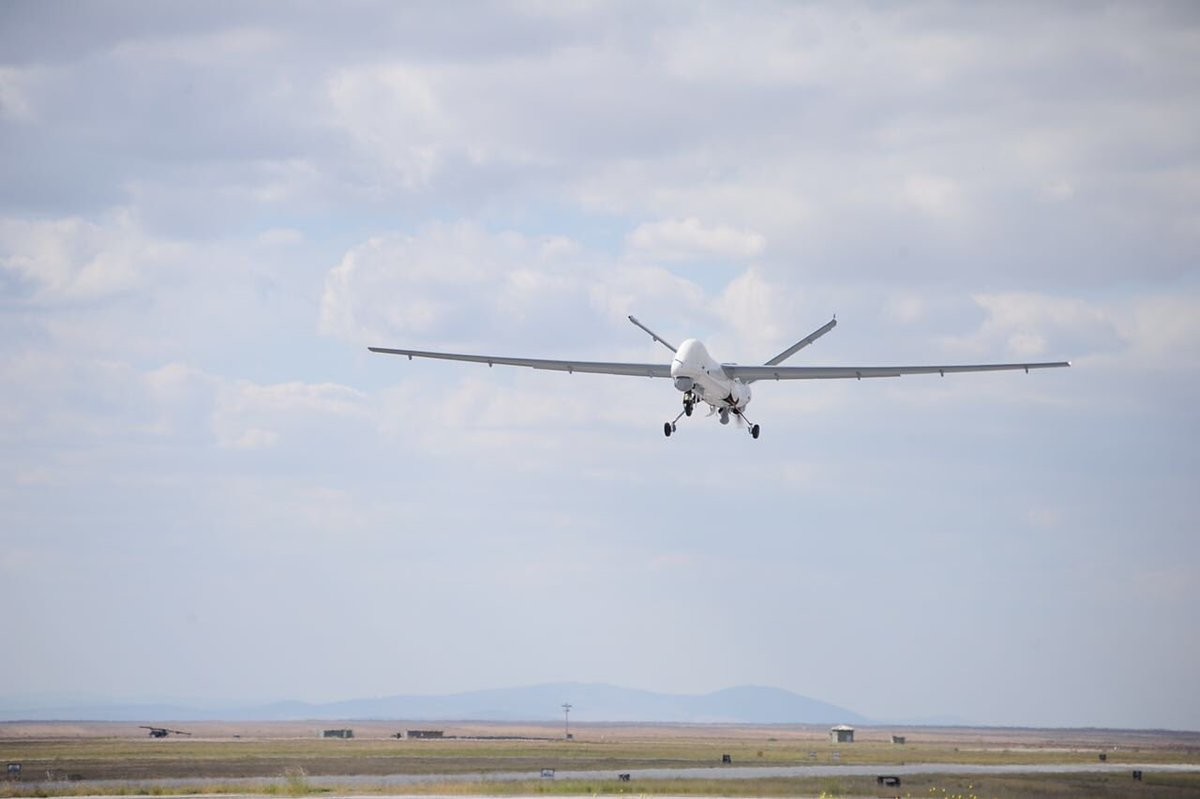 October 15, 2018 – October 21, 2018
If you would like to receive the Weekly Roundup in your inbox, please subscribe at the bottom of the page.
Top Stories
The Turkish military has placed an order for 22 Anka strike-capable medium-altitude long-endurance drones from Turkish Aerospace Industries. According to FlightGlobal, sixteen of the ordered aircraft will be satellite-controlled Anka-S variants. Turkey already operates eight Anka-S drones, and has an additional two on order.
Know Your Drone
U.S. consumer drone maker Skydio has released a software update that enables users to operate its R1 quadcopter drone with an Apple Watch. (The Verge)
Japanese firm Yamato Holdings and U.S. aerospace company Bell Helicopter Textron have announced that they will jointly develop a large aerial delivery drone. (Japan Times)
Canadian company Aeromao unveiled the Aeromapper Talon Amphibious, a fixed-wing survey drone that can land on both water and solid ground. (New Atlas)
The U.S. Defense Advanced Research Projects Agency has issued a call for proposals for the third sprint of its OFFensive Swarm-Enabled Tactics program, which seeks to develop sophisticated autonomous drone swarms. (Shephard Media)
The Naval Sea Systems Command has issued a request for information for a long-range unmanned boat. (FBO)
U.S. drone maker InstantEye Robotics unveiled the Mk-3 GEN4-D1/D2, a small military surveillance quadcopter. (Jane's)
Drones at Work
U.S. energy firm Deepwater Wind used a drone to inspect its Block Island Wind Farm, an offshore wind power facility. (Unmanned Aerial Online)
The U.S. Federal Aviation Administration has issued its first approval for civil beyond visual line-of-sight drone flights with radar, to the survey and inspection firm Avitas Systems. (AIN Online)
A U.S. Air Force MQ-9 Reaper drone participated in the Clear Sky 18 military exercise, the first known instance of a Reaper operating in Ukrainian airspace. (Defence Blog)
U.S. firm EagleView Technologies used a fixed-wing drone to survey damage on the Florida Panhandle following Hurricane Michael. (AUVSI)
The U.S Air Force has begun certifying engineers for the Rapid Airfield Damage Assessment System, which employs drones to scan airfields for damage and unexploded ordnance. (Unmanned Systems Technology)
Defense firm Thales UK has established a facility for autonomous systems development and testing in Plymouth, England. (Jane's)
Industry Intel
The U.S. Navy awarded LGS Innovations a $15.5 million contract to integrate specialized payloads into drones used by Special Operations Command. (DoD)
Alion Science and Technology announced that it has been awarded a contract by the U.S. Navy to support the development of unmanned undersea vehicles. (Press release)
Australia's Defense Science and Technology Group has partnered with Rheinmetall Defense Australia on a five-year program to develop autonomous systems for land-based armored vehicles. (Australia Defence Magazine)
Commentary, Analysis, and Art
A detection study by Embry-Riddle Aeronautical University found a large number of unsafe drone flights in close proximity to Daytona Beach International Airport in Florida. (Press Release)
At USNI News, Ben Werner writes that Iranian drone overflights of U.S. Navy vessels in the Persian Gulf are the new normal.
At The National Interest, Kathryn Dura writes that armed commercial drones are real and dangerous.
At The Verge, James Vincent explains how a new partnership between Rolls-Royce and Intel could advance the development of self-driving ships.
At Slate, Faine Greenwood argues that a new law granting the U.S. government the authority to shoot down drones could be abused.
At Defense One, Ben Watson looks at the various technologies used to bring down drones. Center for the Study of the Drone Co-director Arthur Holland Michel was interviewed for this story.
At Breaking Defense, Sydney J. Freedberg Jr. considers whether a robot could replace the M1 Abrams heavy tank.
At Foreign Affairs, Michael Auslin looks at whether the U.S. is falling behind in the race for autonomous weapons systems.
For updates, news, and commentary, follow us on Twitter.