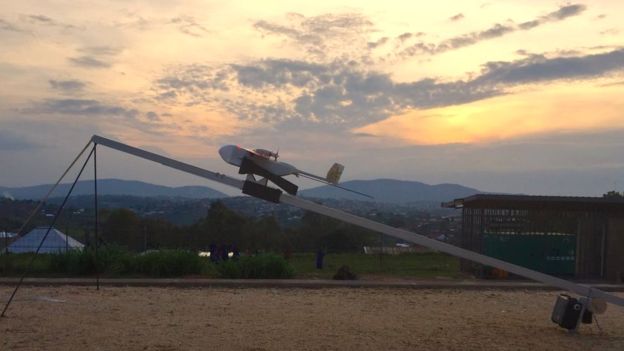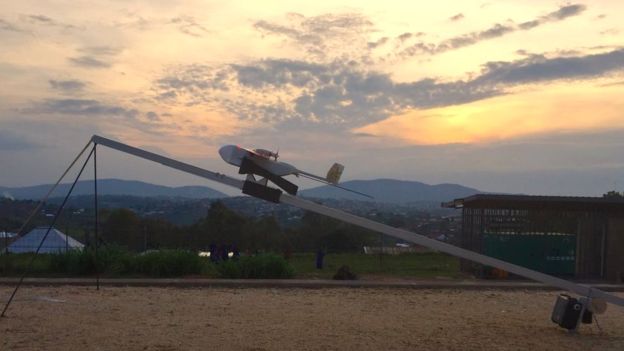 October 10, 2016 – October 16, 2016
 If you would like to receive the Weekly Roundup in your inbox, please subscribe at the bottom of the page.
At the Center for the Study of the Drone
The U.S. president plays a key role in determining the country's counterterrorism policies, including the use of drones to carry out targeted killings. The country's drone policies for the coming four or eight years will therefore be shaped according to the next president's own opinion on drones. In a new publication, we examine the positions of the candidates for president on drones, as well as those of their chief advisors, in order to determine what the next president's drone policies might be.
News
Buzzfeed reports that a classified computer network used by the U.S. Department of Defense at Creech Air Force Base in Nevada, home to several squadrons that operate Predator and Reaper drones, crashed in September. The outage, which affected the SIPRNet network system, has yet to be fully restored.
Two Kurdish soldiers were killed by an explosives-laden drone operated by ISIS in Irbil, Iraq. This incident represents the first time that an airborne improvised explosive device has been used in a deadly attack. Two French soldiers were injured. (Popular Science)
The government of Rwanda has begun its medical drone delivery program. The delivery system, which was established by U.S. firm Zipline, seeks to transport blood samples, plasma, and coagulants to rural areas, according to the BBC. The fixed wing delivery drones have a range of up to 90 miles per mission.
The British Royal Navy and several partner nations are currently engaged in Unmanned Warrior, a major maritime exercise focused on the use of unmanned systems technologies. The exercises feature 50 different unmanned systems, including unmanned aerial vehicles, unmanned surface vehicles, and unmanned submarines. (BBC)
Commentary, Analysis, and Art
At the Associated Press, Vivian Salama and Lolita Baldor discuss the implications of the growing use of weaponized drones by ISIS and other groups in Syria and Iraq.
At TechCrunch, Kate Conger explores how consumer drones are finding their way into the hands of groups like ISIS.  
At War on the Rocks, Ulrike Franke writes that "flying IEDs are not a game changer, but they add a level of difficulty to military operations."
In an update on counter-ISIS operations, OIR spokesperson Col. John L. Dorrian said that several different systems have been sent to Iraq and Syria to counter rogue drones. (DoD)
The Association for Unmanned Vehicle Systems International published a report based on the proceedings of an unmanned systems technology workshop held at the White House in August.
Meanwhile, the White House published a report on how artificial intelligence will impact the economy and society. (Press Release)
At Recode, April Glaser reviews the various initiatives to develop power systems that increase the endurance of small unmanned aircraft.
At the Associated Press, Cara Anna explores the various medical delivery drone initiatives taking shape across Africa.
In an interview with USNI News, U.S. Navy Rear Admiral Robert Girrier discusses the Navy's future unmanned systems development and deployment plans.
At the Washington Post, Michael S. Rosenwald investigates the use of drones to smuggle contraband into prisons.
A survey published by the U.S. Postal Service found that 57 percent of Americans are either neutral or opposed to the idea of drone delivery services. (Washington Post)
At Defense One, Patrick Tucker considers the Pentagon's efforts to quickly develop and field counter-drone systems.
At Navy Live, Dr. Marcus Tepaske shares some of the highlights from the Unmanned Warrior exercise.
At the New York Times, Michael Kimmelman looks at how a drone video showing the destruction of Aleppo is reminiscent of Grozny in 2000 and Berlin in 1945.
At Air & Space Magazine, Robert Stangarone offers a pilot's perspective on the certification requirements for new drone pilots.
At Breaking Defense, David Deptula argues that the recent declaration on drone exports "confuses ends with means."
Know Your Drone
The team that developed the Solar Impulse manned solar plane is now developing a high-altitude long-endurance solar-powered drone. (Swiss Info)
An Australian remote sensing services agency is developing a drone to measure carbon in vegetative matter. (Phys.org)
The British government has ordered a series of collision tests to study the effects of a drone colliding with a manned airplane. (Daily Mail)
Intel has unveiled the Falcon 8+, a commercial drone for inspection operations. (The Verge)
Facebook plans to test an experimental radio unit on a small drone over its Menlo Park, California headquarters. (Business Insider)
Drone-maker Hover unveiled the Passport, a compact consumer drone. (TechCrunch)
The Israel Defense Forces unveiled the Tzur, a small multirotor UAV for short-range reconnaissance. (Ynetnews)
Meanwhile, the U.S. Marine Corps has issued a Request for Information for small vertical take-off and landing drones that can be used for surveillance operations. (IHS Jane's 360)
Russian defense firm United Instrument Manufacturing Corporation has unveiled a microwave-based counter-drone system that can disable drones at distances of up to half a mile. (Daily Mail)
Defense firm Northrop Grumman revealed new details about its Drone Restricted Access Using Known EW counter-drone system. (Unmanned Systems Technology)
A U.S. startup called Airspace has developed a drone that autonomously hunts rogue drones and disables them with a tethered net. (Gizmodo)
Robotics firm The Kobi Company is developing a landscaping ground robot that can autonomously clear snow, mow lawns, and blow leaves. (ZDNet)
A designer has unveiled a 3D-printed add-on that optimizes DJI Phantom drones for search and rescue missions. (TechCrunch)
Swiss commercial drone maker senseFly has unveiled the eBee Plus, the newest variant of its fixed-wing mapping drone. (Unmanned Systems Technology)  
An Israeli startup has developed a radar system that enables drones to autonomously detect and avoid potential obstacles. (Business Insider)
Defense firm Raytheon is developing a modular version of its Coyote canister-launched drone. (Aviation Week)
The Israel Aerospace Industries' upgraded BirdEye 650D drone is reportedly capable of flying for over 15 hours– far longer than other tactical drones. (FlightGlobal)
Yamaha is now marketing the Fazer RG2, an unmanned helicopter used for commercial operations. (FlightGlobal)
In a test, Northrop Grumman fitted an RQ-4 Global Hawk with the Optical Bar Camera, a sensor that has so far only been used on the manned U-2 spyplane. (Breaking Defense)
Drones at Work
British police are investigating two reported sightings of drones operating near Heathrow Airport. (Evening Standard)
Two U.S. companies, WeRobotics and Vayu, were awarded funding from USAID to develop drone technology systems to counter the Zika virus.
The Provo City School District in Utah has banned the use of drones over schools or during school events. (Herald Extra)
Nuclear services firm Diakont has announced that it has begun using unmanned ground vehicles for cleaning reactors. (Press Release)
Authorities in Goa, India have banned the use of drones in the area during the BRICS summit.
A drone hobbyist in North Carolina helped authorities find and rescue a man trapped by the recent floods. (North Carolina News)
Recode examines the many entities using drones in the response to Hurricane Matthew.
Authorities in West Australia have announced a three-month trial of drones to spot sharks and other dangers at popular beaches. (News.com.au)
Amazon gave reporters from The Cambridge News in the U.K. a tour of its secret drone delivery program testing site.
Meanwhile, Amazon has launched a delivery drone design competition for children aged 6 to 11 in Cambridgeshire, England. The winners will receive a tour of Amazon's delivery drone test site. (Business Insider)
Over 300 organizations participated in the finale of the Cyber Europe 2016 wargame, which simulated rogue drone attacks among other potential cyber warfare tactics. (ZDNet)
Telecom provider AT&T is set to begin using drones to find signal weak spots at sports stadiums and inspect wireless towers.
Ride-sharing firm Uber used drones as flying billboards for an advertising campaign in Mexico. (BGR)
The Australian Senate has announced an inquiry to study the opportunities and challenges associated with commercial drones. (ABC News)
The city council of Broadview Heights in Ohio is considering legislation to regulate police and private drone use. (Cleveland.com)
Meanwhile, the city of Winnipeg in Canada is considering its own drone rules following numerous reports of rogue drone use in the city. (CBC)
President Barack Obama inspected a small commercial drone at a recent science expo held at the White House. (ABC News)
Police seized a drone that was being flown illegally over a bicycle race in Nazarbad, India. (The Times of India)
Canadian authorities have reported a growing number of drone incidents in the country's national parks. (LF Press)
A pitcher for the Cleveland Indians is recovering after he was injured while repairing a drone. "We've all, at some point or another … had a drone-related problem," Indians Manager Terry Francona said in a press conference. (USA Today)
Industry Intel
France-based Delair-Tech acquired Gatewing, Trimble's Belgium-based drone manufacturer. (Press Release)
China's PowerVision Technology Group reported over $15 million in presales of the PowerEgg drone. (Press Release)
The U.S. Army awarded Composite Engineering, Inc. a $2.5 million contract for "high speed drone integration." (FBO.gov)
The Department of Homeland Security awarded Boeing Insitu a $64,093 contract for UAS training for the U.S. Coast Guard. (Contract Announcement)
For updates, news, and commentary, follow us on Twitter.
[includeme file="tools/sympa/drones_sub.php"]