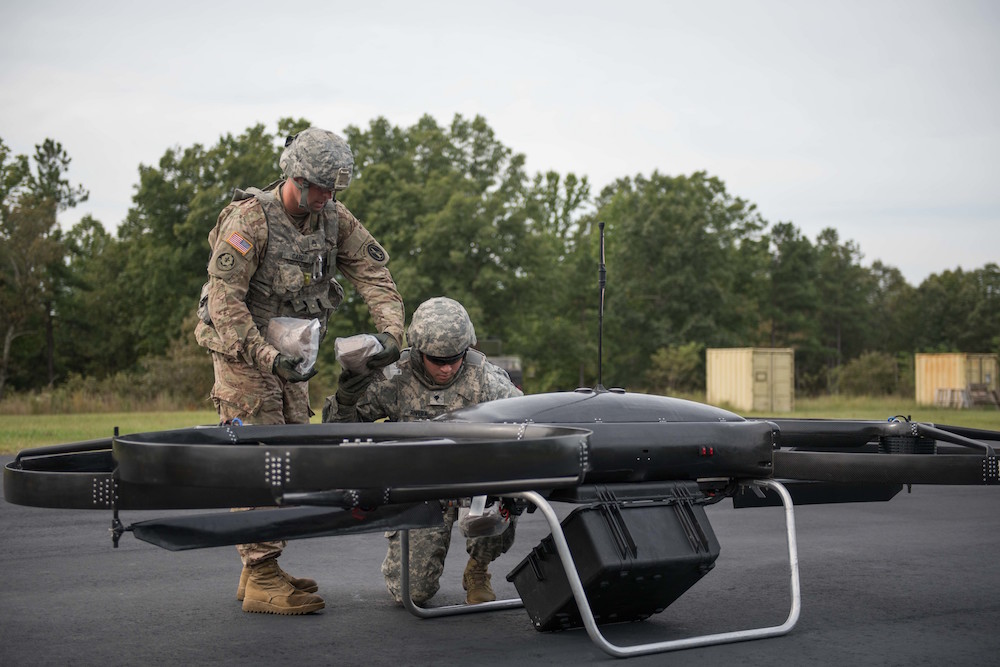 September 25, 2017 – October 1, 2017
If you would like to receive the Weekly Roundup in your inbox, please subscribe at the bottom of the page.
News
The U.S. Department of Defense announced that airstrikes in Syria have killed several ISIS drone experts. According to a spokesperson for the counter-ISIS coalition, the targeted individuals were "responsible for manufacturing and modifying commercially produced drones." (Voice of America) For more on drones in Syria and Iraq, click here.
The Federal Aviation Administration has restricted drone operations over 10 U.S. landmarks, including the Statue of Liberty in New York and Mount Rushmore in South Dakota. Many of these sites already prohibited drone use under a 2014 rule issued by the Department of Interior. (NPR)
Commentary, Analysis, and Art
At The Drive, Joseph Trevithick takes a look at the U.S. Navy's newest squadron, the service's first unit that exclusively operates underwater drones.
At Aviation Week, Guy Norris writes that Lockheed Martin's Skunk Works is stepping up the development of hypersonic aircraft.
At the Telegraph, James Crisp writes that the European Commission is calling for the European Union to implement drone regulations.
At Just Security, Letta Tayler argues that loopholes in the Obama administration's drone policy have enabled the Trump administration to rescind targeting safeguards.
At the Los Angeles Times, W.J. Hennigan looks at how the threat from small drones might evolve in coming years.
Meanwhile, at the Washington Post, David Von Drehle argues that the threat of terrorist drones has been ignored.
At Motherboard, Jason Koebler and Sarah Emerson investigate how police in North Dakota convinced the FAA to prohibit drones from flying over the Standing Rock protests.
At the Press Herald, Charles Eichacker looks at how the Michigan State Police are using drones to rapidly document the scenes of car accidents.
At Voice of America, Lameck Masina writes that proposed drone regulations in Malawi are facing resistance from drone operators who say that they are too restrictive.
At Quartz, Jennifer Foth argues that the money being invested in medical drone delivery programs in Africa could be better spent on infrastructure.
Know Your Drone
Tool maker Stanley Black & Decker is partnering with security systems firm Sunflower Labs to develop an autonomous security drone. (CNBC)
Researchers at the University of South Australia are developing a drone that can monitor the heart rate and breathing of multiple people simultaneously. They say the system could be used in nursing homes, hospitals, and on the battlefield. (BBC)
German startup Volocopter conducted the maiden flight of its full-scale personal transportation drone in Dubai. (Newsweek)
Chinese firm Shanghai UVS Intelligence System is developing a 20-foot long seaplane drone that can land on either firm ground or water and has a range of up to 2,000 km. (CNNMoney)
The Colombian Aviation Industry Corporation is partnering with Airbus and Spain to develop a new military drone after suspending a previous project called IRIS. (Jane's)
French drone maker DELAIR has unveiled the UX11, a fixed-wing photogrammetric mapping drone. (Unmanned Aerial Online)
China Aerospace Science and Technology Corporation successfully test fired a new 80kg precision-guided missile from its Cai Hong 5 strike drone. (Jane's)
Texo Drone Survey and Inspection, a drone services company, has deployed a drone integrated with an Ultrasonic Thickness Testing system. (Oil Field Technology)  
Northrop Grumman unveiled a new unmanned ground vehicle, the Nomad. (Jane's)
Swedish firm Inkonova has developed an autonomous drone for mapping the interior of mines. (New Scientist)
Defense contractor Polaris Government and Defense is developing an autonomous unmanned ground vehicle called the MRZR X for a U.S. Army program. (Jane's)
Robot maker Servosila has unveiled a new unmanned ground vehicle equipped with a software defined radio system. (Shephard Media)
GoPro unveiled firmware updates for its Karma camera drone that enable new functions, including a follow-me feature. (Motley Fool)
Working with a team of students from Cranfield University, British Defense firm BAE Systems is developing a concept for a set of military drones called Adaptable UAVs that can alternate between horizontal and vertical flight. (Press Release)
The U.S. Air Force has issued a request for information for laser weapons that can shoot down enemy drones. (Business Insider)
Drones at Work
Daimler Mercedes-Benz, e-commerce startup Siroop, and delivery drone firm Matternet conducted their first live test flight of a drone delivery pilot system in Zurich. (TechCrunch)
In a new first, a team of researchers from Harper Adams University has successfully grown, tended, and harvested an agricultural field using only self-driving machinery and drones. (The New Yorker)
A civilian commission responsible for overseeing the Los Angeles County Sheriff's Department has called on the department to halt its drone program. (Los Angeles Times)
U.S. energy firm Ameren is set to begin using drones for facility inspections. (Galesburg Register-Mail)
The New York State Department of Environmental Conservation has deployed three drones and two operators to Puerto Rico to assist in efforts to rebuild the island's power grid. (Flying Magazine)
Meanwhile, New York State officials officially launched the Nuair corridor, a testing site where be operated beyond line of sight. (Syracuse.com)
After years of testing, EasyJet announced that it plans to begin using drones for routine aircraft inspections next year. (FlightGlobal)
The North Carolina State Highway Patrol announced that it will begin using drones to create 3D reconstructions of crash scenes. (The News & Observer)
The Cherokee County Sheriff's Office in South Carolina has acquired two drones for a range of operations. (GoUpstate.com)
Industry Intel
The U.S. Army awarded AAI a $12.9 million contract for 13 sets of tactical common data link spares for the RQ-7 Shadow. (DoD)
The U.S. Army awarded General Atomics Aeronautical Systems a $163.2 million contract modification for MQ-1C Gray Eagle extended range supplemental production hardware. (DoD)
The U.S. Army awarded General Atomics Aeronautical Systems a $55 million contract modification for engineering services in support of the Gray Eagle. (DoD)
The U.S. Army awarded Area I a $9 million contract for an Air-Launched Tube-Integrated Unmanned System for Army rotorcraft. (DoD)
The U.S. Army awarded Eagles a $221,545 contract for quadrotor drones and associated equipment. (FBO)
The U.S. Army awarded Clearpath Robotics a $142,950 contract for the Clearpath Jackal Unmanned Ground Vehicle. (FBO)
The U.S. Navy awarded AAI a $9.54 million contract for engineering and technical services for the Unmanned Influence Sweep System, an unmanned surface vehicle. (DoD)
The U.S. Navy awarded Endeavor Robotics a $9.7 million contract modification to exercise option two for the Man Transportable Robotic System. (DoD)
The U.S. Navy awarded Lockheed Martin a $43.2 million contract and Boeing a $42.3 million contract for work on the Orca Extra Large Unmanned Undersea Vehicle. (DoD)
The U.S. Navy awarded Insitu a $7.8 million Foreign Military Sales contract for six ScanEagle drones for the government of Iraq. (DoD)
The U.S. Navy awarded Cardinal Scientific a $329,320 contract for panel storage racks required for the MQ-4C Triton. (FBO)
The U.S. Special Operations Command awarded Emerging Technology Ventures a $18,808 contract for two custom-built quadrotor drones. (FBO
The U.S. Air Force awarded Stevens Institute of Technology a $225,000 contract to develop acoustic methods for detecting, tracking, and localizing unmanned aircraft. (FBO)
The U.S. Department of Agriculture awarded CEE Hydrosystems a $49,470 contract for an unmanned survey vehicle. (FBO)
The U.S. Department of Agriculture awarded RMUS a $30,105 contract for DJI Matrice 200 and DJI Inspire drones and associated equipment. (FBO)
The U.K. Ministry of Defense awarded Northrop Grumman a contract to support the CUTLASS unmanned ground vehicle. (Shephard Media)
For updates, news, and commentary, follow us on Twitter.
[includeme file="tools/sympa/drones_sub.php"]