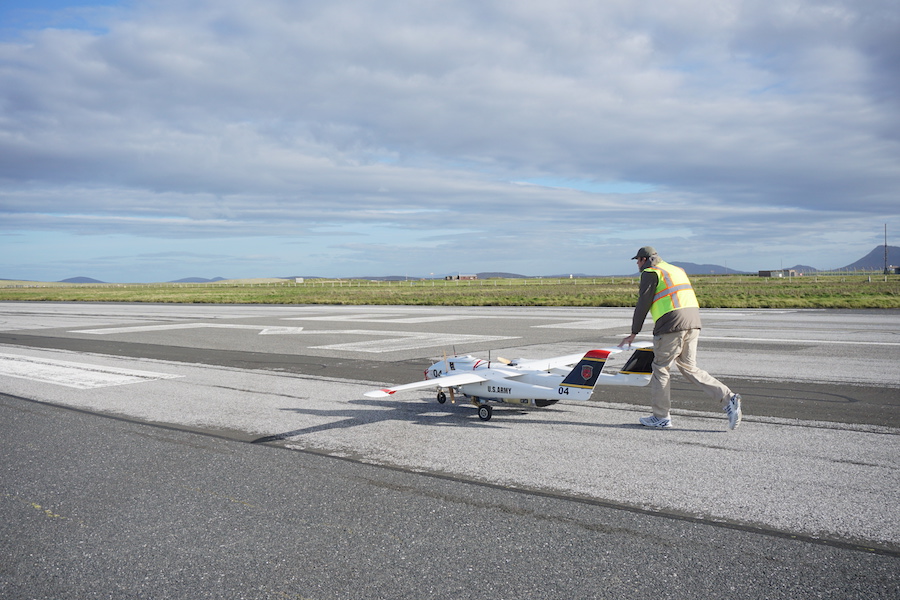 October 17, 2016 – October 23, 2016
 If you would like to receive the Weekly Roundup in your inbox, please subscribe at the bottom of the page.
At the Center for the Study of the Drone
In their perennial bid to better understand the weather, scientists are increasingly turning to drones, from high-altitude Global Hawks that circle over every major hurricane to small wind-powered unmanned boats in Arctic waters. Here's what you need to know about the growing field of weather drones.
News
The U.S. conducted two airstrikes in Yemen, killing eight suspected members of al-Qaeda in the Arabian Peninsula. Both strikes took place in the central Shabwa province, according to a statement by the U.S. Central Command. (Long War Journal)
CBC News reports that Canada's transportation ministry seeks to pass comprehensive new regulations for drone operators. According to documents obtained through an Access to Information request, Transport Canada could require drone operators to register, pass a knowledge test, and purchase liability insurance for drones that weigh more than .55 pounds. The final regulations are expected to go into effect in 2017.
Prosecutors in North Dakota brought charges against two participants in the Dakota Access Pipeline protest for drone-related activities. One individual was charged with stalking for using a drone to film private security contractors, while the other was charged with reckless endangerment after allegedly flying a drone close to a police helicopter. The charges are believed to be the first drone-related charges in North Dakota. (Grand Forks Herald)
The Afghan Taliban released a drone video of what appears to be a suicide attack on a police compound in Helmand province. It is the first known instance of the Taliban using a drone. "You can get a drone anywhere, in any shop. They found or bought one, and used it," Dawlat Waziri, a spokesperson for the Afghan Defence Ministry, said in an interview with Al Jazeera.
Britain and France awarded a group of European defense firms a $164 million contract to develop an unmanned undersea vehicle for mine-hunting. The team is led by France-based Thales and is set to deliver two drones by 2019. The project is the latest sign of close Anglo-French collaboration on the development of unmanned systems. (Defense News)
Commentary, Analysis, and Art
The Combating Terrorism Center at West Point released an in-depth study by Don Rassler on the use of drones by terrorist organizations. (CTC)
At War on the Rocks, T.X. Hammes argues that terrorist and insurgent-operated drones represent the "democratization of airpower."
Also at War on the Rocks, Marc Jacobsen writes that while it is important not to overreact to terrorist drones, the "threat of flying IEDs deserves serious and urgent attention."
At the Art of the Future of War, Ulrike Franke examines how the future of drones is portrayed by different science fiction writers.
At Defense One, Patrick Tucker writes that the Pentagon is not certain about the way in which it can test artificially intelligent weapons.
At the Air Force Times, Stephen Losey profiles the Air Force's new enlisted drone pilots, the first enlisted pilots since the Second World War.
At the Portland Press Herald, Kate McCormick writes that few law enforcement agencies in Maine intend to purchase drones.
At Lawfare, Kenneth Anderson examines the challenges faced by the U.S. military in developing and deploying self-driving vehicles.
At Forbes, Gregory S. McNeal discusses how to protect drones from cyber attacks with Jared Ablon.
At the Arms Control Association, Frank Sauer argues that it's important to continue pursuing a ban on fully autonomous weapons systems.
At Breaking Defense, Sydney J. Freedberg Jr. explores how the U.S. Marines are developing new tactics that integrate unmanned ground vehicles into infantry operations.
Also at Breaking Defense, Richard Whittle looks at how DARPA's vertical take-off and landing drone could change the ways the U.S. Army thinks about logistics.
In a book review essay at Foreign Affairs, Lawrence D. Freedman argues that drones are less revolutionary than they seem.
At DoD Buzz, Oriana Pawlyk writes that some U.S. Air Force officers are resisting the idea that the planned long-range strike bomber should have the option of being unmanned.
The Future of Drone Use: Opportunities and Threats from Ethical and Legal Perspectives explores the implications of a wide variety of drone applications. (Springer Link)
In a forthcoming essay in the Georgia State Law Review, Hillary B. Farber examines the "efficacy of trespass, nuisance and privacy torts as applied to drones."  (SSRN)
In a forthcoming essay in the Research Handbook on Remote Warfare, Ian Henderson, Patrick Keane, and Joshua Liddy examine how remotely operated and autonomous weapons intersect with international law. (SSRN)
Killbox is a two-player video game where the participants play both the drone operator and a civilian on the ground. (Quartz)
Know Your Drone
A team at the U.S. Naval Research Laboratory is developing systems that enable glider drones to autonomously seek out thermals that drastically increase endurance. (Popular Science)
In a demonstration, a newly unveiled robotic flight system developed by U.S. aerospace firm Aurora Flight Sciences autonomously flew a manned airplane through several basic maneuvers. (Unmanned Systems Technology)
Researchers from Ben-Gurion University of the Negev (BGU), the University of South Alabama, and Singapore University of Technology and Design demonstrated how they could hack a digital 3D printing file for a drone propeller so that it would print a faulty propeller that causes drones to crash. (TechCrunch)  
Police equipment maker Taser International is in discussions with police officials about a concept for a taser-equipped drone. (Wall Street Journal)
Popular Mechanics rounds up the "coolest" drones from the Unmanned Warrior military exercises.
Chinese educational robotics firm Makeblock is raising funds on Kickstarter for Airblock, a modular programmable multirotor drone. (New Atlas)
U.S.-Israeli robotics firm Roboteam is developing an unmanned ground vehicle that can also fly. (Press Release)
A group of Australian entrepreneurs is developing drones with computer vision systems that allow for highly accurate delivery of packages. (ABC)
A team from the University of Tokyo is developing a humanoid robot that is strong enough to do pushups. (CNET)
General Atomics integrated automated take-off and landing software into the Department of Homeland Security's Predator B drones. (Press Release)
The PLA Army concluded a multi-week unmanned ground vehicle competition that featured 73 teams from 44 military and civilian institutions. (China Military)
Juliet Marine Systems, Inc. announced plans to develop a military, multi-mission unmanned surface vehicle called the Guardian. (Press Release)
Thales announced the launch of Pathmaster, an advanced unmanned mine countermeasure system. (Press Release)
Meanwhile, Thales displayed an autonomous underwater stealth drone called the Autonomous Underwater and Surface System at Euronaval 2016. (DefenseNews)
NASA began flying drones beyond the line of sight of the pilot as part of an ongoing project to integrate drones into the national airspace. (Recode)
Amazon was granted a patent to develop a miniature voice-controlled drone assistant, potentially for law enforcement applications. (GeekWire)
Turkey issued two requests for information for new drones, including a mini UAV for surveillance for operations that take place in difficult terrain. (DefenseNews)
Clearpath Robotics and ARGO XTR announced the release of the Warthog, an amphibious all-terrain unmanned ground vehicle. (Unmanned Systems Technology)
An essay in the International Journal of Advanced Robotic Systems proposes a tree search algorithm as a means to developing a conflict avoidance system for drones operating in dynamic environments. (Sage Journals)
In a presentation at the 2016 International Symposium on Safety, Security and Rescue Robotics, Stefano Mintchev and Dario Floreano proposed a pocket-sized drone for search and rescue operations. (École Polytechnique)
Serbia's Military Technical Institute Belgrade and BB Composite unveiled an improved variant of the Pegaz tactical UAV. (Defence Blog)
Drones at Work
The Dedrone counter-drone system was used in Las Vegas during the recent presidential debate. (Fortune)  
The University of Maine at Augusta is preparing to offer the state's first unmanned aircraft training course. (WLBZ2)
Drone conservation organization Air Shepherd is seeking to use drones to counter individuals who have been poisoning elephant water supplies, a new form of poaching. (Huffington Post)
Indian police arrested a Russian tourist for allegedly flying a drone too close to the Sri Ramanathaswamy temple in Rameswaram. (The Hindu)
A team from the University of Leiden is using drones to map archaeological sites in the Caribbean. (Press Release)
An underwater drone is being sent to investigate sonar contacts of interest in the search for the missing Malaysian Airlines 370 aircraft. (Associated Press)
The Palm Beach County Sheriff's Office was awarded a $1 million grant from the Florida Department of Law Enforcement to develop a program to use drones for search-and-rescue. (Palm Beach Post)
The Nevada Highway Patrol used a drone to take aerial photos of crime scenes. (KTNV)
A paper posted on Cornell University's arXiv.org looks at how to utilize drones and wireless sensor networks to monitor endangered species.
A U.S. RQ-4 Global Hawk accidentally turned on its transponder while flying over Ukraine, making it visible to online air traffic watchers. (The Aviationist)
If you're wondering what to do with your drone this Halloween, you could dress it up as an Angel of Death. (Gizmodo)
Industry Intel
Venture capital funding for drone startups reportedly dropped 59 percent year-over-year in the third quarter of 2016. (Market Watch)
Dave Vos, a top executive at Alphabet's Project Wing, is departing the drone delivery project. (Fortune)
Hangar Technology, an Austin-based startup, raised $6.5 million in funding for technology that allows businesses to exploit drone data. (TechCrunch)
The Defense Innovation Unit Experimental awarded Kratos Defense a $12.1 million contract to explore concepts for high-speed drones that can provide assistance to fighter pilots. (Press Release)
DCNS partnered with Airbus Helicopter to develop an unmanned helicopter for France's Naval Aerial Drone program. (Press Release)
Endeavor Robotics partnered with Leidos to develop an unmanned ground vehicle for the U.S. Navy's EOD requirement. (Press Release)
The U.S. donated Remus 100 unmanned undersea vehicles to the Croatian Navy. (Press Release)
The U.S. Army awarded General Atomics Aeronautical Systems Inc. a $310 million contract for logistics support for the MQ-1C Gray Eagle. (Contract Announcement)
The U.S. Army will award North Eastern Aeronautical Company a $49.2 million contract to modernize and improve the company's Arrow unmanned aircraft system. (IHS Jane's 360)
The U.S. Navy awarded Northrop Grumman Systems Corp. a $35 million contract for risk reduction for the MQ-25 Stingray. (Contract Announcement)
The U.S. Navy will award Hydronalix a phase-3 contract for an unmanned surface vehicle to monitor the safety of Navy vessels. (Military Aerospace)
The U.S. Navy awarded Leonardo-Finmeccanica a contract for Osprey AESA radar kits for the MQ-8C Fire Scout. (UPI)
The Department of Defense awarded WATT a contract valued at $400,000 for tethered surveillance drones. (AIN Online)
For updates, news, and commentary, follow us on Twitter.
[includeme file="tools/sympa/drones_sub.php"]