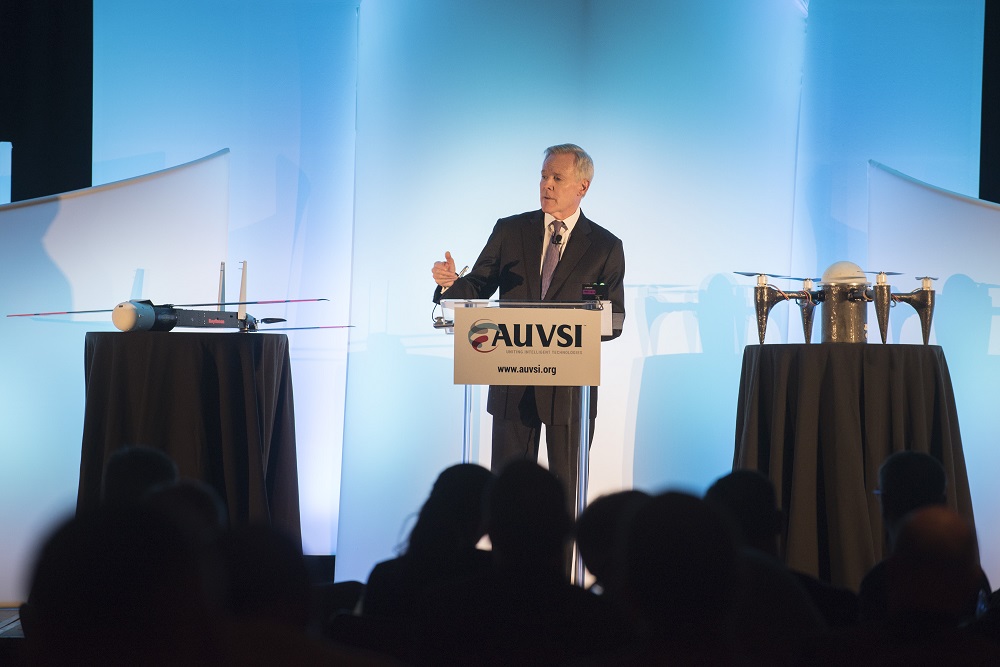 10/26/15 – 11/1/15
If you would like to receive the Weekly Roundup in your inbox, please subscribe at the bottom of the page.
At the Center for the Study of the Drone
Lisa Ellman knows a thing or two about the challenges of regulating domestic drones use. During a three-year stint at the White House, she served as a principal expert on unmanned aircraft integration. We spoke to Ellman to find out her perspective on how regulators can create sensible rules for drone use while also allowing the industry to grow.
News
Secretary of the Navy Ray Mabus appointed Frank Kelley, a former Marine Corps brigadier general, as the first deputy assistant secretary for unmanned systems. Brig. Gen. Kelley's office will coordinate among the Navy's various unmanned systems programs, which include air, ground, surface, and underwater vehicles. (Reuters)
Wal-Mart has applied for permission from the Federal Aviation Administration to begin testing drones for home delivery and improving efficiency at warehouses. "There is a Wal-Mart within five miles of 70 percent of the U.S. population, which creates some unique and interesting possibilities for serving customers with drones," Wal-Mart spokesperson Dan Toporek said in an interview with Reuters.
The crew of a British Airways flight reported seeing a drone while on approach to New York's John F. Kennedy International Airport. The Boeing 777 airliner's crew stated that the aircraft passed the drone at between 1,800 and 2,200 ft. and around five miles northeast of the airport. (NBC New York)
A drone that crashed into power lines in Los Angeles is suspected of having caused a power outage that left 700 people without electricity. Local authorities are searching for the operator of the drone. (Los Angeles Times)
A Kentucky judge dismissed a case against a man who was arrested for shooting down a drone that he claims was hovering over his backyard. In her ruling, Bullitt County Judge Rebecca Ward said that William H. Merideth was justified in using a shotgun to bring down a drone, as it was invading his privacy. (Wave3 News)
Police in Turkey have placed orders with Turkish aerospace companies for six Bayraktar drones and four ground controls stations. The Bayraktar is a tactical drone with a maximum endurance of 24 hours and range of 93 miles. (DefenseNews)
Air Force Lieutenant General Robert Otto suggested that it might be possible for one person to operate Predator and Reaper drones, instead of two. In recent years, the Air Force has struggled to find enough pilots for its Predator and Reaper programs. "There are certainly missions today that could be done by one woman or one man [who's] both flying the aircraft and managing the sensors, if we architected the ground stations to enable it." (Breaking Defense)
Commentary, Analysis, and Art
At the New York Times, Gail Collins argues that recreational drones are a menace that should be strictly regulated.
The editorial board at the Washington Post argues that the FAA's plan to register drones is "the bare minimum the government should be doing."
In a presentation at TedxLincoln, Matt Waite takes a look at why the federal government struggles to regulate unmanned flight.
At Lawfare, C. Christine Fair contends that The Intercept has misrepresented the facts regarding the U.S. targeted killing campaign.
At PBS Newshour, former Predator drone pilot T. Mark McCurley explains how the public's perception of military drones has changed since the the program was created.
New York Times staff photographer Josh Haner used a drone to capture aerial images of Greenland.
At Outside Magazine, Anna Callaghan takes a look at why some skiers are against drones.
Rep. Duncan Hunter (R-CA) called on the Obama administration to sell Predator drones to Jordan to help fight the Islamic State. (DefenseNews)
The Uplink
The Department of Transportation recently announced that it is developing rules that will require all drones to be registered. What will be the impact of these new rules, and what will be some of the challenges for implementation?
Robert Gonsalves, Founder, U.S. Association of Unmanned Aerial Videographers
The Department of Transportation's proposed requirement to register small unmanned aerial vehicles used for recreation is a positive step towards an overall integration plan; however, creating a framework for management and implementation this holiday season raises concerns. There are complexities that should not be rushed such as determining a tiered approach based on weight or other characteristics of the UAV, determining how to register UAVs already in use, managing the registration information collected, and creating enforcement protocols and resources to do so. Furthermore, this action by the DOT and FAA to bypass the federal Administrative Procedures Act and Office of Management and Budget review sets a precedent; opening the door to additional requirements introduced later on a similarly rush basis.
Know Your Drone
The U.S. Army conducted tests with swarms of consumer drones to evaluate both the offensive applications for the technology and the threat they might pose if used by an adversary. (Computerworld)
Meanwhile, in a test, a U.S. Army UH-60A Black Hawk Helicopter autonomously transported a small amphibious all terrain vehicle across several miles to a drop-off point. (Defense One)
U.S. underwater drone maker OpenROV has unveiled a new model, the Trident, which the company claims is capable of swimming as fast as a U.S. Olympic gold medalist Michael Phelps. (Tech Crunch)
A team at the Swiss Federal Institute of Technology has tested a drone that is able to generate a 3D map of its surroundings and then autonomously create its own route around obstacles. (Mashable)
Popular Chinese consumer drone maker DJI has opened a research and development facility in Silicon Valley. (Fortune)
The U.S. Navy announced that it will create and deploy a squadron of unmanned submarines within the next four years. (Defense One)
Surveillance drone maker Insitu posted a video of one of its drones being launched and then recovered by a large multicopter drone. (Vimeo)
Meanwhile, camera company GoPro released a video shot using a prototype of the company's quadcopter drone. (Wired)
Microsoft has partnered with drone maker Aeryon Labs for its Advanced Patrol Platform police vehicle project. The Aeryon drones will beam aerial imagery directly to the police vehicle. (GPS World)
Drones at Work
Jerome Pilkington, a cattle farmer in Australia, explains why he uses drones to round up his stock.
Meanwhile, the Australian postal service will begin testing a drone mail delivery system. (Business Insider)
An international team of archeologists will use drones to create 3D images of the Pyramids. (Motherboard)
Researchers at the University of Nebraska are exploring ways of using drones to aid firefighters and conservationists. (NBC Nebraska)  
Nigeria may deploy drones to help fight crime in Lagos. (Daily Trust)
For updates, news, and commentary, follow us on Twitter.
[includeme file="tools/sympa/drones_sub.php"]