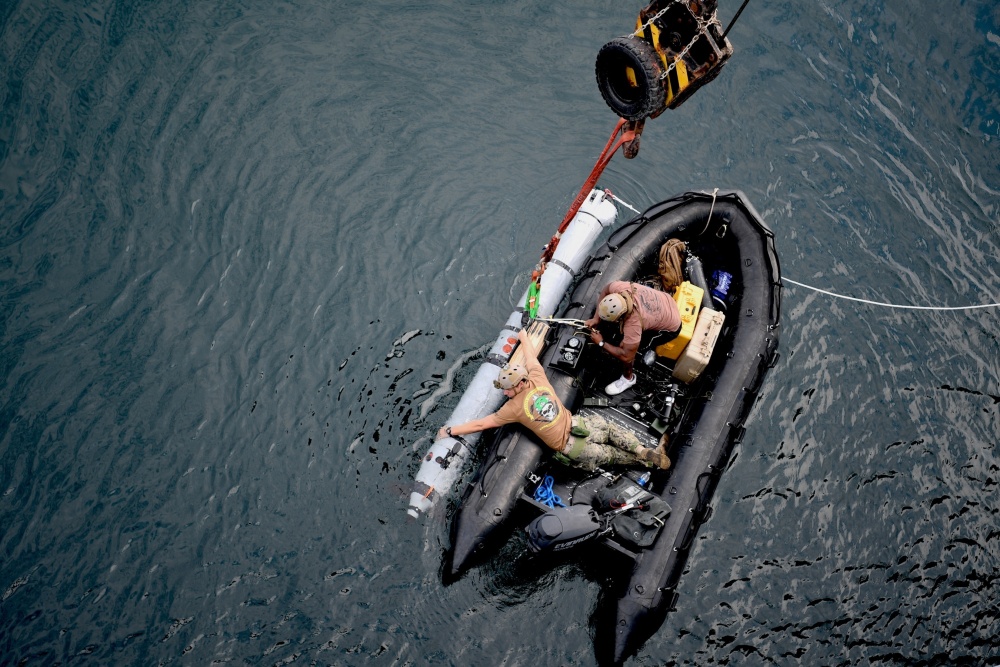 December 10, 2018 – December 16, 2018
If you would like to receive the Weekly Roundup in your inbox, please subscribe at the bottom of the page.
Top Stories

An Aeromexico passenger jet may have been struck by a drone as it approached Mexico's Tijuana International Airport. Although the nose of the Boeing 737-800 was damaged by what crew described as a loud bang during its descent, the jet landed safely. The cause of the incident remains under investigation. (Bloomberg)

The Ghanaian parliament has voted to award Zipline a four-year, $12.5 million contract to use drones to deliver medical supplies to remote areas. The proposed contract had been criticized by Ghanaian lawmakers and the Ghana Medical Association as too expensive and a misappropriation of funds. (CNBC)

The EuroMALE, a medium-altitude long-endurance drone that is being jointly developed by several European countries, has passed its System Preliminary Design Review. It is scheduled to proceed to the development phase in 2019, with a functioning prototype expected by 2023. (Jane's)

Know Your Drone
The U.S. Defense Advanced Research Projects Agency conducted the first test of its Squad X Experimentation program, which seeks to develop unmanned air and ground vehicles to provide surveillance and reconnaissance for small dismounted units. (Press Release)

A team at the University of Zürich and École polytechnique fédérale de Lausanne has developed a quadcopter drone that can shrink in mid-flight to fit through tight spaces. (TechCrunch)

The U.S. Air Force Academy is developing a 40-foot wingspan stealth drone that could begin flight testing as early as September 2019. (Popular Mechanics)

Russian defense firm Mikran unveiled the Carnivora, a claw-equipped drone designed to grab adversary drones out of the air. (C4ISRNET)

U.S. defense firm Northrop Grumman revealed new details about the Firebird, an optionally manned long-endurance aircraft designed for persistent surveillance operations. (The Drive)

Researchers from the Royal Melbourne Institute of Technology and ISAE-Supaéro are developing a birdlike flapping-wing drone that searches for thermals and air gusts to aid its flight. (Tech Republic)

U.S. startup ElectraFly unveiled a prototype for a large multicopter drone that could be used for military cargo or soldier transport. (Aviation Week)

In a demonstration, Russian firm Skyf flew a large gas-powered multirotor drone carrying 100 kg of payload over a distance of 100 meters. (New Atlas)

In a test, the Brazilian Air Force conducted the country's first flight of a military drone via a satellite link. (Defense-aerospace.com)

Drones at Work

Finland's armed forces are soliciting drone operators to join a reserve unit dedicated to using drones in deployed military operations. (ZDNet)

The Monterey County Sheriff's Office in California used a drone to track down an armed suspect after he broke into a historic lighthouse. (Unmanned Aerial Online)

Police in Bordeaux, France used a tethered surveillance drone to monitor traffic and crowds at a large concert. (Commercial Drone Professional)

U.S. drone maker Boeing Insitu revealed that it deployed a ScanEagle drone for aerial data collection in support of fire suppression operations during the Camp Fire in California. (Unmanned Systems Technology)

U.S. firm AirMap has integrated into its drone operator app real-time geofencing alerts that advise drone pilots when they are approaching restricted or unsafe airspace. (AIN Online)

The Ministry of Agriculture of Tunisia has trained the country's first cohort of certified drone pilots for an agricultural drone program. (Africanews.com)

Authorities in Sedona, Arizona removed fake "No Drone Zone" signs from various trailheads that cited a federal law that does not apply to the area's airspace. (Red Rock News)
Industry Intel

The U.S. Army awarded General Atomics Aeronautical Systems a $40 million contract modification for MQ-1C Gray Eagle services. (DoD)

The U.S. Navy awarded Precision Integrated Programs a $5.6 million contract for contractor-owned and operated drone services. (FBO)

Vietnam has reportedly acquired three Israel Aerospace Industries Heron 1s with a contract valued between $140 and $160 million. The deal has not been officially confirmed by the government of Vietnam. (Jerusalem Post)

DroneBlocks has partnered with Ocean Alliance to further develop drones that gather health data on whales for conservation efforts. (Press release)

Commentary, Analysis, and Art

At The Wall Street Journal, Andy Pasztor looks into different efforts that are attempting to reduce the threat of midair collisions between manned aircraft and drones.

At iRevolutions, Patrick Meier looks into how drones that target mosquito populations can be used to reduce Dengue Fever outbreaks.

At Defense News, Seth J. Frantzman writes that Israeli defense company Rafael is exploring the development of a vehicle that can manage a fleet of air and ground drones.

At C4ISRNET, Kelsey D. Atherton breaks down some of the unspoken challenges that come with developing autonomous combat vehicles.

At Globes, Yuval Azulai writes that the Israel Defense Forces is seeking to replace its fleet of Chinese-made hobby drones with a small drone made by an Israeli defense contractor.

At Digital Trends, Luke Dormehl looks into Intel's plans to field fleets of drones for infrastructure inspection.

At liveMint, Kul Bhushan explores the opportunities and challenges faced by Zomato's plans for drone deliveries of food in India.

For updates, news, and commentary, follow us on Twitter.