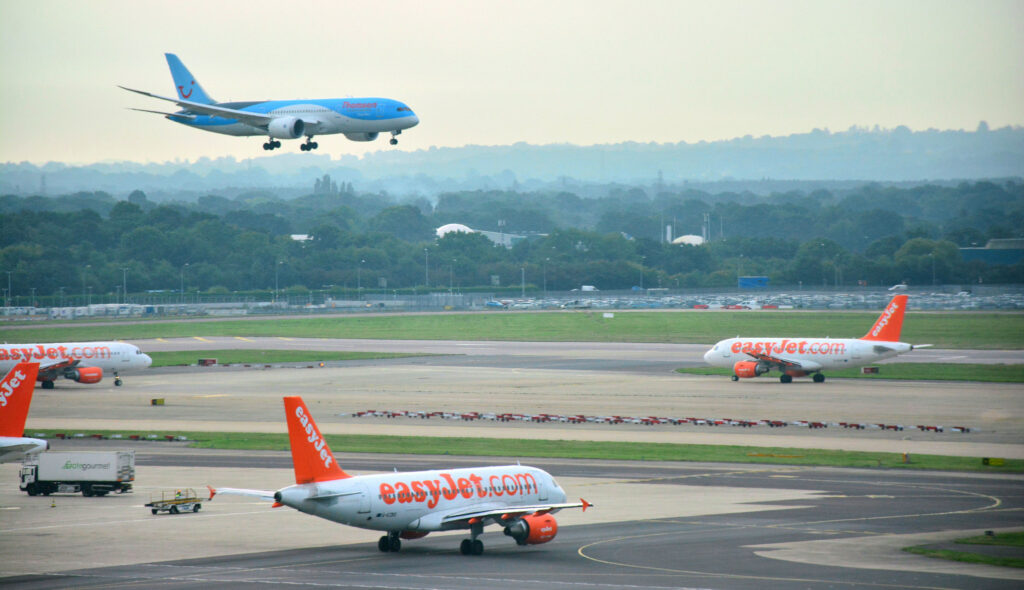 December 17, 2018 – December 23, 2018
If you would like to receive the Weekly Roundup in your inbox, please subscribe at the bottom of the page.
At the Center for the Study of the Drone

In an interview for NPR, Center for the Study of the Drone co-director Arthur Holland Michel explains the many reasons why it's not so easy to counter rogue drones in our skies.
For our report on counter-drone technology, click here.

Top Stories

London's Gatwick Airport suspended operations three times last week after drones were spotted repeatedly flying over the runway, leaving more than 100,000 passengers stranded on one of the busiest travel days of the year. The airport resumed regular flights after the British Army installed an electronic jamming device that blocks remote control drone operations. (Associated Press)

Meanwhile, Sussex police released two individuals who had been arrested on suspicion of flying the drones over Gatwick, clearing them of any wrongdoing following an investigation. In a statement, a senior police officer suggested that no drones may have even been involved in the shutdowns at all. The officer later walked back this assertion, noting that there were 67 eyewitness reports of the drone overflights. (The Guardian)

The Office of the United Nations High Commissioner for Human Rights has reported that two civilians were injured by commercial drones that were modified to carry explosives in eastern Ukraine in recent months. It was the first time the OHCHR has recorded an incident of this type in the conflict. (PDF)

Algeria has acquired the Yabhon United 40 and Yabhon Flash-20, two heavy-class drones developed by the UAE's Adcom Systems. In a statement, the Algerian Ministry of Defense said that the drones had been manufactured domestically. (Jane's)

Know Your Drone

China Aerospace Science and Technology Corporation announced that it will be upgrading its CH-4 Rainbow exportable strike-capable drone with a modern heavy fuel engine. (Jane's)

U.S. technology firm Pliant Energy Systems unveiled the Velox, an amphibious resupply vehicle with a novel propulsion system that resembles that of a manta ray. (C4ISRNET)

U.S. firm Airspace Systems unveiled the Airspace Galaxy, a multi-sensor counter-drone system. (Unmanned Systems Technology)

Israeli defense firm Elbit Systems has completed sea trials of the Kraken Robotics KATFISH synthetic aperture sonar aboard its Seagull unmanned surface vessel. (Unmanned Systems Technology)

French firm Airbus Helicopters conducted the first unpiloted autonomous flight of its VSR700, a modified variant of the Guimbal Cabri G2 manned helicopter. (AIN Online)

Researchers from EMBL Barcelona and the University of Bristol have developed a swarm of robots that can self-organize into biologically inspired shapes without a central master plan. (MIT Technology Review)

The U.S. Navy is preparing to issue a request for proposals for the Medium Unmanned Surface Vessel, a large uncrewed boat with extended range. (Inside Defense)
Drones at Work

Supermarket chain Kroger has launched a unmanned ground vehicle delivery pilot program in Scottsdale, Arizona. (Reuters)

Officials from German soccer team Werder Bremen admitted to flying a drone over an opposing team's practice session in the lead up to a match between the two sides. (Sport Bible)

A woman and her daughter were arrested in Tampa, Florida after allegedly attempting to smuggle tobacco and other contraband into a prison using a drone. (Associated Press)

Petroleum giant Royal Dutch Shell is launching a pilot program to test autonomous inspection drones at the Shell Technology Center in Houston. (The Wall Street Journal)

Paris-Le Bourget airport has installed a tethered surveillance drone for security operations. (Unmanned Systems Technology)

Industry Intel

A report by the U.S. Department of Defense Inspector General concluded that the Air Force has purchased more spare parts for the MQ-9 Reaper Block 5, the newest iteration of the drone, than it actually needed. The value of the excess material is approximately $31 million.

The U.S. Army awarded Foster-Miller a $90 million contract for maintenance and sustainment of the Tactical Adaptable Light Ordnance Neutralization family of robotic systems. (DoD)

The U.S. Navy awarded Boeing a $90.4 million contract modification for studies and analysis related to the development of the MQ-25 Stingray. (DoD)

The U.S. Navy awarded Insitu a $114,802 foreign military sales contract for ScanEagle system spares for the government of Colombia. (FBO)

The U.S. Navy awarded Consorzio Stabile CMB SCARL a contract to build additional hangars at the U.S. drone base in Djibouti. (FBO)

The U.S. Air Force awarded General Atomics Aeronautical Systems a $291.4 million contract for MQ-9 Reaper support and services. (DoD)

Thales has partnered with MSubs to develop and test unmanned undersea vehicles at the Plymouth Marine Autonomous Range, an autonomous systems test site in the U.K. (Jane's)

Adani Defence & Aerospace and Elbit Systems have opened a facility in Hyderabad, India to manufacture the Hermes 900, the first such facility outside of Israel. (Unmanned Systems Technology)

The Spanish Army has acquired two Alpha Unmanned Systems 800 rotary-wing drones. (Shephard Media)

In the Mid-Term Defense Plan, the Japanese Ministry of Defense outlined a plan to acquire ship-based drones for the Maritime Self Defense Force. (Defense News)

Krypto Labs announced the start of the $1.5 million Drone X Challenge fund to accelerate the deployment of drones in transportation and delivery. (Unmanned Systems Technology)
Commentary, Analysis, and Art

At the Los Angeles Times, Samantha Masunaga describes the potential risks posed by drones to commercial airliners, and considers a few possible remedies.Center Co-Director Arthur Holland Michel was interviewed for this story.

A report by the Royal United Services Institute explores the real effects of the proliferation of strike-capable drones in the Middle East.

At Defense News, Kelsey D. Atherton writes that the U.S. Army is looking at vertical take-off and landing drones to eventually replace the RQ-7 Shadow.

At Wired, Zachary Fryer-Biggs looks into how the U.S. military is trying to recruit experts in artificial intelligence after Google withdrew from Project Maven.
Photographer Reuben Wu used a drone equipped with LED lights to capture nighttime images of Peru's Pastoruri glacier. (Wired)
For updates, news, and commentary, follow us on Twitter.