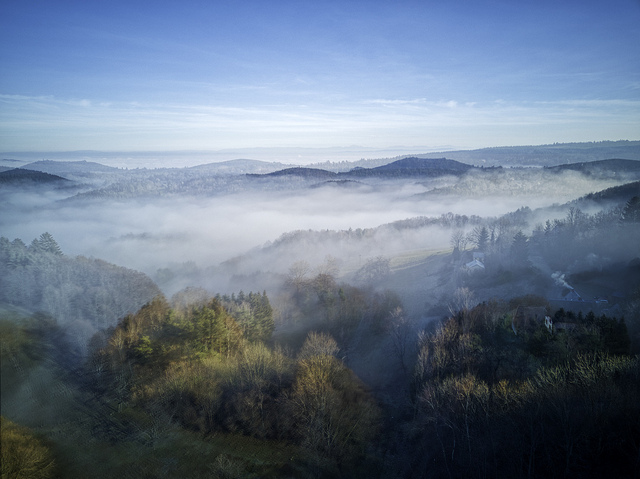 December 24, 2018 – December 30, 2018
If you would like to receive the Weekly Roundup in your inbox, please subscribe at the bottom of the page.
Top Stories

Police in the U.K. issued a statement "unequivocally" confirming that there were numerous sightings of drones flying over London's Gatwick Airport earlier this month. The statement was released after an officer involved in the investigation cast doubt on the veracity of some of the reported sightings that prompted a prolonged shutdown of air traffic. An investigation into the incident is ongoing. (Associated Press)

A company seeking to build a gun range and law enforcement training center in Washington state is suing the Tarboo Ridge Coalition, a local conservation organization, for trespassing and harassment, claiming that the group conducted several drone flights over its 40-acre site on Lake Tarboo without permission. An attorney for the company, Fort Discovery Inc., told reporters that since Washington State has never had a legal case related to aerial trespass, the suit would result in new legal precedents for drone operations over private property. (Peninsula Daily News)

Know Your Drone

Aviation Industry Corporation of China conducted the maiden flight of the Wing Loong ID, an exportable strike-capable medium-altitude long-endurance drone. (FlightGlobal)

Italian firms FPT Industrial and Forvola flew a 16-propeller drone carrying 101 kilograms of cargo, setting a new Guiness World Record for the heaviest load carried by a multirotor unmanned aircraft. (Unmanned Systems Technology)

Chinese drone maker DJI is integrating the FLIR Lepton, a small thermal imaging camera, with its Mavic 2 Enterprise Dual commercial multirotor drone. (Unmanned Systems Technology)

A 21-year-old student from Bengaluru, India has developed a vertical take-off and landing fixed-wing drone that can carry up to 5.5 kilograms of medical supplies. (edex live)

The British Army has revealed that it has trialled the Stork, an autonomous unmanned paraglider designed for resupply missions in remote areas, at a recent military exercise. (New Scientist)
Drones at Work

Rescuers in Indonesia have been using drones to search for survivors following the recent tsunami. (NBC News)

Vigilant Aerospace Systems and Oklahoma State University conducted the first beyond visual line-of-sight drone operations under the university's recently authorized test program for such flights. (sUAS News)

Defense firm Textron Systems is preparing to deploy its Aerosonde vertical take-off and landing fixed-wing surveillance drone for the U.S. Navy's upcoming U.S. Southern Seas/UNITAS military exercise. (AIN Online)

The Australian Civil Aviation Safety Authority has announced that it will be installing drone detection and identification systems at various airports, tourist hotspots, and sensitive facilities around the country. (BBC)
Industry Intel

The U.S. Navy awarded Boeing Insitu a $12.2 million contract for spare and sustainment parts for the RQ-21A Blackjack. (DoD)

The U.S. Air Force awarded Raytheon a $59.2 million contract for contractor logistics support for the MQ-9 Reaper sensor systems.

Unifly, a Belgian startup developing a drone traffic management system, raised $16.7 million in a Series B funding round. (TechEU)

Thales has partnered with Aquabotix and several Australian companies to develop unmanned undersea vehicles. (Jane's)

The British Army took delivery of several Harris Corporation T7 unmanned ground vehicles, the first of 56 bomb-disposal robots to be delivered under a $67 million contract. (Press release)

The Aviation Industry Corporation of China claimed that it has delivered the 100th Wing Loong drone for export. (Xinhua)

DroneShield announced that it has received an order for the DroneSentry counter-drone system from an unnamed country in Central America. (Press release)

Leonardo has been awarded a contract to supply its Skyward-AB infrared search and track technology to an unnamed company in Asia that is developing tactical drones. (Aviation International Online)

Commentary, Analysis, and Art

At The New York Times, Richard Pérez-Peña writes that investigators have few leads on the individual or individuals responsible for the drone overflights of Gatwick Airport.

The Associated Press reports that Skylock, an Israeli anti-drone technology company, has experienced a spike in demand for its products following the Gatwick airport drone incident. (NBC News)

At DroneLife, Colin Snow considers the three trends that shaped the drone industry in 2018.

Also at DroneLife, Kara Murphy selects a few of the best drone photos and videos from 2018.

In an interview at C4ISRNET, Sam Bendett discusses potential developments in Russia's military drone programs in 2019.

The American National Standards Institute published its first volume of the Standardization Roadmap for Unmanned Aircraft Systems. (Unmanned Systems Technology)

The Associated Press surveys efforts by the U.S. Army to acquire robots and other unmanned ground vehicles that will assist soldiers on the battlefield.

At the Wall Street Journal, Mike Cherney looks into how Project Wing's drone delivery tests in Australia are impacting one local community.

At the Ventura County Star, Tyler Hersko writes that AeroVironment is consolidating its operations by moving to a new headquarters in California.
At The Telegraph, Gareth Davies writes that some of the drone sightings around Gatwick Airport may have actually been drones operated by police.