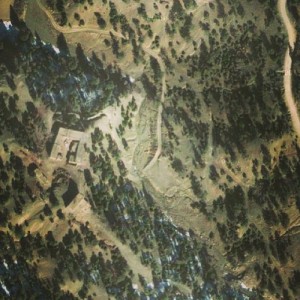 If you would like to receive the Weekly Roundup in your inbox, please subscribe at the bottom of the page.
At the Center for the Study of the Drone
The debate around Lethal Autonomous Weapon Systems, sometimes referred to as "killer robots," is heating up on the international stage. But what exactly is a killer robot, and why is the UN considering a moratorium on this technology? Here's what you need to know.
News
Two U.S. drone strikes reportedly killed at least nine people in the Shawal Valley of North Waziristan, Pakistan. The first strike destroyed a vehicle carrying four Uzbek fighters, and the second strike targeted a compound belonging to Asmatullah Muawiyah, a Punjabi Taliban leader. (New York Times)
Al-Qaeda in the Arab Peninsula released a video on how best to avoid drones. The video describes the multiple sensors on the drones, such as thermal detection capabilities. It recommends several tactics for camouflaging oneself and using "insulation cover" as protection. (Long War Journal)
UAS America Fund, LLC, an industry-supported commercial drone advocacy group, submitted a set of possible regulations for small drones to the Federal Aviation Administration. The rules would require operators to have a "demonstrated level of aeronautical knowledge" and follow the existing rules for small drones, such as a flying under a 400 ft. ceiling. The proposed rules are intended to get the commercial industry airborne "quickly but safely," according to a UAS America press release. (Law360)
The British Civil Aviation Authority warned people receiving drones this Christmas that improper use of their gifts would result in hefty fines. Operators could face up to $8,000 in fines for flying over congested areas or near people and buildings. The move follows a campaign by the U.S. Federal Aviation Administration encouraging hobbyists to respect regulations when flying drones. (Associated Press)
Hungary's data protection agency (NAIH) has urged lawmakers to consider the privacy issues raised by drones. In a research paper, the agency warned that drones could allow a "very strong penetration into the private sphere of individuals." Hungarian lawmakers are in the process of drafting regulations for commercial drones.
In a report, the Iowa Department of Public Safety advised lawmakers to hold off on passing anti-drone laws. The report argues that there are a number of beneficial drone applications for agriculture and police work. (KCCI8)
Commentary, Analysis and Art
At the New York Times, Mark Mazzetti considers how the Senate's "torture memo" has had little effect on the CIA's mandate to carry out drone strikes.
At Just Security, Marty Lederman has a few thoughts on Steve Coll's in-depth article on targeted killing and drones in the New Yorker.
The Der Spiegel staff examine the history of targeted killings in Afghanistan.
At the Jerusalem Post, Yaakov Lappin notes that Israel's center for training drone pilots is growing rapidly.
At Vice, Jason Koebler argues that drones don't pose a threat to aircraft as long as hobbyists aren't flying near an airport.
At the World Economic Forum, Carolyn Baylon argues that "drones are a growing nuclear security issue."
DesignBoom compiled a list of the most notable drone innovations of 2014.
The French drone company Parrot released a new advertisement featuring tightrope walkers playing with drones at dizzying heights. (YouTube)
In an episode of "The Big Future," the Verge takes a look at the potential commercial applications of drones. (YouTube)
At the Verge, Sean O'Kane assembles photos and videos of people unwrapping their holiday drones.
Meanwhile, according to Brian Barrett at Gizmodo, "dads with drones are ruining Christmas."
A Hanukkah tweet by the Israeli Defense Forces features a soldier carrying a drone. (Haaretz)
Know Your Drone
The Defense Advanced Research Projects Agency has issued a call for software that could enable small drones to navigate complex indoor environments at high speeds. (Defense One)
NASA has awarded defense contractor Lockheed Martin a small research fund to study the feasibility of creating a drone capable of reaching Mach 6.0, which is about 4,500 mph. (Popular Mechanics)
China has announced that it has created a jet-powered version of its Wing Loong military drone. (China Post)
Iran unveiled a "suicide drone" at a large military drill. (AP)
Tested created a step-by-step guide to building your own racing quadcopter. (YouTube)
Drones at Work
La Poste, the French national post service, is developing a multirotor drone to deliver medical supplies to difficult-to-reach areas. (The Telegraph)
At Popular Science, Andrew Rosenblum examines how more and more people are using drones to create aerial maps.
Aerodyne Geospatial, a UAV company in Malaysia, used a drone to capture images of wide-scale flooding. (Yahoo)
Meteorologist Jeff Tilley and the Nevada Desert Research Institute are building cloud seeding  drones to help increase precipitation during storms. (CBS)
Defying warnings, a hobbyist flew his drone around a California Christmas fireworks display. (Gizmodo)
TravelbyDrone.com is a popular new website that allows users to upload drone videos of destinations around the world. (New York Times)
A drone hobbyist in Texas shares a few of his favorite aerial tricks to do with quadcopters. (Popular Science)
For updates, news, and commentary, follow us on Twitter.
For Mashable's take on the week in drone news, check out Drone Beat.
[includeme file="tools/sympa/drones_sub.php"]