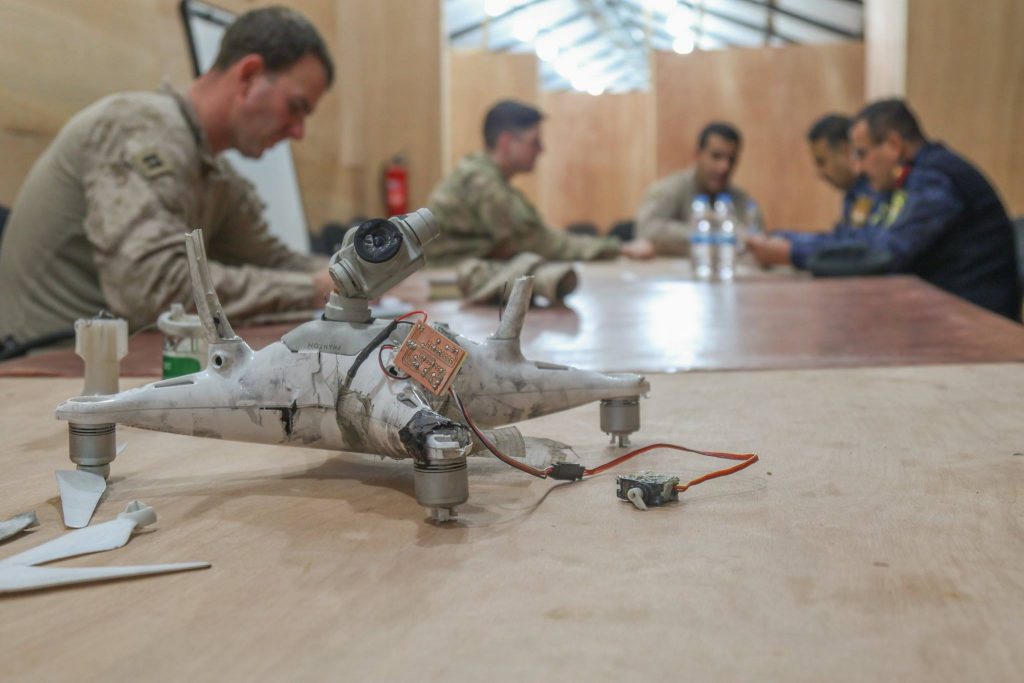 February 13, 2017 – February 19, 2017
If you would like to receive the Weekly Roundup in your inbox, please subscribe at the bottom of the page.
News
Telecommunications firm Verizon has acquired Skyward, a drone operations management company. Skyward develops software for drone operators to manage flight tracking and logging, maintenance scheduling, and contract management. The drone startup will join Verizon's Internet of Things portfolio. (TechCrunch)
Kenya's government has implemented regulations for commercial drone use. The Kenya Civil Aviation Authority will begin allowing businesses to import and use drones for a range of operations. (Daily Nation)
The U.S. Navy announced that it will build a launch and recovery site and maintenance hub for the MQ-4C Triton high-altitude surveillance and reconnaissance drone at Mayport Naval Station in Florida. The Jacksonville base was chosen by the Navy over the Key West Naval Air Station and NASA Flight Facility. Around 400 additional personnel will be based at Mayport. (Jacksonville.com)
Commentary, Analysis, and Art
A report by the Government Accountability Office found that Customs and Border Protection could take steps to improve its collection of drone and aerostat performance data. (GAO)
The Federal Aviation Administration published the results from the second meeting of the Drone Advisory Committee, which took place in late January. (Press Release)
A U.S. Navy study on future programs proposes fielding 88 unmanned patrol boats that could be armed with missiles. (Breaking Defense)
Meanwhile, an alternative naval fleet architecture report by the Center for Strategic and Budgetary Assessments argues in favor of unmanned fighters and refueling aircraft. (National Interest)
At Small Wars Journal, Noah B. Cooper examines how to use network analysis techniques to counter ISIL's bomb-dropping drones.
At Popular Science, Kelsey D. Atherton considers what policies the Trump administration might adopt with regards to drone strikes.
At Motherboard, Ben Sullivan looks at whether a U.S. drone in Yemen was carrying signals intelligence equipment.
At Wired, Anna Vlasits writes that drones are offering regular citizens new opportunities to study the environment.  
Also at Wired, Nigel Gifford discusses how his edible drone is designed to provide humanitarian relief to disaster zones.
At the Independent Record, Pepper Petersen argues that an anti-drone bill in the Montana State Legislature would harm Montana's drone industry.
At MarketWatch, Sally French examines how DJI beat out the competition for the hobby drone market.
In an interview with Quartz, Bill Gates proposed a "robot tax" for companies that use robots to replace human jobs.
At Phys.org, Engin Kirda discusses the cybersecurity risk to self-driving cars and how carmakers are developing tools to counter potential vulnerabilities.
At Technical.ly, Andrew Zaleski profiles an insurance lawyer who sued the FAA over its drone registration rule.
At Drone360, Cesare Wright considers how drones are shaping science education.
In a Modern War Institute podcast, Brig. Gen. Nechemya Sokal discusses how the Israeli Defence Forces use robots to detect and explore the tunnels built by Hamas.
At DefenseNews, Christopher P. Cavas writes that the Houthi boat that attacked a Saudi frigate in January was remote-controlled.
Hello, Robot, an exhibition at the Vitra Design Museum in Germany, explores the degree to which humans trust machines. (Dezeen)
Know Your Drone
Amazon has been awarded a patent for a system by which delivery drones drop packages to the ground using parachutes. (Fortune)
The U.S. Marine Corps is testing a micro surveillance drone called Instant Eye, developed by PSI Tactical Robotics. (Unmanned Systems Technology)
uAvionix has developed an Automatic Dependent Surveillance-Broadcast transmitter small enough to fit on a consumer drone. (Air & Space)
Technology firm RE2 Robotics is developing a pair of robotic arms that could be mounted on unmanned undersea vehicle for dismantling improvised explosive devices. (New Atlas)
Chinese drone maker Zerotech has started taking orders for its Dobby foldable hobby drone. (TechCrunch)
Microsoft has unveiled an open source virtual world for training autonomous drones and self-driving cars. (TechCrunch)
Sensor maker Logos has tested its Redkite wide-area sensor aboard the Boeing Insitu ScanEagle drone. (Unmanned Systems Technology)
Toy maker KD Interactive unveiled the Aura, a drone that can be controlled by hand gestures. (CNET)
Turkish firm Elfatek is developing an unmanned ground combat vehicle called Ankebot. (Hurriyet Daily News)
A team at Texas A&M University is developing propulsion systems for large-scale hovering drones. (Phys.org)
Israel Aerospace Industries and India's Defence Research Development Organisation are working on a joint venture to convert old manned Chetak helicopters into ship-based drones. (FlightGlobal)
Drones at Work
Non-profit WeRobotics and the Peruvian Health Ministry are working on a medical drone delivery program in the Amazon. (CNET)
Footage collected by a drone showed new damage to the Roman amphitheater in Palmyra, Syria. (Washington Post)
A drone was used to attempt to smuggle goods into a prison in Saskatchewan, Canada. (CBC)
The Iranian Navy reportedly crashed a drone near the port city of Jask. (New York Times)
A Scorpion unmanned ground vehicle was used to inspect the interior of the Unit 2 reactor at the Fukushima nuclear plant. (CBS)
Police in Orem, Utah, arrested a man and a woman for allegedly using a drone to spy on numerous individuals inside their homes. (Huffington Post)
Drone maker DJI and the Academy of Model Aeronautics have announced a joint safety training program to promote responsible drone use. (Drone 360)
A power company in Xiangyang, China used a flamethrower-equipped drone to burn garbage stuck to power lines. (Gizmodo)
The Minnesota Department of Transportation is exploring the use of drones to inspect bridges. (Insurance Journal)
A study conducted in the Appalachians by ornithologists from Gettysburg College found that drones were effective for developing songbird population estimates. (TechCrunch)
An NBA player used a drone to assist with a slam dunk during the NBA Slam Dunk Constest. (Engadget)
Xcel Energy partnered with the Federal Aviation Administration to explore the use of drones to inspect critical infrastructure. (My Plain View)  
Industry Intel
Cisco chairman John Chambers and Felicis Ventures led a $15 million Series B funding round for Dedrone, a counter-drone systems startup. (TechCrunch)
Eni awarded Sky-Futures a 3-year contract for drone inspection services for energy facilities. (Oil & Gas 360)
The Indonesian Ministry of Defence awarded UMS Skeldar a contract for the V-200 unmanned helicopter. (UPI)
The U.S. Navy awarded Arête Associates an $8.5 million contract modification for support for the AN/DVS-1 Coastal Battlefield Reconnaissance and Analysis (COBRA) Block 1, a counter-mine payload on the MQ-8 Fire Scout unmanned helicopter. (DoD)
The Department of Homeland Security awarded Boeing Insitu a $12,481 contract for small unmanned aircraft system courses for the U.S. Coast Guard. (USASpending)
The U.S. Air Force awarded Elta North America a $15.6 million contract for counter-drone systems. (FBO)
The U.S. Air Force is expected to launch a program of record for a counter-drone system in Fiscal Year 2018. (Inside Defense)
For updates, news, and commentary, follow us on Twitter.
[includeme file="tools/sympa/drones_sub.php"]