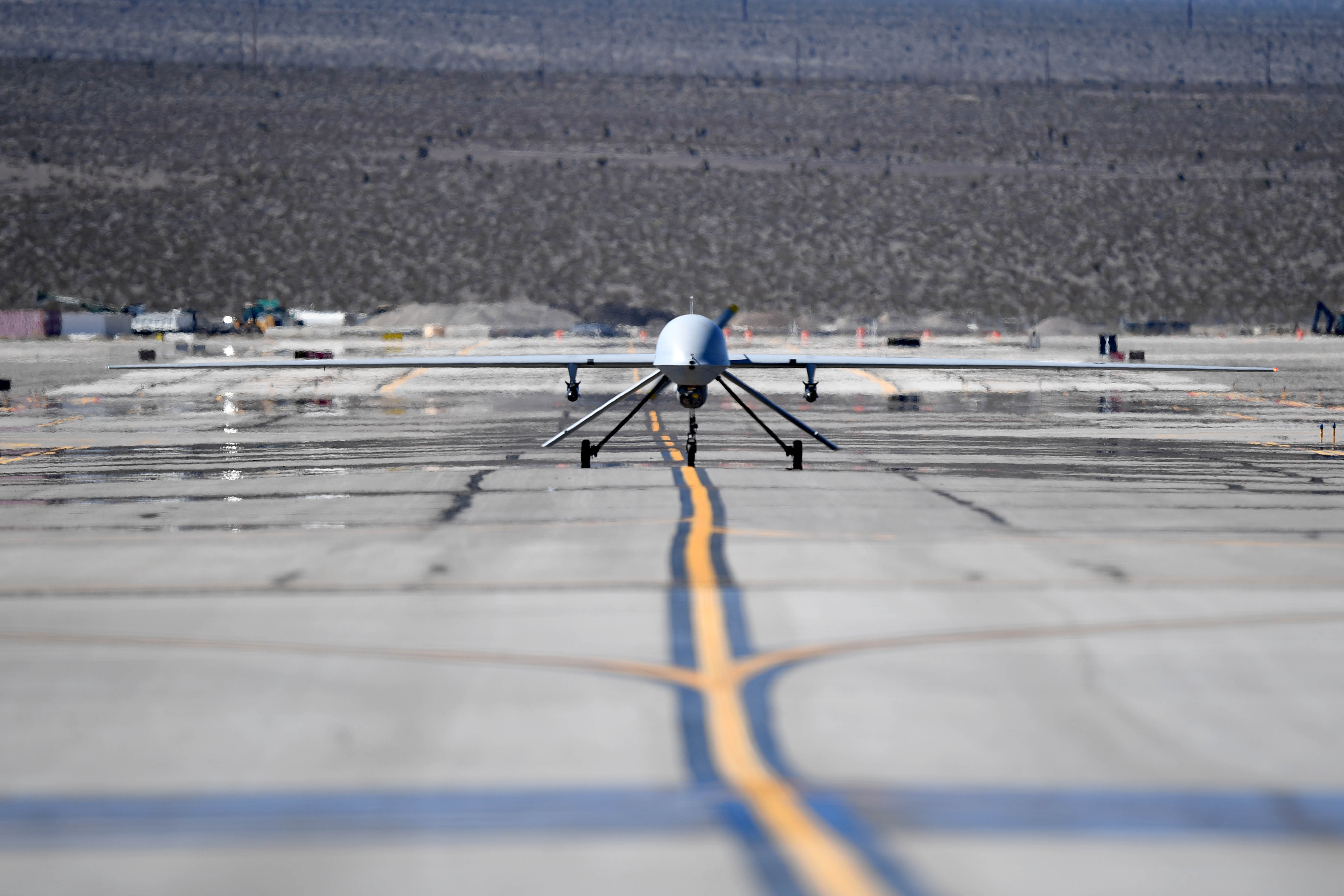 March 5, 2018 – March 11, 2018
If you would like to receive the Weekly Roundup in your inbox, please subscribe at the bottom of the page.
Top Stories
A suspected U.S. drone strike in Afghanistan killed more than 20 members of Tehrik-i Taliban Pakistan (TTP). According to Reuters, the strike targeted a camp in the eastern Kunar province where members of the group were training to conduct suicide missions inside Pakistan. Among those reportedly killed were a training specialist and the son of TTP leader Fazlullah Khorasani.
The U.S. Federal Aviation Administration announced that it will expand a program designed to provide real-time approvals for drone operations in controlled airspaces. In a speech at the FAA's UAS Symposium, Acting Administrator Dan Elwell said that the FAA will expand the Low Altitude Authorization and Notification Capability (LAANC) system from a few dozen participating airports to around 500 airports over the coming months. (Press Release)
The Trump administration is drafting legislation that would grant federal law enforcement agencies new authorities to disrupt or destroy drones that pose a safety risk. In a speech at the FAA's UAS Symposium, an FAA official said that the intent of the legislation is to prevent careless or nefarious drone users from threatening public safety and to enable more complex commercial drone operations. (Washington Post)
Google is participating in a Department of Defense program that uses artificial intelligence to analyze video footage produced by drones. According to Gizmodo, Google's role in Project Maven involves assisting with the development of machine learning for object detection and recognition.  
The U.S. Air Force officially retired the MQ-1 Predator, which played a pivotal role in ushering a new era of unmanned warfare. First deployed in 1995 and armed in 2001, the Predator flew thousands of missions in the wars in Iraq and Afghanistan, as well as the U.S. targeted strike program beyond declared war zones. (Bloomberg Government)
Know Your Drone
The U.S. Air Force has announced that it is developing an air-to-air missile capability for the MQ-9 Reaper strike drone. (Jane's)
Boeing released photographs and new details about its prototype for the Navy's planned MQ-25 Stingray aerial refueler drone. (Aviation Week)
Automaker Ford has proposed to the U.S. Federal Aviation Administration a drone tracking system by which drones broadcast their ID info by flashing their lights. (Engadget)
Meanwhile, automaker Porsche is reportedly developing a personal transportation drone prototype. (Engadget)
The Polish Armament Inspectorate is exploring possible options for the development of a counter-drone system. (Jane's)
Researchers at Duke University have been studying the sound created by multirotor drones in order to determine which systems are least disruptive in elephant conservation efforts. (IEEE Spectrum)
Singapore defense firm ST Kinetics is developing a multirotor drone equipped with a light machine gun. (Jane's)
The U.S. Navy's Naval Air Systems Command has issued a Request for Information regarding technologies that could be used in the development of a potential Group 5 unmanned aircraft. (FBO)
Serbian firm Composite Technology Team unveiled three new unmanned aircraft prototypes, including a solar-powered high-altitude pseudo satellite and a medium-altitude long-endurance drone. (Jane's)
A team at Gdańsk University of Technology in Poland is developing various unmanned undersea vehicles with stealth capabilities. (Jane's)
In a demonstration for the U.S. Army, defense firm General Atomics Electromagnetic Systems used an array of Fencepost acoustic counter-drone sensors to detect small drones over a wide area. (Press Release)
French firm Elistair unveiled the ORION, a tethered surveillance and telecommunications drone. (DroneLife)
Drones at Work
The Oslo Port Authority has launched a program to use unmanned vessels to help clean up trash in Norway's fjords. (The New York Times)
The Nigerian Air Force graduated its first domestically trained class of strike drone pilots. (Jane's)
A team of researchers at Stony Brook University used drones to discover a colony of some 1.5 million Adélie penguins on the Antarctic Peninsula. (New Scientist)
The Pakistani military announced that it shot down a reconnaissance drone that it believes was operated by India. This would be the fourth such shoot-down in the region in the last 12 months. (Jane's)
Police in Stratford, England used a drone to collect evidence in support of a counter-narcotics operation. (Stratford Observer)
The U.S. Marine Corps equipped its 3rd Battalion, 7th Marines with the service's first InstantEye quadcopter surveillance drones. (USNI News)
The U.S. Forest Service reported that a 335-acre wildfire in northern Arizona was caused by a drone. (Newsweek)
A professor from Oakland University is using drones to help farmers in Malawi boost their crop yields. (DroneDJ)
Industry Intel
The U.S. Air Force awarded URS Federal Technical Services an indefinite-delivery/indefinite-quantity contract for remotely piloted aircraft operations and maintenance support. The contract ceiling is $961 million with $1.8 million obligated at the time of the award. (DoD)
The U.S. Air Force issued URS Federal Services a $15.8 million contract modification for the Air Combat Command's Unmanned Aircraft System Operations Center. The total value of the contract with the modification is $116 million. (DoD)
The U.S. Air Force awarded George Mason University a $25.5 million contract for work on the Mobile Unmanned/Manned Distributed Lethality Airborne Network. (DoD)
The U.S. Navy awarded the University of Missouri-Kansas City a $7.7 million contract for research into a short pulse laser to support counter-drone operations. (DoD)
The U.S. Navy awarded Northrop Grumman Systems a $1.4 million contract to integrate a Link-16 capability on the MQ-8C Fire Scout. (FBO)
AeroVironment announced that it received a $44.5 million contract from an unnamed customer in the Middle East for the RQ-20B Puma II AE reconnaissance drone. (Jane's)
The African Union Mission in Somalia has taken delivery of three Aeronautics Aerostar tactical surveillance drones from the U.S. (Jane's)
Hummingbird Technologies, a London-based precision agriculture startup, raised $4 million in a funding round. (Commercial Drone Professional)
In a media conference, Dassault Aviation CEO Eric Trappier said that the U.K.'s exit from the European Union and project delays could spell an end for the EU's efforts to develop a combat drone. (Defense News)
Bulgaria and Romania have placed orders for the Med-Eng Avenger, an unmanned ground vehicle designed for ordnance disposal. (Shephard Media)
AirMap partnered with skyguide, a Swiss air navigation firm, to develop a European drone traffic management system. (Press Release)
Integra has partnered with Unifly to improve drone detection capabilities at airports. (Press Release)
Commentary, Analysis, and Art
A report by the National Academies of Sciences, Engineering and Medicine explores the threats posed by small drones to soldiers and potential counter-drone solutions. For more on counter-drone systems, click here.
At Aviation Week, Kelsey Atherton looks at how most counter-drone technologies are not capable of defending against swarms of drones.
A coalition of human rights organizations released a statement detailing concerns around the Trump administration's loosened targeting rules for drone strikes. (Human Rights Watch)
At Breaking Defense, Richard Whittle explains why the MQ-1 Predator remains a revolutionary weapon even in retirement.
Meanwhile, at the National Air and Space Museum, Roger Connor reflects on the history of the Predator and how the museum came to acquire Predator 3034.
At War on the Rocks, Joe Chapa considers how the Predator engendered a long-running debate within the military over the operational role of remotely-piloted aircraft.
At Defense News, Burak Ege Bekdil considers how Turkey's emphasis on unmanned systems reflects a strategic shift in favor of advanced technologies to counter asymmetric threats.
At NPR, Esther Landhuis writes that drone deliveries of medical supplies could be the gateway to drone deliveries of commercial items.
At Voice of America News, George Putic profiles Mothership Aeronautics, a U.S. startup developing long-endurance solar powered airships.
At the Agence-France Presse, Ryan Mcmorrow looks into how Chinese companies and businessmen are a key link in the supply chain for North Korea's fleet of drones.
At Aviation Week, Lara Seligman looks at how the Air Force is positioning the MQ-9 Reaper for a central role on future battlefields.  
At War is Boring, Samuel Bendett writes that the Russian equivalent of DARPA is funding research by Russian universities into new unmanned underwater vehicles.  
At Commercial UAV News, Jose Folguera and Manuel Onate discuss the parameters of recently-implemented drone regulations in Spain.
At Drone Law Blog, Jonathan Rupprecht offers a deep dive on the FAA's drone Integration Pilot Program.
At 11 Alive News, Phillip Kish writes that cabbages and drones are two the primary ways that members of a gang in Georgia get contraband into prisons.
At AeroSociety, Bill Read explains how the Airbus drone delivery project in Singapore will work.
Photographer Reuben Wu uses long exposures and drones to create circles of light around the tops of mountains. (PetaPixel)
For updates, news, and commentary, follow us on Twitter.
[includeme file="tools/sympa/drones_sub.php"]