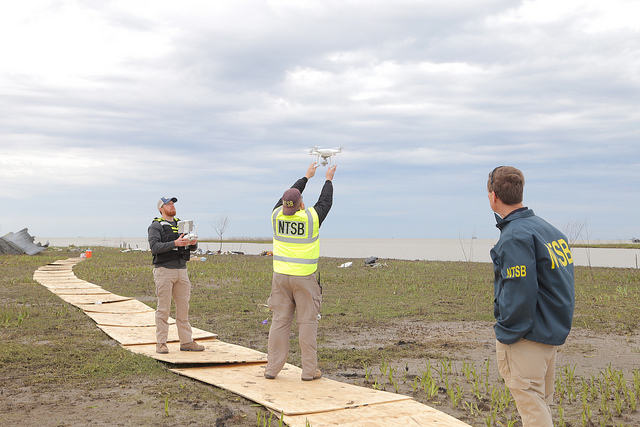 March 11, 2019 – March 17, 2019
If you would like to receive the Weekly Roundup in your inbox, please subscribe at the bottom of the page.
Top Stories
In a trial in Singapore, an Airbus Skyways drone conducted the first shore-to-ship drone delivery in real port conditions. The drone delivered 3.3 pounds of 3D-printed consumables to a vessel situated 1.5 kilometers from the shore. Airbus partnered with Wilhelmsen Ships Services in 2018 to launch the trial drone delivery program in coordination with Singapore's maritime and civil aviation authorities. (Aviation International Online)
The Iranian Revolutionary Guard Corps reportedly conducted an exercise in the Straits of Hormuz that involved dozens of drones. According to a report by Iranian news agency ISNA, the "Towards Jerusalem 1" exercise was Iran's largest drone drill to date. A video released by the news agency showed several types of drones, including the Shahed-123, Shahed-129, and Saegheh. (Times of Israel)
The U.S. Army selected QinetiQ North America to provide the Common Robotic System-Individual, a new small robot designed for portability and mobility. The Army awarded QinetiQ an initial contract worth up to $152 million to begin production of the new robot. The entire program could grow to $400 million and include orders for approximately 3,000 robots. (Defense News)
Know Your Drone
A team of researchers at Yale University has developed a 3D-printed perching system for multirotor drones. (Popular Mechanics)
The U.S. Naval Air Systems Command is preparing to conduct a test of cargo drones that can transport up to 23 kilograms between ships and destinations on land. (Jane's)
Chinese drone maker DJI is integrating Israeli firm CEVA's on-board artificial intelligence processing systems into its Mavic 2 multirotor drones. (Globes)
The Russian Ministry of Defense plans to begin testing the 9F6021 Adyutant, an aerial target drone. (Shephard Media)
British firm Cambridge Consultants has unveiled an autonomous ground robot for agricultural data collection. (AUVSI)
Nonprofit Robots in Service of the Environment unveiled the Guardian LF1 Mark 3, an unmanned undersea vehicle for capturing lionfish. (Unmanned Systems Technology)
U.S. startup Red Cat has unveiled a blockchain-based tracking and data storage system for unmanned aircraft. (AUVSI)
U.S software firm Skylum has released AirMagic, an image-enhancement program for drone aerial photography. (Unmanned Systems Technology)
The U.S. Army has launched the Advanced Teaming Demonstration Program, which will develop teaming systems for future rotorcraft and drones. (FlightGlobal)
Drones at Work
U.S. MQ-1 Predator and MQ-9 Reaper drones have surpassed four million mission flight hours. (U.S. Air Force)
Police in Murrysville, Pennsylvania used a drone to help track two individuals who crashed a stolen vehicle and fled on foot. (TribLIVE)
Flights at Tripoli airport in Libya were briefly suspended after a drone was spotted flying in the area. (Defence Web)
A man in Georgia died of electrocution after a metal pole he was using to retrieve a drone from a tree came into contact with an electricity cable. (Associated Press)
The U.S. Defense Logistics Agency has issued a Request for Information for drones that could deliver emergency supplies to hurricane victims. (The National Interest)
Industry Intel
The U.S. Army awarded Aeryon Defense a $427,988 contract for two SkyRaider RD80 drones. (FBO)
The U.S. Army awarded Next Vision Stabilized Systems a $634,940 contract for the Group 1 Unmanned Air Vehicle Architecture program. (FBO)
The U.S. Army awarded AeroVironment a $11.2 million contract modification for Switchblade loitering munitions. (DoD)
The U.S. Army awarded AeroVironment a $17.4 million foreign military sales contract for RQ-20 Puma AE II drones for the government of Iraq. (DoD)
The U.S. Navy awarded Northrop Grumman Systems an $89.5 million contract for sustainment and engineering support for the MQ-4C Triton. (DoD)
The U.S. Navy awarded Precision Integrated Programs an $11.3 million contract modification for drone intelligence, surveillance, and reconnaissance services in Afghanistan for the Marine Corps. (DoD)
The U.S. Navy awarded BAE Systems Land & Armaments a $3.8 million contract to develop a counter-drone kit for the MK 38 MOD3 gun system. (FBO)
The U.S. Air Force awarded RBR Technologies a $528,752 contract for work on autonomous technologies. (FBO)
In its Fiscal Year 2020 budget request, the Navy announced plans to acquire three MQ-9 Reaper drones for the Marine Corps. (The Drive)
Also included in the Navy's request is a plan to acquire two large unmanned surface vehicles in FY 2020 and an additional six large drone vessels in the coming years. (Inside Defense)
The Extreme Fliers Micro Drone 4.0 has raised more than $1 million in a crowdfunding campaign. (DroneDJ)
The Argentine Army has taken delivery of several DJI Matrice 210 and Phantom 4 Pro drones that will be used for security along Argentina's northern border. (Jane's)
The Australian Army awarded SYPAQ a $1 million contract to develop a concept for a logistics drone called the Precision Payload Delivery System. (Shephard Media)
Shephard Media reports that London's Heathrow Airport has selected the Aaronia AG counter-drone system under a multi-million Euro deal.
Among the drone-related items in its Fiscal Year 2020 budget request, the Federal Aviation Administration included $63.1 million to support efforts to integrate drones into the national airspace. (Aviation International Online).
The Drone Racing League announced that the 2019 drone racing season will be streamed for free on Twitter and YouKu, a Chinese video site, and will be broadcast on NBC and NBCSN. (The Verge)
Comprehensive Communication Services partnered with Fortress UAV to provide drone repair and maintenance services to clients in public safety and other industries. (Press release)
Commentary, Analysis, and Art
CNN interviewed a man who claims to have helped organize the drone attack on Venezuelan president Nicolas Maduro last year.
In a discussion at the Stimson Center, Missy Ryan, Sarah Holewinski, Brian Castner, and Rachel Stohl, will discuss transparency and accountability surrounding the U.S. air campaign in Somalia.
At Popular Science, Jordan Golson examines the challenges associated with using a drone to film the Daytona 500 car race for live television.
At Defense News, David B. Larter looks at a classified Pentagon drone program that is the basis for the Navy's plans to acquire two large drone vessels.
At C4ISRNET, Valerie Insinna examines an Air Force research program known as Skyborg that is developing artificial intelligence for unmanned aircraft.
Also at C4ISRNET, Kelsey D. Atherton looks at how a drone-in-a-box company is taking inspiration from lessons learned by the Army in combat.
At USNI News, Megan Eckstein looks at why the Marine Corps is moving to transition its counter-drone program from an urgent operational need to a formal program of record.
At Just Security, Luke Hartig argues that President Trump's decision to rescind an annual report on U.S. strikes and civilian casualties is part of a "dangerous slide away from transparency."
Also at Just Security, Larry Lewis explains what was lost in President Trump's decision to rescind the report and what Congress can do to make up for it.
At the Japan Times, Kazuaki Nagata looks at how DJI is seeking to capitalize on a demand for industrial drones in Japan.
For updates, news, and commentary, follow us on Twitter.
[includeme file="tools/sympa/drones_sub.php"]