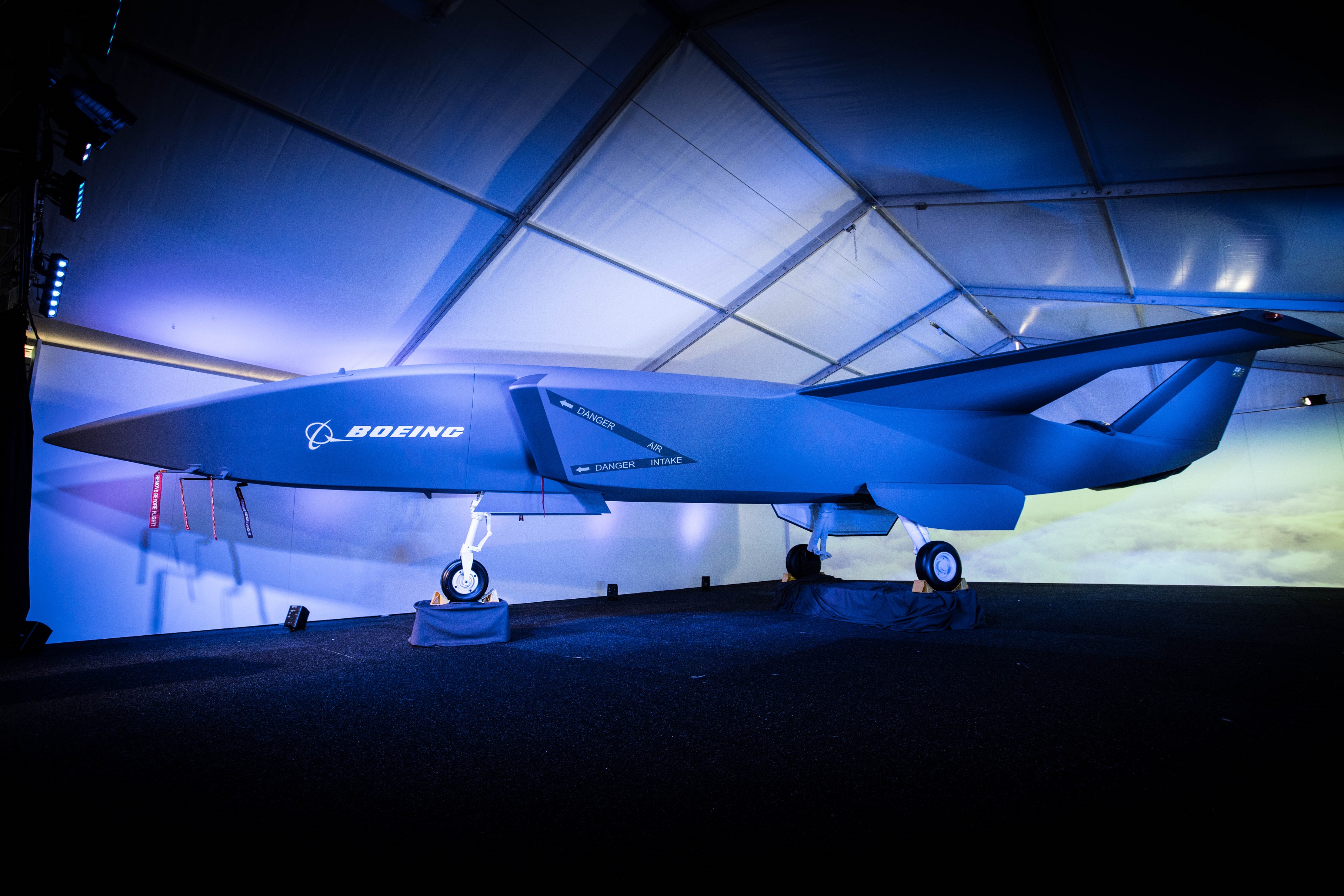 February 25, 2019 – March 3, 2019
If you would like to receive the Weekly Roundup in your inbox, please subscribe at the bottom of the page.
At the CSD
In an interview with theNewsWorthy podcast, Center for the Study of the Drone co-director Arthur Holland Michel discusses the state of commercial drone technology today, the challenges of integrating drones into our skies, and what it's going to take for wide-scale drone deliveries to become a reality.
Top Stories
The U.S. military carried out multiple airstrikes in Somalia targeting members of al-Shabab. According to a statement by U.S. Africa Command, the strikes killed 57 people. (Associated Press)
Boeing unveiled a long-range jet drone designed to operate alongside manned aircraft in a variety of missions. The Airpower Teaming System, which the company is developing in partnership with the government of Australia, will be the first combat aircraft produced in Australia since World War II. In a statement to reporters at the Australian International Airshow, Defence Minister Christopher Pyne said that the drone represents an "enormous capability for exports." (Reuters)
A court in Myanmar sentenced a French citizen to one month of prison with hard labor for flying a drone near the parliament building in Naypyitaw last month. Arthur Desclaux is expected to be released on time served within a week. (Associated Press)
The U.S. Federal Aviation Administration has partnered with Kittyhawk, a drone management software firm, to redesign the FAA's B4UFLY phone application. The app was first released in August 2015 to provide drone users a guide for navigating airspace restrictions. The expanded app will be available later this year. (Venture Beat)
Know Your Drone
Hindustan Aeronautics Limited unveiled a concept for a low-observable jet-powered Unmanned Wingman drone designed to operate alongside manned fighter jets. (Jane's)
Meanwhile, U.S. defense firm Kratos Defense & Security Solutions announced that it expects to conduct the maiden flight of its XQ-58A Valkyrie jet-powered loyal wingman drone this week. (Reuters)
U.S. drone maker UAVOS unveiled a tropicalized variant of the UVH-170E, an aerial data collection helicopter drone. (Jane's)
The Russian military unveiled the Super-mobile Modernized Multi-purpose Artillery Station (SAMUM), an all-terrain vehicle equipped with an anti-aircraft cannon for counter-drone operations. (C4ISRNET)
U.S. drone maker General Atomics Aeronautical Systems conducted the first test flight of an MQ-9 Reaper using its new Block 50 Ground Control Station. (Press Release)
Korean defense firm Hanwha Systems is developing a radar-based counter-drone system. (Defense & Security Monitor)
A team of students from the University of Connecticut is developing an autonomous firefighting drone. (AUVSI)
The Indian Air Force has launched a program to develop a hyperspectral surveillance drone for tracking targets in forested areas. (The Hindu)
U.S. research organization SRI International has demonstrated a high-resolution synthetic aperture radar system aboard a small hobby-grade unmanned aircraft. (Unmanned Systems Technology)
French firm ECA group unveiled the Cameleon LG, a new variant of its tracked unmanned ground vehicle system. (Press Release)
Drones at Work
The Indian military says that it shot down a Pakistani military drone in Gujarat. (Economic Times)
A police SWAT team in Campbell, California used a multirotor drone to assist in ending a lengthy armed standoff at a Denny's restaurant. (The Verge)
Meanwhile, police in Fremont, California used a drone to help find a missing deaf teenager. (CBS SF Bay Area)
The Chinese People's Liberation Army Navy has deployed a vertical take-off and landing drone aboard the Lanzhou, a guided missile destroyer. (Global Times)
The U.S. Air Force announced that it is now capable of operating its EQ-4 Global Hawk communications relay drones from beyond visual line-of-sight. (Press Release)
The U.S. Air Force's 52nd Expeditionary Operations Group Detachment 2 has achieved full operational capability with its fleet of MQ-9 Reaper drones from Miroslawiec Air Base, Poland. (Press Release)
Austrian drone maker Schiebel has demonstrated its CAMCOPTER S-100 helicopter drone for an undisclosed oil and gas corporation in Rivers State, Nigeria. (Unmanned Systems Technology)
The European Jewish Cemeteries Initiative has launched a program to use drones to map 1,500 Jewish cemeteries in Slovakia, Greece, Moldova, Lithuania and Ukraine as part of an effort to preserve the burial sites. (The New York Times)
A Long Island man was arrested and charged with third-degree criminal mischief and prohibited use of a weapon after allegedly shooting down a drone that was being used to search for a missing dog. (NBC New York)
Salgado Filho International Airport in Porto Alegre, Brazil was shut down temporarily after a drone was spotted operating over the runway. (Correio do Povo)
Police in Wakefield, U.K. have deployed surveillance drones to combat illegal off-road biking. (Wakefield Express)
The Coastal and Hydraulics Laboratory at the U.S. Army Engineer Research and Development Center is taking delivery of an unmanned boat for inspecting the structural integrity of its peers and wharfs. (Shephard Media)
Industry Intel
The Future Combat Air System, a joint Anglo-French combat drone development project, has been downgraded to a study due to feasibility concerns prompted by the U.K.'s exit from the European Union. (Defense News)
The U.S. Air Force awarded AAI a $15.2 million contract modification for a contractor-owned and operated unmanned aerial system for use in Afghanistan. (DoD)
The U.S. Air Force awarded AECOM Management Services a $15.2 contract modification for program support for the Air Combat Command's UAS Operations Center. (DoD)
The U.S. Defense Advanced Research Projects Agency awarded 11 companies and universities contracts for the Short-Range Independent Microrobotic Platforms project. (FBO)
The U.A.E. Navy has taken delivery of several Teledyne Marine unmanned maritime vehicles, including a Gavia system and a SeaBotix vLBV300. (Shephard Media)
Northrop Grumman will deliver a Firebird optionally-manned surveillance and reconnaissance aircraft to a U.S. government customer by mid-2019. (Jane's)
Kratos Defense & Security Solutions acquired Florida Turbine Technologies for $60 million. (Press release)
The Australian Army has launched a program to acquire a replacement for the RQ-7 Shadow 200 tactical surveillance and reconnaissance drone. (Jane's)
Meanwhile, SYPAQ announced that the Australian Army has selected its Corvo X drone for further development. (Press release)
General Atomics Aeronautical Systems announced that it has partnered with Indian firm Sankhya Infotech Limited to provide simulation training for the MQ-9B Sea Guardian in the event that the Indian Navy decides to move ahead with procurement. (Press release)
Clobotics has partnered with European firm GEV Wind Power to provide autonomous drone blade inspection services. (dronelife)
Swiss drone firm Wingtra has partnered with RDO Equipment to provide a certified drone repair center for Wingtra drones in the U.S. (dronelife)
Israeli drone firm Airobotics will move production from Israel to the U.S. and lay off several dozen staff at its Israeli and Australian offices. Airobotics opened a new headquarters in Arizona in September 2018. (Globes)
Aerobotics, a South African agricultural drone startup, announced that it has doubled its Series A round from $2 to $4 million after a deal with Paper Plane Ventures. (Commercial Drone Professional)
The Elizabeth City State University in Nor announced that it intends to invest $240,000 to build its Outdoor Unmanned Aircraft Systems Pavilion facility. (DailyAdvance.com)
FlightSafety International will establish the FlightSafety UAS Learning Center in Henderson, Nevada and another training center in Wichita, Kansas. (Aviation International Online)
Commentary, Analysis, and Art
In its latest report on venture capital investment trends, Drone Industry Insights found that investment in drone startups remained high in 2018. (dronelife)
According to government data obtained in a Freedom of Information request by Drone Wars UK, the UK's Royal Air Force has largely shifted counter-ISIS air operations from Iraq to Syria.
At iRevolutions, Patrick Meier reflects on a recent project aimed at demonstrating medical cargo drones in Papua New Guinea.
According to an investigation by Sky News, there were at least 2,400 reports of drone incidents to police in the U.K in 2018, slightly more than the previous year.
At Breaking Defense, Sydney J. Freedberg Jr. writes that Kratos' acquisition of a Florida firm that develops small jet engines is intended to support the company's development of future drone swarms.
At C4ISRNET, Kelsey D. Atherton looks at how DARPA is seeking to enhance human-machine trust by working on robot communication skills.
At New Scientist, David Hambling examines newly released U.S. Navy documents that show that the service plans to focus its LOCUST swarming drones program on submarine-launched electronic attack drone swarms.
For updates, news, and commentary, follow us on Twitter.