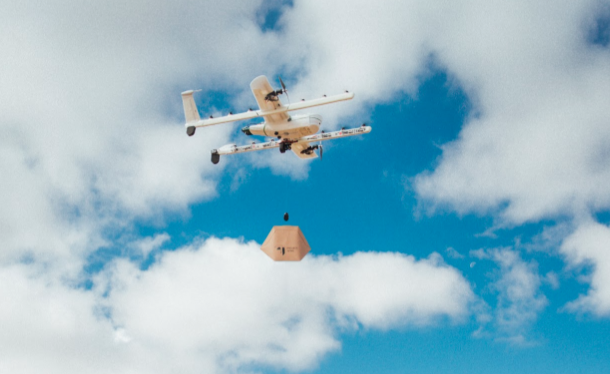 April 22, 2019 – April 28, 2019
If you would like to receive the Weekly Roundup in your inbox, please subscribe at the bottom of the page.
At the Center
In an interview with C4ISRNET, Center for the Study of the Drone co-director Dan Gettinger discusses the state of counter-drone funding in the Pentagon's proposed budget for Fiscal Year 2020.
Top Stories
The Civil Aviation Authority of Sri Lanka has issued a temporary total ban on the use of drones in the country's airspace following the Easter Sunday bombings. In a statement, the CAA explained that the ban was being implemented "in view of the existing security situation in the country." It did not say when the ban would be lifted. (NDTV)
The U.S. Federal Aviation Administration has granted Project Wing, a subsidiary of Alphabet, a two-year air carrier certification to begin commercial drone deliveries in Virginia. This marks the first time that the FAA has issued an air carrier certification to a drone company. (Reuters)
Meanwhile, Zipline and the Ghanaian government have launched a drone delivery network in Ghana. Operating from four distribution centers, Zipline drones will deliver vaccines, blood, and medications to health facilities in remote areas. The U.S. company plans to conduct 600 flights each day. According to Zipline co-founder and CEO Keller Rinaudo, it will be the "largest drone delivery network on the planet." (TechCrunch)
The University of Maryland Medical Center has conducted the first-ever organ transplant using an organ that was delivered by a drone. The University partnered with AiRXOS, a General Electric company, to use a drone to transport the organ between two hospitals in Baltimore. (Baltimore Sun)
Know Your Drone
Russia has unveiled a new 184-meter long nuclear submarine capable of launching Poseidon nuclear unmanned undersea vehicles and other unmanned submersibles. (Jane's)
The U.S. Army issued a Request for Information for unmanned aerial or ground vehicles for rapidly mapping the interior of tunnels and caves and dense urban areas. (Task and Purpose)
U.S. drone maker AeroVironment announced that it has assembled the first prototype of the HAWK30, a solar-powered high-altitude pseudo-satellite that it is developing under a joint Internet delivery venture with SoftBank. (Press Release)
Meanwhile, a joint venture of British firms and universities unveiled the Phoenix, an unmanned aircraft with a lung-like propulsion system that could be used to power high-altitude pseudo-satellites. (Aviation Week)
U.S. startup Cuberg unveiled a lithium-metal battery system that it claims can increase the flight endurance of multirotor drones by up to 70 percent. (Popular Mechanics)
A team from Virginia Tech has launched an effort to develop mathematical models and algorithms to help drones collaborate more effectively with human counterparts during search and rescue operations. (AUVSI)
Russia's Special Technology Center has developed a non-explosive rocket system for ramming adversary drones out of the sky. (C4ISRNET)
A senior U.S. Army official announced that the service plans to conduct a series of rapid development cycles and demonstrations for air-launched drone systems in the coming years. (Defense News)
Meanwhile, NASA released a video of a test in which four large multirotor drones released a swarm of 100 Cicada data-collection drones. (CNET)
U.S. aerospace firm Textron Systems has begun flight tests of its Shadow Block III tactical fixed-wing drone. (Shephard Media)
Drones at Work
A U.S. Army RQ-7B Shadow drone crashed during a routine training mission in Pima County, Arizona. (KOLD News 13)
In a tour of Holloman Air Force Base in New Mexico, U.S. Senator Martin Heinrich (D-NM) was shown the poor condition of the MQ-9 Reaper Remotely Piloted Aircraft Formal Training Unit, which has a sinkhole and a range of electrical and construction issues. (Alamogordo Daily News)
The East Greenland Ice-Core Project plans to use drones to conduct high-altitude high-latitude atmospheric data collection operations in Greenland. (AUVSI)
The City of Fort Wayne, Indiana is considering an ordinance that would require drone operators to file a notice before flights within 500 yards of large public events. (WPTA21) For more on local drone laws, click here.
Industry Intel
After declining to move ahead with a plan to acquire a fleet of Piaggio Aerospace P.1HH and P.2HH HammerHead drones, the Italian government and Piaggio have settled on an agreement that covers the certification of several existing P.1HH aircraft and future plans to continue the development of drone technology. (Jane's)
The U.S. Navy awarded Hydroid a $23.1 million contract for work on the MK 18 family of unmanned underwater vehicles. (DoD)
The U.S. Defense Innovation Unit awarded Altavian a contract to develop a prototype for the Short Range Reconnaissance drone. (Press Release)
Microsoft awarded the University of North Dakota a $100,000 grant to develop autonomous drones for commercial applications. (Prairie Business)
Australia has confirmed that it will purchase a second Northrop Grumman MQ-4C Triton. Up to seven aircraft may be acquired for the Royal Australian Air Force. (Press Release)
Grand Sky Business and Aviation Park partnered with Harris for beyond visual line-of-sight drone operations in North Dakota. (Press Release)
HAPSMobile, a joint venture between SoftBank and AeroVironment, will invest $125 million in Loon, an Alphabet spinoff that is developing high-altitude platforms for beaming Internet to remote areas. (TechCrunch)
Commentary, Analysis, and Art
At WSLS 10 News, Jessica Jewell looks at how residents in Virginia's New River Valley are preparing for the launch of drone deliveries in the area.
At the Associated Press, Lindsay Whitehurst writes that a video game under development at the University of Utah could help cities plan for the introduction of delivery drones.
At Defense News, Jen Judson considers the U.S. Army's vision for the future of manned-unmanned teaming.
Also at Defense News, Burak Ege Bekdil writes that Turkey is betting that drone exports will provide a boost to domestic arms manufacturers.
At Bloomberg, Mike Juang navigates the increasingly complex marketplace for counter-drone systems that can be deployed in civilian spaces.
At Defense One, Samuel Bendett writes that Russia may be coming around to the idea that militarized artificial intelligence should be subject to international regulations.
At VentureBeat, Khari Johnson considers the feasibility of an aerial aqueduct composed of thousands of drones that could be used to fight wildfires.
In an op-ed, the editorial board of the Wall Street Journal applauds the FAA on approving Google's drone delivery concept.
At Forbes, Kalev Leetaru considers the potential risks of pairing artificial intelligence and delivery drones.
At the Los Angeles Times, Samantha Masunaga looks at why the U.S. Navy is investing in massive unmanned submarines.
For updates, news, and commentary, follow us on Twitter.