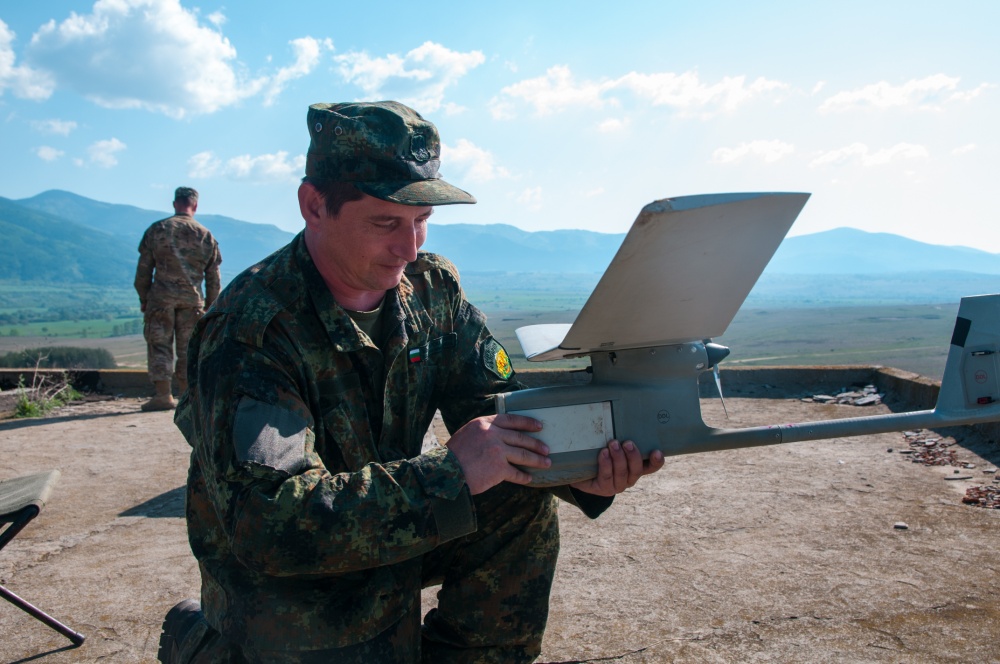 April 23, 2018 – April 29, 2018
If you would like to receive the Weekly Roundup in your inbox, please subscribe at the bottom of the page.
At the Center
At Federal News Radio, Center for the Study of the Drone Co-director Dan Gettinger discusses proposed U.S. military drone spending. For more on drones in the defense budget, click here.
Top Stories
The U.S. House of Representatives passed legislation authorizing funding for the Federal Aviation Administration. The bill could clear the way for the FAA to develop rules for drone delivery and unmanned air traffic management systems, as well as regulate hobbyist drone users. The legislation will now be considered by the U.S. Senate. (Wall Street Journal)
A Russian businessman responsible for designing one of Russia's first large military drones was arrested in Tatarstan under fraud charges. Alexander Gomzin, the general director of the OKB Simonov Design Bureau, helped build the Altair, medium-altitude long-endurance drone that remains under development. (Defense One)
European aerospace firms unveiled a mockup of a medium-altitude long-endurance drone at the Berlin Air Show. The project, which is led by Airbus, Dassault, and Leonardo, is an effort to develop a large, capable military drone without the involvement of U.S. or Israeli companies. It is expected to begin flight tests by the mid-2020s. (Defense News)
Know Your Drone
The U.S. Defense Advanced Research projects Agency cancelled a program that sought to develop an electric vertical take-off and landing drone that could fly faster than a helicopter, citing technical challenges and a lack of interest from the armed services. (Aviation Week)
The U.S. Marine Corps issued a Request for Proposals for Organic Precision Fire, a program that seeks to equip soldiers with loitering munitions that can strike targets at a range of up to 60 km. (Business Insider)
U.S. drone maker Aeryon Labs unveiled the R80D SkyRaider, a multirotor surveillance drone designed for defense and government agencies. (Unmanned Systems Technology)
European firms Airbus Helicopters and Schiebel demonstrated a manned-unmanned teaming capability between a H145 piloted helicopter and a Camcopter S-100 rotary drone. (Shephard Media)
Russian Helicopters has begun testing primary systems for its VRT300 rotary drones. The firm plans to conduct flight testing by the end of this year. (FlightGlobal)
German sensor maker Hensoldt unveiled a compact version of its Xpeller counter-drone system. (Unmanned Systems Technology)
Defense firms IXI EW and T-Worx are partnering to integrate the Dronekiller handheld counter-drone system into the I-Rail rifle operating system. (Shephard Media)
Drones at Work
The crew of a medical helicopter departing Dallas Love Field Airport in Texas was forced to take evasive action after encountering what it believed to be a drone. (NBC DFW)
Researchers from Draganfly Innovations and Saskatchewan Polytechnic used drones to create a 3D map of an area where a moose and its calf were illegally shot in Saskatchewan that was used in the prosecution of the perpetrator. (Drone DJ)
The China Foundation For Cultural Heritage Conservation and chipmaker Intel have launched an effort to use drones to conduct inspections of the Great Wall. (Xinhua)
The U.K.'s Royal National Lifeboat Institution and the Maritime & Coastguard Agency are testing drones for use in shoreline searches and mud rescue operations along the Welsh coast. (The Drive)
The Colorado Senate Judiciary Committee unanimously passed a bill that would impose hefty penalties, including possible jail time, for drone operators who interfere with emergency response operations. (The Denver Post)
A drone off the Australian coast captured a video of a number of sharks and saltwater crocodiles feeding off a whale carcass, the first time that the two species have been caught exhibiting such behavior together. (Fox News)
The European Emergency Number Association and Chinese drone maker DJI have launched a pilot project to use drones for emergency response operations. (TNW)
Virginia Tech has formally opened an 85-foot-tall netted drone testing facility. (The Roanoke Times)
Industry Intel
The U.S. Air Force awarded General Atomics Aeronautical Systems a $36.7 million contract for spare engines and engine shipping containers for the MQ-9 Reaper. (DoD)
The Defense Innovation Unit Experimental is investing $400,000 in Dedrone, a counter-drone company that specializes in perimeter security. (fedscoop)
Avular, a Dutch startup that builds modular drone platforms for industrial applications, raised $1.8 million. (DroneDJ)
The Swiss Army is conducting flight tests of the Aeronautics Orbiter 2B and WB Group's Fly Eye drones as part of its small, fixed-wing reconnaissance drone competition. (Jane's)
China's Jiangsu Digital Eagle Technology Development Company confirmed that it has sold a vertical take-off and landing drone to the Indonesian and Malaysian governments. (Shephard Media)
Texo Drone Survey and Inspection has partnered with the Scottish Fishermen's Federation to use fishing vessels to deploy drones for the offshore oil and gas sector. (OSJ Online)
Teradyne has acquired MiR, a Danish company that builds autonomous industrial robots, for $148 million. (TechCrunch)
Kratos Defense and Security Solutions will support the team led by Dynetics in working on Phase III of DARPA's Gremlins drone swarm project. (Unmanned Systems Technology)
Commentary, Analysis, and Art
At Defense News, Jen Judson investigates the high number of U.S. Army RQ-7 Shadow and MQ-1C Gray Eagle mishaps and crashes.
Also at Defense News, U.S. Representative Rob Wittman (R-VA) argues that unmanned undersea vehicles are key to deterring adversaries.
At Foreign Policy, Rawan Shaif and Jack Watling look at how the United Arab Emirates is actively engaging in drone strikes in Yemen.
At War on the Rocks, Erik Lin-Greenberg argues that the new U.S. drone export policy will benefit U.S. national security and allies.
At the Daily Beast, Betsy Woodruff writes that the U.S. Immigration and Customs Enforcement agency is looking to acquire drones.
At Aviation Week, Bill Carey looks at how the different agencies within the U.S. government could deploy counter-drone systems at home.
Also at Aviation Week, Graham Warwick discusses the implications of the new U.S. drone export policy.
At Newsweek, David Brennan runs through the various ways that nonstate groups are using drones.
At USNI News, Megan Eckstein writes that the U.S. Marine Corps is refining its requirements for the MUX, a planned medium-altitude long-endurance drone.
At Commercial UAV News, Juan Plaza explains how a parachute could help save valuable drones from destruction.
At the Atlantic, Caroline Lester explores the history of unmanned ground vehicles designed for bomb disposal, and considers what it means when those same robots are weaponized.
At DW, Leonie von Hammerstein and Ajit Niranjan look at how journalists in several countries on the African continent are using drones to enhance their storytelling.
At the Denver Post, John Aguilar looks at why one village in Colorado is seeking to introduce restrictions on drone flights.
For updates, news, and commentary, follow us on Twitter.
[includeme file="tools/sympa/drones_sub.php"]