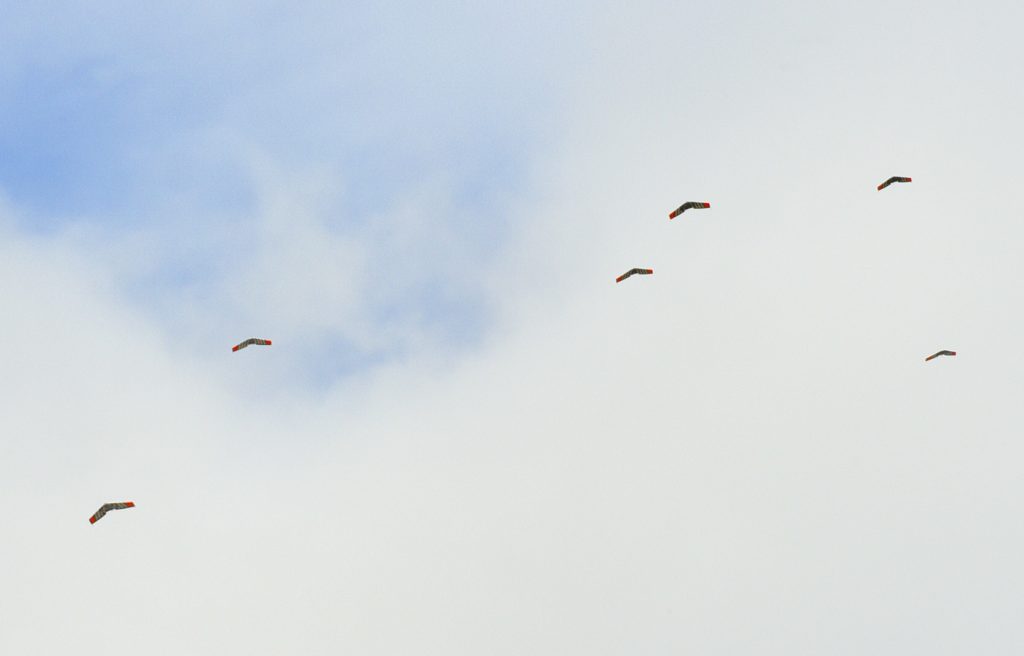 April 17, 2017 – April 23, 2017
If you would like to receive the Weekly Roundup in your inbox, please subscribe at the bottom of the page.
News
A U.S. drone strike in Yemen reportedly killed four suspected members of al-Qaeda. According to Yemeni officials, the strike targeted al-Qaeda fighters in the central Marib province. (Reuters)
The U.S. Department of Transportation will audit the Federal Aviation Administration's approval process for granting waivers for drone operations that are currently prohibited under federal regulations. The audit is the second that the agency has faced in the past year. (AIN Online)
Twenty members of Congress are urging the Trump administration to sell armed drones to Jordan and the United Arab Emirates. In a letter to the President, the lawmakers argue that the sale would have both economic and security benefits for the U.S. The Obama administration limited the sale of large drones to a small number of close U.S. allies. (The National)
Commentary, Analysis, and Art
At the Diplomat, Ian Armstrong looks at how an influx of Chinese military drones to Saudi Arabia could influence dynamics in the region.
Meanwhile, in an editorial by China's state-run newspaper Xinhua, the designer of the Wing-Loong II drone discusses the capabilities of the new system and plans for exports.
A study by Bellingcat, Human Rights Watch, and Forensic Architecture argues that a U.S. airstrike in Syria that involved drones did indeed target a mosque. (Bellingcat)
At Newsweek, Jeff Stein reports that a U.S. drone strike in January 2016 nearly killed Ayman al-Zawahiri, the leader of al-Qaeda.
Also at Newsweek, Damien Sharkov writes that Russia could be exploring the development of a weapon that fires shrapnel at drones.
At the National Interest, Jerry Hendrix argues that the U.S. Navy's plans for the MQ-25 Stingray drone will limit the drone's ability to act as a long-range refueler for manned jets.
Also at the National Interest, Jarek Buss argues that the Trump administration should invest in drones, rather than a wall, to protect the U.S. border.
A new U.S. Army manual, Counter-Unmanned Aircraft System Techniques, presents different tactics and procedures for defending against drones. (FAS)
At IEEE Spectrum, David Schneider considers whether drones should be required to broadcast a code by radio that would identify the user.
At the BBC, a former U.K. prison official argues that the drone smuggling issue is a "red herring."
At the Drone Radio Show podcast, Michael Monnik discusses the drone cybersecurity sector. (Soundcloud)
At the Press Democrat, Derek Moore writes that parks in Sonoma County, California have different rules on drones.
In a Defence Connect podcast, Ron Bartsch discusses Australia's push to become a global leader in civilian and military drone technology.
Drone, a new film starring Sean Bean, is a thriller about a CIA drone pilot. (A.V. Club)
A new music video by chillwave artist Syre was filmed mostly using a drone. (Drone360)
Know Your Drone
The U.S. Marine Corps is developing disposable plywood glider drones that can deliver 700 pounds of goods at distances of up to 70 miles. (Popular Mechanics)
In field tests, the U.S. Army used a Stryker Infantry Carrier Vehicle mounted with a Mobile High Energy Laser to shoot dozens of drones out of the sky. (The Drive)
Researchers from the Georgia Tech Research Institute and Naval Postgraduate School orchestrated a large test dogfight between two opposing swarms of autonomous drones. (Press Release)
Singapore's Defence Ministry is developing a drone that can launch from an autonomous unmanned ground vehicle. (Today Online)
Startup firm SwellPro has developed two waterproof drones for fishing applications. (FStoppers)
Researchers at New York University have developed a robot control interface based on augmented reality technologies. (IEEE Spectrum)
An automated vehicle consortium in the U.K. is set to begin the country's first driverless vehicle trials this year. (Bristol Post)
The non-profit Robots in Service of the Environment has developed an unmanned undersea vehicle that stuns and captures invasive lionfish. (Unmanned Systems Technology)  
Singapore Post and Airbus Helicopters are partnering to develop a drone delivery system called Skyways. (Channel News Asia)
Researchers at Cornell University are developing a networked coordination system for drones and robots. (Recode)
Israel Aerospace Industries is updating the design of its Panther hybrid drone after an early prototype was damaged in tests last year. (FlightGlobal)
The Moscow Aviation Institute is developing a paraglider drone. (Mil.Today)
U.S. firm Aurora Flight Sciences is pitching the concept of an armed variant of its LightningStrike prototype drone for the U.S. Marine Corps. (Aviation Week)
Data management services firm DroneDeploy unveiled Fieldscanner, an application that allows one to generate low resolution aerial maps from a drone's sensor in real time. (TechCrunch)
The European Defence Agency is sponsoring a study on how unmanned ground vehicles could be deployed in non-military domains. (IHS Jane's 360)
Facebook is developing a tethered drone that can be used to provide wi-fi coverage during natural disasters. (Recode)
The U.S. Department  of Homeland Security is establishing a research and development program for drones at Mississippi State University. (Sun Herald)
Meanwhile, defense firm Northrop Grumman opened its drone research and development and training facility in North Dakota. (AIN Online)
The Defense Advanced Research Projects Agency has issued a call for proposals for artificially intelligent systems that learn by themselves over time. (FedScoop)
Drones at Work
Search and rescue teams at the Grand Canyon used a drone to search for two lost hikers. (Associated Press)
Researchers from the University of Bristol and Cambridge University are using fixed-wing drones to gather data from an erupting volcano in Guatemala. (Fox News)
U.S. Central Command released drone footage that appears to show ISIL fighters using civilians as human shields. (ABC News)
A pair of U.K. researchers are using drones to listen for bat calls. (New Scientist)
The town of Hanover in Massachusetts has obtained approval from the FAA to operate drones for a range of applications. (Yahoo! Finance)
The Duncan Police Department in Oklahoma is creating a drone program for search and rescue missions. (The Duncan Banner)
The Oregon House of Representatives passed a bill that relaxes restrictions on drone use and would allow drones to be equipped with firearms for hunting and other applications. (Willamette Week)
A Lakshya target drone crashed during a training exercise in the Balasore district of India. (Indian Express)
Firefighters in Coral Springs, Florida used a drone to assist in the response to a fire at a Dollar Tree store. (Local 10 News)
A Tennessee drone hobbyist's drone was shot down by an unidentified shooter. (Local 8 Now)
Industry Intel
The Defense Innovation Unit Experimental announced that it has awarded a total of $12.3 million in contracts for 13 new projects, including a counter-drone initiative. (FedScoop)
The U.S. Air Force awarded Televere Systems a $190,000 contract for NERVA LG Vehicle Robots. (FBO)
The U.S. Air Force awarded Foster-Miller a $227,482 contract for Dragon Runner robots. (FBO)
The U.S. Air Force awarded Tactical Electronics and Military Supply a $9,922 contract for SIRE multi-functional IED robots. (FBO)
The U.S. Air Force awarded Atlantic Diving Supply a $87,039 contract for Endeavor robots. (FBO)
General Atomics Electromagnetic Systems will provide the Lithium-ion Fault Tolerant battery system for the Semi-Autonomous Hydrographic Reconnaissance Vehicle. (Press Release)
The U.S. Naval Air Systems Command selected XTAR to provide X-band satellite services for the MQ-4C Triton surveillance drone. (Press Release)
For updates, news, and commentary, follow us on Twitter.
[includeme file="tools/sympa/drones_sub.php"]