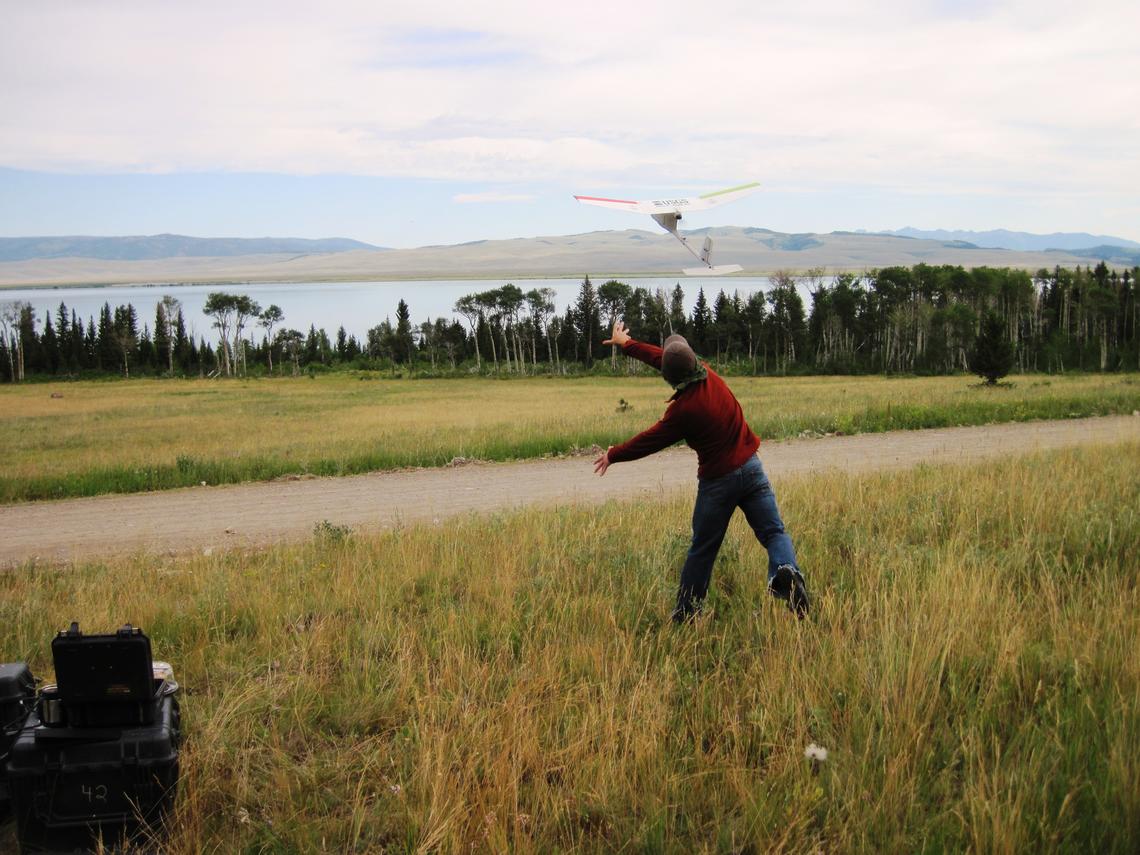 May 6, 2019 – May 12, 2019
If you would like to receive the Weekly Roundup in your inbox, please subscribe at the bottom of the page.
At the CSD
In an op-ed for Defense One, Center for the Study of the Drone Co-director Arthur Holland Michel reveals how the Hellfire was first transformed into the infamous weapon of choice for U.S. drone warfare, and considers whether a new non-explosive version of the storied missile could actually reduce civilian casualties in drone strikes.
Top Stories
A U.S. airstrike in Somalia killed 13 suspected members of the Islamic State. In a statement, U.S. Africa Command said that the airstrike occurred in Somalia's semi-autonomous Puntland region. (Reuters)
The United Nations is investigating the "probable" use of armed Chinese-made drones by either the Libyan National Army or another "third party" for airstrikes in Tripoli, after remnants of what appears to be a Chinese air-to-surface missile associated with the Wing Loong drone were found in the city. If confirmed, the combatants' use of Chinese strike drones, which the investigators note likely weren't supplied directly by the manufacturer, would represent a violation of a U.N. arms embargo.
According to the U.S. Federal Aviation Administration, the Miami Police Department may have violated federal law by using counter-drone systems at a music festival. In a statement, the Miami police said that it accepted Vigilant Drone Defense's request to demonstrate counter-drone systems at the Ultra Music Festival in Key Biscayne, but that it terminated the agreement after learning that it was illegal. (7News Miami)
Meanwhile, the FAA is warning U.S. airports not to install counter-drone systems without federal approval. In a published guidance document, the FAA said that drone countermeasures could pose a risk to aviation. (Reuters)
The U.S. government has conducted at least half a dozen drone strikes in recent years using a previously undisclosed variant of the Hellfire missile with no explosive material, according to a report in The Wall Street Journal. The R9X or "flying Ginsu," which is equipped with six long blades that fold out from the missile before impact, is designed to minimize civilian casualties from targeted strikes.
North Dakota has authorized a $33 million investment into the unmanned systems industry. The new fund includes $28 million to improve infrastructure for beyond line-of-sight drone operations, $3 million for infrastructure updates at the Grand Sky unmanned systems business park, and $2 million to support the Northern Plains UAS Test Site in Grand Forks. (Press Release)
Know Your Drone
British defense firm BAE conducted the first test flight of its MAGMA prototype drone, which does not employ any moving control surfaces for flight. (Bloomberg)
The Beijing Zhongzi Yanjing Auto Company announced that it has developed a mobile armored vehicle that can launch up to a dozen small drones and loitering munitions. (Jane's)
Vehicle maker Pratt & Miller Engineering unveiled three new unmanned ground vehicles, the Light, Heavy, and Extreme Flexible Robotic Platform. (Jane's)
Turkish defense firm Roketsan unveiled the Yatagan, a 40mm laser-guided missile for use aboard small drones. (FlightGlobal)
U.S. firm XTI Aircraft Company conducted a flight test of an unmanned subscale prototype of its TriFan 600, a personal transportation vertical take-off and landing aircraft. (AIN Online)
The U.S. Marine Corp has launched the first phase of its Marine Air-Ground Task Force expeditionary unmanned aircraft system development program, which seeks to develop a multi-role drone for future operations. (Aviation Week)
Meanwhile, the Defense Advanced Research Projects Agency and the U.S. Marine Corps canceled the Aerial Reconfigurable Embedded System program, which sought to develop a ship-launched tiltrotor drone. (Rotor & Wing)
The U.S. Navy is exploring the possibility of using energy generated by large ships to power lasers to remotely recharge drones in mid-flight. (USNI News)
Defense contractor L3 Technologies completed a 14-hour test mission of its Iver4 unmanned undersea vehicle off the coast of California. (Unmanned Systems Technology)
The U.S. Defense Advanced Research Projects Agency is launching the Air Combat Evolution program, which is looking to develop systems to enhance fighter pilot trust in combat autonomy and teaming unmanned systems. (Military & Aerospace Electronics)
AI firm Iris Automation unveiled Casia, a computer vision-based sense-and-avoid system for drones. (Press Release)
Drones at Work
The U.S. Coast Guard is planning to deploy Boeing Insitu ScanEagle drones aboard four of its national security cutters by the end of this year. (FlightGlobal)
Frankfurt Airport in Germany briefly suspended flights after a drone was spotted flying nearby. (Reuters)
A former U.S. intelligence analyst has been charged with theft of government property after he allegedly leaked a number of sensitive documents relating to U.S. drone operations to a reporter in 2013. (The Washington Post)
Police in Pasadena, California arrested an individual for allegedly flying a drone over the Rose Bowl Stadium during a packed concert, in violation of a local ordinance. (Pasadena News Now)
Meanwhile, police in Scotland arrested a 52-year old man for allegedly flying a drone over a Royal Navy submarine. (UK Defense Journal)
New Mexico State Parks, Central New Mexico Community College, and the New Mexico Museum of Natural History and Science have launched a program to use drones to map dinosaur tracks at Clayton Lake State Park. (Associated Press)
The U.S. Marine Corps has concluded the deployment of the Light Marine Air Defense Integrated System, a mobile counter-drone vehicle. (C4ISRNET)The Johnston County Sheriff's department used drones to gather evidence that led to a felony arrest. The ACLU is questioning the legality of the operation, which was conducted without a warrant. (CBS17)
The Strafford County Sheriff's Office has launched an effort to use teams of dogs and drones to search for missing persons and criminals. (Union Leader)
A drone was used to drop leaflets featuring swastikas outside an Ariana Grande concert in Sacramento, California. (BuzzFeed News)
Industry Intel
The Canadian Armed Forces awarded QinetiQ a C$51 million contract for the UMS Skeldar V-200 drone and associated services for the Royal Canadian Navy and Canadian Special Operations Forces Command. (Shephard Media)
The U.S. Army awarded Drone Aviation a $1.1 million contract for the WASP Lite Aerostat System. (Intelligent Aerospace)
The U.S. Army awarded Northrop Grumman Systems a $163.6 million contract for fleet support for the Hunter drone. (DoD)
Spatial Integrated Systems announced that it has been awarded a contract by the U.S. Office of Naval Research to conduct a demonstration of swarming unmanned surface vehicles. (AUVSI)
AeroVironment has partnered with Kratos Defense and Security Systems on the development of high-performance tactical drones and missile systems. (Press Release)
ICR Integrity acquired Sky-Futures Partners, a U.K.-based firm that specializes in beyond line-of-sight drone services for the energy industry. (Press Release)
Ascent Aerosystems will provide the Spirit, a cylindrical dual-rotor coaxial drone, to Dynetics, an Alabama-based defense contractor. (Press Release)
SkyX Systems has partnered with E'Kabel to offer fixed-wing drones for monitoring oil and gas pipeline infrastructure. (Commercial Drone Professional)
The Romanian military is exploring plans to acquire a new drone for its maritime forces. (Defense News)
Commentary, Analysis, and Art
At Defense News, David B. Larter describes the Navy's long-term plan to introduce unmanned vessels into the fleet.
Also at Defense News, David B. Larter examines the U.S. Navy's efforts to develop a common control system for all of its unmanned systems.
At The New York Times, Bilge Ebiri looks at how recent documentaries are saturated with aerial footage from drones.
A new report by the Federal Aviation Administration finds that the rate of commercial drone registrations has outpaced that of hobbyists. (NextGov)
At TomDispatch, Allegra Harpootlian and Emily Manna argue that new technologies like drones have enabled an expansion in U.S. military engagements around the world.
At Drone Wars UK, Chris Cole writes that the Royal Air Force expects that Reaper drones will play a growing role in U.K. operations in Iraq and Syria.
At USNI News, Ben Werner writes that the U.S. Marine Corps expects to begin flying the planned strike-capable MUX drone by 2026.
At Aviation Week, Angus Batey writes that regulatory uncertainty in the U.K. is making it difficult to respond to threats from drones.
At C4ISRNET, Kelsey D. Atherton considers whether the lack of flaps on the MAGMA drone makes the aircraft harder to detect.
A new report by PAX warns of the risks of an arms race in artificial intelligence. (C4ISRNET)
The Center for International Maritime Security published a series of articles that explore the ways in which the U.S. Navy can utilize unmanned systems.
In an op-ed, the editorial board of the Marin Independent Journal applauds the Marin County Sheriff's Office for publishing statistics on law enforcement drone operations.
For updates, news, and commentary, follow us on Twitter.