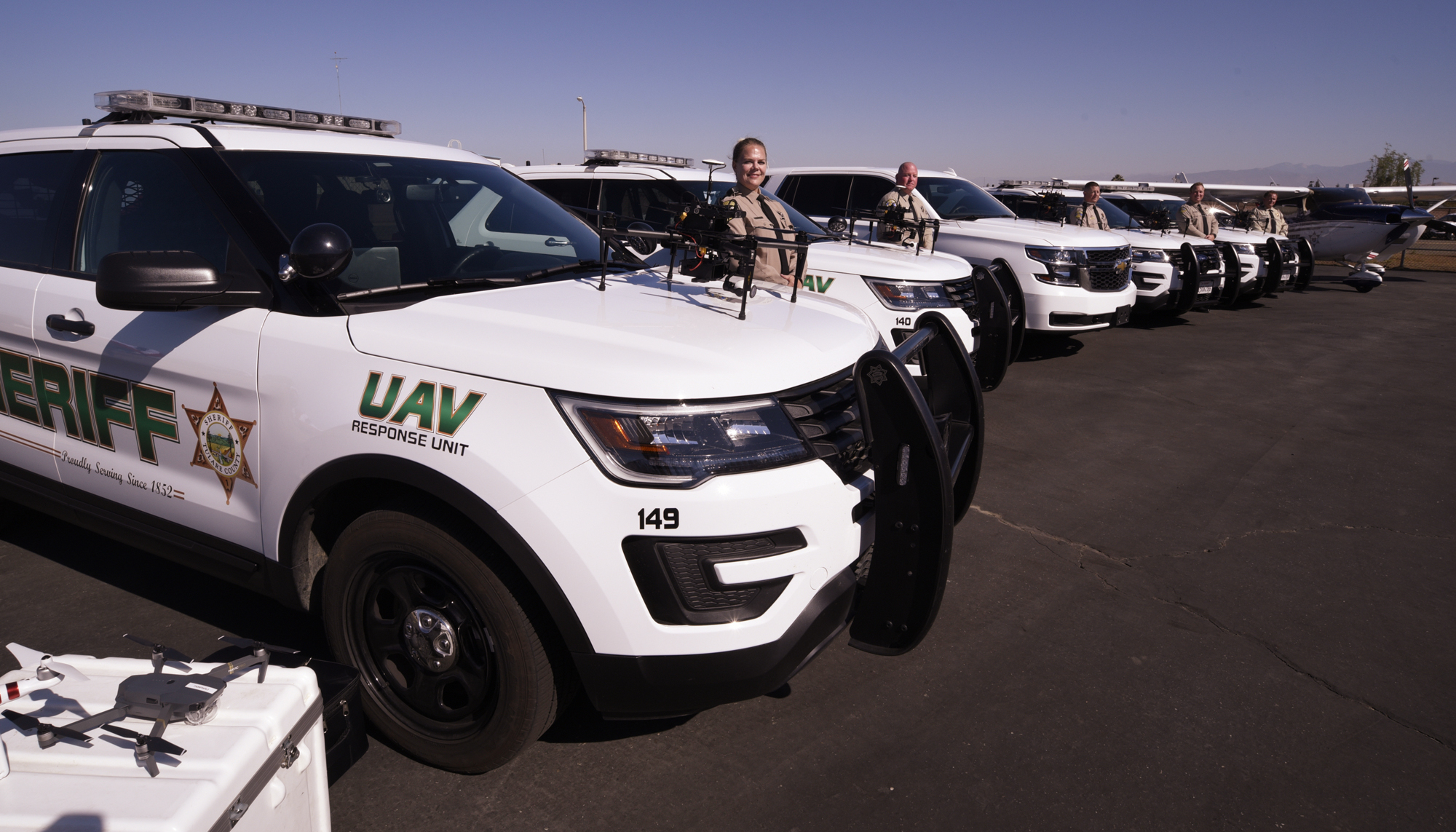 May 21, 2018 – May 27, 2018
If you would like to receive the Weekly Roundup in your inbox, please subscribe at the bottom of the page.
At the Center
The number of U.S. public safety agencies with drones continues to grow. A new report by the Center for the Study of the Drone lists more than 900 state and local agencies around the country that have acquired unmanned aircraft and compares the data to the use of manned aircraft for public safety. Read the full report here.
Top Stories
The U.S. Air Force will temporarily deploy MQ-9 Reaper drones to Larisa Air Force Base in Greece. In a statement to Defense News, a Pentagon spokesperson said that the deployment was necessary due to ongoing repairs at an undisclosed drone base. It is the first known deployment of U.S. drones to Greece.
The European Union will allow defense firms to apply for E.U. funding for the development of lethal autonomous weapons. According to two unnamed sources, some in the E.U. Parliament initially opposed to plan but later compromised to allow entities to access the Union's €500 million fund. (EU Observer)
The Russian Ministry of Defense announced that it has shot down an unidentified drone near its Hmeimim air base in Syria. According to a report in Russian state media, the drone did not cause any damage to the base. (Reuters)
The U.S. Federal Aviation Administration is developing a new rule that would require operators to display a government-issued identification number on the exterior of all drones. Hobbyists and commercial drone users are already required to register with the FAA. (Bloomberg)
Know Your Drone
Mississippi-based firm WISPr Systems is developing drones that can automatically the determine the best location on a property to install antenna arrays. (The Clarion Ledger)
A team at West Virginia University is developing an unmanned ground vehicle that can autonomously pollinate flowers. (Fast Company)
Disney Research revealed new details about its Stickman one-legged robot, which is capable of performing backflips. (The Independent)
Defense giant Lockheed Martin unveiled the Stalker Extended Endurance, a vertical take-off and landing surveillance drone. (Jane's)
Meanwhile, drone maker AeroVironment unveiled the Shrike 2, a new version of its Shrike vertical take-off drone. (Jane's)
European defense firms Leonardo and Thales conducted a satellite-controlled flight of the Piaggio Aero P.1HH Hammerhead, the first such test for a European medium-altitude long-endurance drone. (Jane's)
The U.S. Air Force Special Operations Command is seeking to acquire a tube-launched drone that can be used aboard its fleet of AC-130J Ghostrider ground attack aircraft. (Shephard Media)
UTC Aerospace Systems has launched the TASE400 LD, an optical and laser designation system for small unmanned aircraft. (Unmanned Systems Technology)
Chinese Startup Simtoo has launched a Kickstarter campaign for the Fairy drone, a small autonomous quadcopter for aerial video-making. (Digital Trends)
Startup Chasing Innovation launched the GLADIUS Advanced Pro, a small commercial unmanned undersea vehicle. (Press Release)
Drones at Work
The South Carolina Corrections Department is using drones to monitor inmates at a number of prisons around the state. (ABC News)
The Belleville Police Department in Missouri used a drone to investigate a threat against students at a local school. (KMOV)
Meanwhile, officers in Orland Park, Illinois used a drone to assist in the arrest of a wanted fugitive. (NBC Chicago)
The Israel Defense Forces announced that a group of soldiers discovered an unmanned aircraft equipped with explosives on the ground near the border with the Gaza Strip. (Times of Israel)
Meanwhile, Ukraine's Joint Forces Operation announced that it shot down a fixed-wing surveillance drone that it believes was being operated by Russian-backed forces in the Donbas region. (UNIAN Information Agency)
And a Saudi military spokesperson said that Saudi forces shot down what appeared to be a Houthi-operated drone near the southern city of Abha. (Arab News)
Officials in Johannesburg, South Africa are using drones to surveil construction sites for evidence of fraud and safety violations. (Quartz)
Mumbai's police are planning to use surveillance drones as part of a program to enhance women's safety in the city. (Economic Times)
Aviation technology company Callen-Lenz has opened an aerial drone flight test center in the U.K. (Unmanned Systems Technology)
The Illinois House of Representatives blocked a bill that would have permitted law enforcement to use drones to monitor large events and protests in the state. (Chicago Tribune)
The CEO of Australia Post has floated the idea of using drones to make urgent blood deliveries. (Tech Radar)
A Seattle man has been handed a 364-day suspended sentence and a $250 fine for crashing a drone into the Space Needle tower in 2016. (The Drive)
The Summit County Water Rescue Team in Colorado has acquired a remotely operated underwater vehicle for emergency response operations. (Summit Daily)
Flourish, a European project coordinated by Switzerland's ETH Zurich, is exploring the ways in which drones and robots can improve precision farming. (Phys.org)
Italy's Enel will deploy Percepto drones and a Convexum counter-drone system at Torrevaldaliga Nord, a power plant north of Rome. (Enel)
The Merced County Sheriff's office in California used a drone to assist in a raid on a large marijuana growing facility. (Merced Sun-Star)
A man in Bradenton, Florida attempted to use a handgun to shoot down a drone that a neighbor was operating over his property. (Bradenton Herald)
Drone pilot Timon Beutel lost a drone in the Swiss Alps after it was attacked in mid-air by an eagle. (Drone DJ)
Industry Intel
The U.S. Army awarded Kratos Defense and Security Solutions a $93.4 million contract to work on developing drone target systems. (Washington Technology)
The U.S. Navy awarded Penn State University a $31,500 contract for a training course for unmanned undersea vehicles. (FBO)
The U.S. Navy awarded Florida Atlantic University a $1.25 million grant for research on unmanned undersea vehicles for coastal surveillance and surveys. (FAU)
The U.S. Defense Advanced Research Projects Agency awarded Open Source Robotics Foundation a contract for work on the Subterranean Challenge program. (FBO)
The U.S. Department of Agriculture awarded Fagerman Technologies a $82,263 contract for a drone equipped with a LiDar sensor. (FBO)
The U.S. Department of State awarded Vector Solutions a $542,025 contract for drones, components, and training for the Bureau of International Narcotics. (FBO)
The Turkish Aerospace Industries will partner with the Kazakhstan Aviation Industry on the development and procurement of Anka drones and other aircraft. (Jane's)
Aeronautics, an Israeli manufacturer of military drones, has partnered with Romaero on drone maintenance and training in Romania. (Jane's)
Horbia Mira, a U.K. defense firm, will partner with a consortium of Turkish companies on the development of a variant of the Viking unmanned ground vehicle. (Jane's)
UMS Skeldar, a Swiss-Swedish firm that makes rotary-wing drones, has acquired Hirth, a German engine manufacturer that developed the heavy-fuel engine for the Skeldar V-200 drone. (Defense News)
Airobotics partnered with Shapir-Ashtrom to provide drone-based mapping services for the construction of the Gulf Port in Haifa, Israel. (Shephard News)
Commentary, Analysis, and Art
A report by the U.S. Government Accountability Office examines the safety risks posed by drones.
A report by the United Nations Office for Disarmament Affairs argues that greater transparency and accountability is needed to prevent the illegal use of armed drones. (PDF)
A report by the U.S. Army's Strategic Studies Institute looks at the ways in which robotics and unmanned systems can improve soldier effectiveness.
At Foreign Policy, Faine Greenwood and Ossama A. Zaqqout argue that "Israel's use of consumer drones against protesters heralds a dangerous, lawless age of conflict."
At TomDispatch, Rebecca Gordon argues that the Trump administration is expanding the U.S. drone program to target militants.
At the Japan Times, Kazuaki Nagata looks at how Japan is on the cusp of permitting drone deliveries in rural areas.
In a Commercial Drones FM podcast, Adi Singh profiles the Ford Motor Company's drone program. (Drone Life)
At the Drone Radio Show, Mark Nisbet, Nick Flom, and Wes Shover discuss the possibilities for beyond line-of-sight commercial drone operations in the U.S.
In a statement, the British Airline Pilots' Association recommended that commercial pilots should reduce speed to lower the risk in the event of a drone collision. (FlightGlobal)
At CNBC, Lora Kolodny profiles a U.S. startup developing cargo drones that can carry heavy loads over long distances.
"Elevation," a short documentary by Dezeen, explores the ways in which ubiquitous drones could change cities.
For updates, news, and commentary, follow us on Twitter.
[includeme file="tools/sympa/drones_sub.php"]