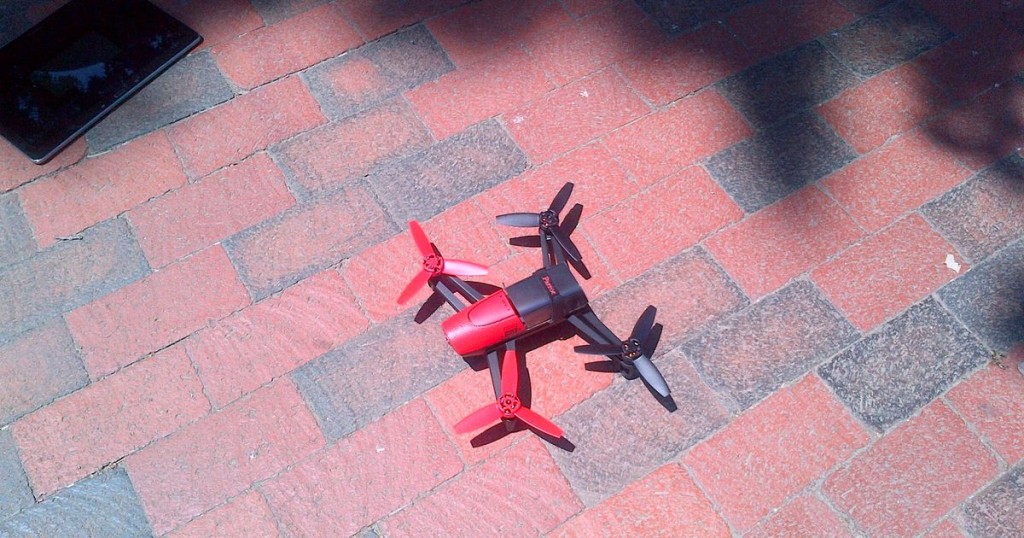 5/12/15 – 5/18/15
If you would like to receive the Weekly Roundup in your inbox, please subscribe at the bottom of the page.
At the Center for the Study of the Drone
Earlier this month, the Association for Unmanned Vehicle Systems International hosted its annual Unmanned Systems 2015 conference, the world's largest drone trade show. But what is AUVSI, what exactly does it do (apart from holding this large conference), and why does it matter now more than ever?
News
The U.S. Secret Service detained a man for allegedly flying a small quadcopter drone near the White House. Ryan MacDonald was spotted by Secret Service agents flying a Parrot Bebop hobby drone over Lafayette Square. The 39-year-old was charged with violating a federal order that prohibits flying aircraft within a 15-mile radius of the U.S. Capitol. (Washington Post)
Meanwhile, the Federal Aviation Administration launched a public awareness campaign to remind drone hobbyists that Washington, D.C. is a "No Drone Zone." The FAA is encouraging residents of the area to print and post their own official "No Drone Zone" signs. (FAA Press Release)
U.S. Secretary of Homeland Security Jeh Johnson has said that he is concerned about the potential threat posed by drones to candidates during open-air rallies in the 2016 presidential campaign. "It is definitely an issue,"  Secretary Johnson said in an interview on Morning Joe, adding that the Secret Service and other law enforcement agencies are working to address the matter. (The Hill) For more on the potential domestic threats posed by drones, click here.
Two U.S. Senators, Cory Booker (D-NJ) and John Hoeven (R-ND), have introduced a bill that would create stopgap regulations for commercial drone use while the FAA prepares its comprehensive regulations, which likely won't be ready until 2016. The Commercial UAS Modernization Act would create a licensing process for commercial drone pilots and would prohibit operations beyond line of sight.
The Jordanian government is reportedly in talks with the Chinese government about a deal to buy several Chinese Wing Loong armed medium-altitude long-endurance drones. In a letter to President Barack Obama, Representative Duncan Hunter (R-CA) wrote, "I am now aware that China is presently in Jordan to discuss operations, logistics and maintenance associated with the urgent sale of weaponized unmanned systems." (Defense One)
Canada is looking to buy a fleet of military drones. The Canadian armed forces first looked into acquiring its own fleet of drones in 2006, and leased Israeli Heron drones for use in Afghanistan from 2009 to 2011. Air Force officers say the new drone fleet, which could consist of up to 18 drones, will mainly be used for foreign and domestic surveillance, including environmental monitoring of the Arctic. (Defense News)
Tokyo's municipal government has banned the use of drones in the city's 81 parks. Officials explained that the ban is covered under an existing ordinance that prohibits "acts that cause a hindrance to management." Violators will be fined up to $420. In April, a man named Yasuo Yamamoto was arrested for landing a quadcopter drone carrying trace amounts of radioactive material on the rooftop of Prime Minister Shinzo Abe's offices. (Japan Times)
Florida Governor Rick Scott signed into law a bill that prohibits drone users from taking pictures of people or private property without permission. While there are no criminal penalties associated with the new law, violators could be sued. (WKMG Local 6)
A federal judge has prohibited environmental activists with Greenpeace from flying drones near Royal Dutch Shell oil rigs. U.S. District Court Judge Sharon Gleason ruled that the activists must remain outside buffer zones ranging from 300 to 5,000 ft. surrounding the Shell fleet of machinery used in the Arctic. (CS Monitor)
Commentary, Analysis, and Art
A new report from the Government Accountability Office identifies significant shortfalls in the U.S. Air Force and Army's training programs for drone pilots.
At Vanity Fair, Sebastian Junger explores how soldiers who serve away from the front line—including drone pilots—could get PTSD. For more on PTSD and drone pilots, click here.
At the Bureau of Investigative Journalism, Jack Serle and Abigail Fielding-Smith report that Britain has flown 301 Reaper drone missions against ISIS in Iraq and has fired 102 Hellfire missiles on 87 separate occasions.
At CNBC, Cadie Thompson argues that the drone industry's most lucrative sector will be applications and services, rather than the drones themselves.
At the Atlanta Journal-Constitution, Andria Simmons considers how police departments, following examples set by the Ontario Police and the Michigan State Police, can use drones to monitor major traffic accidents.
At the the Wall Street Journal, Jack Nicas explores the debate over whether airspace can constitute private property.
At Bookforum, Arthur Holland Michel reviews Chris Woods's Sudden Justice: America's Secret Drone Wars, exploring the book's claim that the drone is "the most precise weapon in the history of warfare."
Julie Turkewitz at the New York Times points out what exactly is so alluring—though still illegal—about drones to the agriculture industry.
In "Dances with Drones," European artist-scientist group CollMot Robotics and choreographer Nina Kov coordinate the movements of a human dancer and a swarm of drones. (Motherboard)
Longreads excerpts a chapter from Gregoire Chamayou's A Theory of the Drone. For our review of A Theory of the Drone, click here
Former drone operator Brandon Bryant tells Newsweek what the film "Good Kill" gets wrong about drones.
Know Your Drone
The U.S. Air Force has once again launched its secret X-37B unmanned space shuttle into orbit for testing. (Bloomberg)
The defense ministers of France, Italy, and Germany will sign a Declaration of Intent for a two-year study for a joint medium-altitude long-endurance military drone project. (Defense News)
Japanese security company Alsok has announced that it is developing a system to detect incoming drones. (CIO)
In its annual report on China's military capabilities, the U.S. Department of Defense estimated that China could produce up to 42,000 capable military drones by 2023. (IHS Jane's 360)
Drone maker CyPhy Works is working on a consumer drone with six rotors. The company says that the LVL1's additional rotors increase stability, making it better suited for aerial photography. (PC World)
A startup called XactSense has announced that it is developing a highly autonomous drone that navigates using a LIDAR laser system. (Quartz)
The U.S. Military has developed a miniature surveillance drone that "resembles a paper airplane with a circuit board" and makes almost no noise.
Researchers at Stanford University have made a drone that can land on surfaces of any angle, opening up potential for a drone to deliver NYC pizza by sticking to a skyscraper window. (The New York Times)
Drones at Work
In Washington's rural Klickitat County, Boeing Insitu, a drone manufacturer, is the largest employer. (Quartz)
Meteorologists at the University of Oklahoma are experimenting with ways of using drones to predict the formation of tornados. (News9)
At the Silicon Valley's first fashion show, drones replaced models in showing off the clothes. (The Verge)
Budget airline EasyJet is using drones to inspect airplanes for damage. (Bloomberg)
For updates, news, and commentary, follow us on Twitter.
[includeme file="tools/sympa/drones_sub.php"]