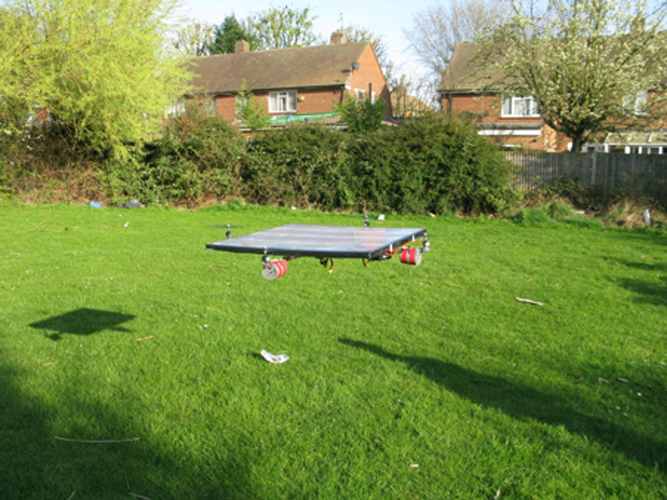 If you would like to receive our weekly roundup directly to your inbox, let us know at barddrones [at] gmail.
News Trending Now
The UN Special Rapporteur on extrajudicial, summary or arbitrary executions, Christof Heyns, made headlines this week by demanding a halt to the production of Lethal Armed Robots (LARS). "War without reflection," he declared, "is mechanical slaughter."
The U.S. Forest Service has dropped its plans to use drones for surveying forest fires. Officials explained that it would have proved too difficult to obtain FAA approval. (The Missoulian)
The German government had no knowledge that the U.S. was flying drones from bases on German soil. (Reuters)
A U.S. surveillance drone crashed in Somalia. (Huffington Post)
The German national rail company, Deutsche Bahn, has announced plans to deploy drones to fly over rail yards for "collecting evidence" against graffiti artists. (The Telegraph)
Researchers have found a direct link between terrorist attacks on U.S. soil and public support for overseas drone strikes. (Huffington Post)
Shortly after Obama's speech on drone policy, a CIA drone killed Wali ur-Rehman, a senior leader of the Pakistani Taliban. (Independent)
In response to the attack on ur-Rehman, Pakistan's new Prime Minister, Nawaz Sharif, expressed dismay, explaining that it was "not only a violation of the country's sovereignty but also a violation of international law and the UN Charter." (The Express Tribune)
The CIA also launched two drone strikes in Yemen against the Al-Qaeda in the Arabian Peninsula, killing nine suspected militants. (Reuters)
Lawmakers in Illinois have passed a bill to regulate the use of  Unmanned Aerial Vehicles. The bill – SB1578 – does not entirely ban UAVs, but it places strict restrictions on their use by government and citizens alike. (SF Gate)
Commentary, Analysis and Art
At MoMa PS1, our very own Thomas Keenan hosted a lively talk with former navy pilot and current drone developer Missy Cummings and artist/advicate Chris Csikszentmihalyi. See the full video.
Tushevs Aerials uses First Person View (FPV) drones to make breathtaking aerial videos around the world. "We want to see what is possible," say Nina and Georgi, who run the project.
Naureen Shah argues that the biggest issue surrounding Obama's drone policy is his "failure to commit to transparency." (Al Jazeera)
Writing for The Guardian, John Vidal explains in detail how drones are changing the face of conservation, listing many organizations that enlist drones to protect animals and the environment.
On the conservative end of the political spectrum, Donald Lambro at Townhall.com argues that any reduction in Obama's drone strikes would be "dangerously premature."
Breaking from the traditional anti-drone rhetoric about privacy and autonomy, David Gessner opposes drones because they will bring an end to our access to solitude in the wilderness. "Something deep is going to be lost," he writes, "if we can never again feel like we're able to put some distance between our selves and our technology." (On Earth)
Slate.com put together a guide for how to have a constructive debate about drones. Rule number 6: "Don't just say you want to have a 'meaningful discussion.'"
Know Your Drone
Details were released this week about North Dakota's proposed drone test site, to which it has already committed five million dollars even before the FAA has announced whether it has won its bid. (SF Gate)
Venezuela has deployed a fleet of drones, built with Iranian technical assistance, to be used against drug trafficking. (FARS News Agency)
In April, the world's first solar-powered quadcopter made its first successful flight. (Fast Coexist)
Using liquid hydrogen as fuel, The U.S. Naval Research laboratory kept a Tiger drone aloft for 48 hours and 1 minute, breaking their own world record. (Red Orbit)