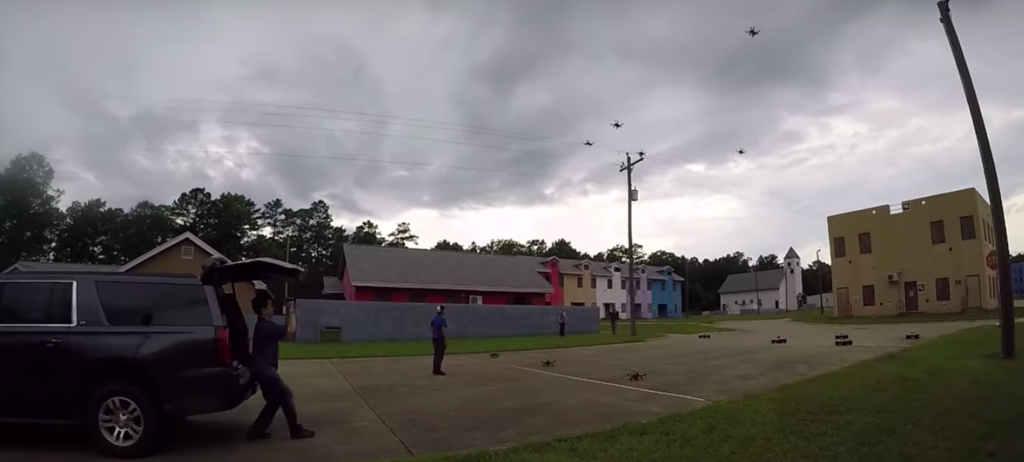 August 5, 2019 – August 11, 2019
If you would like to receive the Weekly Roundup in your inbox, please subscribe at the bottom of the page.
Top Stories
A suspected drone strike in the southern Libyan town of Murzuq reportedly killed 43 people and injured 51. According to a local official who spoke with Reuters, the strike was conducted by forces associated with the Libyan National Army and targeted a town hall meeting. (Reuters) 
Switzerland has launched an air traffic management system that enables air traffic controllers at two airports to communicate directly with commercial drone services providers. The Flight Information Management System (FIMS) is a collaboration between government-backed air navigation services provider Skyguide, the Swiss Federal Office of Civil Aviation, and AirMap. Switzerland conducted live trials of the system earlier this year and plans for FIMS to be fully operational in 2020. (Aviation International Online) 
Russia's Ministry of Defense conducted a successful maiden flight of the Okhotnik, a large, strike-capable drone developed by Sukhoi. The Okhotnik, which bears a resemblance to the U.S. RQ-170 Sentinel drone, is reported to have advanced capabilities and a range of up to 5,000 km. According to the Ministry, the test flight lasted 20 minutes. (Associated Press) 
The U.S. Army announced plans to develop a high-power microwave to shoot down drone swarms. The Army intends to field the capability by 2024 as part of its Indirect Fires Protection Capability, a ground-based system designed to counter cruise missiles, mortars, and drones.  The service is also working on a range of laser prototypes for the system. (Defense News) 
Know Your Drone
The U.S. Defense Advanced Research Projects Agency conducted the second field experiment of its OFFensive Swarm-Enabled Tactics program. In the test a swarm of aerial drones and ground robots autonomously coordinated to isolate a target in an urban environment. (Unmanned Systems Technology)
A team from Binghamton University and Ukrainian Multirotor Technologies is developing an aeromagnetic survey drone for detecting buried mines and unexploded ordnance. (Unmanned Systems Technology)
German firm Skysense unveiled the High Power Outdoor Charging Pad, a ground-based charging station for multirotor drones. (sUAS News) 
The Israel Defense Forces unveiled a prototype for an armored fighting vehicle, the Carmel, equipped with tactical surveillance drones. (The Jerusalem Post)
Drones at Work
The Houthi group in Yemen said that it launched two drone attacks against Abha airport in Saudi Arabia. A spokesperson for the Saudi-led coalition said that one Houthi drone was shot down. (Reuters)
U.S. firm Saildrone announced that one of its autonomous unmanned sailboats completed a 20,000 km circumnavigation of Antarctica as part of a scientific data collection mission. (Bloomberg) 
Drone Delivery firm Wing is looking to launch a new pilot program in Queensland, Australia. (Brisbane Times) 
U.S. defense firm Raytheon will deploy two prototype High Energy Laser Weapon Systems for countering drones to U.S. Air Force bases abroad. (Aviation Week) 
According to the latest Lead Inspector General report on Operation Inherent Resolve, only one of Iraq's Chinese CH-4B surveillance and strike drones is fully mission capable and the military has almost ceased using its fleet of U.S.-provided ScanEagle surveillance drones. (The Drive)
The Democratic Republic of Congo is launching a medical drone delivery pilot program in partnership with U.S. nonprofit VillageReach; drone maker Swwo Aero; and Gavi, a public-private partnership. (GeekWire)
Drone maker Atlas announced that the Military Police of Rio de Janeiro State used its aerial surveillance drones for security during the recent Copa America. (Press Release)
The San Pablo Police Department in California has launched a program to use drones to respond to critical incidents. (Aero News Network) 
HAPSMobile, a joint venture between SoftBank and AeroVironment, has been granted an authorization to test its HAWK30 high-altitude long-endurance solar-powered drone over Hawaii. (Unmanned Systems Technology)
The U.S. Federal Aviation Administration announced that it has approved the University of Alaska Fairbanks to conduct beyond visual line-of-sight drone operations over an oil pipeline. (Reuters)

The Delaware state administration has enacted legislation that makes it a felony to use drones to deliver contraband to prisons. (Delaware Public Media) 
Amazon has filed a petition for an exemption to begin using its drone delivery system within the U.S. (CNN) 
The Northamptonshire Police in the U.K. is using drones for nighttime patrols as part of an effort to stem a recent spree of sheep rustling. (The Telegraph)
Industry Intel
The U.S. Navy awarded Hydroid a $15.8 million contract for engineering support and training services for the MK 18 family of unmanned underwater vehicles. (DoD) 
The U.S. Navy awarded AAI Corporation an $18.1 million contract modification and an $8.4 million contract modification for unmanned intelligence-gathering services. (FBO)
The U.S. Army awarded Aeryon Defense USA a $149,995 contract for two Aeryon Skyraider drones for the Army Corps of Engineers. (FBO) 
The U.S. Army awarded Cavalier Technical Services a $187,789 contract for 80 DJI Mavic 2 Enterprise Dual Version drones equipped with FLIR sensors. (FBO) 
The U.S. Air Force announced that it intends to award a contract to DeDrone to continue licensing the DroneTracker counter-drone detection system. (FBO)  
The U.K.'s Maritime and Coastguard Agency is inviting bids for a GBP 990,000 program to study how drones can be used for rescue missions and environmental research. (dronelife)
Kratos Defense and Security has begun ordering engines to prepare for an increase in production of the XQ-58A Valkyrie for the U.S. Air Force. (Jane's)
Meanwhile, Kratos announced that it has been awarded a $23 million contract for high-performance target drones for an undisclosed customer. 
Commentary, Analysis, and Art
At the Guardian, Daniel Howden, Apostolis Fotiadis, and Antony Loewenstein describe a number of concerns arising from Frontex's use of drones to conduct maritime surveillance missions in the Mediterranean, such as how the use of the aircraft in place of sea vessels could lead to greater loss of life among immigrants trying to reach Europe. 
At The Wall Street Journal, Andy Pasztor looks at how Switzerland is aiming to set a global standard for regulating commercial drones. 
A survey of public safety agencies conducted by DroneResponders finds that although drones appear to be popular among first responders, managing the data collected by these systems can be challenging. (UnmannedAerial.com)  
A report by the Infrastructure and Projects Authority, a government watchdog in the U.K., has highlighted "significant issues" for the Protector and Watchkeeper drone programs. (Drone Wars UK) 
At Shephard Media, Tim Martin writes that the U.S. Army's competition to replace the RQ-7 Shadow could be at risk of collapsing. 
At FlightGlobal, Garrett Reim looks at why Kratos and the U.S. Air Force see a promising future in the development of small jet engines for drones. 
At the Long War Journal, Caleb Weiss examines the Houthi's record of drone strikes in Saudi Arabia and Yemen.
At Avionics International, Brian Garrett-Glaser writes that recent drone crashes in Switzerland are raising concerns about the safety of drone deliveries. 
In an op-ed at Defense News, Tom Callahan argues that the Missile Technology Control Regime is holding back international sales of U.S. military drones.
At The Drive, Joseph Trevithick writes that a new U.S. drone base in Niger is expanding in preparation for the start of drone operations later this year. 
At CBC News, Mike Smee writes that Canada's air safety agency is concerned about a rise in reported close encounters between drones and manned aircraft. 
For updates, news, and commentary, follow us on Twitter.
[includeme file="tools/sympa/drones_sub.php"]