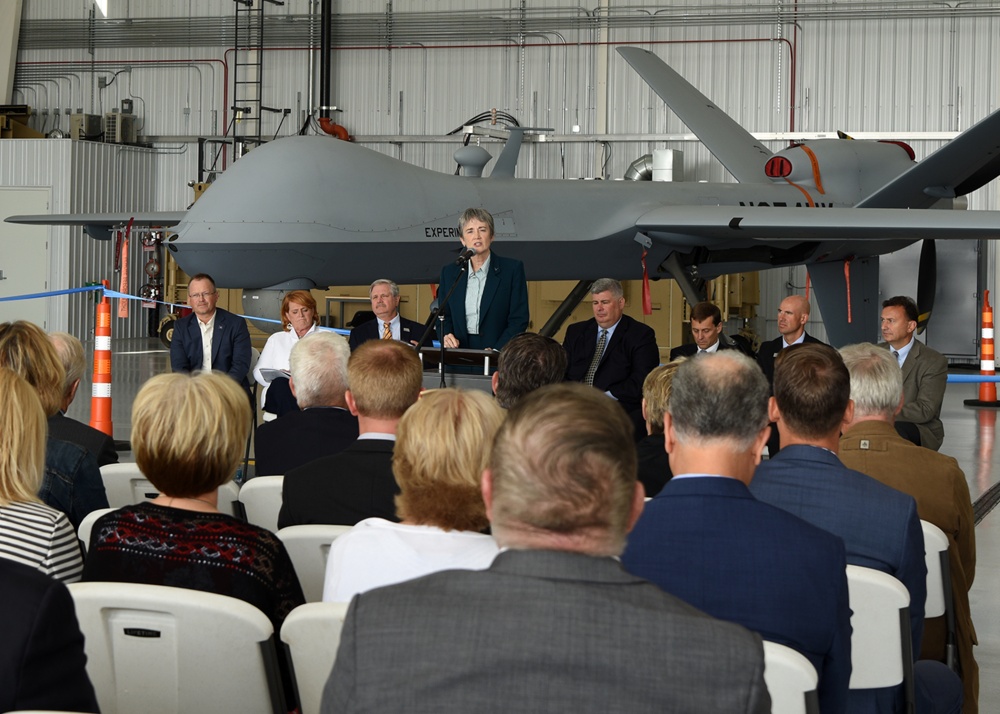 August 20, 2018 – August 26, 2018
If you would like to receive the Weekly Roundup in your inbox, please subscribe at the bottom of the page.
Top Stories
The Japan UAV Association, a coalition of Japanese drone manufacturers, plans to launch a certification system for drones. The system will establish a set of conditions designed to improve drone safety and enhance the competitiveness of Japanese drone companies. (Yomiuri Shimbun)
Popular consumer drone maker DJI unveiled two new variants of its popular Mavic quadcopter. The Mavic 2 Pro and the Mavic 2 Zoom are both equipped with cameras made by the German firm Hasselblad. The Mavic 2 Zoom features an optical zooming capability. (CNET)
The U.S. Federal Aviation Administration has launched an investigation after a video was posted to YouTube showing a drone coming within meters of a private helicopter over Hollywood Beach, Florida. In September of last year, a drone collided with a U.S. Army helicopter over New York City, though no injuries were reported in that incident and the helicopter was able to land safely. (Local 10 News)
Know Your Drone
Defense firm Northrop Grumman has revealed that it is developing a range of electronic and kinetic counter-drone weapons with the U.S. Army and Air Force. (Jane's)
Meanwhile, Northrop Grumman and the Defense Advanced Research Projects Agency announced that they have successfully tested a 100 gigabit per second remote communications link over a distance of 20 km. (FlightGlobal)
The Turkish Air Force has successfully test fired a Smart Micro Munition missile from an Anka-S satellite-controlled strike drone. (Jane's)
Russian defense firm Kalashnikov Concern unveiled a concept for a large bipedal combat robot. (CNET)
Brazilian firm FT Sistemas is conducting advanced flight testing of its Flettner Helicopter FT-100FH rotary drone. (Shephard Media)
Aerospace giant Boeing conducted a series of flight tests of an autonomous command and control system for teams of aerial drones. (AIN Online)
The U.S. Army has issued a request for proposals for cargo drone prototypes capable of carrying up to 600 pounds of supplies. (Military & Aerospace Electronics)
Russian state-owned firm Rostec unveiled the NERPA, an unmanned undersea vehicle equipped with an underwater rifle. (TheFireArmBlog.com)
The U.S. Special Operations Command is inviting companies and universities to propose a range of technologies for both small autonomous drones and battlefield blood delivery drones. (Breaking Defense)
Students at the Worcester Polytechnic Institute are developing an underwater drone that will autonomously hunt for invasive lionfish. (Unmanned Systems Technology)
IBM has been awarded a patent for a drone that delivers coffee to users in need of a caffeine boost. (USA Today)
Drones at Work
Brazil's National Indian Foundation discovered an uncontacted tribe while flying a drone in the Javary River valley in the Amazon rainforest. (The New York Times)
Various city departments in Barrington, Illinois have acquired drones for traffic analysis, mapping, promotional videos, and tracking train incidents. (The Chicago Tribune)
The Ohio Bureau of Criminal Investigation is using drones to map school campuses for district-wide safety preparedness plans. (Dayton Daily News)
The Austin Police Department in Texas has announced a program to use drones for investigating fatal car accidents. (Fox 7 Austin)
Teams battling the Bacon Rind Fire in Yellowstone National Park used a drone for airborne imagery collection. (Post Register)
Drone maker ASV Global and survey firm TerraSond announced that they have completed a 10,649 km hydrographic survey off the coast of Alaska. (Unmanned Systems Technology)
The beach town of Belmar, New Jersey and a team from Rutgers University are testing drones for delivering flotation devices to swimmers in distress. (CBS Philadelphia)
The Pittsburgh Steelers, an American football team, has erected a large tarp over one of its training fields to shield its practices from drones. (NFL.com)
A geosciences professor from Trinity University is using a drone to explore striated rock outcroppings in Utah. (Texas Public Radio)
The U.S. Forest Service and contractor Leading Edge Associates are developing a drone that can spray pesticides on invasive species in hard to reach areas. (NextGov)
Industry Intel
The U.S. Missile Defense Agency awarded General Atomics Electromagnetic Systems a $134 million contract to integrate an advanced sensor into the MQ-9 Reaper. (DoD)
The U.S. Navy awarded Insitu a $54 million contract for four Lot II RQ-21A Blackjack drones and eight attrition air vehicles for the U.S. Marine Corps and the government of Poland. (DoD)
The U.S. Navy awarded Insitu a $55,443 foreign military sales contract for a GPS system for the RQ-21A Blackjack for the government of Canada. (FBO)
The U.S. Air Force awarded General Atomics Aeronautical Systems a $123 million contract for MQ-9 Reaper drones for the government of France. (DoD)
The U.S. Army awarded General Atomics Aeronautical Systems a $11.1 million contract for work on the MQ-1C Gray Eagle. (DoD)
The U.S. Army awarded QinetiQ North America a $44 million contract for the Route Clearance Interrogation System unmanned ground vehicle. (FBO)
Rocketmine, a South African drone company and subsidiary of France's Delta Drone, won contracts with four mining firms for inspection and surveying services. (ITWeb)
Shephard Media has reported that Elbit Systems will deliver the first of several Hermes 450 drones to the Philippine Air Force later this year.
Russian export officials said in an interview with state-owned media agency RIA Novosti that Russia has already received a request from a Middle Eastern country to purchase the Kronstadt Orion-E drone. (Jane's)
The Australian Army has acquired DJI Phantom 4 drones for a program designed to enhance soldier familiarity with unmanned systems. (Shephard Media)
US Ignite awarded the city of Wilson, North Carolina a $10,000 grant to develop an app that will enable city personnel to live-stream video from drones. (GovTech)
Note: On August 24, the U.S. Department of Defense issued a correction for a contract awarded to L3 Technologies on August 31, 2017 for manned-unmanned teaming hardware. The correct value of the contract is $226 million, not $69.3 million.
Commentary, Analysis, and Art
A report by Rachel Stohl and Shannon Dick at the Stimson Center considers the best practices that states can adopt to manage the proliferation of armed drones.
A report by Wim Zwijnenburg and Foeke Postma at PAX explores the accelerating proliferation of military drones and offers recommendations for how to manage the risks that it poses.
At Bloomberg, Andrew Rosati and Ethan Bronner explain the events leading up to the attempted attack on Venezuelan President Nicolás Maduro using drones.
In the Journal on the Use of Force and International Law, Dennis R. Schmidt and Luca Trenta consider the effect that drones have had on international norms.
At Police One, Tom Switick suggests five ways that law enforcement officers can respond to a drone attack.
At East Pendulum, Henri Kenhmann looks at whether a recent satellite image may have revealed a secret Chinese stealth drone.
At the Intercept, Nick Turse looks at how much the U.S. Air Force anticipates it will spend on maintaining its drone base in Agadez, Niger by 2024.
At MarketWatch, Sally French offers a detailed breakdown of the costs of starting your own drone business.
At the Hill, Diana Marina Cooper argues that the U.S. Federal Aviation Administration should retain the authority to develop a single unified set of drone regulations.
At Reuters, Yuka Obayashi looks at how drones are helping ageing farmers in Japan to continue working amidst a labor shortage.
At The Asahi Shimbun, Yoshitaka Ito writes that Japan's transportation ministry is considering relaxing rules on drone deliveries.
At Popular Mechanics, Trevor Bauer offers a guide to building your own drone.
For updates, news, and commentary, follow us on Twitter.