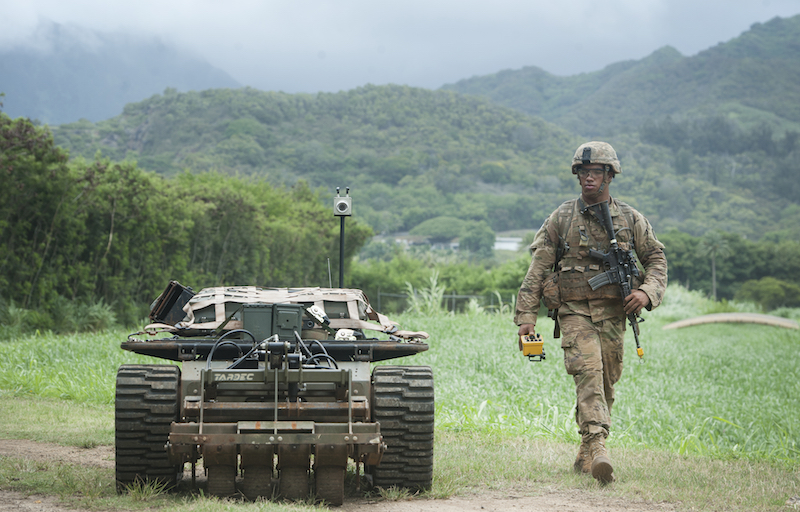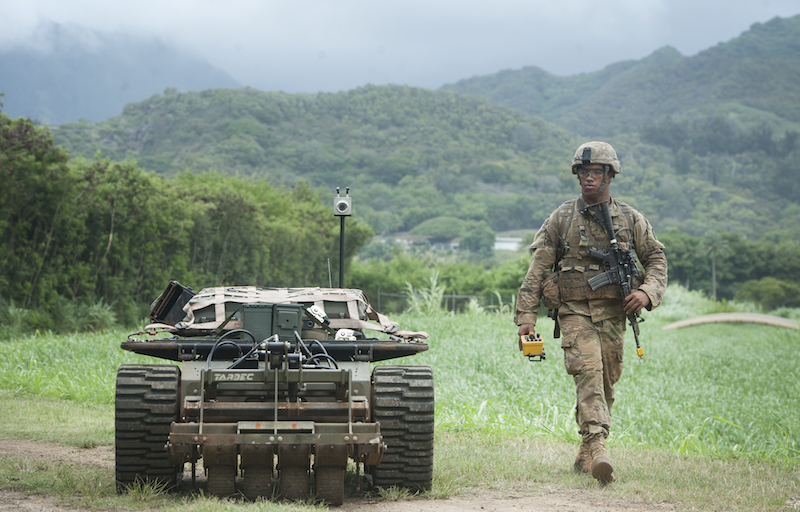 July 25, 2016 – July 31, 2016
If you would like to receive the Weekly Roundup in your inbox, please subscribe at the bottom of the page.
News
The U.S. Air Force has created a new training course for officers responsible for ensuring that the communications between drones and pilots are secure. The Electronic Combat Officers course will train personnel on methods for protecting the satellite communications for MQ-1 Predators and MQ-9 Reapers operating in contested environments. (Air Force)
Meanwhile, a facility dedicated to training new drone pilots opened at Grand Forks Air Force base in North Dakota. The Grand Sky academy was founded by U.S. drone manufacturer General Atomics and is expected to train as many as 100 U.S. and foreign military crews per year. (Post Bulletin)
A drone belonging to the Indian Navy crashed off the coast of southwest India. The drone took off from Indian Navy Station Garuda in Kochi and is reportedly an Israeli-made Searcher. (The Indian Express)
Commentary, Analysis, and Art
At Leader's Edge, James van Meter investigates how aviation insurance brokers are approaching coverage for drones.
In an event hosted by Defense One, Secretary of the Air Force Deborah Lee James said that she could envision enlisted airmen replacing officers at the controls of other drones besides the RQ-4 Global Hawk. (C4ISR)
At the Wall Street Journal, Rhiannon Hoyle describes how mining companies in Australia such as BHP Billiton, Ltd. are turning to drones and robots in a bid to reduce costs.
At the Guardian, Zoe Flood surveys the range of roles that drones might eventually play in humanitarian programs in Rwanda and South Africa.
At the Washington Post, Thomas Gibbons-Neff examines an anti-drone rifle that has apparently been deployed with U.S. Marines to Iraq.
At IHS Jane's 360, Tim Ripley writes that the British military is reconsidering the structure of its force of Thales Watchkeeper drones.
At the National Interest, Dan Goure considers what it will take for the U.S. to defeat adversaries equipped with low-cost drones.
Also at the National Interest, Samuel Bendett examines the state of Russia's drone industry.
At U.K. Defence Journal, George Allison writes that experts have largely dismissed the idea that the U.K.'s nuclear-armed Trident submarines could be vulnerable to attack by underwater drones.
At Fortune, Jonathan Vanian considers North Dakota's efforts to attract drone businesses.
At Bloomberg Business, Bruce Einhorn writes that DJI is seeking corporate customers for its line of hobby drones.
At Al Monitor, Ben Caspit investigates an incident in which a drone penetrated Israeli airspace from Syria last month.
At Popular Mechanics, Kyle Mizokami examines the similarities between the Chinese CH-4 drone and the U.S. MQ-9 Reaper.
At the Bulletin of Atomic Scientists, Michael C. Horowitz writes that weapons equipped with artificial intelligence could be used by autocratic regimes.
Know Your Drone
The U.S. Marine Corps' variant of the future vertical lift helicopter will be optionally manned. (FlightGlobal)
The Northrop Grumman Global Hawk high-altitude long-endurance reconnaissance drone has surpassed 200,000 flight hours. (Airforce Technology)
Defense contractors Raytheon and UVision are reportedly working to develop a loitering munition drone for an expected U.S. Army tender for a small lethal missile system. (FlightGlobal)
U.S. startup Dedrone and European defense firm Airbus EBS are partnering to develop counter-drone systems. (Fortune)
Drone maker DJI and drone anti-collision system firm uAvionix are working to release a collision avoidance developer kit for DJI drones. (Slashgear)
NASA's Frontier Development Lab and drone firm UVIONIX Aerospace are seeking to develop drones that can be used for asteroid defense operations. (Press Release)
A new Israeli drone maker, Meteor, has confirmed its plans to develop a long-endurance drone that can remain airborne for up to 30 hours. (FlightGlobal)
Two U.S. contractors have proposed a system in which swarming drones use an airship as a flying aircraft carrier. (Popular Science)
Defense contractor Leidos announced that it has successfully completed initial performance trials of the Anti-Submarine Warfare Continuous Trail Unmanned Vessel, which it is developing for the U.S. Defense Advanced Research Projects Agency. (Press Release)
Consulting firm Bishop Fox is developing the Danger Drone, a flying hacker laptop. (Motherboard)
New Scientist explores the developmental technologies that will enable drones to perform highly autonomous functions.
Commercial drone maker Lehmann Aviation has unveiled its L-A Series mapping drones. (Unmanned Systems Technology)
Israeli aerostat maker RT LTA Systems has unveiled the SkyGuard 1, a high-altitude surveillance blimp. (IHS Jane's 360)
Drones at Work
The U.K. Civil Aviation Authority has granted Amazon permission to test its Prime Air drone delivery system in Britain. (PC Mag)
Police in Hollis, New Hampshire are seeking a suspect who was allegedly using a drone to peep into residents' windows. (WMUR)
The U.S. National Oceanic and Atmospheric Administration is using drones to study whales near Hawaii. (Christian Science Monitor)
The U.S. Forest Service said that firefighters at the Pioneer Fire in Idaho encountered drones on two occasions in the span of four days. (ABC 6)
The Mexican government is using three Arcturus T-20 drones to track illegal fishing in the Gulf of California in a bid to save the critically endangered vaquita marina porpoise. (News24)
The Police departments of Nassau and Suffolk counties in Long Island are seeking to obtain drones for a variety of operations. (Fox5 NY)
Commercial drone firm 3DR demonstrated how a swarm of drones can be used to play a real-life version of Pong. (DIY Drones)
Cattle ranchers in British Columbia, Canada, are hoping to use drones to track down lost cows and monitor the animals' environment and health. (Vancouver Sun)
The U.S. Combined Joint Task Force—Horn of Africa is using unmanned ground vehicles to patrol the perimeter of its drone base in Djibouti. (IHS Jane's 360)
A Canadian drone firm is seeking to use drones for deliveries in rural areas. (CBC)
A U.S. startup called Sea Machines is developing unmanned boats that can be used for patrols and cargo delivery. (Boston Globe)
Industry Intel
The Limestone County Sheriff's Office in Alabama awarded Avion Solutions, Inc. a $30,000 contract for three drones and flight training for officers. (WAAY 31)
A group of emergency services and law enforcement agencies in Lenoir County, North Carolina are seeking to purchase an $18,000 drone for emergency response operations. (WNCT)
The Defense Advanced Research Projects Agency awarded Raytheon two contracts, totaling $9 million, to develop communication technologies to link unmanned and manned aircraft. (Press Release)
The Federal Highway Administration issued a quote solicitation for a Trimble Unmanned Aircraft System for surveying and mapping applications. (FedBizOpps)
The U.S. delivered 72 AeroVironment RQ-11B Raven reconnaissance drones to Ukraine as part of a military assistance package. (IHS Jane's 360)
The U.S. Geological Survey awarded Pulse Aerospace a $93,170 contract for a YellowScan Mapper LiDAR sensor system for unmanned aircraft. (FedBizOpps)
Terra Drone, a Japanese mapping and surveying company, announced a partnership with Hitachi Construction Machinery to develop drones for use over construction sites. (Press Release)
Northrop Grumman is pairing up with Triumph Group to advance the pace of production of components for the RQ-4 Global Hawk surveillance drone. (C4ISR & Networks)
For updates, news, and commentary, follow us on Twitter.
[includeme file="tools/sympa/drones_sub.php"]