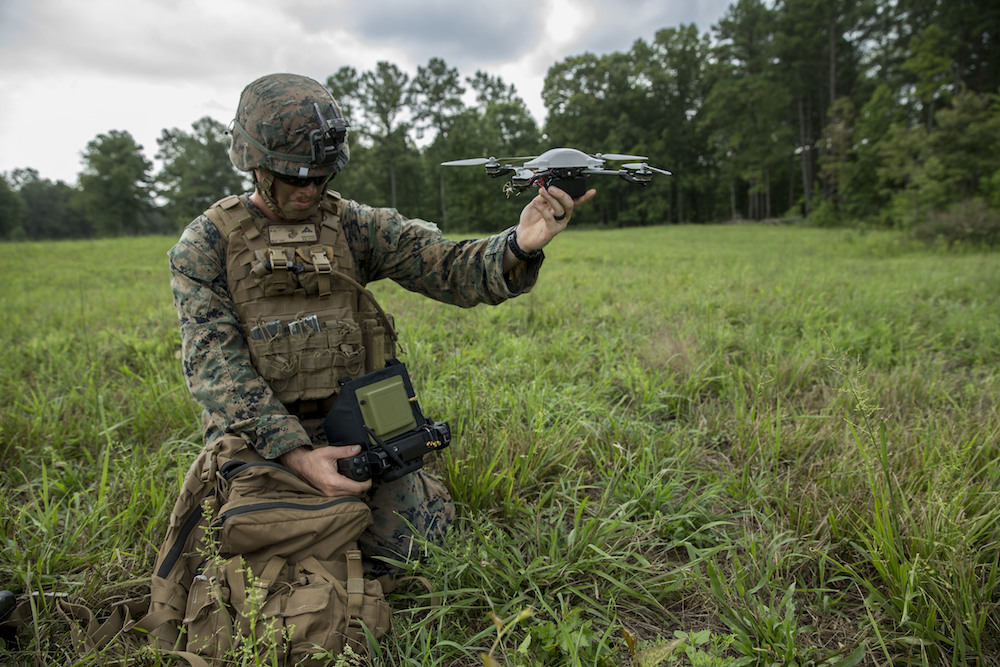 August 14, 2017 – August 20, 2017
If you would like to receive the Weekly Roundup in your inbox, please subscribe at the bottom of the page.
News
During a nighttime flight in the Persian Gulf, an Iranian surveillance drone followed a U.S. aircraft carrier and came within 300 feet of a U.S. fighter jet. It was the second time in a week that an Iranian drone interfered with U.S. Navy operations in the Gulf. In a statement, Iran's Revolutionary Guard said that its drones were operated "accurately and professionally." (Associated Press)
Commentary, Analysis, and Art
A report by the RAND Corporation argues that distributed, localized drone hubs can reduce energy consumption for drone delivery programs in urban centers. (StateScoop)
At the Economist, Tom Standage writes that toys like hobby drones can "sometimes give birth to important technologies."
At the Atlantic, Naomi Nix looks at how the Kentucky Valley Educational Cooperative is investing in programs that teach students how to build and operate drones.
At Aviation Week, David Hambling examines the growing demand for small, pocket-sized military drones.
At Slate, Faine Greenwood argues that the U.S. military should not use consumer drones.
At the Los Angeles Times, W.J. Hennigan reports that U.S. drones are performing danger-close strikes in support of the Syrian Democratic Forces.
At TechCrunch, Jon Hegranes separates the "fiction from feasibility" of drone deliveries.
At DefenseNews, Adam Stone looks at how the U.S. Navy is investing in a command-and-control system with an eye to someday operating drones from carriers.  
At the Modern War Institute, Dan Maurer considers whether military ethics and codes should apply to robot soldiers.
At the San Francisco Chronicle, Benny Evangelista considers recent reports of close encounters between drones and manned aircraft.
At War is Boring, Robert Beckhusen writes that the Israeli military is investigating allegations that an Israeli drone manufacturer carried out a drone strike against Armenian soldiers as part of a product demonstration.
At Popular Mechanics, David Hambling considers whether an armed quadrotor drone is ethical or even practical.
At Washington Technology, Ross Wilkers looks into Boeing's push to become a leader in the field of autonomous weapons systems.
Know Your Drone
Israeli firm Meteor Aerospace is developing a medium-altitude long-endurance surveillance and reconnaissance drone. (FlightGlobal)
Following the U.S. Army's decision to discontinue use of its products, Chinese drone maker DJI is speeding the development of a security system that allows users to disconnect drones from DJI's servers while in flight. (The New York Times)
Huntington Ingalls Industries demonstrated its Proteus dual-mode unmanned undersea vehicle at an exercise held by the U.S. Naval Surface Warfare Center. (Jane's)
A team from the University of Sherbrooke is developing a fixed-wing drone that uses thrust to achieve perched landings. (IEEE Spectrum)
The U.S. Naval Research Laboratory is developing a fuel cell-powered drone called Hybrid Tiger that could have an endurance of up to three days. (Jane's)
China's Beijing Sifang Automation is developing an autonomous unmanned boat called SeaFly, which it hopes will be ready for production by the end of the year. (Jane's)
The U.S. Defense Advanced Research Projects Agency unveiled the Assured Autonomy program, which seeks to build better trustworthiness into a range of military unmanned systems. (Shephard Media)
Taiwan's National Chung-Shan Institute of Science and Technology unveiled an anti-radiation loitering munition drone. (Shephard Media)
Amazon has patented a retractable tube that can be used to funnel packages from delivery drones to the ground. (Puget Sound Business Journal)
Meanwhile, Wal-Mart has been awarded a patent for a floating warehouse that could be used to carry goods for drone deliveries. (CNBC)
Telecommunications company AT&T is looking to develop autonomous systems to make drones more efficient for cell tower inspections. (Unmanned Aerial Online)  
Drones at Work
The U.S. Forest Service used a drone to to collect data over the Minerva Fire in the Plumas National Forest. (Unmanned Aerial Online)
A team of researchers from Oklahoma State University and the University of Nebraska are planning to use drones to study atmospheric conditions during the upcoming solar eclipse. (Popular Science)
In a test, U.S. drone maker General Atomics flew its new Grey Eagle Extended Range drone for 42 hours. (Jane's)
In a U.S. Navy exercise, an MQ-8B Fire Scout helicopter drone was handed off between control stations while in flight. (Shephard Media)
A U.S. MQ-1 Predator drone crashed shortly after taking off from Incirlik Air Base in Turkey. (Military.com)
The Michigan Department of Corrections announced that three people have been arrested after attempting to use a drone to smuggle drugs and a cellphone into a prison in the city of Ionia. (New York Post)
Meanwhile, Border Patrol agents in San Diego, California arrested a man for allegedly flying a drone laden with drugs over the U.S.-Mexico border. (The San Diego Tribune)
A medevac helicopter responding to a fatal car crash in Michigan had to abort its first landing attempt at the scene because a drone was spotted flying over the area. (MLive)
NASA plans to once again use its Global Hawk high-altitude drone to study severe storms over the Pacific this hurricane season. (International Business Times)
Police in Glynn County, Georgia used a drone to search for a suspect fleeing in a marshy area. (Florida Times-Union)
The Regina Police Service Traffic Unit in Canada is acquiring drones to collect data over collision scenes. (Global News)
A photo essay at the National Review examines quadrotor drones at work in both civilian and military spheres.
Industry Intel
DefenseNews reports that General Atomics is hoping to sell around 90 Avenger drones, the successor to the Reaper, to an unnamed international customer.
The Ohio Federal Research Network is behind a $7 million initiative to make Ohio a center for drone research. (Dayton Daily News)
The U.K.'s Defense Science and Technology Laboratory awarded Qinetiq a $5.8 million contract to lead the Maritime Autonomous Platform Exploitation project. (Shephard Media)
Insitu has partnered with FireWhat and Esri to provide firefighters with improved aerial intelligence. (Shephard Media)
3DR, Global Aerospace, and Harpenau Insurance have partnered to offer businesses drone insurance that covers legal liability and physical damage. (TechRepublic)
Aerialtronics, a Dutch industrial drone maker, announced that it has applied for a solvency procedure and will seek new investors. (Press Release)
The U.S. Navy awarded Insitu a $7.5 million foreign military sales contract for six ScanEagle drones for the Philippines. (DoD)
 The U.S. Navy awarded Insitu a $319,886 contract for the procurement of Strongback Module Assemblies.
The U.S. Air Force awarded Area I a $5 million contract for the development of air-launched drones. (FBO)
The U.S. Army awarded Gird Systems a $148,364 contract for squad-level counter-drone technology. (FBO)
The U.S. Army awarded Airspace Systems a $1.9 million contract for autonomous drone defense. (FBO)
The U.S. Army awarded RPX Technologies a $147,905 contract for a micro IR thermal imaging camera for nano-UAVs. (FBO)
The U.S. Department of Interior awarded Brocktek a $65,000 contract for 3DR Solo drones. (FBO)  
For updates, news, and commentary, follow us on Twitter.
[includeme file="tools/sympa/drones_sub.php"]