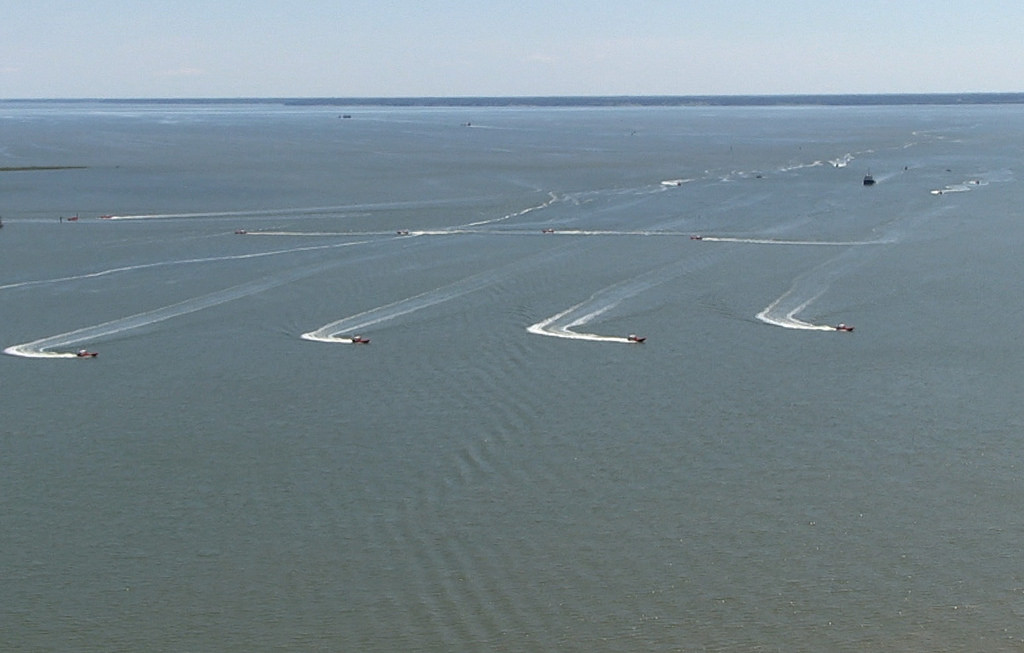 Need to Know provides context and resources to help you get a better understanding of recent developments in the world of drones.
In August, the U.S. Navy unleashed a swarm of 13 unmanned patrol boats on Virginia's James River. The boats escorted a manned cruiser and simulated responding to threats posed by another ship. The experiment—the first of its kind—relied more on software than fancy hardware; the Navy's Office of Naval Research simply outfitted its existing patrol boats with a technology known as CARACaS (Control Architecture for Robotic Agent Command and Sensing). The swarm of drone boats was designed to form a sort of shield to protect manned ships against attacks like the one on the U.S.S. Cole in October 2000.
It isn't just the Navy that's interested in robot swarms. The Air Force has a "micro-aviary" lab for small autonomous UAVs at Wright Patterson base in Ohio. In the civilian world, researchers at the University of Pennsylvania's GRASP Lab have attracted millions of views to their videos of automated drone swarms making music. In August, engineers at Harvard University exhibited a swarm of 1,024 self-organizing robots, the largest ever robot swarm.
Swarming tactics are advocated by some war theorists as the next step in the evolution of military doctrine, a "game-changer," to borrow the industry parlance. Using algorithms, battlefield formations of simple robots could replicate the swarming behaviors of bees or ants, with major strategic benefits. While elements of swarming tactics have been employed by armies for thousands of years, swarms of automated machines could perfect these maneuvers and add a new dimension to the conduct of war. Here is what you need to know about swarms:
The History of Swarms
Swarms in Military Theory
Most of the discussion of military swarms today is informed in one way or another by "Swarming and the Future of Conflict," a seminal report from 2000 by John Arquilla and David Ronfeldt. They define the swarming doctrine as a "deliberately structured, coordinated, and strategic way to strike from all directions, by means of a sustainable pulsing of force and/or fire, close-in as well as from stand-off positions." According to Arquilla and Ronfeldt:

The rise of information warfare, beginning with the First Gulf War, "will bring swarming to the forefront, establishing a new pattern in conflict" due to the advancement of sensor and communications technology.
Swarming is an evolution of previous military doctrines such as mass (large, concentrated formations) and maneuver (multiple formations moving and coordinating across distances) warfare.
Swarming is not just a military tactic, but can be employed by crowds (such as protesters during the 1999 Seattle WTO Protests). Read On: "Netwar in the Emerald City: WTO Protest Strategy and Tactics" by Paul de Armond.
"Connectivity is essential" to swarming, because it allows units that are distributed in a seemingly amorphous mass to come together to attack at the right moments.
Swarming requires moving away from strict hierarchical command structure models in order to allow the decentralization of command and initiative.

One of the patrol boats in action on the Virginia River in August. Credit: Flickr/ ONR

The most recent theorist to come out in favor of swarms is Paul Scharre at the Center for a New American Security. In "Robotics on the Battlefield Part II: The Coming Swarm," Scharre argues that, due to the improved long-distance precision targeting capabilities of foreign nations, it would be wiser to disperse American technological superiority in a multitude of small robots than in a concentration of expensive multi-mission platforms like the F-35 fighter jet. By outfitting existing low-cost platforms with autonomous capabilities and continuing the development of affordable unmanned systems like drones, the U.S. military can enable true cooperative swarming formations that fight "with greater mass, coordination, intelligence and speed than today's networked forces." Scharre believes that "uninhabited systems"—drones—are optimal for swarms for three primary reasons: automation, minimization of risk to humans and cost savings:

Swarms of drones can impose costs on the enemy with less risk to human actors than manned systems.
Without a human occupant, drones can outlast manned systems, and military planners can spend less on expensive armor.
Automated and semi-autonomous drones can process large amounts of information at greater speeds than human actors. Swarms require speed to adapt to changing circumstances and inflict confusion on the enemy's formations and defenses.
The military would be able to spend less time and money on expensive complex individual platforms. By breaking down these "multi-mission" platforms such as the F-35, or even Predator and Reaper drones, into components, swarms of automated "single-mission" drones working together would disaggregate risk and lower production costs.
When Will Robot Swarms Hit the Battlefield?
In a press briefing to reporters earlier last month, Rear Admiral Matthew Klunder, the head of the Navy's research division, said that the swarm technology exhibited in August could be available to Navy commanders within a year. Like the boats that were used in the demonstration, the technology can be outfitted to existing patrol boats.
However, though robotic technology is now advanced enough for basic swarming maneuvers, it is unlikely that swarms will become official military doctrine anytime soon. There remains resistance to the idea of automated machines within the Pentagon, and drones have largely been relegated to niche missions like aerial intelligence collection. Furthermore, today's communications infrastructure can barely accommodate the enormous bandwidth requirements of the drones that are deployed, suggesting that fielding thousands more unmanned systems is not sustainable anytime soon.
The importance of the swarm is not the individual components; rather, by synchronizing the behavior of the collective, complex mission that would be impossible for a single drone or human become achievable. Drones in swarms serve but one purpose: a single, extremely narrow role as an individual element within the mass. In a swarm, drones actually adhere more to the etymology of the word "drone"—meaning the single purpose male bee—than any of the unmanned system on the market today.
For updates, news, and commentary, follow us on Twitter.
[includeme file="tools/sympa/drones_sub.php"]