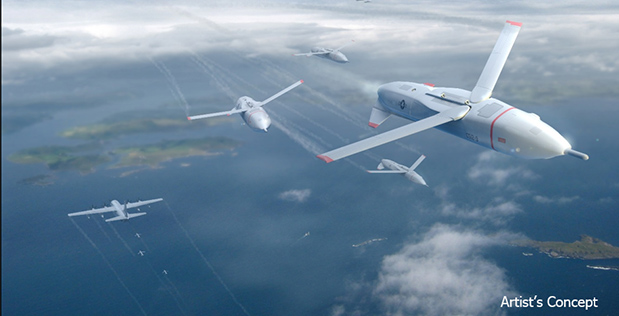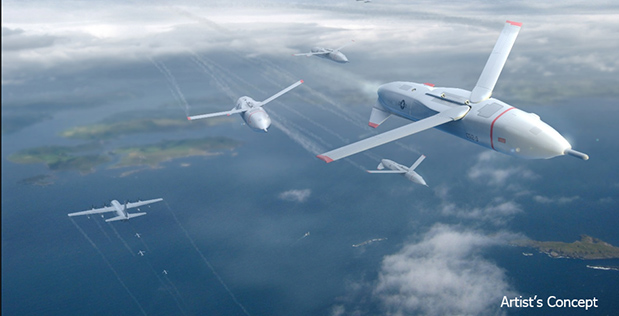 By Dan Gettinger
On Monday, December 14, U.S. Deputy Secretary of Defense Bob Work outlined the pillars of the "third offset strategy," a plan to develop the technologies that will maintain the  American military's technological superiority. Speaking at the Center for New American Security's National Security Forum, Work argued that in order to maintain its edge over potential adversaries, the United States would need to make progress in five key areas: autonomous "deep learning" systems, human-machine collaboration, assisted-human operations, advanced human-machine teaming, and semi autonomous weapons. Within the defense establishment, few departments bear more responsibility for turning the concepts outlined by Work into a reality than the Defense Advanced Research Projects Agency. DARPA has a long history of investing in drone projects, including some of the experimental predecessors to the MQ-1 Predator. Today, DARPA has around a dozen projects directly involving unmanned systems for the air, sea, and ground, as well as many initiatives that study robotics.
Over the past year, DARPA's portfolio of drone projects has expanded to networked drone systems, human-machine cooperation, and advanced autonomous functions. Here's what you need to know about a few of the latest drone projects at DARPA: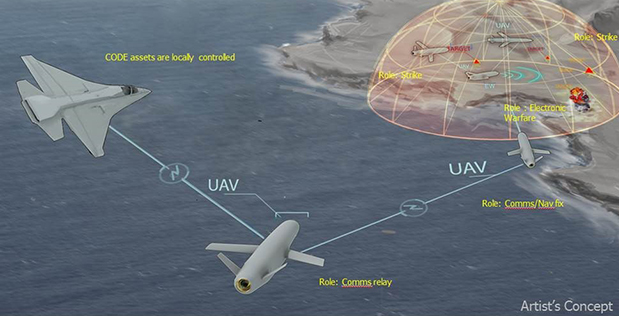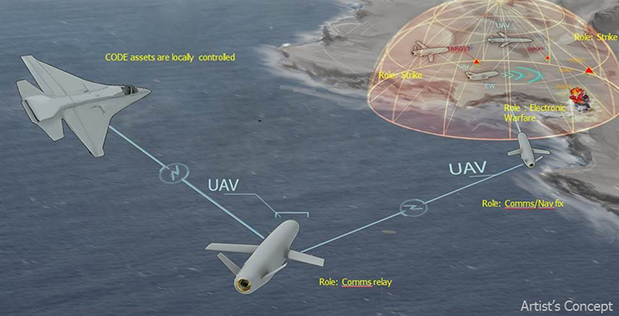 Collaborative Operations in Denied Environment (CODE)
With manned planes like the F-35 growing ever more expensive, one role that the military sees for unmanned systems in the future is to act sort of like auxiliary units that can improve the lethality and survivability of manned craft. As such, DARPA is looking to develop unmanned systems that can work collaboratively with manned systems and largely independently of a human operator. Most drones today require a pilot to be at the controls at all times, but with projects like CODE, that could change dramatically. The goal of CODE is to create new algorithms and software that would enable a fleet of existing drones to be controlled by, say, a single fighter jet pilot. The idea for CODE was first floated in April 2014 and phase one was announced on January 21, 2015. Central to this project is the improvement of machine autonomy so that multiple unmanned systems can work collaboratively under the supervision of one human operator. In a combat situation, these drones could identify and attack targets and adapt to changes like the loss of friendly forces or new threats.
"Just as wolves hunt in coordinated packs with minimal communication, multiple CODE-enabled unmanned aircraft would collaborate to find, track, identify and engage targets, all under the command of a single human mission supervisor," Jean-Charles Ledé, DARPA program manager, said in a statement.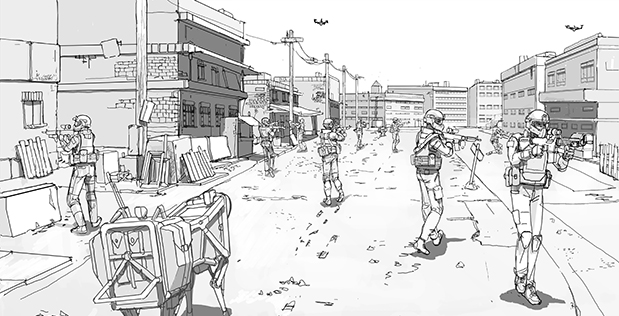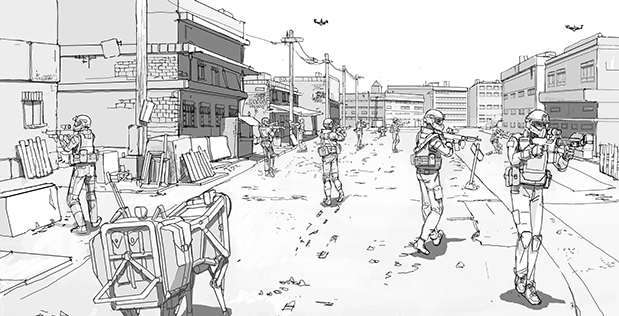 Squad X Core Technologies
Dismounted infantry units can face a lot of demands during combat, particularly in urban environments where it is difficult to identify potential threats. Squad X Core Technologies, which was announced on February 9, 2015, proposes to use emerging technologies like unmanned systems to relieve some of those burdens and to provide greater situational awareness to troops on the ground. Using drones in the air and on the ground, Squad X aims to create an awareness cordon of several hundred meters around the unit. In a solicitation document, DARPA suggests several possible unmanned vehicle concepts: a UAV that flies above for reconnaissance, a ground robot that operates in front of the squad for reconnaissance or engineering tasks, and another ground robot that acts as a support vehicle capable of carrying 50 kg of gear. On December 10, 2015, DARPA announced that it has awarded contracts for the first phase of development to nine companies: Helios Remote Sensing Systems, Kitware, Leidos, Lockheed Martin Corporation, Raytheon Company, Scientific Systems Company, Inc., Six3 Systems, Inc., SoarTech, and SRI International.
"The Phase 1 performers for SXCT have proposed a variety of technologies that, in the future, could provide unprecedented awareness, adaptability and flexibility to dismounted Soldiers and Marines and enable squad members to more intuitively understand and control their complex mission environments," Maj. Christopher Orlowski, DARPA program manager, said in a statement.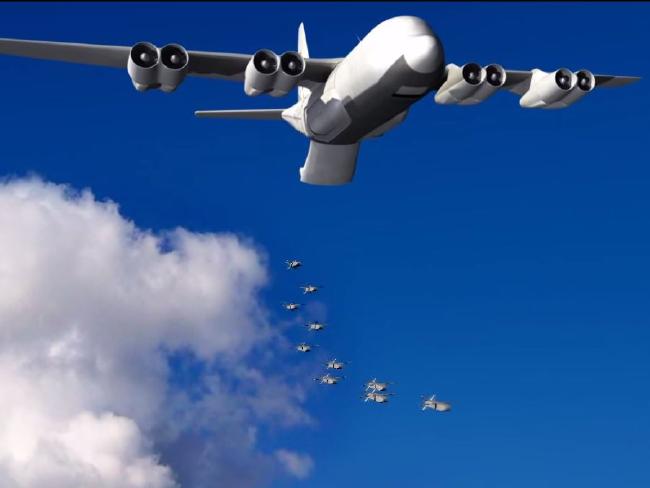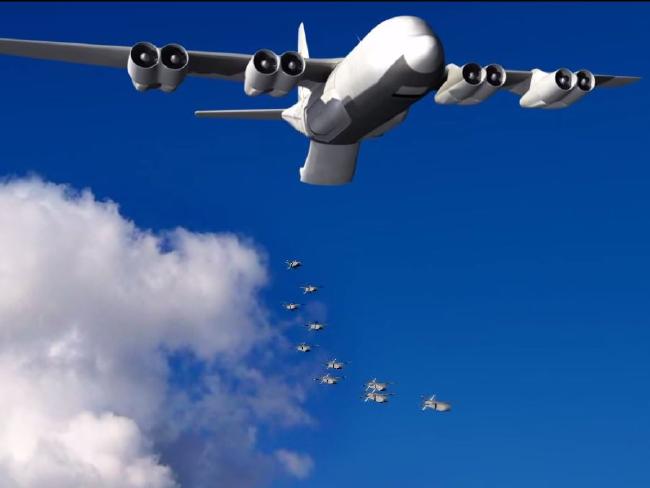 Gremlins Program
Some of the earliest advanced drones were launched from the air, not the ground. These missile-like drones were used extensively for photo reconnaissance during the Vietnam War and often flew according to pre-programmed routes. DARPA's Gremlins project aims to revisit this idea, except that instead of a single drone, a manned aircraft would release a swarm of low-cost recoverable unmanned systems. These small drones would act like a defensive line for manned aircraft in providing a intelligence and reconnaissance capabilities and the swarm could be supervised by fighters equipped with CODE algorithms. As it was first described by Program Manager Dan Pratt in November 2014, the goal is to turn transport aircraft, bombers, and possibly even fighter jets into "aircraft carriers in the sky." Of course, while it might not be that difficult to develop cost-efficient drones, the challenge will come in designing a means by which the drones can be recovered mid-air to be used again another day. During the Vietnam War, drones like the Ryan 147 were recovered by helicopters that would snatch up a parachute released by the drone. On August 28, 2015, DARPA announced that Gremlins was moving from the concept phase into becoming an established long-term project for the research agency.
"Our goal is to conduct a compelling proof-of-concept flight demonstration that could employ intelligence, surveillance and reconnaissance (ISR) and other modular, non-kinetic payloads in a robust, responsive and affordable manner," Dan Patt, DARPA program manager, said in a statement.
All images and video via DARPA.
For updates, news, and commentary, follow us on Twitter.
[includeme file="tools/sympa/drones_sub.php"]