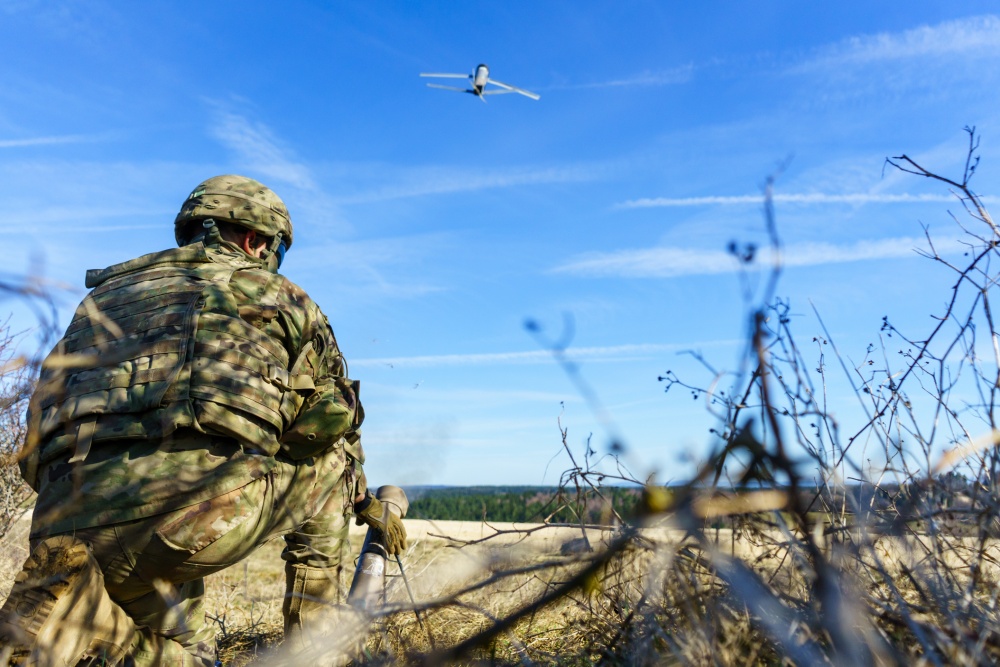 April 2, 2018- April 8, 2018
If you would like to receive the Weekly Roundup in your inbox, please subscribe at the bottom of the page.
At the Center for the Study of the Drone
Next year's proposed Pentagon budget includes more funding for a greater quantity of unmanned systems and associated technologies than any previous DoD budget in recent memory. In a new report, we break down the Pentagon's drone spending plans. Here's what you need to know.
Top Stories
Over 3,100 Google employees have signed a letter protesting Google's involvement in Project Maven, a U.S. Department of Defense program that uses artificial intelligence to analyze video imagery from drones. The letter, addressed to C.E.O Sundar Pichai, expresses concern about the company's role in the development of military technology. Project Maven is intended to reduce the workload burden of human imagery analysts. (New York Times)
The U.S. Department of State has authorized a potential sale of four Northrop Grumman MQ-4C Triton surveillance drones and associated equipment to Germany. The possible $2.5 billion sale, which still requires approval from Germany's government, would be a follow-on to Germany's cancelled Euro Hawk drone program. (FlightGlobal)
The Commercial Drone Alliance, a U.S. drone industry group that represents a number of major firms including Alphabet, is encouraging Congress to end the exemption for drone hobbyists from the Federal Aviation Administration's Part 107 drone regulations. In a statement, the Academy of Model Aeronautics stated that it opposes the idea. (Bloomberg)
The Trump administration is proposing legislation that would grant government and law enforcement agencies greater authority to track and disable drones. According to the Washington Post, the draft legislation would waive certain constraints on intercepting drones under existing electronic communications laws. For more on counter-drone systems, click here.
Know Your Drone
Engine maker LiquidPiston has unveiled a compact rotary engine designed for drones. (Commercial UAV News)
Drone delivery firm Zipline unveiled a delivery drone capable of flying at nearly 80 mph. (MIT Technology Review)
The U.S. Army has launched a fast-track acquisition effort to purchase a signal jamming system for the MQ-1C Grey Eagle. (Defense One)
U.S. drone maker General Atomics Aeronautical Systems announced that it has set a new endurance record for its jet-powered Avenger surveillance and strike drone. In a simulated surveillance mission, the drone flew for just under 24 hours. (Times of San Diego)
Russia's Tecmash Research and Production Group announced that it is developing a rocket-launched surveillance drone under a cooperative agreement with a Chinese development organization. (Jane's)
A team from Liverpool John Moores University is developing computer vision systems for anti-poaching drones based on astronomical detection tools. (New Atlas)
The Chinese Navy announced that it is developing ship-based drones for use aboard carriers and destroyers. (Asia Times)
A team funded by NASA is developing a concept to use a swarm of bee-like drones to explore the surface of Mars. (Fast Co. Design)
U.S. firm Workhorse Group has issued a patent for a truck-based aerial drone delivery system. (Unmanned Systems Technology)
A study led by Rolls Royce suggests that unmanned surface vessels equipped with basic sensors and algorithms can meet or exceed international maritime collision avoidance regulations. (Jane's)
The U.K. Ministry of Defense announced a plan to launch a test campaign to develop a low cost combat drone. (FlightGlobal)
In a demonstration at the Grafenwoehr training center in Germany, U.S. and British army forces used a range of unmanned air and ground vehicles to clear a path through various obstacles, including a minefield. (Breaking Defense)
Drones at Work
The Israel Border Police appear to have used drones to drop tear gas canisters over protesters in the Gaza strip for a second time in a month. (Times of Israel)
Meanwhile, Israel's Defense Minister Avigdor Lieberman warned that "anyone who operates drones over Israeli soldiers needs to understand he's putting himself at risk." (Haaretz)
In its first public demonstration of a developmental drone delivery system, a Russian Post delivery drone crashed into a building shortly after takeoff. (Reuters)
Police in Fayetteville, North Carolina have launched a drone program, and have already used their unmanned aircraft to help apprehend a suspect who fled from a traffic stop. (WRAL.com)
The Virginia Senate is considering a bill that would enable law enforcement to conduct a range of drone operations without a warrant. (WTOP)
The pilots of a Mokulele Airlines flight reported two separate close encounters with drones on final approach to Honolulu International Airport. (Hawaii News Now)
Meanwhile, controllers at Auckland airport were forced to divert air traffic for 30 minutes after a drone was spotted flying in the area. It is the second such incident in Auckland in less than a week. (Radio New Zealand)
Archaeologists in Peru used drones to help confirm the discovery of more than 50 new Nazca lines around the famous heritage site. (Smithsonian Magazine)
The Richmond Fire Department in Indiana used a drone to assist in the response to a strip mall fire. (Palladium-Item)
Researchers at Helmholtz-Zentrum Dresden-Rossendorf in Germany are using drones to help look for copper, cobalt, platinum-group metals, and rare earth deposits. (The Guardian)
A team at Texas A&M AgriLife is using drones to research wheat seed performance in the High Plains. (NewsChannel 10)
An incident involving a drone resulted in a fire at an unmanned aircraft test site at Eastern Oregon Regional Airport. (Associated Press)
U.S. firm Honeywell Aerospace is demonstrating a certified flight management system with a DJI quadcopter. The quadcopter was recently used to record data in a Boeing 737 MAX splash test. (Aviation Week)
The Greek air force has reported that it intercepted a Turkish Anka military drone above the Island of Rhodes. (Ahval)
Industry Intel
The U.S. Department of State approved a possible $500 million foreign military sales contract to the U.K. for MQ-9 Reaper contractor logistics support. (DSCA)
Germany's parliament is nearing approval of a program to lease IAI Heron-TP surveillance drones from Israel. (Defense News)
Kratos Defense and Security Solutions opened a new facility in New South Wales, Australia to develop and test drones. (Inside Defense)
Blue Skies Drone Rental has partnered with Israel's ParaZero to provide a parachute emergency system to popular consumer and commercial drones. (Aviation International Online)
A coalition of drone companies has launched the Alliance for Drone Innovation, which will advocate for policies that encourage growth in the industry. (Unmanned Aerial Online)
Boeing Phantom Works has selected the Rolls-Royce AE3007N turbofan engine for its MQ-25 tanker drone prototype. (FlightGlobal)
A new 10-year defense policy document released by the Netherlands' Ministry of Defense revives a plan to acquire the General Atomics Aeronautical Systems MQ-9 Reaper by 2021. (FlightGlobal)
Commentary, Analysis, and Art
According to the Washington Post, while reviewing footage of a CIA drone strike, President Trump reportedly asked why the agency did not target family members of the suspected militant killed in the attack.
At the New York Times, Christine Negroni charts the emergence of university courses aimed at teaching students how to design and fly drones.
Also at the New York Times, Christine Negroni looks at how cell phone carriers are exploring ways of using drones to provide mobile hot spots in disaster areas.
At War on the Rocks, Cory T. Anderson, Dave Blair, Mike Byrnes, Joe Chapa, Amanda Collazzo, Scott Cuomo, Olivia Garard, Ariel M. Schuetz, and Scott Vanoort argue that a recent study on military attitudes towards drones does not correspond to the reality on the ground or in the air.
At Aviation International Online, Vladimir Karnozov writes that Russia's experience in the Syrian Civil War has convinced the Russian military of the utility of armed drones.
At The Verge, Nick Statt writes that Skydio's R1 drone offers a peek into the future of fully autonomous consumer drones.
At Law360, Linda Chiem summarizes several legal cases and rulings that could impact drone regulations and operations.
At the Diplomat, Franz-Stefan Gady writes that a new variant of the China Aerospace Science and Technology Corporation Caihong-5 could have significantly improved capabilities.
A report released by a coalition of British conservation groups is calling for the U.K.'s Environment Agency to use drones to monitor poor or illegal farming practices. (BBC)
The U.S., Russia, and other countries released working papers that outline their position on lethal autonomous weapons systems. (UNOG)
Meanwhile, a group of academic researchers in the artificial intelligence and robotics fields said that they would boycott South Korea's KAIST research center over its planned involvement in the development of autonomous weapons. (Future of Life Institute)
At The News and Observer, Elizabeth Anne Brown profiles efforts in North Carolina to prevent drones from dropping contraband into prisons.
At KTTS, Jace Larson and Scott Sherman look at how hackers are using drones to steal personal information.
At Aerospace America, Jan Tegler looks at why the U.S. Nvy abandoned the idea of a strike drone and invested in a tanker drone instead.
Meanwhile, at Business Insider, Ben Brimelow examines the different proposals submitted by defense contractors for the Navy's MQ-25 tanker drone design.
At the Los Angeles Times, Phil Diehl writes about  several U.S. local law enforcement departments that are looking into buying counter-drone systems.
At SportTechie, Joe Lemire looks at how a youth soccer coach in the U.K. used a drone to improve training exercises.
At AOPA, Juan Plaza writes that NASA is using a subscale version of a Piper Cub aircraft in tests aimed at integrating drones into the national airspace.
Photographers Markel Redondo and Tom Hegen won the DJI Drone Photography Award for using drones to capture images of unsold housing developments in Spain and salt production sites across Europe. (Discover Magazine)
For updates, news, and commentary, follow us on Twitter.
[includeme file="tools/sympa/drones_sub.php"]