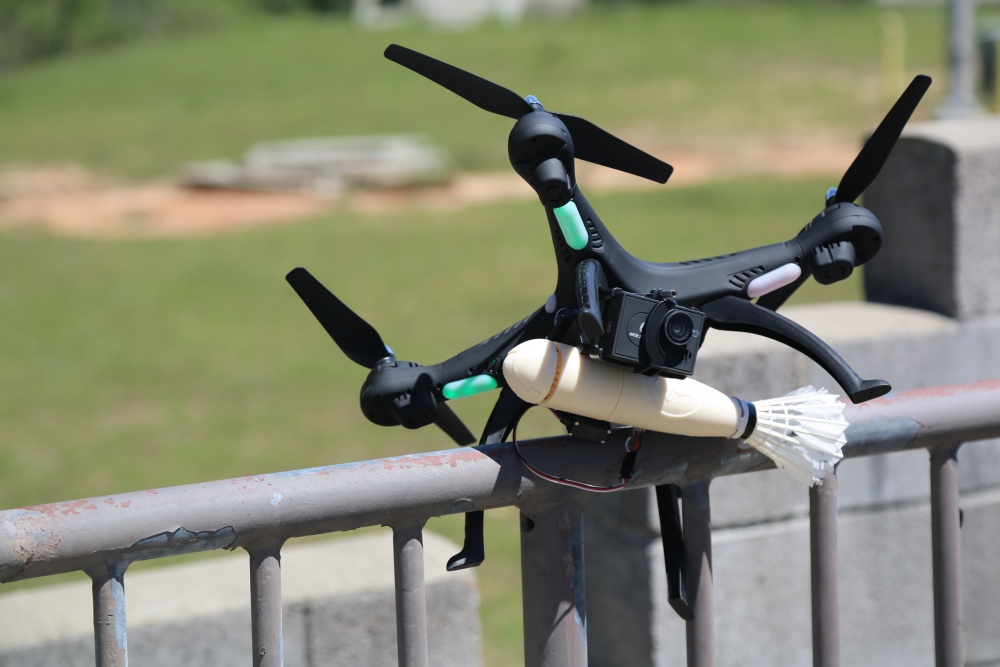 April 9, 2018- April 15, 2018
If you would like to receive the Weekly Roundup in your inbox, please subscribe at the bottom of the page.
Top Stories
NBC News reported that the Russian military has begun jamming U.S. drones over Syria. The jamming efforts have particularly affected smaller U.S. drones, according to four U.S. officials who spoke with NBC News. It has not been disclosed whether the attacks have resulted in the loss of any aircraft.
Houthi rebels in Yemen claimed that the group launched a drone attack against a Saudi Aramco oil facility in southern Saudi Arabia. According to media outlets aligned with the Houthis, the attack involved the Qasef-1, a small Houthi drone based on an Iranian design. In a statement, Saudi Aramco said that all facilities are operating normally. (Reuters)
An investigation by the Israeli military has concluded that an Iranian drone that was shot down over Israeli territory in February was carrying explosives. Iran has denied that one of its drones was shot down. (Reuters)
Know Your Drone
In a demonstration for the U.S. Navy, U.S. drone maker AeroVironment carried out an automatic target handoff between an RQ-20B Puma surveillance drone and a Switchblade loitering munition. (Press Release)
U.S. firm Aquabotix unveiled SwarmDiver, a system of swarming unmanned undersea vehicles for surveillance, attack, and scientific research. (Engadget)
Aerospace firm Airbus introduced the Advanced Inspection Drone, which is designed for visually inspecting aircraft fuselages. (Airliner Watch)
Researchers at Graz University of Technology are experimenting with drones and augmented reality to enable users to effectively see through walls. (IEEE Spectrum)
A video has emerged online showing a Defense Advanced Research Projects Agency test in which a transport plane either deploys or recovers a small swarming drone as part of the agency's Gremlins program. (The Drive)
U.S. defense firm L3 Technologies unveiled the Iver Precision Workhorse, an unmanned undersea vehicle designed for a variety of roles, including surveillance, anti-submarine warfare, and mine warfare. (Unmanned Systems Technology)
Meanwhile, Hydroid unveiled the Remus M3V, a small unmanned undersea vehicle for search, survey, intelligence, and other missions. (Defense News)
The U.S. Department of Defense announced a plan to establish a joint office to coordinate the development of artificial intelligence technologies. (Breaking Defense)
Drones at Work
The U.S. Department of Defense announced that the National Guard will deploy drones to the southern border as part of the effort to bolster security in the area. (The Washington Post)
India's Ministry of Civil Aviation has established a task force to develop recommendations to accelerate the development and integration of unmanned aircraft technology in the country. (Centre for Aviation)
Saudi Arabia announced that it intercepted a number of drones allegedly operated by Houthi rebels in Abha and Jazan provinces. (Bloomberg)
The Stockton Police Department in California used a drone to identify a suspect wanted in the murder of another man in December. (CBS Sacramento)
NASCAR is set to deploy DroneShield counter-drone systems to the Texas Motor Speedway in Fort Worth to detect and intercept rogue drones. (Gizmodo)
The Charlotte Harbor National Estuary Program is using drones for nesting bird counts on rookery islands along the Caloosahatchee River in Florida. (The News-Press)
The Electronic Privacy Information Center has sued the Federal Aviation Administration for greater transparency around the Drone Advisory Committee. (EPIC)
The Fédération Française d'Aéromodélisme has submitted a proposal for French civilian drone regulations, which include a remote identification requirement. (The Drive)
The city of Tyler in Texas has approved the local police department's request to apply for certification to operate drones. (KYTX)
A Heron surveillance and reconnaissance drone operated by the Indian Navy crashed during a routine mission near the city of Porbandar. (The Indian Express)
A parish in Brazil used a drone to delivery a monstrance to a priest during a mass. (Catholic Herald)
Industry Intel
The U.S. Air Force awarded SRC a contract with a $57.5 million ceiling for work on counter-drone systems supplies. (DoD)
The U.S. Air Force awarded RE2 Robotics a $2.9 million contract for equipment that can convert a construction vehicle into an unmanned ground vehicle for airfield repair. (Pittsburgh Business Times)
The U.S Army selected seven companies to compete for a contract to provide medium-range drones. (DoD)
The U.S. Navy announced that it intends to award a contract with an estimated value of $12.5 million to Liquid Robotics for unmanned maritime vehicles support. (FBO)
India's Mahindra Defense partnered with Israel's Aeronautics to manufacture a variant of the Orbiter 4 drone for the Indian Navy. (Times of Israel)
India's Cyient has partnered with Israel's Bluebird Aero Systems to provide drones for Indian defense and security forces. (Economic Times)
The Pentagon has postponed delivery of two RQ-4 Global Hawk surveillance drones to South Korea until 2019, citing the need for additional cybersecurity work. (Yonhap)
The Portuguese Army has selected four companies to compete for a contract for reconnaissance drones. (Jane's)
Australia will spend an additional $1.08 million for AeroVironment Wasp AE drones for the Australian Army. (Jane's)
Estonia awarded a contract to the Estonian Defence and Security Industry Innovation Cluster to test unmanned ground and air systems. (Shephard Media)
An Anglo-French project to develop a demonstrator combat drone has been put on hold. (Defense News)
The Turkish Air Force has taken delivery of two TAI Anka-S drones, which have a satellite communications capability. (Air Force Technology)
Commentary, Analysis, and Art
At C4ISRNet, Kelsey Atherton offers some key takeaways from the Center for the Study of the Drone's report on proposed Pentagon spending on drones in FY 2019. To read the report, click here.
At the Drive, Tyler Rogoway looks at why Boeing's MQ-25 Stingray concept submission has a curious air intake.
Meanwhile, at USNI News, Sam LaGrone writes that the U.S. Navy is willing to accept higher costs for the MQ-25 as a way to accelerate the development cycle.
At Breaking Defense, Paul McLeary writes that the U.S. Navy is readying the MQ-4C Triton surveillance drone for deployment to Guam.
At USNI News, Megan Eckstein looks at how the U.S. Navy and Marine Corps are exploring ways of integrating new drones into their operations.
At Defense News, Valerie Insinna writes that although the U.S. Navy's MQ-8B Fire Scout is now capable of carrying weapons, some Navy ships can't accommodate the extra munitions.
Also at Defense News, Daniel Cebul considers whether it may be necessary to implement a new international law for autonomous weapons.
At Aviation Week, David Hambling looks at how the U.S. military is addressing the problem and potential of small drones.
At Haaretz, Yaniv Kubovich writes that the technical limitations of Iranian drones have forced Iran to take risks in deploying these systems.
At Al Monitor, Metin Gurcan writes that drones have contributed to an increase in the potential for clashes between Turkey and Greece.
The Local reports that legal analysts in Switzerland have suggested that it might not be illegal for private Swiss citizens to shoot down drones.
At Lawfare, Quinta Jurecic reflects on President Trump's comment about drone strikes and civilians.
At C4ISRNet, Kelsey Atherton writes that Russia's drone jamming activities underscore the growing demand for counter-drone systems.
At the Verge, Rachel Becker offers some reflections after a visit to Zipline's new delivery drone test site in California.
For updates, news, and commentary, follow us on Twitter.
[includeme file="tools/sympa/drones_sub.php"]