By Zachary Israel
Officials who served in George Bush's administration have been both critical and supportive of President Obama's use of drones for targeted killing in Pakistan, Yemen and Somalia. The Bush administration was subjected to much criticism and controversy over its use of indefinite detention, extraordinary rendition and torture in the War on Terror. CIA drone strikes were carried out during George Bush's tenure; indeed, the first drone strike outside of a hot war zone, in Yemen in 2002, took place under the oversight of the Bush administration. However, the frequency of strikes increased dramatically in the first years of the Obama administration.
What follows is a list of prominent Bush officials who have spoken or written about the CIA's targeted killing campaign since President Obama came to office in 2009.
Robert Gates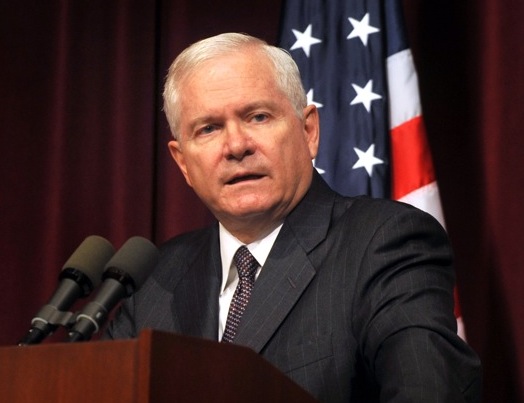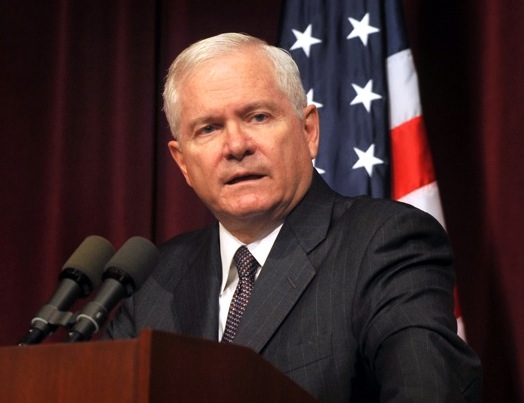 Position in Bush Administration: U.S. Secretary of Defense, 2006-2011.
Current Position: Chancellor, College of William and Mary; board of directors for Starbucks; Boy Scouts of America National President
On Obama's proposal to create a court for drones, Gates has told CNN, "I think that the rules and the practices that the Obama administration has followed are quite stringent and are not being abused. But who is to say about a future president?"
In a speech at the Association of the U.S. Army's 2013 conference in Washington, Gates said, "Remarkable advances in precision munitions, sensors, information and satellite technology and more can make us overly enamored with the ability of technology to transform the traditional laws and limits of war."
John B. Bellinger III
Position in Bush Administration: Senior Associate Counsel to the President and Legal Adviser to the National Security Council, February 2001-April 2005; Legal Adviser to the U.S. Department of State, April 2005-March 2009.
Current Position:  Partner, Arnold & Porter law firm; Adjunct Senior Fellow, Council on Foreign Relations.
In a Washington Post opinion, Bellinger wrote that "If the Obama administration wants to avoid losing the tacit support (and potentially the operational and intelligence assistance) of its allies for drone strikes and its other counterterrorism policies, it should try to ensure that they understand and agree with the U.S. policy and legal justification. Otherwise, the administration risks having its largely successful drone program become as internationally maligned as Guantanamo." He goes on to write,   "Even if Obama administration officials are satisfied that drone strikes comply with domestic and international law, they would still be wise to try to build a broader international consensus. The administration should provide more information about the strict limits it applies to targeting and about who has been targeted. One of the mistakes the Bush administration made in its first term was adopting novel counterterrorism policies without attempting to explain and secure international support for them."
In a testimony before the Committee on the Judiciary of the U.S. House of Representatives in February 2013, Bellinger called for the Obama administration to release information about its targeting operations. "The Obama administration," he explained, "should be able to release—after the fact—the names and  background information of at least some of the people it has targeted. The release  of more information about the program should help to address concerns that the U.S. targets low-level insurgents who do not pose significant threats."
Dick Cheney
Position in Bush Administration: Vice President of the United States, 2001-2009.
Current Position: Retired
Speaking to Charlie Rose on the CBS show This Morning Cheney said, "I think it's a good program, and I don't disagree with the basic policy that the Obama administration is pursuing now in that regards."
"I think when we hire the president of the United States he lives in a big house, he gets to make all that money, he's getting paid to make difficult, difficult decisions," he went on to say. "I'm very, very concerned about what i see happening, Charlie, in the national security agreement. I think the administration's policies are terribly flawed, I think the president's performances by my standards, in the international arena—the Middle East and so forth—is worse than many of my friends and colleagues deem his domestic policies."
Karl Rove
Position in Bush Administration: Senior Adviser & Deputy Chief of Staff 2005-2007
Current Position: Political Analyst, Fox News, Newsweek and Wall Street Journal
In an interview with Fox News, Rove, who is a regular contributor for the media outlet, expressed frustration that the Obama administration was subjected to far less criticism over the killing of a U.S. citizen than the Bush administration was subjected to for its use of torture and indefinite detention. Nevertheless, Rove also praised President Obama for his use of drones and has stated that "I do believe the president has to have the tools like this to deal with people like al-Awlaki. This was a U.S. citizen, admittedly, but he was part of the al-Qaeda leadership in Yemen. He was a prime mover…we had solid evidence that he was an activist in the leadership of al-Qaeda in the Arabian Peninsula and he was a threat to the United States. And God bless President Obama for having the courage to take him out."
Donald Rumsfeld
Position in Bush Administration: U.S. Secretary of Defense, 2001-2006.
Current Position: Retired
Rumsfeld told Newsmax, "I think the use of drones is a good thing. They have added a dimension of capability to the United States that other nations don't have. They also have the advantage of putting fewer American lives at risk." In an interview with Fox News, Rumsfeld did express a concern about the program:  "One of the big disadvantages with a drone strike is that you kill people and they may very well be people that you would prefer to be able to talk to and find out  what they know so you can protect the American people."
Condoleezza Rice
Position in Bush Administration: National Security Adviser, 2001-2005 & U.S. Secretary of State, 2005-2009
Current position: Director, Stanford Graduate School of Business
Rice has stated that she believes that drone warfare saves American lives and is effective, but has expressed worries about the long-term implications of Obama's drone policy. During a 2012 lecture at Harvard University, Rice said "Sometimes you have to do very tough things with terrorists, like use drone strikes…You get them or they get you."
 Alberto R. Gonzales
Position in Bush Administration: White House Counsel, 2001-2005, U.S. Attorney General, 2005-2007
Current Position: Doyle Rogers Distinguished Chair of Law, Belmont University College of Law
Gonzalez has called on the Obama administration to put limits on drone strikes against U.S. citizens overseas, arguing in a legal journal that Americans should not be targeted without prior approval by a military panel or a federal judge. "Congress should also require that a neutral third party, such as an independent Executive Branch board, a military tribunal, or an Article III judge, be involved in the decision to designate a citizen as an enemy combatant."
Colin Powell
Position in Bush Administration: U.S. Secretary of State, 2001-2005
Current Position: Board of directors of Revolution Health; board of directors on Council of Foreign Relations
In an interview on Bloomberg Television, Powell stated, "drones are a very, very effective weapon and we will continue to use them, but in a more circumscribed manner to make sure that we are going after the high-value targets that present a real, immediate threat to us." That being said, Powell has argued that the military, and not the CIA, should conduct the strike program.
Michael Hayden
Position in Bush Administration: Director of CIA, 2006-2009
Current Position: Principal, Chertoff Group; Distinguished visiting professor, George Mason University; Board of Directors Motorola Solutions
Regarding an oversight system for targeted killing such as the one proposed by Gonzales, Hayden stated on Fareed Zakaria's CNN show GPS, "I don't think it's a court, but some sort of review, a commission named by the president and Congress that doesn't get in the chain of command, but reviews drone operations and reports to both of the political branches with very prominent and trustworthy Americans."
Richard Armitage
Position in Bush Administration: U.S. Deputy Secretary of State, March 2001-February 2005
Current Position: Board of directors, ConocoPhillips; Chairman, American-Turkish Council
In an interview with al-Jazeera in 2013, Armitage stated, "I think [the drone] is a good weapon, it's a good tool in our arsenal, but it has to be carefully deployed and one has to think carefully about the targeting." Speaking of the Pakistani administration's repeated objections to U.S. strikes, Armitage said, "If Pakistan wants these drone attacks to stop, they can stop. But each time a government of Pakistan speaks up about them and does nothing about it, I think it incites public opinion in Pakistan, but it doesn't do anything to resolve the issue."
John R. Bolton
Position in Bush Administration: Under Secretary of State for Arms Control and International Security, May 2001-July 2005; U.S. Ambassador to the United Nations, August 2005-December 2006
Current Position: Counsel, Kirkland & Ellis, Senior Fellow, American Enterprise Institute; board of directors, EMS Technologies, Inc.
Bolton has made clear that he supports the use of drones for targeted killing. In an interview on the Fox News show Happening Now, he said,  "It seems to me that the approach that the Obama administration is following is consistent with and really derived from the Bush administration approach to the War on Terror. And I think it is entirely sensible. Whether it is foreign citizens who are involved with al-Qaeda or American citizens, we are in a war. They have attacked us. We have a Congressional authorization to use military force in response. And that's what's at stake here."
Peter Brookes
Position in Bush Administration: Deputy Assistant Secretary of Defense for Asian and Pacific Affairs
Current Position: Senior Fellow, National Security Affairs, The Heritage Foundation
Speaking on CNN about the targeted killing of Anwar al-Awlaki, Brookes stated that "It does complicate the question when you talk about American citizens. But an American citizen who is a terrorist or part of al-Qaeda is in a different category for me personally"
Michael Chertoff
Position in Bush Administration: U.S. Secretary of Homeland Security, 2005-2009
Current Position: Senior counsel, Covington & Burling; co-founder, Chertoff Group.
Chertoff has written that "The new data collection platforms right in front of us [such as Google glass] are much more likely to affect our lives than is the prospect of drones overhead surveilling American citizens."
Ari Fleischer
Position in Bush Administration: White House Press Secretary, 2001-2003
Current Position: Media Consultant, Ari Fleischer Sports Communications
In September 2013, when Obama was considering a limited strike against Syria, Fleischer tweeted, "Once again, I support POTUS. Drone strikes, indefinite detention, NSA program and on the limited Syria strike, I'd vote yes."
Michael Mukasey
Position in Bush Administration: U.S. Attorney General, 2007-2009
Current Position: Retired
On drones and targeted killings, Mukasey has argued against giving secret, unelected courts the authority to oversee summary wartime executions of American citizens. Instead, he has stated that Congress should take action to clarify the president's powers in this regard. In an opinion for the Wall Street Journal, he wrote "Judges have no basis or background that suits them to review targeting decisions and no way to gather facts independently. Because they may serve for life, there is no way to hold them politically accountable for a decision—how best to defend the country—on which elected politicians are supposed to rise or fall. If it is simply a matter of introducing into the process some figure in whom the public has unreasoning trust, we might just as plausibly have the president's targeting decisions reviewed by Oprah."
Tom Ridge
Position in Bush Administration: U.S. Secretary of Homeland Security, 2003-2005
Current Position: Senior adviser,  Deloitte & Touche; senior adviser, TechRadium; founder and CEO, Ridge Global, LLC
In 2003, as Secretary of Homeland Security, Ridge endorsed the use of surveillance drones to monitor U.S. borders. Speaking before the Senate Commerce, Science and Transportation Committee in 2003, he has stated, "We need to equip [Border Patrol agents] with this kind of technology if our expectations legitimately are for [the Border Patrol] to combat terrorism." Speaking to members of the press following a presidential debate between President Obamam and Mitt ROmney at Hofstra University in 2012, Ridge said that he does not believe that President Obama makes individual targeting decisions. "I was with President Bush in daily briefings everyday, and I dare say that never once in my presence did I ever see the president target an individual or individuals. That's left up to the military; that's left up to the intelligence community."
Cover Photo: Getty Images North America/Chip Somodevilla
[includeme file="tools/sympa/drones_sub.php"]