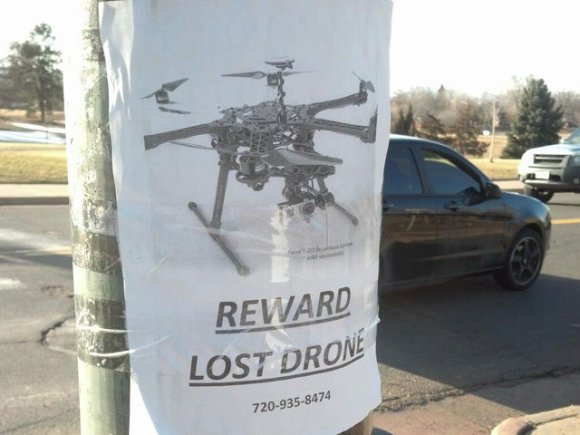 If you would like to receive the Weekly Roundup in your inbox, please subscribe at the bottom of the page.
At the Center for the Study of the Drone
As the crisis in Crimea escalates, Russia is stepping up its efforts to acquire a fleet of military drones. Dan Gettinger examines the nascent domestic drone program of a military power that is determined to bring its armed power into the 21st century.
News
A federal administrative law judge dismissed the first ever case to be brought against a drone pilot by the Federal Aviation Administration. The FAA fined Raphael "Trappy" Pirker $10,000 for "recklessly" flying a drone over the University of Virginia and for using the footage for commercial purposes. The judge ruled that the FAA had overreached in applying regulations for manned aircraft to model airplanes. (CNN)
The Australian Parliament's House Standing Committee on Social Policy and Legal Affairs held a roundtable discussion on drones and privacy. "At the moment, the lack of uniformity means there is insufficient protection of people's privacy because people do not know what is against the law and what is not," said Professor Barbara McDonald, the commissioner of the Australian Law Reform Commission.
As the Afghan war winds down, Britain's Reaper drones will likely be sent to locations in the Middle East or Africa. Ben Emmerson, the U.N.'s Special Rapporteur for counter-terrorism, told The Guardian that the 10 armed Royal Air Force Reapers would not return to bases in Britain but would remain overseas.
The Jerusalem Post reported that officials within the Israeli Air Force are preparing to face dozens of enemy unmanned aircraft in the next major regional conflict.
At least one suspected al-Qaeda militant was killed in a reported drone strike in Yemen. Three rockets struck the vehicle carrying Ebad al-Shabwani in Maarib province. (Reuters)
According to figures compiled by the Bureau of Investigative Journalism, the strike was the fifth in Yemen this month. At least seven people have reportedly been killed in aerial strikes since March 2.
Commentary, Analysis and Art
The Forensic Architecture Project at Goldsmith's College and SITU Research have created an online platform to accompany UN special rapporteur Ben Emmerson's report on drone strikes, which was released in February.
At Forbes, Ryan Calo provides a short analysis of FAA v. Pirker.
In light of the ruling, Jon Frank Weaver considers at Slate the FAA's authority to regulate drones.
At the Washington Post, Catherine Ho writes that as commercial drone use expands, a number of law firms around the country are creating offices specifically to handle cases related to unmanned aircraft.
At Motherboard, Brian Anderson describes the various ways drones are used to smuggle drugs into prisons around the world.
At The Verge, Ben Popper writes that Facebook's plans of acquiring Titan Aerospace puts it in competition with Google to develop an aerial Internet-providing platform. Popper compares the Titan Aerospace drones to Google's high-altitude blimps.
Meanwhile, at The Globe and Mail, Iain Marlow calls Facebook's plan to use solar-powered drones to provide WiFi access to areas without Internet a "dumb, libertarian fantasy."
At the Sacramento Bee, Darrell Smith describes how the phasing out of manned U-2 surveillance planes in favor of Global Hawk drones is affecting the community around Beale Air Force Base.
In Air Force Magazine, Rebecca Grant writes about the crucial role of aerial intelligence platforms in the Battle of Fallujah.
At the Center for International Maritime Security, Chris Rawley argues that, in an age of shrinking defense budgets, the U.S. Navy should maximize operational effectiveness by investing in unmanned surface fleets.
In the second post in a series on British drones at the War, Law and Space blog, Craig Jones recounts his visit to Waddington Air Base, home to Britain's drone pilots.
The University of Canterbury used a Draganflyer X6 drone to survey damage caused by an earthquake in Christchurch, New Zealand.
At War on the Rocks blog, Adam Elkus considers the recent advances in military artificial intelligence.
At Lawfare blog, Paul Scharre summarized a recent debate on drones and autonomy at Chatham House, Britain's Royal Institute of International Affairs.
Know Your Drone
Technology company Chaotic Moon has developed a drone that can shoot an 8,000 volt stun gun. The company demonstrated the drone, which is called CUPID, on a hapless young company intern. (The Verge)
A team of Chinese researchers are testing a drone that clears air pollution. The aircraft, which flies using a fabric wing, releases chemicals that freeze particles of air pollution, causing them to fall to the ground. According to Ta Kung Pao, the manufacturer of the drone has carried out 100 hours of flight tests. (South China Morning Post)
Britain's Watchkeeper military drone, which has been in flight testing since 2009, has been cleared for service. (Gizmag)
At The Daily Beast, Adam Rawnsley looks at the Defense Advanced Research Project Agency's annual budget request, which includes funding for numerous robotics and drones research projects, such as efforts to create swarming aerial drones and high-speed underwater drones.
For updates, news, and commentary, follow us on Twitter!
[includeme file="tools/sympa/drones_sub.php"]