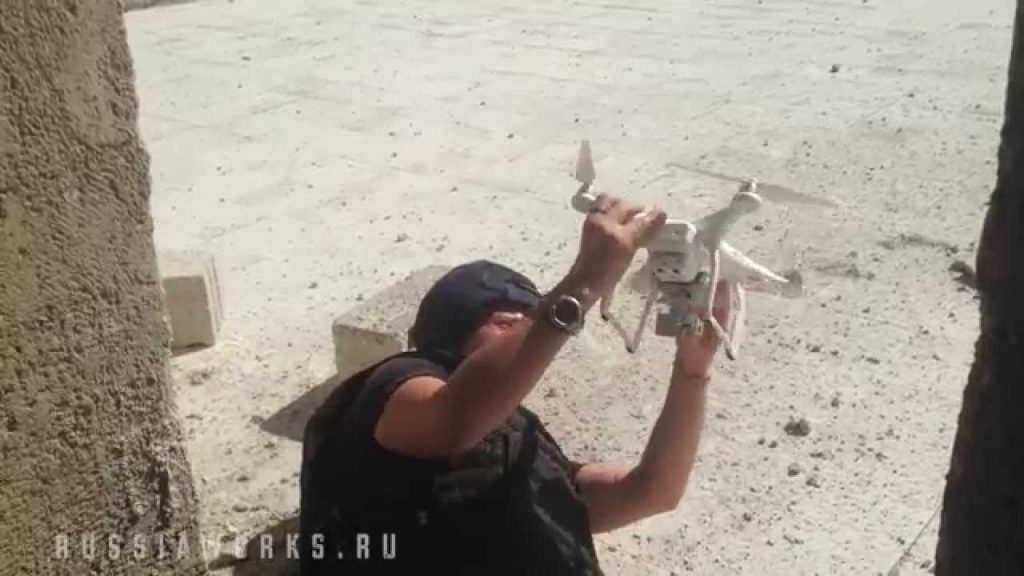 By Dan Gettinger
Drones are a becoming a popular tool for conveying what is happening on the front lines in Syria and Iraq. New drone videos from this conflict are released on nearly a weekly basis, enabling high and low budget actors to give an aerial perspective to events on the ground. Many of the videos show the extent of the destruction wreaked as a result of hostilities; some are released to support the actions of one of the parties involved in the conflict. Aerial coverage of events on the ground is made possible by a variety unmanned aircraft; militant groups favor small quadcopter drones, while larger militaries like those of Iran and the United States have released videos of using weapons-capable drones like the MQ-9 Reaper and the Shahed-129. Some of the videos have aided attempts by journalists and analysts to understand ongoing operations, the types of weapons involved, and the plight of civilians. Just as the helmet-cam videos taken by U.S. soldiers offered a new window into the U.S. wars in Iraq and Afghanistan, the use of drones in Iraq and Syria demonstrates the technology's potential to provide a unique perspective on contemporary warfare.
The trend towards the adoption of hobby drones first became noticeable during the civil war in Ukraine, where drones were used to illustrate apparent Russian incursions into eastern Ukraine and the destruction of Donetsk International Airport. But the abundance of drone videos emerging from Syria and Iraq is unprecedented. In addition to videos by drones, there are also many videos taken from the ground of drones flying overhead. Here's what you need to know:
Russian Media
One of the most widely-circulated drone videos of Syria was filmed by RussiaWorks and shows, with cinematic detail, ongoing clashes in the Damascus suburbs and the devastating impact that the war has had on these neighborhoods. The video was released in late October, and has received widespread coverage in the press. In February, RussiaWorks released another video, this one showing the destruction of Homs, Syria.
https://www.youtube.com/watch?v=M0ELAa02TUY
https://twitter.com/Levantinegroup/status/656544173659697152?ref_src=twsrc%5Etfw
Islamist Rebel Groups
Faylaq al-Sham, or the Sham Legion, a Homs-based alliance of Islamist rebel groups, regularly releases drone videos. The clips tend to show their fighters engaged in clashes with pro-regime forces, as well as  offensives by their troops into new territory. Another common organization that appears when it comes to aerial filmmaking is Jabhat al-Nusra, an Islamist group allied with al-Qaeda. Unlike other groups, however, some of al-Nusra's videos are more heavily edited for effect.
Faylaq al-Sham:
https://www.youtube.com/watch?v=kCGii9WJrLM&feature=youtu.be
Drone video. Sham Legion fights assadists in Khalsa (S of Aleppo)
Sources: https://t.co/IY7GuqYqlq & @NorthernStork pic.twitter.com/QBSFAVW4DV

— ETKM/KAO (@etkmkao) June 15, 2016
Jabhat al-Nusra really going all out with the drone video during today's Jaysh al-Fateh offense in south #Aleppo… pic.twitter.com/N0ahbZf0tS

— Jake Godin (@JakeGodin) June 3, 2016
Al Nusrah (#AQ in #Syria) released another video using drone-recorded footage. Part of Jaysh al Fath operation: pic.twitter.com/9gI9ujnXhj

— Thomas Joscelyn (@thomasjoscelyn) June 17, 2016
Iraq, Syria Iran, U.S. and U.K.
The U.S. and U.K. operate advanced military drones like the MQ-9 Reaper in Iraq and Syria. Both countries have released drone videos depicting airstrikes against Islamic State targets. The British videos are typically taken from strikes in Iraq since that is their main area of operations.
Like the U.S. and U.K., Iran has also released footage from one of its military drones. Throughout the conflict, Iranian drones have been spotted flying over Syria on a regular basis. In February 2016, an Iranian television report about the Iranian-made Shahed-129 UAV, included video footage that appeared to show a Shahed-129 UAV carrying out airstrikes. In a post at Offiziere.com, researcher Galen Wright used this video as evidence that the strikes were taking place in Syria. 
The Syrian government is no stranger to drone videos.
https://www.youtube.com/watch?v=lVPhurY9KrA
In 2015, Iraq revealed that it had purchased a Chinese-made CH-4 Rainbow, which is roughly the equivalent in terms of capabilities to the U.S. MQ-1 Predator. Since then, it has released several videos showing its CH-4 in action.
NGOs and Press Outlets
Drones have also been used to document the growing refugee crisis taking place outside of Syria. Footage from the IHH Humanitarian Relief Foundation, for example, gives an aerial perspective to the refugee camps in Turkey.
For updates, news, and commentary, follow us on Twitter.
[includeme file="tools/sympa/drones_sub.php"]