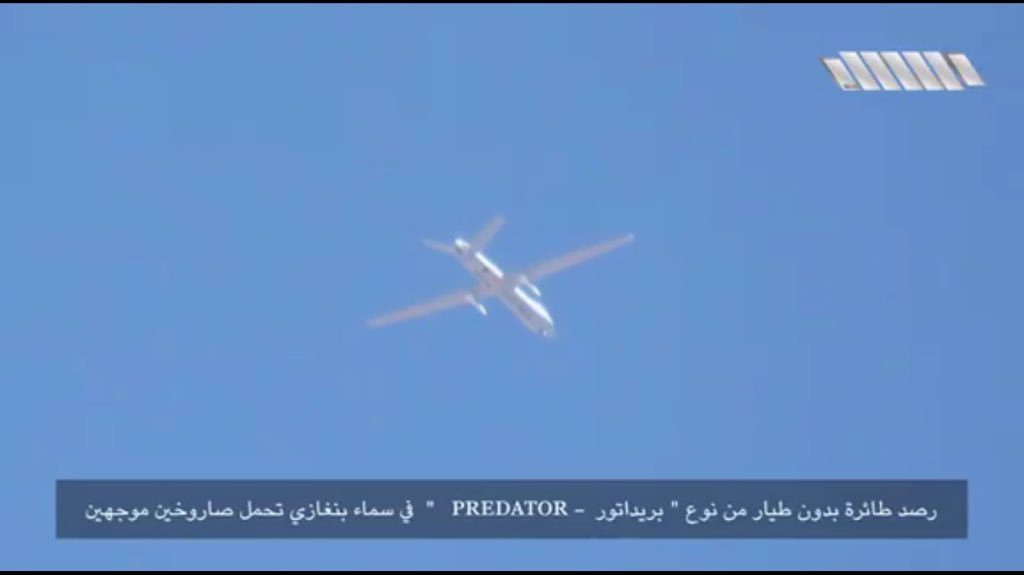 June 27, 2016 – July 3, 2016
 If you would like to receive the Weekly Roundup in your inbox, please subscribe at the bottom of the page.
At the Center for the Study of the Drone
The ongoing conflict in Iraq and Syria is the first major war in which drones have been used extensively to create aerial videos of events on the ground, providing a new perspective on warfare. Here's what you need to know about who is making these videos and what they show us about the war.
News
A U.S. drone strike in Yemen reportedly killed at least three suspected members of al-Qaeda. According to local officials and tribesmen who spoke with the Associated Press, the strike targeted a vehicle in the southern Shabwa province.
The Obama administration published the first official tally of U.S. airstrikes that have taken place outside of declared war zones over the past seven years. According to the report, the U.S. launched 473 strikes— most of which have been carried out by drones—resulting in 2,372 to 2,581 combatant deaths and 64 to 116 civilian deaths, a lower figure than unofficial estimates. In addition to the data, the Obama administration issued an executive order that establishes guidelines aimed at preventing civilian casualties in future strikes. (New York Times)
Unauthorized drone flights interrupted efforts to fight the Trailhead Fire in southern California. The drones grounded firefighting aircraft on two occasions for nearly one and half hours. The Trailhead Fire began Tuesday. (Sacramento Bee)
Commentary, Analysis and Art
The Center for a New American Security released a report summarizing a two-day wargame that explored how state and non-state actors could use drones in different scenarios.
At the Motley Fool, Rich Smith writes that DARPA's Tactically Exploited Reconnaissance Node (TERN) drone program will likely be more expensive than previously thought.
At Fortune, Jonathan Vanian considers why former Alaska Airlines chairman Bill Ayer joined the board of drone startup AirMap.
At Wired, Austin Bodetti examines the effect that the proliferation of consumer drones among Iraqi militias will have in the fight against the Islamic State.
At Drone Business Center, Chris Korody summarizes the impact that the FAA's Part 107 drone regulations will have on the industry and for commercial users.
At the Naperville Sun, Gary Gibula surveys the reactions of model aircraft hobbyists to the FAA's Part 107 drone regulations.
At TechCrunch, Tero Heinonen argues that the Part 107 regulations fall short in a few crucial areas such as the requirement to maintain a visual line-of-sight.
At Drone Law Blog, Jonathan Rupprecht offers a guide to how new drone pilots can obtain their licenses under Part 107.
At Lawfare, Kenneth Anderson argues that military drones are evolutionary, not revolutionary.
At the Financial Times, Leslie Hook and Simon Doyle examine Amazon's push for looser drone rules that might allow for drone deliveries.
At PBS Newshour, Jen Fifield examines how state and local legislatures are enacting privacy laws to protect individuals from drones and cyber threats.
According to a Future of Retail survey, 73 percent of U.S. respondents said they would pay for drone delivery. (MediaPost)
Meanwhile, a survey commissioned by the Royal Aeronautical Society found that respondents were largely divided on the social and economic implications of drone technology.
At Geographical Imaginations, Derek Gregory considers two dance performance pieces that feature drones.
Special: U.S. Airstrike Data Release
At the Washington Post, Greg Jaffe explains why the Obama administration has turned to using drones to carry out counterterrorism missions.
At the New York Times, Scott Shane writes that the airstrike data underscores the complexity of the U.S. counterterrorism campaign.
At the Bureau of Investigative Journalism, Jack Serle discusses how the casualty figures released by the Obama administration differ from those collected by the Bureau and others.
Meanwhile, at the Long War Journal, Bill Roggio compares the Journal's data on strike casualties to the Obama administration's figures.
At the Council on Foreign Relations, Micah Zenko writes that the total number of strikes is lower than expected.
At Lawfare, Robert Chesney offers a few take-aways from the airstrike data and the Obama administration's executive order on best practices and civilian casualties.
At Just Security, Sarah Knuckey writes that while there are positive consequences of the release, it still leaves gaps in information that hinder the push for greater transparency.
Also at Just Security, Marty Lederman summarizes the likely impact that the data release and the new executive order will have on counterterrorism operations.
In a press release, Amnesty International praised the Obama administration's willingness to acknowledge civilian deaths that have resulted from drone strikes.
Meanwhile, at the American Civil Liberties Union, Brett Max Kaufman argues that the administration's disclosure "is not nearly enough."
Know Your Drone
A startup called Iris Automation Inc. is developing a visual data based collision avoidance system for drones. (TechCrunch)
Undersea drone maker OpenROV is conducting live tests of a new variant of its Trident drone in Lake Tahoe. (New York Times)
The U.K. Royal Air Force is considering building a facility to train its drone pilots, who are currently trained in the U.S. (Flightglobal)
A researcher at Glasgow University is developing a "chemputer" technology that could be used to grow drones out of chemicals. (BBC)
ALPHA, an artificial intelligence developed to simulate an adversary fighter plane, consistently beats humans in simulated dogfights. (Ars Technica)  
A team from John Hopkins and Carnegie Mellon University is using a supercomputer to simulate drone delivery systems for vaccines. (Forbes)
Israeli firm BlueBird Aero Systems has unveiled a new version of its SpyLite surveillance drone, which the company claims can operate in GPS-denied environments. (Flightglobal)
The U.S. Army's Rapid Capabilities Office is studying proposals for electronic warfare systems including radar jammers that could be mounted on drones. (Breaking Defense)
U.S. defense contractor Northrop Grumman has announced that it has fixed reported flaws in the wings of the Navy's MQ-4C Triton high-altitude long-endurance drone. (Stripes)
Researchers at the Swiss Federal Institute of Technology in Lausanne have developed a ground robot based on the anatomy of a salamander. The Pleurobot can both walk and swim. (Newsweek)
An Australian startup has unveiled a drone called the Roam-e Flying Selfie. As the name suggests, it is specifically designed to take aerial selfies. (CNET)
Boeing has opened a facility to develop autonomous unmanned vehicles. (St. Louis Post Dispatch)
The Korean government has finalized a five-year plan to boost the development of drones, self driving cars, and unmanned ships. (Yonhap News)
Israeli defense contractor Elbit Systems has conducted a trial torpedo test launch from its Seagull unmanned surface vessel. (IHS Jane's 360)
Drones at Work
The new British A-level Environmental Science high school course includes a portion on the use of drones in agriculture, scientific studies, and conservation. (Telegraph)
Officials at the Savannah River Site nuclear facility have confirmed that drones have been spotted several times over the site in recent weeks. (The State)
The U.S. National Interagency Fire Center announced that rogue drones have been spotted flying near 12 wildfires so far this year. The use of drones over wildfires can disrupt firefighting operations. (Digital Trends)
The U.S. Department of Agriculture is testing an octo-copter drone to conduct crop imaging operations. (Phys.org)
Eurotunnel announced that it has deployed surveillance drones to the French side of the tunnel in anticipation of an influx of asylum seekers following the Brexit referendum. (Independent)
New York's Citi Field baseball stadium has installed a Dedrone counter-drone system on its premises. (Ars Technica)
The Alameda County Sheriff's Office in California has been expanding its use of drones, according to Ars Technica.
An Oregon man who calls himself Drone Man is using drones to spy on what he believes to be an illegal bicycle chop shop. (Motherboard)
An Indiana citizen used a drone to help the Tippecanoe County Sheriff's Office find a missing person. The Sheriff's office now plans to buy a drone of its own. (WLFI)
Drone maker DJI and Washington State University have announced a partnership to research the use of drones for precision agriculture. (Press Release)
The Bakersfield Fire Department in California is using a drone to monitor illegal firework activity during the 4th of July weekend. (Bakersfield.com)
In a promotional video, Brazilian soccer star Neymar knocked a drone out of the air with a soccer ball. (Washington Post)
Virgin Active, a chain of gyms in the U.K., is using a drone to help out with tennis practice. (Engadget)
Industry Intel
The U.S. Special Operations Command awarded AAI Corporation, maker of the Shadow aerial surveillance drone, a $35 million contract for mid-endurance unmanned aircraft systems and intelligence services. (Contract Announcement)
Aerovironment Inc. posted a 2 percent drop in fiscal fourth-quarter revenue as a result of a decline in military drone sales. (Motley Fool)
The U.S. Coast Guard awarded Boeing Insitu a $4.5 million initial contract for the operation and maintenance of a contractor-owned ScanEagle drone for one year. (UPI)
The U.K. Ministry of Defence awarded Thales a $106 million contract for training, maintenance and support operations for the Watchkeeper drone. (UPI)
Measure, a drone services company, and drone maker DJI announced a partnership to offer expanded drone services. (Press Release)
For updates, news, and commentary, follow us on Twitter.
[includeme file="tools/sympa/drones_sub.php"]