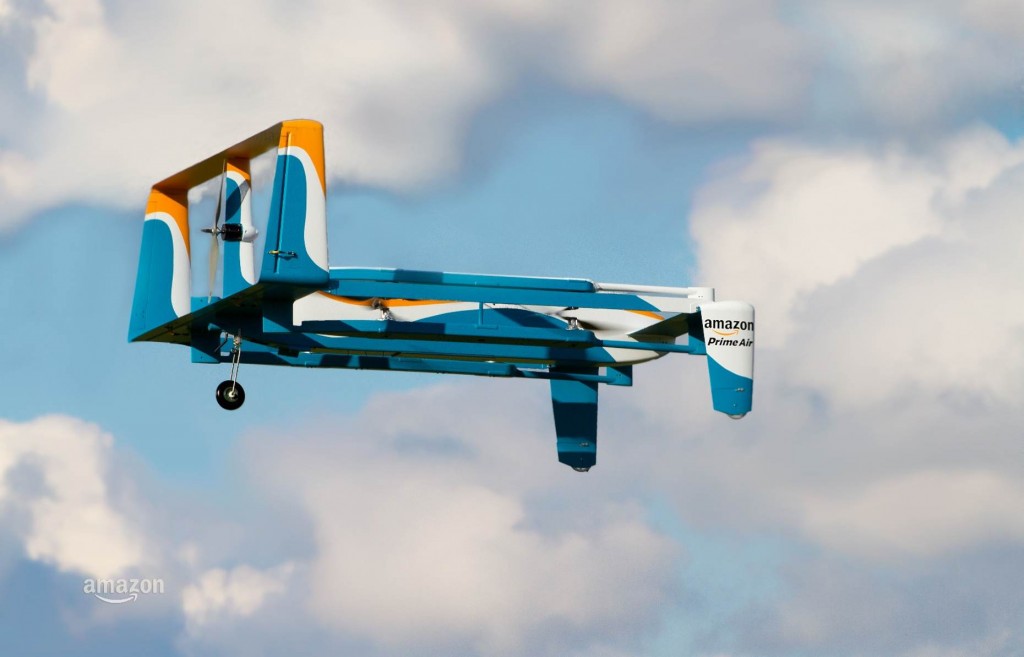 By Arthur Holland Michel and Dan Gettinger
In a video released on Sunday, Amazon previewed its delivery drone prototype. The two-minute teaser features a drone that can take-off like a helicopter and fly like a fixed-wing airplane, giving it greater range and the ability to potentially land right on your doorstep. While the Internet giant's Prime Air concept has inched a bit closer to becoming a reality, the drone industry is not waiting for Amazon's proposed special air zones before expanding on its own. There's a burgeoning market for unmanned aircraft and, although the exact numbers vary, hundreds of thousands of drones are expected to be sold to eager shoppers this holiday season. In addition to the consumer and commercial demand, the market for military drones is likewise growing as the U.S. loosens controls on exports of UAVs.
To get a sense of how the market for drones has changed, we've surveyed some of the key events that have shaped the drone industry since September, 2015. Here are a few takeaways from the fall:
Civil and Commercial
Military
Several large purchases of unmanned aircraft by foreign governments have been finalized in the past few months. Each of these deals has been several years in the making; together, they mark a significant increase in foreign military sales of U.S. drones over previous years.
On October 6, the State Department approved the sale of four

General Atomics MQ-9 Reapers

and associated equipment to Spain for $243 million.

On November 4, the State Department agreed to sell

Italy a $129.6 million

package of weapons required to weaponize its fleet of MQ-9 Reapers, making it the second U.S. ally after Great Britain to fly armed Reaper drones.

On November 20, the U.S. finalized a $1.2 billion deal with

Japan for three Northrop

Grumman RQ-4 Global Hawk drones.
Besides these big-ticket items, other smaller military drone contracts with foreign governments were announced this fall.
In September,

the U.S. agreed

to sell small Boeing Insitu ScanEagle reconnaissance drones to the governments of Cameroon and Kenya for $9.4 and $9.9 million, respectively. The deal with Cameroon was accompanied by a

promise to temporarily base

a detachment of General Atomics MQ-1 Predator drones to aid in the fight against Boko Haram.

Also in September, the U.S. sealed a

$9.05 million contract

with AeroVironment to provide RQ-11B Raven drones to Ukraine. This transfer was

initially announced

by the Obama administration in March.

In October, AeroVironment announced that seven U.S. allies had purchased the RQ-11B Raven drone for a total of $18.5 million. The participating nations were not disclosed.

The U.S. government

announced on November 25

a $70 million contract with Boeing Insitu to provide the government of Afghanistan with 65 ScanEagle drones.

It was also announced in November that General Atomics would provide contractor

logistics support for French MQ-9

Reapers based in Niamey, Niger. This $19.07 million deal represents the third year in a row that American contractors will be working on the French Reapers in Niger.
A variety of military contracts were announced for American drones spanning the procurement and modification of existing systems to research and development of new capabilities.
On November 11, for example, the Navy announced that it would be purchasing

additional MK 18 underwater

drones from the Massachusetts-based Hydroid, Inc. for $8.7 million. (

For more on underwater drones,

click here

.

)

Other items

included $18.2 million

for Logos Technologies for researching a wide-area surveillance system that can fit on a small drone like the Navy's RQ-21 Blackjack. Cox Construction Co. received $26 million to

build a new hangar

and facilities for unmanned aircraft at Ft. Irwin National Training Center in California.

Although the larger contracts for procuring MQ-9 Reapers were announced earlier in the year, several contracts for modifying and upgrading the drone fleets were released this fall. For example, General Atomics received $12.07 million for upgrading the electrical systems on 60 MQ-9 Reapers and $51 million for improving the structural integrity of the aircraft. (

For more on the MQ-9 Reaper,

click here

.

)
[gview file="http://dronecenter.bard.edu/files/2015/11/DoD-Contracts-Fall-2015-2.pdf"]
For updates, news, and commentary, follow us on Twitter.
[includeme file="tools/sympa/drones_sub.php"]