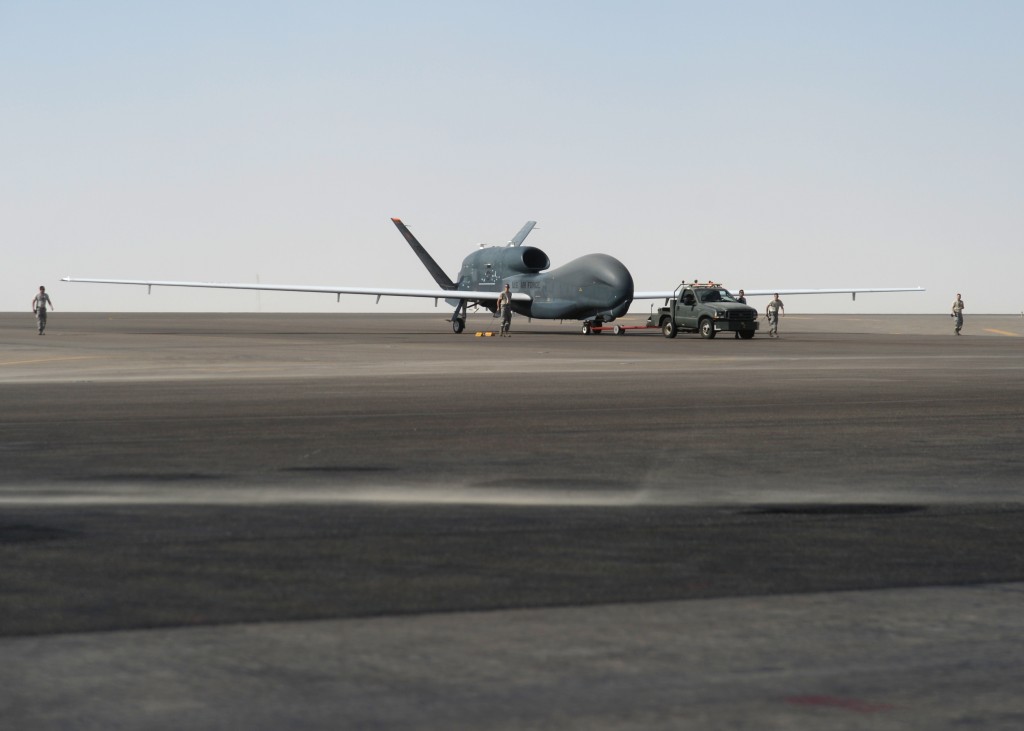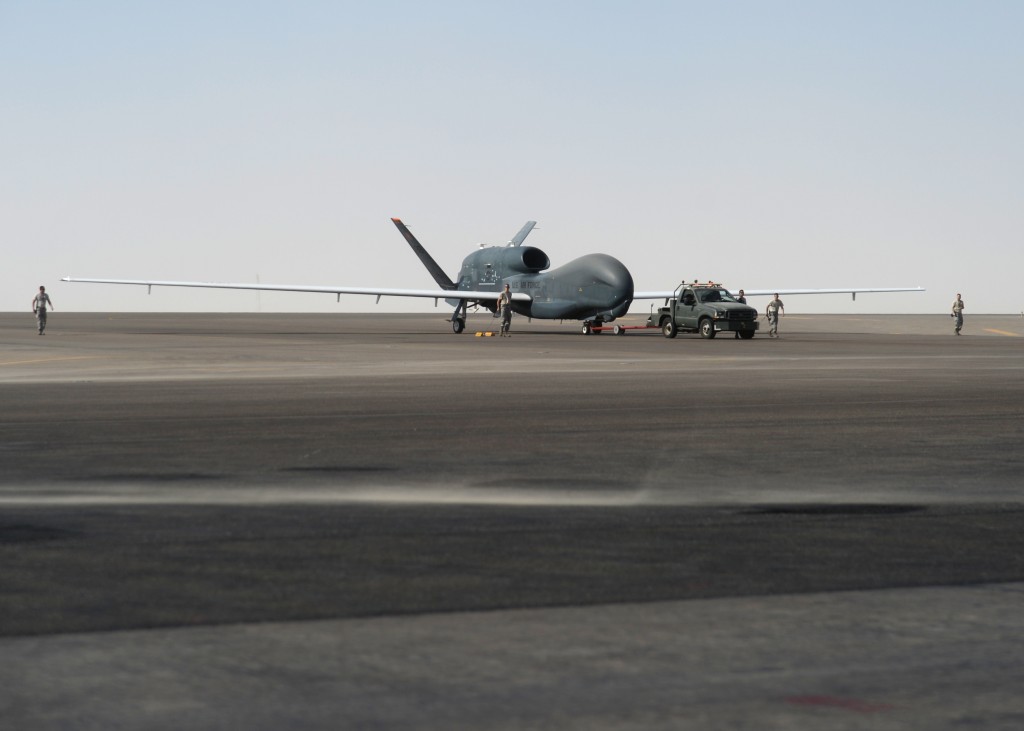 11/16/15 — 11/22/15
If you would like to receive the Weekly Roundup in your inbox, please subscribe at the bottom of the page.
News
A task force established by the Department of Transportation and the Federal Aviation Administration has recommended that new and existing drones be registered with the federal government. The panel, which included members of the drone industry and aviation safety community, proposes that drones weighing as little as 250 grams would have to be registered. (PBS)

The U.S. will sell three Northrop Grumman RQ-4 Global Hawk high-altitude long-endurance surveillance drones to Japan. The $1.2 billion deal, which needed to be approved by the Department of State, will include the aircraft, parts, and logistical support. (Reuters) For more on drone exports, click here.
Torquing Group, a company that manufactures a micro-drone called as the Zano, announced that it has gone out of business. The Zano was initially funded on European Kickstarter, setting a record by raising more than $3.4 million. The company folded following reports that the small drone was defective and the subsequent departure of co-founder and CEO Ivan Reedman. (Ars Technica)
Commercial drone manufacturer DJI announced that it is introducing new limits on where users may and may not fly their drones. Using a system known as "geofencing," software installed on DJI's drones will prevent users from flying their aircraft near airports, restricted areas like Washington, D.C., prisons, power plants, and other locations. The company will also install an option that will allow some users to disable the limits. (Press Release)
A Californian man who flew a drone close to a Los Angeles Police Department helicopter will be required to hand over the aircraft, complete 30 days of community service, and refrain from owning or flying a drone for three years. "This conviction sends a strong message that we will hold those who recklessly operate these devices accountable for their actions," City Attorney Mike Feuer said in a statement. (Los Angeles Times)
Iranian media reported that a drone crashed near Shush, a city in south-west Iran. Although initial accounts differed as to whether the drone was foreign or domestic, a government official told the state-run news agency IRNA that the aircraft was Iranian. (The Guardian)
Officers with the Federal Bureau of Investigation and local police are investigating an incident in which a drone crashed into a truck near an oil refinery in Linden, New Jersey. (CBS New York)
Commentary, Analysis, and Art
Aero Kinetics Aviation LLC, a Texas-based aviation consulting firm, released a report arguing that drones pose a greater threat to manned aircraft than birds.
Four former U.S. Air Force service members who were involved in military drone operations issued a public letter urging the Obama administration to end the U.S. targeted killing campaign. (The Guardian)
The House Armed Services Committee held a hearing on the role of autonomy in weapons systems.
Meanwhile, the House Energy and Commerce Committee held a hearing on the economic impacts of drones.  
At Motherboard, Clinton Nguyen reports on an Ocean City, New Jersey council meeting on a proposed drone ban.
At the Department of Transportation's blog, FAA Administrator Michael Huerta writes that the anticipated registration requirement for drones will "instill a sense of accountability and responsibility among UAS pilots."
At Forbes, Ryan Mac writes that some in the commercial drone industry are worried about the effects that fierce competition and increasingly strict regulations will have on the market.
At New Scientist, Debora MacKenzie takes another look at whether Russia is in fact building an underwater drone-delivered dirty bomb.
At the Wall Street Journal, Joe Palazzolo writes that it's likely that the Department of Homeland Security will issue a policy guidance on drones and privacy soon.
At Reuters, Idrees Ali reports that the U.S. Navy will lay out the future of the experimental X-47B stealth drone in the Fiscal Year 2017 budget. For more on the X-47B, click here.
At the New York Times, Neil Genzlinger reviews "Drone," a documentary by Tonje Hessen Schei.
At the Motley Fool, Dan Caplinger questions whether drone manufacturer AeroVironment can take advantage of growing demand for military drones.
At the Economist, K.K. argues that not many films made with drones address the association of the drone with warfare or take full advantage of the aerial platform.
At iRevolution, Patrick Meier announced the formation of WeRobotics, an organization dedicated to finding ways of using robotics and drones for humanitarian missions.
Know Your Drone
The Indian military is set to cancel its long-running Nishant surveillance drone development program, after all four prototypes crashed during testing. (Times of India
A U.S. startup has developed software that enables hobby drones to autonomously track and photograph moving targets. (Boston Business Journal)
NASA has conducted the first round of live tests of its traffic management system for unmanned aircraft. (NASA Press Release)
Hobby drone maker Parrot has unveiled a new version of its popular Bebop multirotor drone with twice the battery life of the previous model. (TechCrunch)
Consumer drone company 3D Robotics is partnering with AirMap, a startup that has developed an app to let drone users know where they are and are not allowed to fly. (TechCrunch)
During exercises in Korea, a U.S. MQ-1C Gray Eagle surveillance and strike drone was teamed with an AH-64 Apache attack helicopter. (Flightglobal)
Defense contractor Thales has unveiled a new small tactical surveillance and reconnaissance drone called the Spy'Ranger (UPI)
The U.S. military's Combating Terrorism Technical Support Office has signed a $4.6 million contract with Lockheed Martin for the company's Vector Hawk small canister-launched surveillance drone. (Popular Science)
Drones at Work
A crab fisherman in Maryland caught a REMUS 100 autonomous underwater vehicle in his nets in the Chesapeake Bay. (Popular Mechanics) For more on underwater drones, click here.
A team at IBM Research is teaching a drone how to play ping pong by tracking the trajectory of the ball. (Gizmodo)
A hobbyist in China inadvertently flew a drone to within a few hundred feet of a fighter jet. (Popular Mechanics)
Researchers at Murdoch University are using drones to measure the health of whales off the coast of Western Australia. (ABC)
Crop scientists at the University of Aberdeen and the James Hutton Institute have been using drones to make 3D models of potato crops. (Scotsman)
For updates, news, and commentary, follow us on Twitter.
[includeme file="tools/sympa/drones_sub.php"]