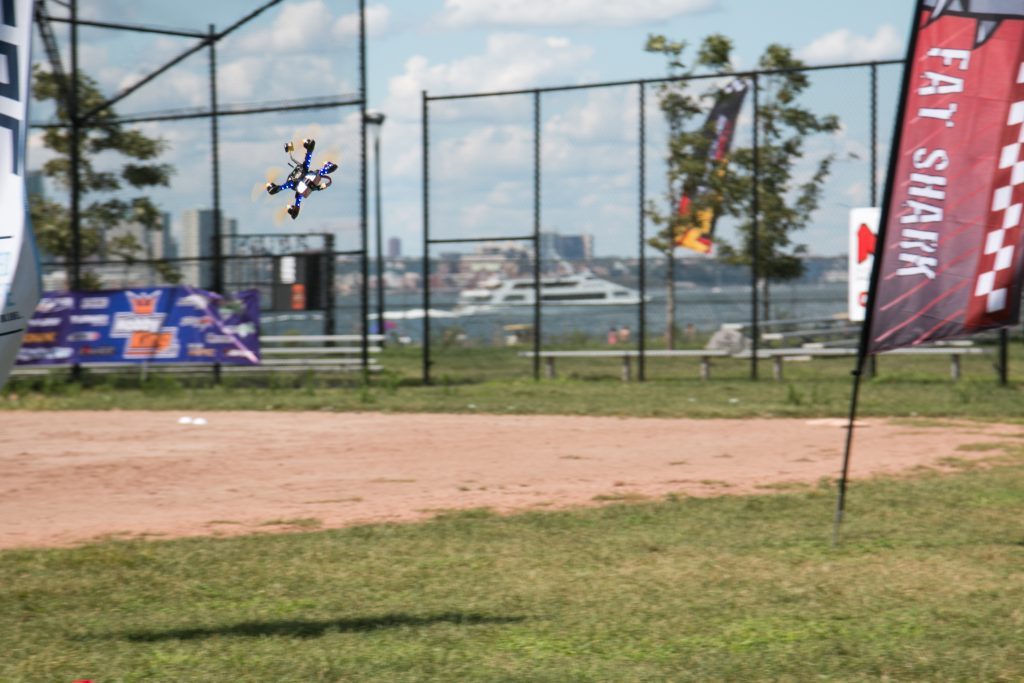 By Matt Windsor
This past weekend, 145 competitors from around the world gathered on New York City's Governors Island for the second annual U.S. National Drone Racing Championships. The winner was Zach Thayer from Laguna Niguel, California, of Team Big Whoop. But the biggest news was the presence of ESPN, which streamed the competition live—a first for the country's leading sports broadcaster.
Racing drones are small, highly maneuverable multirotors capable of exceeding 80mph (and, thus, drain their batteries in two or three minutes). The sport has experienced a significant spike in interest and investment in the past two years. On August 5, MarketWatch reported that there is "money pouring into drone racing"—not only from ESPN, but also corporate sponsors such as Pepsi, GoPro, accounting firm Ernst & Young and insurer AIG. The Drone Sports Association, the organizer of the U.S. National Championship, now hosts drone racing events in over 40 countries, according to its website. A new 24/7 digital channel, Drone TV, was launched in July; in addition to around-the-clock highlights, it will include 10 new one-hour programs each week. Drone racing specials have recently aired on the Science Channel and Discovery Channel, introducing the broad public to unmanned aerial systems technology. The attention is set to continue to grow as several race leagues emerge and compete for fans and investment. Here's what you need to know.
Technical Fundamentals
The drone racing boom has been enabled by four recent technical advances: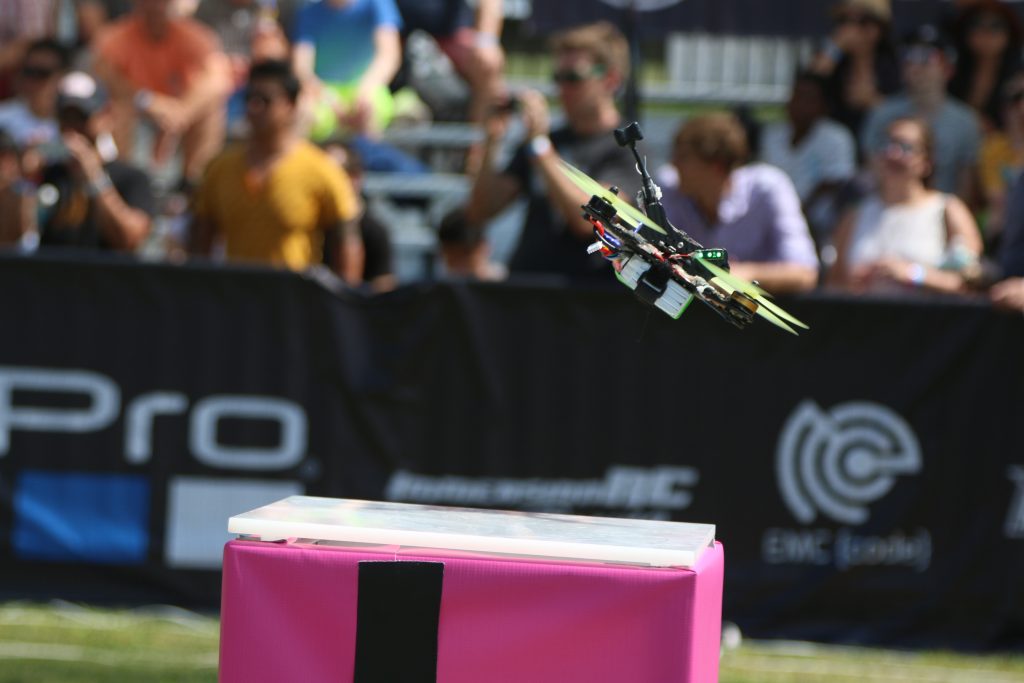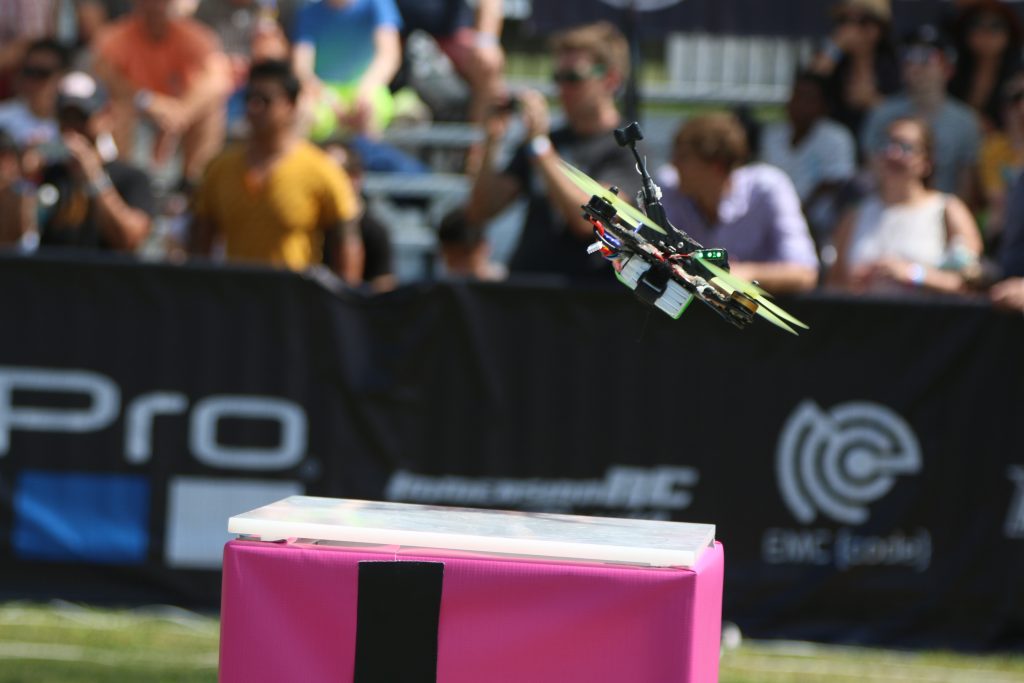 History
Serious organized drone racing is a very recent phenomenon, but FPV technology, the key enabler for the sport, has a longer history. In a

2011 article

, Smithsonian's

Air & Space

magazine traces the birth of FPV remote control aircraft to the late 1990s, when cameras and transmitters became light enough to fit on small unmanned aircraft. The first high-profile use of fast, agile FPV-equipped drones similar to those used in drone racing today was a series of flights by

Raphael "Trappy" Pirker

and his Team Black Sheep, who gained widespread acclaim and notoriety for flying around the Statue of Liberty in New York, among other places. In 2014, an

RC flying club

in eastern France posted a

video

of a "Star Wars-style" race in a local forest that attracted more than 3 million views on YouTube.
The first

U.S. National Drone Racing Championships

, organized by Rotor Sports, was held in July 2015 in Sacramento, California, drawing more than 100 competitors. Chad Nowak, an Australian drone-racing pioneer known as FinalGlideAUS, won every event: the race, freestyle and team competitions.

In March 2016, a

custom-built track

and $1 million in prize money drew more than 150 racers to Dubai for the

World Drone Prix

, which is not affiliated with the Drone Racing Championships. The first prize, $250,000, went to 15-year-old Luke Bannister of England, who also took the top spot in a drone race the following month

at London's iconic Wembley Stadium

.
http://https://www.youtube.com/watch?v=pZ0viMxYDA4
How it works
Drone racing puts a premium on both speed and maneuverability. Races are generally short, often lasting under a minute.

Crashes are common

. The most popular format has a group of pilots race at the same time over a course with multiple gates or other obstacles. The first drone to arrive at the finish line after a set number of laps wins.

During races, pilots use FPV goggles that display a live feed from a camera mounted on the front of the machine. Pilots rely on a real-time transmission from the drone: even brief lapses or slight jumps in latency can result in a crash.

Unlike most consumer quadcopters, which have their four rotors arranged in an

X-shape configuration, many racing drones feature an H-shape

layout. They are also generally smaller than popular drones like the DJI Phantom or 3DR Solo. A typical racing drone is about 250mm wide, measured diagonally, compared to the

350mm of a DJI Phantom 4

. Crucially, these systems are much faster than consumer drones. Racing drones can reach speeds of over 80 mph, compared with the Phantom 4's

listed top speed

of 45 mph. (See a breakdown of the technology in the Drone Racing League's Racer2, and a comparison with typical consumer drones,

here.

) In other leagues, most racers build their own machines, but some hobby drone suppliers, including

Horizon Hobby

, have begun offering off-the-shelf racing drone kits.

National Geographic put together a

rundown on how to get into FPV drone racing

. MultiGP maintains a

listing of racing clubs

around the world. And would-be racers can test their reflexes at home in an

online simulation

of a Drone Racing League course.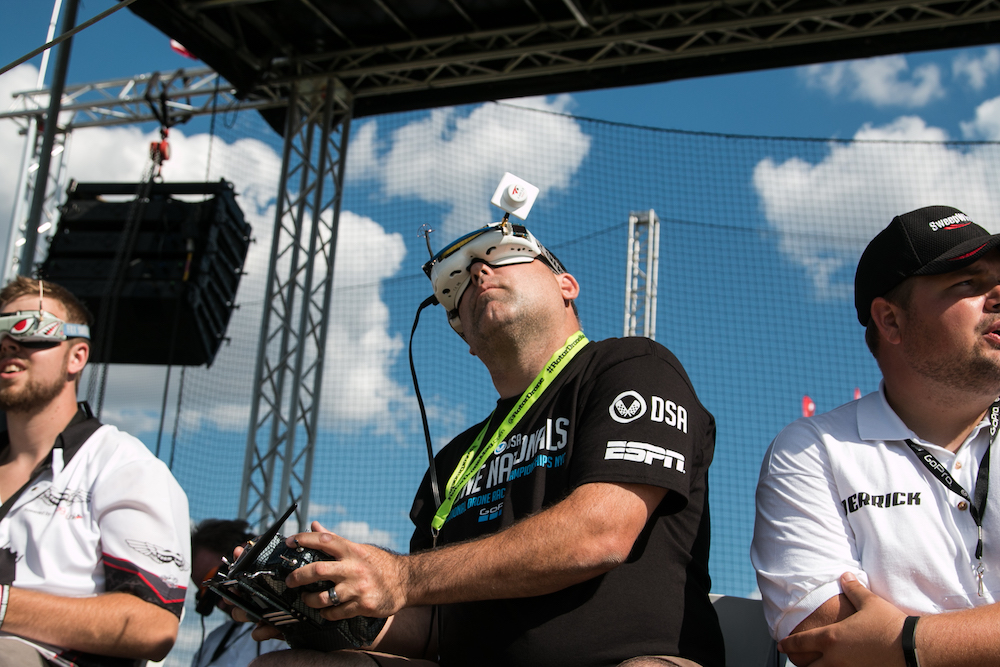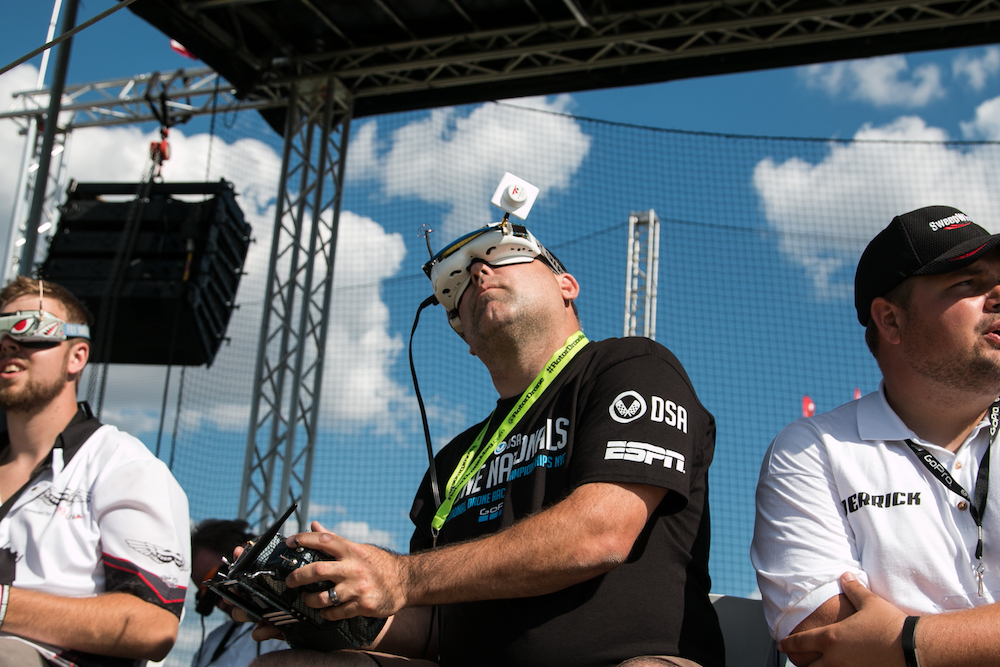 The Landscape of Drone Racing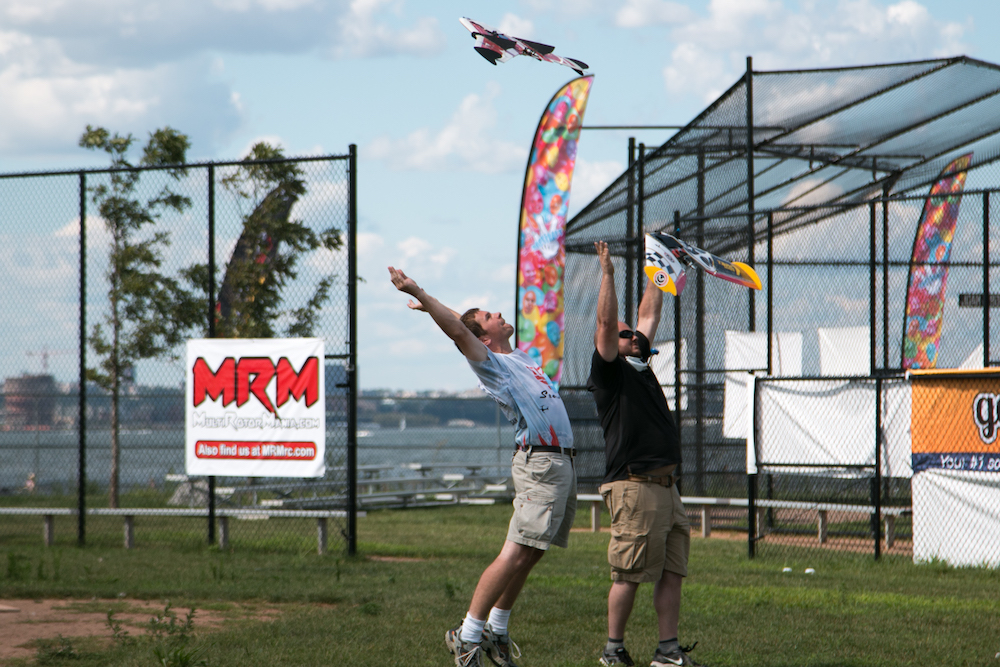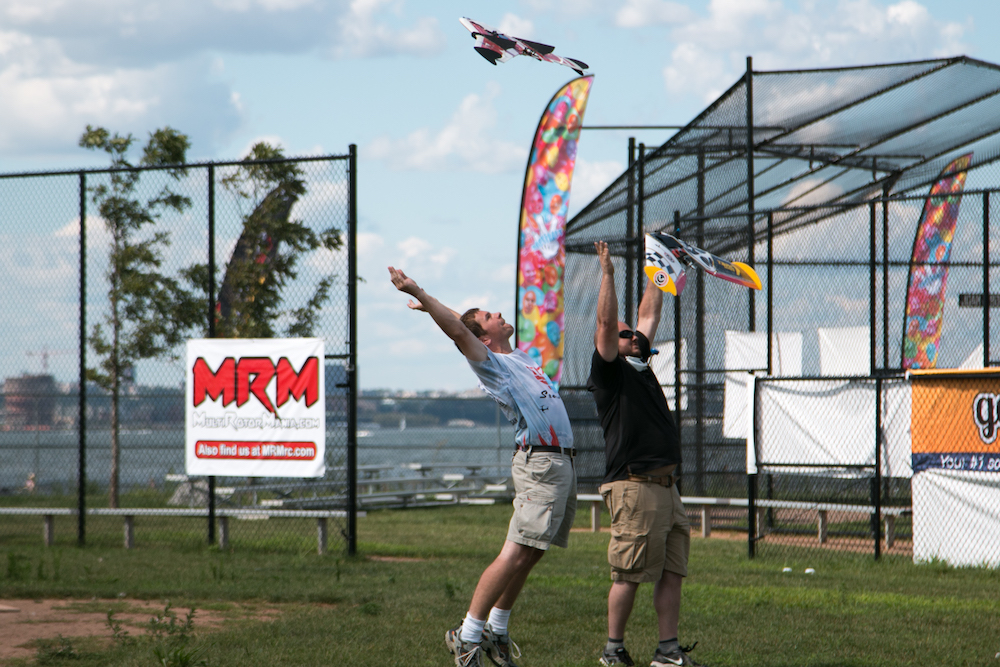 Regulations and Drone Racing
Several regulatory questions hover around drone racing in the U.S., starting with the cornerstone enabling technology of the sport: FPV. A

June 2014 FAA interpretation

of the Special Rule for Model Aircraft states that these regulations "preclude the use of vision-enhancing devices" including "goggles designed to provide a 'first-person view' from the model." Under the long-awaited

Part 107 rules

, which take effect August 29, commercial drone operators are required to maintain a direct, unaided visual line of sight with the drone, a requirement that potentially precludes the use of FPV systems by pilots. Part 107 rules also prohibit the use of drones over people who are not involved in the drone operation.

But more broadly, it is unclear whether drone racing, which is organized by for-profit businesses, counts as a

"hobby or recreational"

use of drones according to Public Law 112-95, Section 336(c), which exempts model aircraft flights from new FAA rules.

Events that are held indoors are not subject to FAA airspace regulations. The Drone Racing League's events so far have been held inside buildings such as abandoned shopping malls. The FAA has demonstrated interest in drone racing; according to an

August 2015

article in

IEEE Spectrum

, two of the agency's representatives attended the 2015 National Drone Racing Championship.
The Future of the Field
Racers, drone racing entrepreneurs, and investors

express hope

that the new sport will follow the trajectory of competitive computer gaming, which is expected to

generate $463 million in worldwide revenue in 2016

. One challenge is the profusion of competing leagues. Racer Zoe Stumbaugh

cites the example of professional football

: The sport didn't really take off until after the NFL-AFL merger in 1966.

Individual pilots are also vying to make a name for themselves, mainly by posting videos on YouTube and on

Airvuz

, a drone video site

popular with racers

.

Charpu

, the flight name of Los Angeles-based Carlos Puertolas, has perhaps the largest YouTube following. He was featured last year in a

profile

in The New York

Times

.
Drone racing could be ideal content as virtual reality hits the mainstream. Matt Higgins of RSE Ventures

told ESPN

that drone racing "has all the makings of a modern-day sport: Twitch meets Formula One.… and first-person viewing lends itself to an amazing spectator experience with virtual reality." The problem is, current technology

still isn't good enough

to transmit first-person footage in HD — and even pilots say it

takes a while to get over the nausea

brought on by all that high-speed motion.

Eventually, human pilots might be able to ditch their handheld controllers. This April, engineering students at the University of Florida held the first

brain-controlled drone race

. Contestants directed DJI Phantoms in a slow-motion sprint over a 10-yard course.
For updates, news, and commentary, follow us on Twitter.
[includeme file="tools/sympa/drones_sub.php"]