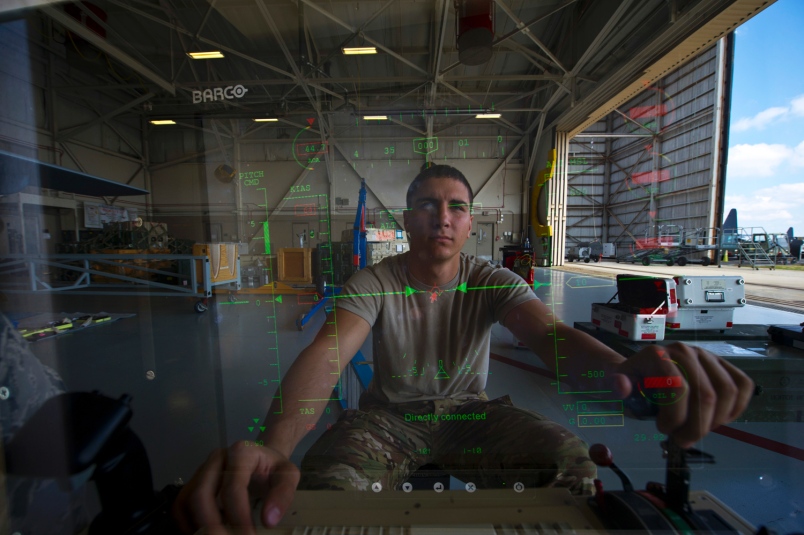 August 8, 2016 – August 14, 2016
 If you would like to receive the Weekly Roundup in your inbox, please subscribe at the bottom of the page.
At the Center for the Study of the Drone
Earlier this month, hundreds of drones descended upon New York's Governors Island for the second annual U.S. National Drone Racing Championships. In recent months numerous such events have been held everywhere from Dubai to Korea. This new action-packed sport is attracting investors, top-tier advertisers, and fans in dozens of countries. But how does it work, and what is in its future? Here's what you need to know.
News
A U.S. drone strike is believed to have killed Hafiz Saeed Khan, the leader of the Islamic State in Afghanistan and Pakistan. According to a Pentagon spokesperson, the strike took place on July 26 in Afghanistan's southern Nangarhar province. (Reuters)
The U.S. Air Force will begin offering bonuses of $35,000 per year to drone pilots who agree to a five-year contract extension. The policy, which goes into effect on October 1, 2016, will be available to all officers who fly remotely piloted aircraft. It is part of a broader Air Force effort to retain U.S. drone crews. (Air Force Times)
The South African Civil Aviation Authority is investigating a drone crash at the Koeberg Nuclear Power Station. Although the crash did not cause any damage, Eskom, the utility company that runs the nuclear plant, is facing public criticism for lax security. (Independent Online)
Police in the United Kingdom are investigating an incident in which a drone reportedly flew alongside a commercial airliner. The sighting took place as the Flybe flight was on final approach to Cornwall Airport Newquay in southwestern England. (The Guardian)
Commentary, Analysis and Art
At the New York Review of Books, David Cole considers the evolution of President Obama's use of drone strikes over the course of his presidency.
Meanwhile, in a wide-ranging conversation at the Brookings Institution, CIA Director John Brennan discusses the use of drones to carry out strikes against al-Qaeda targets. (Lawfare)
At the New York Times, Farhad Manjoo argues that Amazon's plan for drone deliveries should be taken seriously.
Meanwhile, at Popular Science, Kelsey D. Atherton explores how Amazon is laying the ground for a drone delivery infrastructure.
At Drone360, Lauren Sigfusson considers how the partnership between NASA and the Lone Star UAS Center in Texas might contribute to the development of domestic drone flight tracking systems.
At Defense One, Patrick Tucker examines the U.S. military's efforts to develop effective counter-drone systems.
At Defense Tech, Hope Hodge Seck takes a look at efforts by the U.S. Marine Corps to integrate drones into individual infantry squads.
At Breaking Defense, Sydney J. Freedberg Jr. writes that micro drones were well received during a recent U.S. Army exercise in Hawaii, but large unmanned ground vehicles had mixed reviews.
At the Bulletin of Atomic Scientists, Alexander Velez-Green argues that U.S. nuclear bombers should not be unmanned.
At PBS Frontline, Priyanka Boghani considers how the release of the U.S. drone strike Presidential Policy Guidance (PPG) will shape future drone use.
At Lawfare, Benjamin Wittes writes that the PPG "embodies a laudable sense of individual presidential accountability for strikes."  
At the New Republic, Marcy Wheeler argues that the drone strike PPG is "full of workarounds and loopholes."
At Real Clear Defense, Bonnie Kristian argues that U.S. drone strikes are "more about convenience than effectiveness."
The Onion reports that President Obama will establish a 2,000-square-mile "free-range drone preserve."
Know Your Drone
The U.K. Ministry of Defense has announced a plan to spend about $1 billion on a range of frontier technologies including microdrones. (The Telegraph)
The U.S. Defense Advanced Research Projects Agency has issued a request for information for technologies that could be used to counter swarms of drones. (ZDNet)
Google has been awarded a patent for a drone that would fly around offices as a remote videoconferencing unit. (Quartz)
A team at Johns Hopkins University is crashing hobbyist drones to identify security vulnerabilities. (Engineering.com)
The U.S. Navy is testing a new drone recovery system developed by AeroVironment that can be used to retrieve aerial drones aboard ships. (IHS Jane's 360)
U.S. startup Skydio is developing a consumer drone with sophisticated obstacle avoidance capabilities. (IEEE Spectrum)
Lockheed Martin has revealed new details about the TR-X, its proposed concept for a high-altitude long-endurance drone to replace the U-2 manned spy plane. (Popular Mechanics)
The Spanish government approved the first phase of an agreement with France, Germany and Italy to develop a European Medium-Altitude Long-Endurance drone. (Defense-Aerospace)
The U.K. Royal Navy is planning to use a military exercise later this year to evaluate alternatives to the ScanEagle drone, which will go out of service in 2017. (FlightGlobal)
Drones at Work
At least three drones were spotted flying over Maracanã stadium in Rio during the Olympics opening ceremony. (The Verge)
Indian power transmission company Sterlite Power has announced a plan to use drones for powerline monitoring. (Press Release)
Japan's Agriculture, Forestry and Fisheries Ministry has issued a safety guidance for farmers wishing to use drones for agriculture. (The Japan News)
The Japan Coast Guard has taken delivery of a fleet of eight Liquid Robotics Wave Glider unmanned surface vehicles, which will be used to collect environmental data. (Shephard Media)
The police department in Sahuarita, Arizona has acquired two drones for operations. (KTAR)
Meanwhile, the Council Bluffs Fire Department in Iowa has acquired a drone for use in emergency services operations. (KETV)
And the police department of New Rochelle and the Rockland County Sheriff's office in New York have acquired drones for aerial data collection. (The Journal News)
U.S. Sen. Cory Booker will attend a demonstration of emergency response drones in Mahwah, New Jersey. (North Jersey)
A Swedish Evangelical church plans to use drones to drop small electronic Bibles on ISIS-controlled territory in Iraq. (Daily Mail)
Meanwhile, a U.S. military drone captured footage of ISIS forces fleeing the city of Manbij in Syria. (New York Times)
The Taichung City Government in Taiwan plans to ban drones in two public areas because of privacy and safety concerns. (Taipei Times)
An Israel Aerospace Industries Heron surveillance and reconnaissance drone crashed during a training flight in northern Israel. (Ynetnews)
A Panama Canal official posted a drone video showing a large ship entering the canal with only a few feet of clearance. (gCaptain)
The U.S. Fish and Wildlife Service plans to use drones in a field research project to test unmanned systems for studying waterfowl in coastal marsh systems. (FBO)
Industry Intel
The U.S. Navy awarded Boeing Insitu a $8.3 million foreign military sales contract for ScanEagle spares and support equipment for the government of Iraq. (Contract Announcement)
The U.S. Air Force awarded General Atomics Aeronautical Systems Inc. an $8.8 million contract for Block 30 ground control station kit upgrades and Predator aircrew training system. (Contract Announcement)
Kratos Defense & Security posted strong Q2 2016 earnings, due in part to three U.S. military contracts to develop drones. (Motley Fool)
For updates, news, and commentary, follow us on Twitter.
[includeme file="tools/sympa/drones_sub.php"]