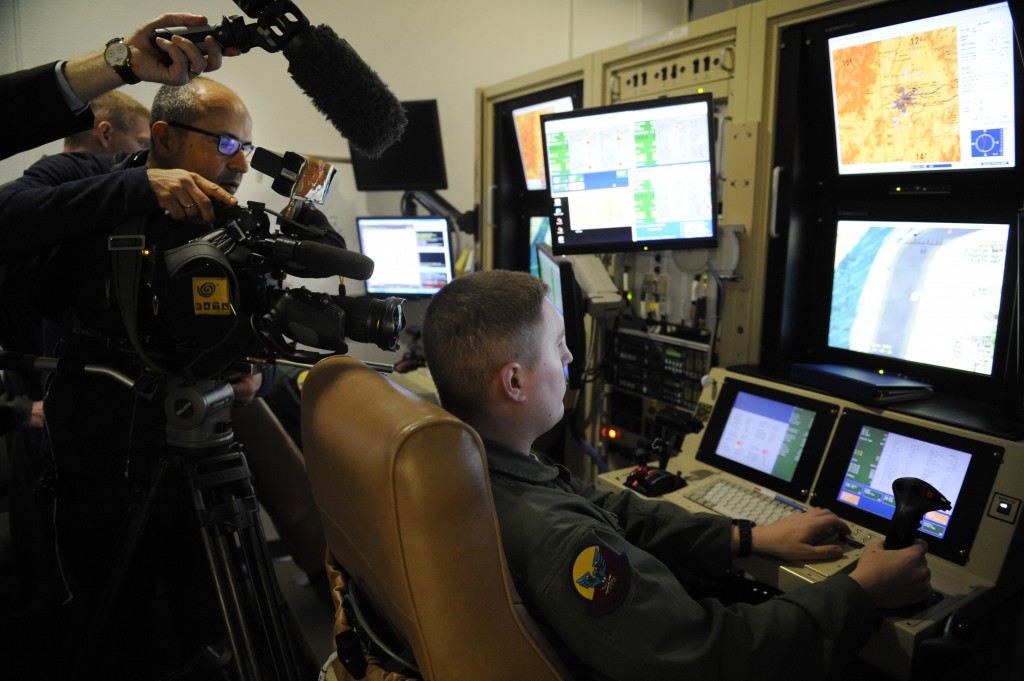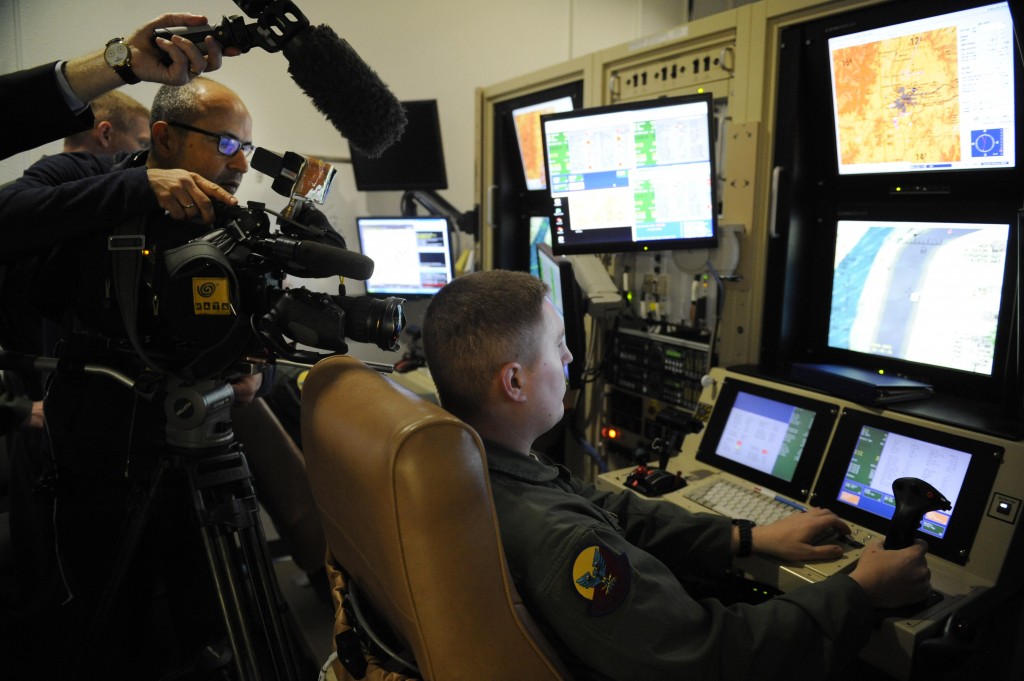 By Dan Gettinger
Earlier this year, despite increasing demand for U.S. drones over Iraq and Syria, the Air Force decided to cut the number of drone missions it flies every day. The move is in response to growing concerns within the military and without that Air Force drone missions are understaffed, and that drone operators are overworked. "[W]e recognized that the path we were on was going to take us to much less capability. Until we can get enough people in the community to sustain those numbers, we're not healthy," Colonel James Cluff, the commander of the 432nd Wing and the 432nd Expeditionary Wing at Creech Air Force base, told Defense One this month. In response to what Secretary of the Air Force Gen. Mark Welsh III earlier this year called a "crisis" in mission fulfillment, the Air Force has made a number of personnel changes over the past few months. Some of these reforms focus on how drone pilots and sensor operators are recruited, trained, and retained. Here's what you need to know.
Combat Air Patrols
The Air Force organizes its MQ-1 Predator and MQ-9 Reaper missions in what are known as Combat Air Patrols, or orbits. Each CAP is supposed to be staffed with enough equipment (aircraft, ground control stations, satellite communications) and personnel (drone pilots, sensor operators, maintenance crews, mission coordinators, intelligence analysts, and others) to provide 24-hour coverage for a particular geographic area. A CAP typically includes four drones and around 200 personnel. In December 2009, when the Air Force had 39 CAPS, then-Secretary of Defense Robert Gates set a goal of 65 drone CAPs by mid-2014, and on May 28th, 2014, the Air Force launched its 65th Combat Air Patrol. The decision by the Air Force in April will reduce the number of CAPs from 65 to 60.
Personnel
Training
In 2009 and 2010, the Air Force overhauled the way that drone crews were trained.
On October 23, 2009, the Air Force activated three new squadrons—the 6th Reconnaissance Squadron, 16th Training Squadron, and 29th Attack Squadron—to train new pilots and sensor operators, turning Holloman Air Force Base in New Mexico into the center for training recruits. A fourth training unit, the 9th Attack Squadron, was activated in October 2012 and trains pilots specifically on the MQ-9 Reaper.
In March 2010, the Los Angeles Times reported that the Air Force was rethinking the training of sensor operators. The overhauled program would emphasize that new recruits should behave more as co-pilots and less as imagery analysts.
Many drone pilots trained to fly manned aircraft before being assigned to fly drones and, for many drone pilots, the assignment was temporary.  For new recruits who choose the drone career field, the Air Force introduced a drone-specific training program in June 2010. The Undergraduate Remotely Piloted Aircraft Pilot Training (URT) program was part of an effort to institutionalize and formalize the unmanned aircraft career field.
Within the Air Force, training for drone pilots is divided into two parts. During the first phase, recruits spend around five months learning to fly a manned trainer airplane, working the flight simulator, and understanding the fundamentals of flying in classroom lectures. This phase is split between Pueblo, Colorado and Randolph Air Force base in Texas. During the second phase, recruits spend three to four months in formal training, where they learn to fly a specific unmanned platform. Formal training for the MQ-1 Predator and MQ-9 Reaper takes place at Holloman and training for the RQ-4 Global Hawk occurs at Beale Air Force Base in California. Sensor operators spend six weeks in an undergraduate course before joining pilots for formal training at Holloman.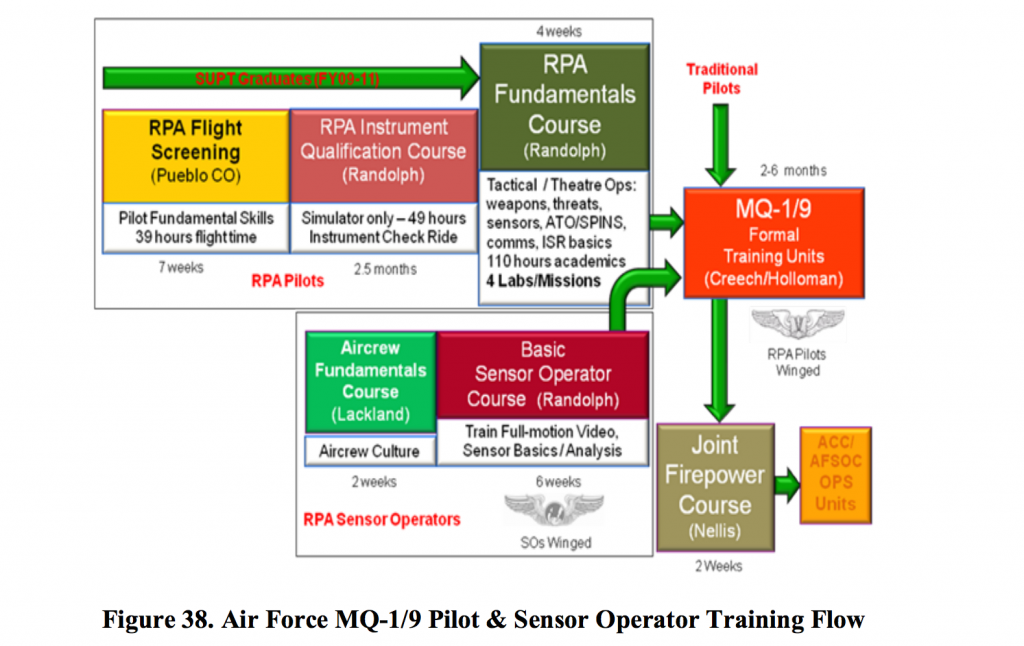 Manpower Shortfalls
Even with these new training programs, the demand for drones has outpaced the Air Force's ability to recruit, train, and retain crews.
Psychological Effects
A number of the aforementioned reports identify psychological stresses and low morale as potential explanations as to why the Air Force has such trouble retaining its crews. "Lack of adequate or appropriate recognition is a factor for lower promotion rates," writes Col. Hoagland. "One of the controversies surrounding their historical lack of high level recognition is the viewpoint that RPA pilots were not risking their lives while operating their aircraft 7,000 miles away in Nevada." The April 2014 GAO report found that the Air Force needed to address difficult work environment elements such as long hours. It also found that the Air Force had not fully analyzed some of the challenges faced by drone crews in adapting to dual roles of deployment and civilian life: "RPA pilots in each of the 10 focus groups we conducted reported that being deployed-on-station negatively affected their quality of life, as it was challenging for them to balance their warfighting responsibilities with their personal lives for extended periods of time." In addition to these reports, investigations by military psychologists and journalists have supported claims that drone crews face a number of psychological pressures, for which the high demand for their services might be partially responsible.
For updates, news, and commentary, follow us on Twitter.
[includeme file="tools/sympa/drones_sub.php"]