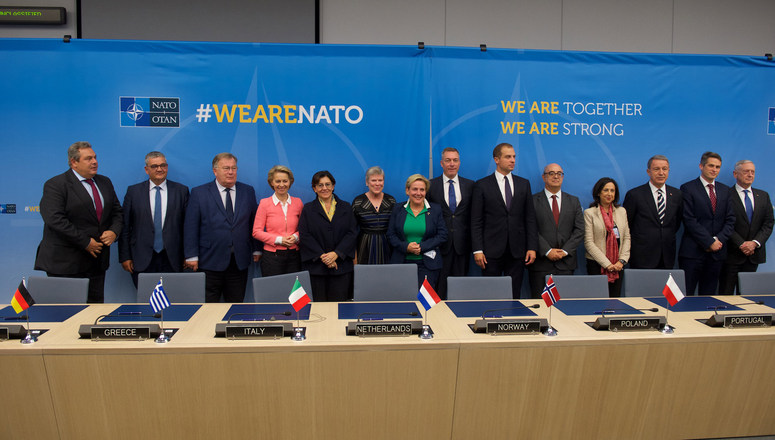 October 1, 2018 – October 7, 2018
If you would like to receive the Weekly Roundup in your inbox, please subscribe at the bottom of the page.
News
The European Border and Coast Guard Agency (Frontex) has begun testing drones for maritime counter-smuggling and search and rescue operations. In Greece and Italy, Frontex is evaluating an Israel Aerospace Industries Heron 1 drone. In Portugal, Frontex is exploring the use of various smaller drones. (Press Release)
President Trump has signed legislation reauthorizing the Federal Aviation Administration. The bill includes provisions that grants federal law enforcement agencies greater authority to intercept and disable drones that pose a threat to public safety. (Reuters)
The University of Dayton Research Institute conducted a high-speed collision test of a quadcopter drone and an aircraft wing. Results of the test showed that the drone caused considerable damage to the wing structure. Many groups worry that a high-speed crash between a drone and a manned aircraft could potentially lead to a catastrophic accident, but so far relatively little live testing has been conducted. (Vertical Magazine)
Know Your Drone
A team from Disney and ETH Zürich has developed an autonomous spray painting drone. (Engadget)
The Chinese military held a large competition for autonomous unmanned ground vehicles. In total, over 100 teams participated in the event. (Jane's)
French firm ECA unveiled the Inspector 120 USV, a 12-meter unmanned boat. (Jane's)
Researchers from Rice University and Baylor College are developing a system of networked drones that detect hazardous airborne pollutants. (Press Release)
U.S. firm UAVOS has completed a series of test flights of its Sitaria fixed-wing surveillance drone. (Unmanned Systems Technology)
In a test, Swiss firm Flyability exposed its Elios industrial and nuclear inspection drone to 90 times the yearly human dose limit of radiation. (Inside Unmanned Systems)
U.S. firm Ainstein has unveiled two new long-range radars for detecting small drones. (UAS Magazine)
German firm Microdrones unveiled the mdLiDAR3000, a LiDAR-equipped multirotor drone. (Unmanned Systems Technology)
Drones at Work
Delivery firm DHL, the German government, and drone manufacturer Wingcopter have completed a six-month medical drone delivery trial at a hard-to-reach island on Lake Victoria in Tanzania. (Freight Week)
Police in San Diego have cited a recreational drone operator for allegedly interfering with the flight of a medevac helicopter that was airlifting a sharkbite victim from a local beach. (NBC San Diego)
Oregon firm Three Rivers Mosquito and Vector Control has been awarded a license to use drones for spraying pesticides. (Post Register)
A team from Arctic Hot Point Solutions discovered a World War II fighter plane buried in a Greenland glacier using a drone equipped with a ground-penetrating radar. (GPS World)
Several public agencies in Lancaster County and Lincoln, Nebraska have acquired drones for emergency operations, inspections, and surveying. (Associated Press)
The Williamsport Bureau of Police has acquired a drone for emergency operations. (WNEP)
Meanwhile, the Spokane City Council in Washington State has held off on voting to allow the Spokane Police to acquire more drones until a number of privacy concerns can be addressed. (KXLY)
Officials in Citrus County, Florida, have established the state's first designated park for recreational drone users. (Fox 13)
French firm Elistair has revealed that french authorities used the company's Orion tethered surveillance drone for security at the Ryder Cup. (Unmanned Systems Technology)
Two British men have been sentenced to jail time after a drone that they attempted to use to smuggle drugs into a prison in 2017 filmed their faces as they prepared the aircraft for the flight. (BBC)
Industry Intel
The U.S. Army awarded Lockheed Martin a $12.5 million contract for counter-drone systems. (DoD)
The U.S. Air Force awarded AeroVironment a $13 million contract RQ-11B Raven aircraft, spares, and ancillary equipment for U.S. Southern Command. (DoD)
The U.S. Navy awarded L-3 Technologies a $3.6 million contract to establish depot requirements for the MQ-4C Triton. (FBO)
The U.S. Navy awarded Northrop Grumman Systems a $2.24 million contract for MQ-4C Triton sense-and-avoid risk reduction. (FBO)
The U.S. Department of State awarded AMS Strategic Management a $141,890 contract for DJI Matrice and Mavic drones and associated equipment. (FBO)
The U.S. Department of Homeland Security awarded Echodyne a $200,000 contract for a drone-based radar system. (C4ISRNET)
Telecommunications firm AT&T partnered with Dedrone, a Virginia-based startup that makes counter-drone systems. (Engineering.com)
The Atlanta-based energy firm Southern Co. is partnering with Skyward, a Verizon-owned company that provides drone services. (Unmanned Aerial)
The U.S. insurance firm Travelers made a $3 million strategic investment in Kittyhawk, a California-based commercial drone services startup. (Drone Life)
The U.S. Federal Aviation Administration has partnered with nine new companies on a program that allows drone operators to request near-instant permission to fly near airports. (GPS World)
SLAMcore, a U.K.-based startup that develops spatial artificial intelligence algorithms for robots and drones, raised $5 million in funding. (Cambridge Network)
DroneShield announced that it has received an order for two units of the DroneGun Tactical system from an unnamed country in Asia. (Unmanned Airspace)
Boeing has partnered with Robotic Skies to provide commercial drone services. (MRO-Network)
Commentary, Analysis, and Art
At Shephard Media, Marc Selinger writes that the U.S. Navy plans to take a closer look at unmanned systems in its next force study.
At the Post-Register, Kurt Liedtke considers how a company in southern Oregon became the first in the country to be licensed to use pesticide-carrying drones for mosquito control.
At the Associated Press, Jon Gambrell and Gerry Shih examine the rapid proliferation of armed Chinese-made drones across the Middle East. Center Co-Director Dan Gettinger was interviewed for this story.
Offiziere identified satellite links and ground control stations at a base in the United Arab Emirates that could be used to operate the U.S.-made Predator XP drone.
At Aviation Week, Graham Warwick considers how a universal launch and recovery system for drones could have a major impact on battlefield operations.
The Forbes Technology Council offers 11 predictions for the future of drone deliveries.
At Lawfare, Nicholas Weaver argues that new legal authorities are needed in the U.S. to counter malicious drones.
Defence IQ published a map of some of the close calls between drones and manned aircraft at airports around the world. (Unmanned Airspace)
For updates, news, and commentary, follow us on Twitter.
[includeme file="tools/sympa/drones_sub.php"]