This dynamic post will provide regular updates regarding the deployment of drones in military operations as new developments occur and as new information becomes available.

Update:
Please see our September 2019 publication, The Drone Databook, for more detailed and up-to-date information on these topics.
---
Aksu, China
41°15′45″N 80°17′30″E
October 1, 2018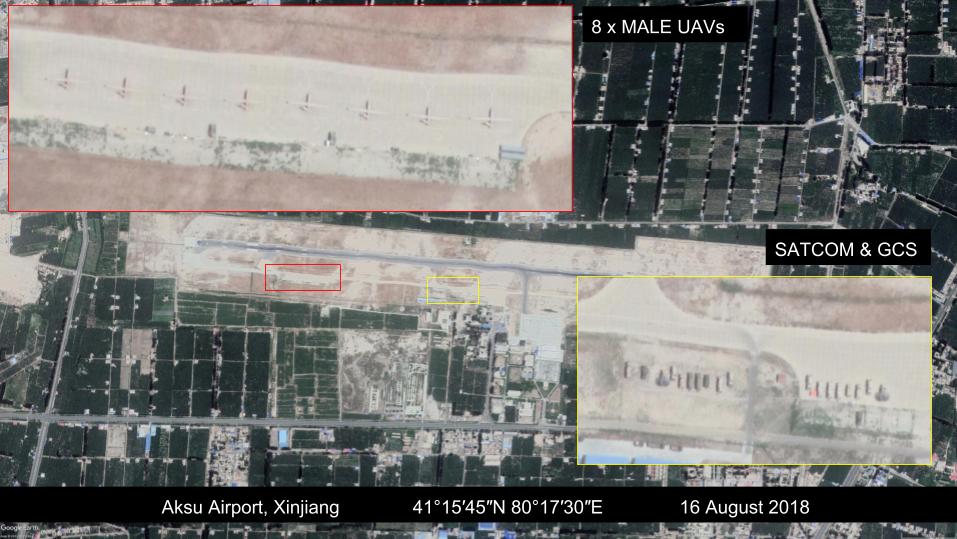 By Dan Gettinger
An August 16, 2018 satellite image appears to indicate that eight medium-altitude long-endurance drones have been deployed to Aksu Airport, a mixed military-civilian airport in western China's Xinjiang province. It is the first known significant deployment of either the Wing Loong 2 or the Caihong 5, two sophisticated drones similar to the U.S. MQ-9 Reaper, and likely the largest ever deployment of medium-altitude long-endurance drones by China. The deployment comes at a time when China's mounting security and surveillance measures in the region have begun to receive growing international attention.
Historical satellite imagery shows that the deployment likely began with three or four medium-altitude long-endurance drones in March 2018. The number of aircraft doubled to eight in late July or early August. The aircraft appear to be either the Wing Loong 2 or the Caihong 5 based on the dimensions of the aircraft and a comparison with other satellite images. The People's Liberation Army Air Force (PLAAF) has already acquired the Wing Loong 1, which is smaller and less capable than the Wing Loong 2 and Caihong 5, although it's not known that the aircraft at Aksu belong to the PLAAF. The drones are parked on an aircraft apron on the western end of the airfield. Support equipment, including satellite communications and ground control stations, is located on a second apron at the center of the airport.
The absence of new hangars suggests that the deployment could be temporary, although reports in Chinese media on have suggested that construction of a large, $107 million expansion of the civilian portion of the airport is underway. A September 13 article in Xinjiang News reported that the renovation, one of several planned for airports in Xinjiang province this year, will include new parallel taxiways, 10 aircraft aprons, and a new terminal building for commercial traffic. It is not known how this expansion for commercial operations will affect the military activity at the airport.
PLAAF drones have frequented other airports in Xinjiang province. Satellite imagery and media reports confirm that the PLAAF has temporarily deployed Wing Loong 1 drones to Kashgar Airport and Hotan Airport on several occasions in recent years and potentially as recently as April 2018. Uxxaktal Air Base in central Xinjiang province is home to Unit 95835, the PLAAF's primary Wing Loong 1 squadron. Unlike Aksu, these deployments have never featured more than three medium-altitude long-endurance drones deployed together at one time. China's dedicated drone bases such as the PLA Navy's Daishan Air Base also do not have this level of concentration of this class of aircraft.
It is not clear based on the images alone why the drones have been deployed to Aksu. China's initial drone deployment to Kashgar in 2014 was reportedly in response to regional unrest. The drone activity in Xinjiang province in the past year could be related to China's security measures in the province, which have become the subject of growing international attention. A U.N. report from August found that China has detained "upwards of one million" Uighurs in camps across the province and U.S. officials have warned that China is creating a high-tech surveillance state in Xinjiang. Whether or not Aksu proves to be a temporary deployment, Chinese drones will remain a fixture in Xinjiang.
---
Jizan, Saudi Arabia
16°54'04″N 42°35'09″E
March 1, 2018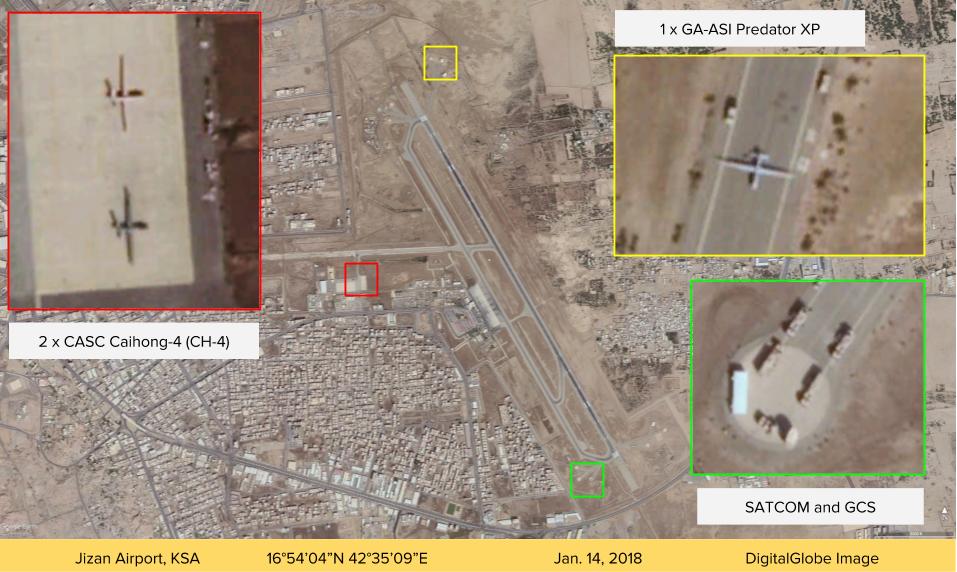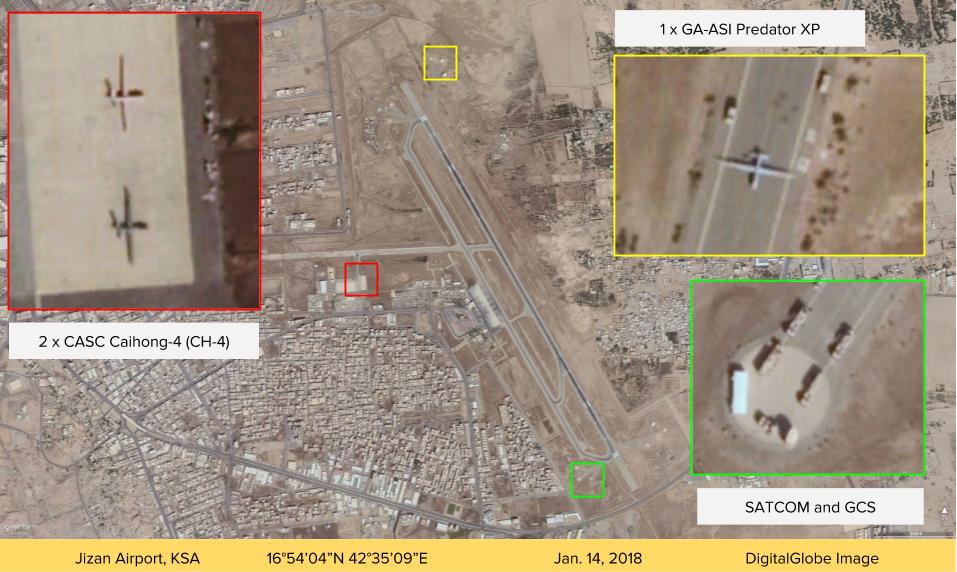 By Dan Gettinger
A January 14, 2018 satellite image reveals that the United Arab Emirates and Saudi Arabia have both deployed new drones to Jizan Regional Airport in Saudi Arabia. The image shows one U.S.-made General Atomics Predator XP drone, which is operated by the UAE, and two Chinese-made CASC Caihong-4 (CH-4) drones operated by Saudi Arabia, suggesting that Jizan is an active base for non-U.S. drone operations against Houthi rebel forces in Yemen.
The Predator XP drone is parked outside a hangar in the northeast corner of the base and the two CH-4 drones are parked west of the main runway. Both types of drones are roughly the same size, though they can be distinguished by their tail designs: the CH-4 has an upward-facing V-tail and the Predator XP has an inverted V-tail. Historical commercial satellite imagery suggests that the deployment may have occurred sometime between mid-October and mid-December 2017.
The Predator XP and the CH-4 drones are both relatively new acquisitions for Saudi Arabia and the UAE. Saudi Arabia unveiled an armed CH-4 drone at the 50th anniversary celebrations of King Faisal Air Academy in Riyadh in January 2017. Although the UAE purchased the Predator XP drones in 2013, General Atomics only completed delivery of the systems in February 2017. Both countries are believed to also operate the Chinese-made Wing Loong I surveillance and strike drone. Historical satellite image suggests that Jizan briefly served as a base for a Wing Loong I drone in July 2015. The UAE recently acquired the Wing Loong I's successor, the Wing Loong II.
The drones at Jizan are the most capable non-U.S.-operated drones deployed to date by Saudi Arabia and the UAE. Although both countries have previously deployed Wing Loong I drones to support the campaign against Houthi rebels in Yemen, the Predator XP and Caihong-4 are larger and more capable systems than the Wing Loong I. For example, while the Wing Loong I's range is limited to line-of-sight communications, the Predator XP includes a satellite communications capability that enables more long-distance operations. As with previous drone deployments, the presence of the Predator XP and CH-4 at Jizan suggests that the conflict in Yemen is again a Saudi and Emirati testing ground for these new capabilities.
The Jizan image underscores both the rapid turnaround from delivery to deployment for these drones and the proliferation of more capable strike-capable drones. (It is likely the first time that U.S.- and Chinese-made strike-capable drones have been deployed to the same base.) In its bid for China's 2018 National Award for Science and Technology Progress, CASC revealed that more than 30 CH-4 drones have been exported to Saudi Arabia, Iraq, and "other countries."
---
Mianwali, Pakistan
32°33'47N 71°34'15″E
January 5, 2018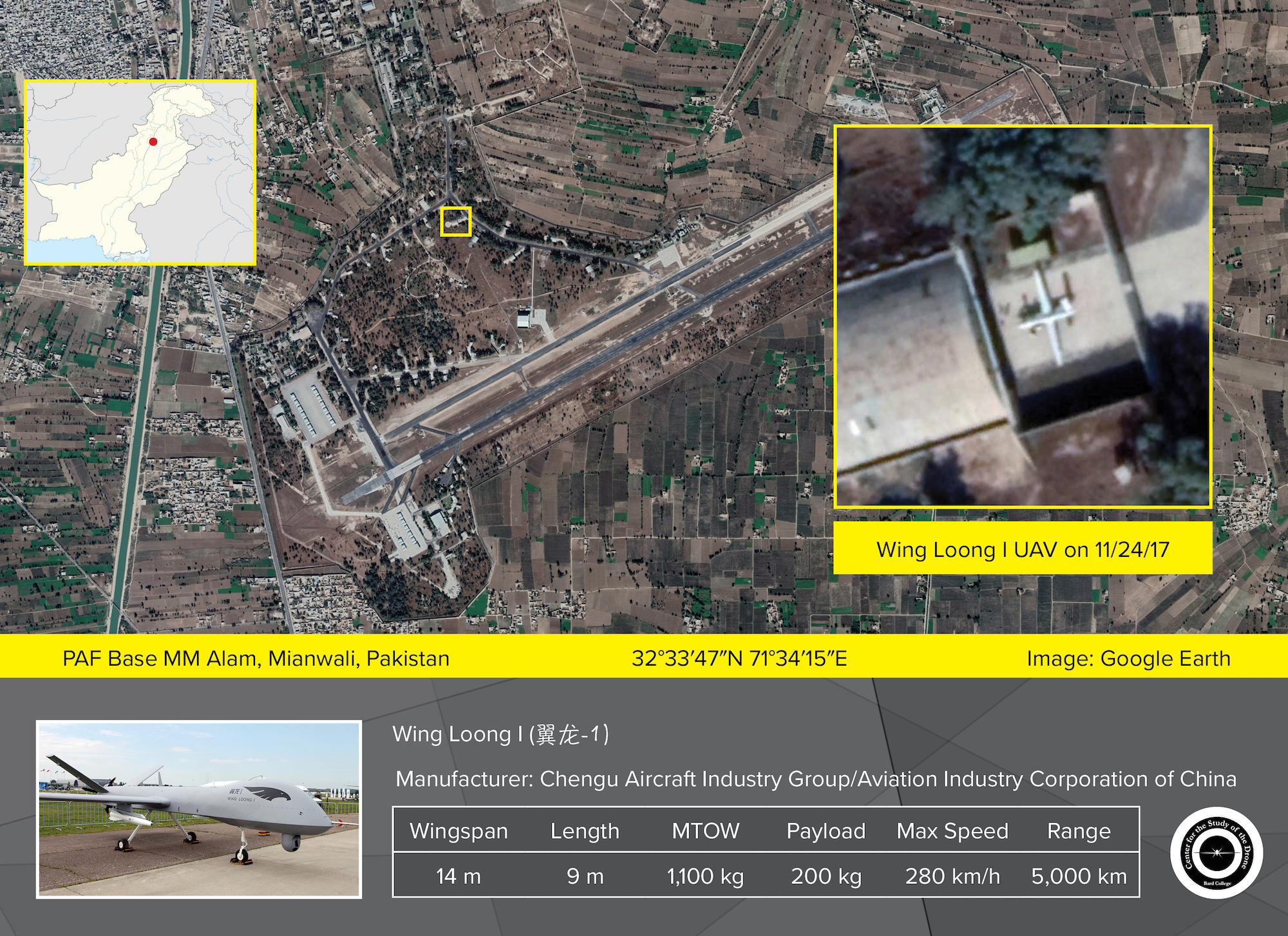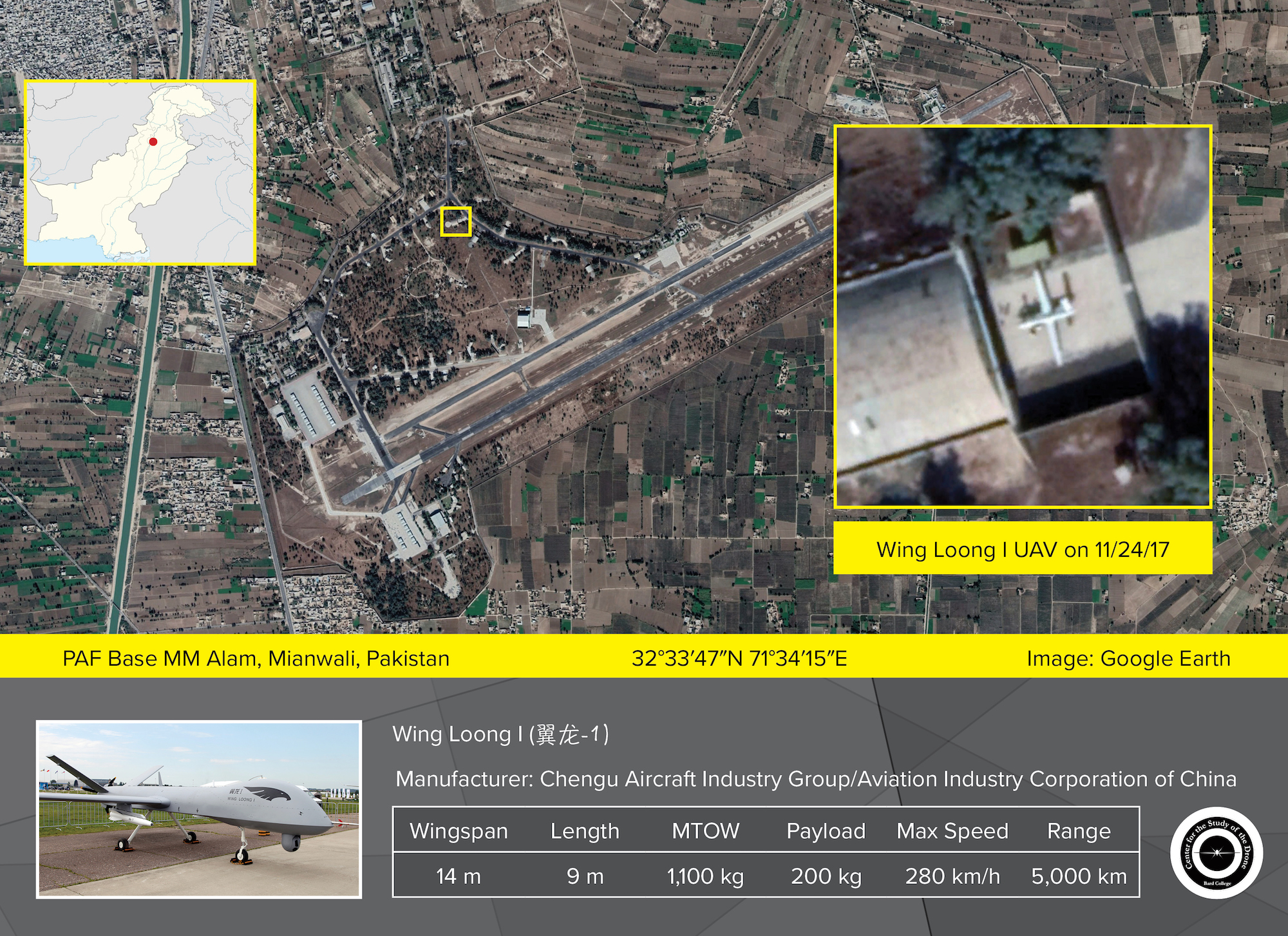 By Dan Gettinger
A November 24, 2017 satellite image of PAF Base M.M. Alam in Mianwali, Pakistan shows what appears to be a medium-altitude long-endurance drone, possibly a Chinese CAIG Wing Loong I. In the image, which is accessible at TerraServer, the aircraft is parked outside a hangar near the center of the base. It is the first sign in 18 months of Pakistan's efforts to acquire armed drones from China.
The drone in the image appears to be a Wing Loong I. This assessment is based on its wingspan—which we believe to be around 14 meters— and its V-tail, as well as a comparison with other satellite images of the Wing Loong I elsewhere in the world. No drones or supporting equipment are visible in earlier satellite images of the base, suggesting that this drone may have arrived at Alam Air Base sometime in late November. The fact that there is no evidence of additional drones at the base, along with the fact that it is painted white—not the battlefield gray like other, deployed Wing Loong drones—might suggest that it is a test platform, not an operational airframe. This would not be the first time that a Wing Loong prototype has been sent to Mianwali; a drone that appeared to be a Wing Loong I crashed during an experimental test flight near Mianwali in June 2016.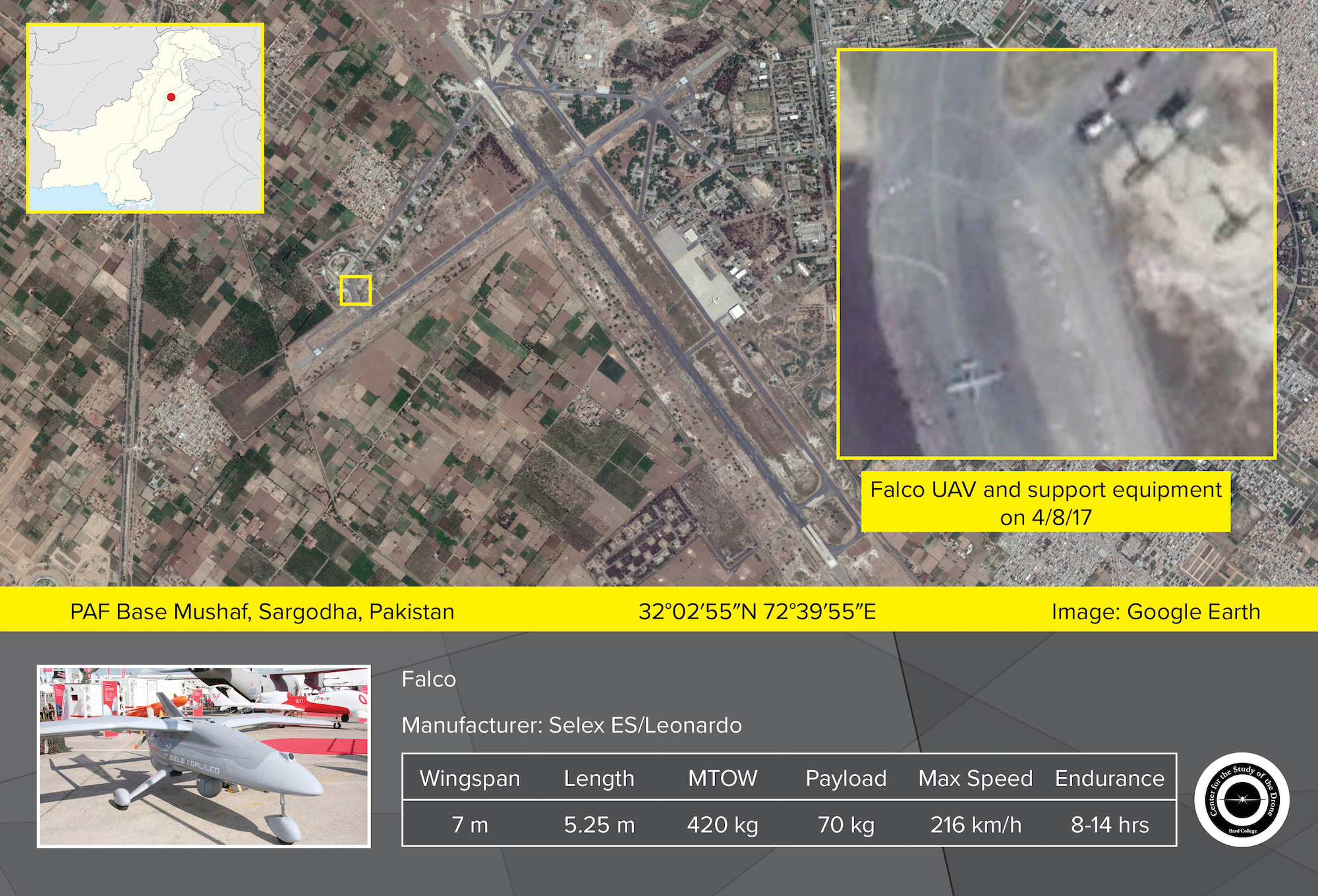 Pakistan has long expressed an interest in acquiring highly capable drones. It has deployed a small fleet of Falco mid-sized surveillance drones, which is produced in collaboration with Italian defense firm Leonardo, to PAF Mushaf, an air base around 115 kilometers southeast of PAF Mianwali. Pakistan's Air Force also operates an indigenous mid-sized surveillance drone, the GIDS Shahpar, which entered into service in 2013. In 2015, the armed forces unveiled the Burraq, a mid-sized strike-capable drone closely based on China's CASC CH-3A. The acquisition of a heavier multi-role drone like the Wing Loong I would allow Pakistan to carry out longer and more complex missions than it can with its current fleet of unmanned systems. In July 2017, Pakistan's Aviation Design Institute announced that it was working on a medium-altitude long-endurance drone, though it will be several years until that system is ready for deployment.
China is an active exporter of strike-capable drones to countries around the world and has had a long-running interest in developing new unmanned systems. (Some of these exports were first revealed in previous drone bases updates). In December, China announced that it had successfully delivered its first Wing Loong II drones, a larger variant of the Wing Loong I, to an unnamed foreign customer. The PLA has also deployed a number of Wing Loong Is—known domestically as GJ-1—within China.
---
Semnan, Iran
35°23'46.61"N 53°39'50.66"
September 4, 2017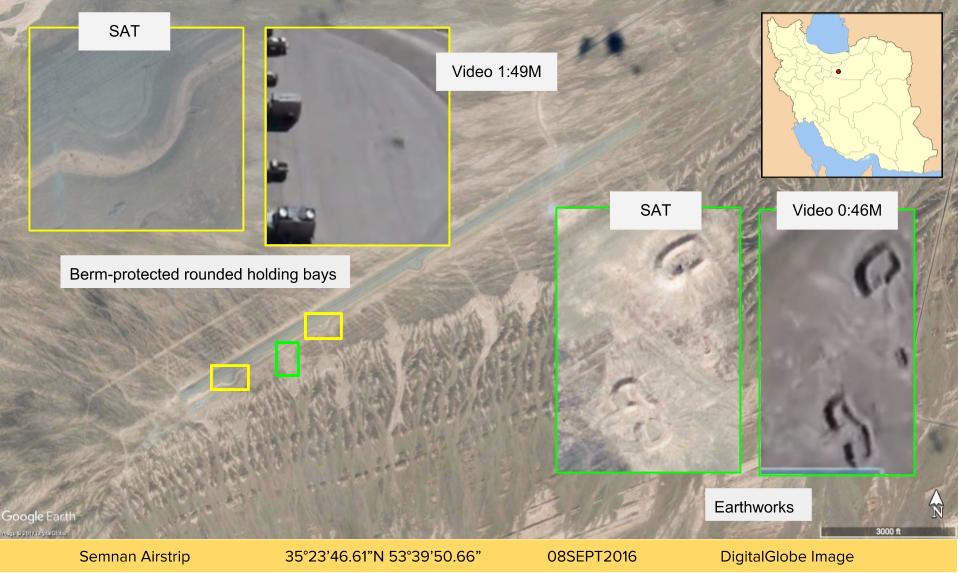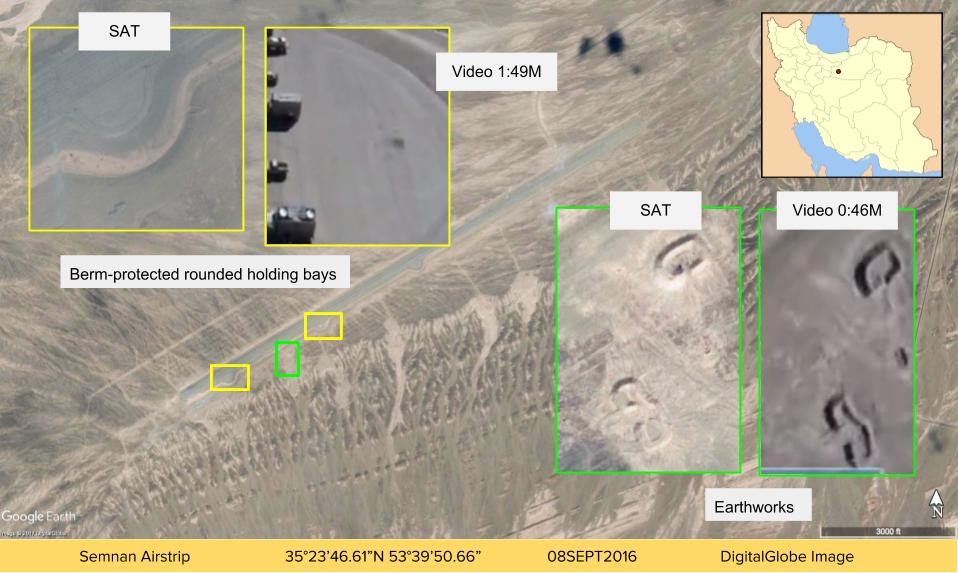 By Dan Gettinger
In a video published on September 3, 2017, Brigadier General Farzad Esmaili, the commander of Iran's Air Defense Force, announced that his service had unveiled a new drone base in an "undisclosed location." The video showed an airstrip brimming with Iranian reconnaissance drones like the Ababil-4 and Mohajer-4, as well as several Karrars, a variant of the U.S. MQM-107A target drone. Based on satellite imagery and footage from the video, we have concluded that the airstrip is located outside of Semnan, a city in northern Iran that is approximately 130 miles east of Tehran. In January, Semnan was the site of an Iranian medium-range ballistic missile test.
Both the video and satellite imagery show that the airstrip features multiple rounded holding bays and is contained by a berm on the southeastern side. The imagery shows an aging runway that lacks defining threshold, designation, or centerline markings. The airfield does not appear to contain hangars or other infrastructure, indicating that it may only be a temporary installation.
https://www.youtube.com/watch?time_continue=1&v=Te3aAH3ZF18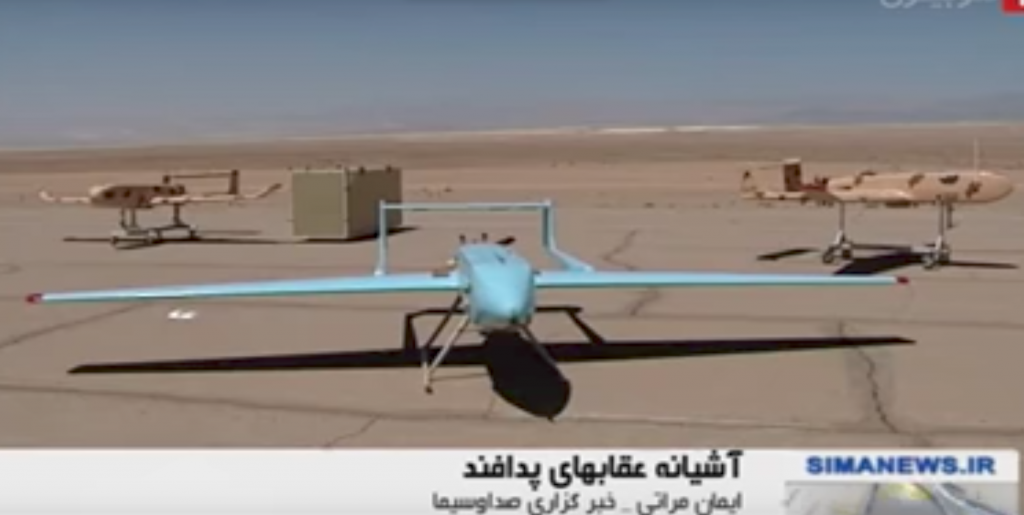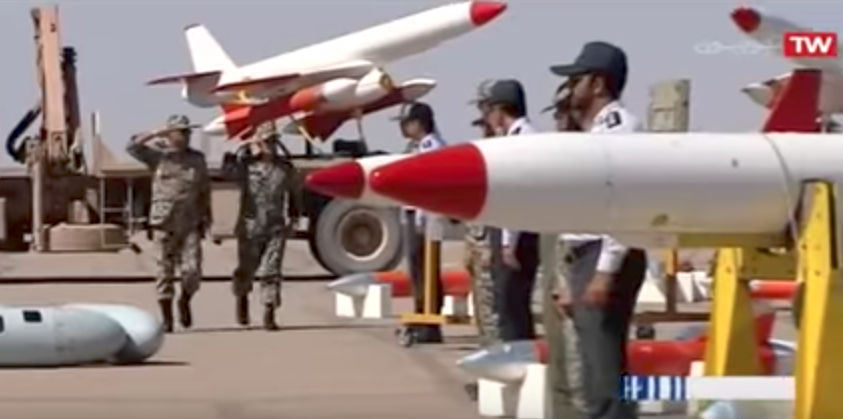 The airstrip appears to serve little practical purpose from a strategic point of view. It is situated far from any of Iran's borders or areas where Iranian drones have been active in the past. Rather, the video is meant to showcase Iran's drone and air defense capabilities at a time when Iranian and U.S. drones operating in Syria and the Persian Gulf have heightened tensions between the two countries. Brigadier General Farzad Esmaili also announced that Iran had intercepted a U.S. RQ-4 Global Hawk drone near its borders on August 26, the latest incident in a string of tit-for-tat interactions featuring Iranian and U.S. drones. In June, the U.S. shot down two Iranian-made Shahed-129 strike-capable drones in Syria. In early August, an Iranian drone flew dangerously near a U.S. fighter jet that was preparing to land on the USS Nimitz aircraft carrier in the Persian Gulf. A second similar interaction between the U.S. aircraft carrier and an Iranian drone occurred days later. American Navy commanders have said that they will shoot down any Iranian drones that endanger U.S. forces and Iran has vowed that it will continue drone patrols in the Gulf. Speaking on the video, Esmaili warned that anyone who attacked Iran would not "escape unscathed" and alluded to Iran's capture of an Israeli Hermes drone and the U.S. RQ-170 spy drone.
---
Uthman, Egypt
29.331637N 25.350576E
March 31, 2017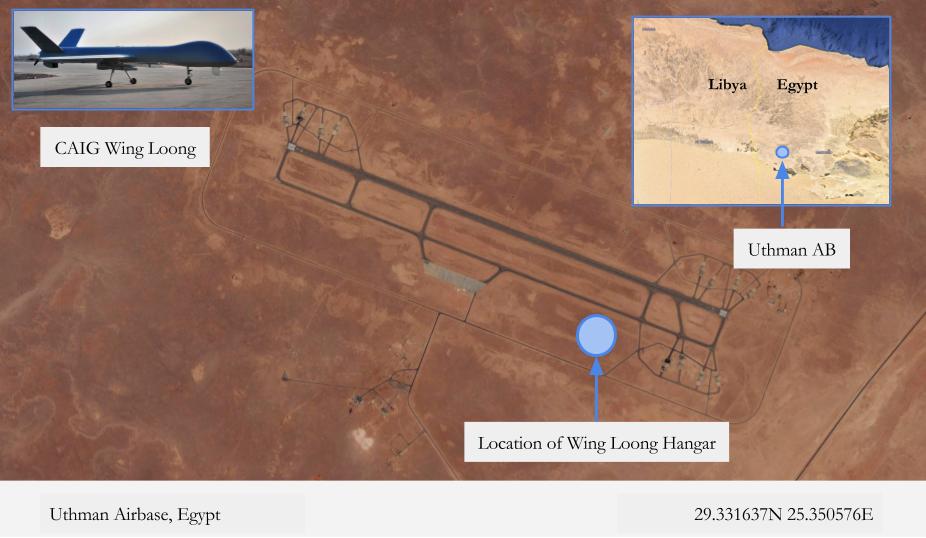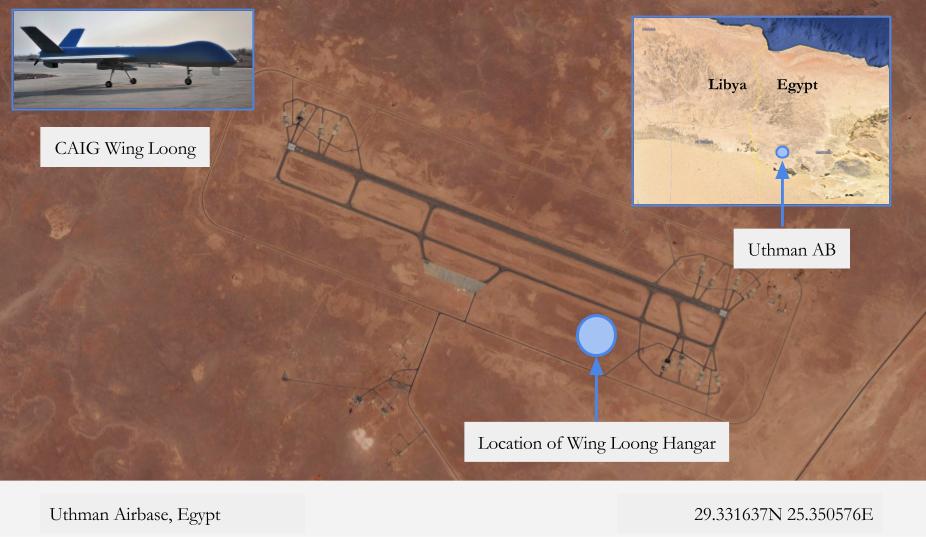 By Dan Gettinger
Multiple satellite images from February 2017 confirm that Egypt has deployed Wing Loong drones to an airbase on the border with Libya. A February 23, 2017 image available on TerraServer shows three Chinese-made Wing Loong surveillance and strike drones parked at Uthman Airbase. The base is situated in the northwestern Matrouh Governorate, approximately 25 miles north of the Siwa Oasis and 43 miles east of Egypt's border with Libya. The deployment to Uthman marks the second known basing for the Egyptian drones; at least four Wing Loongs were deployed to Bir Gifgafa base in the Sinai in November 2016.
The first drone appears at Uthman in a February 18, 2017 image. The drone can be seen parked outside a newly-constructed aircraft hangar near the eastern end of the base. Then, in a February 23 image, three drones appear in the same spot. Activity around the hangar began to appear as early as a December 21, 2016, suggesting that the drones may have arrived before mid-February. The fuselage length and wingspan of the aircraft indicate that the drones are Chinese-made Wing Loongs. Construction at Uthman Airbase has been underway since sometime in 2016, likely in order to accommodate the new drones and personnel. In addition to the new drone hangar, the main runway and taxiways have been repaved and additional security perimeters have been added.
The drone deployment to Uthman likely reflects Egypt's push to secure its 1,000-mile-long border with Libya against smugglers and militants. Satellite images available on Google Earth and TerraServer indicate that other airbases in Western Egypt—Misheifa, Habata, and Sidi Barrani—have received similar upgrades to those at Uthman, though apparently without the addition of new Chinese-made drones.
---
Lingshui, China
18°29′37″N 109°59′21″E
Imagery Update: November 20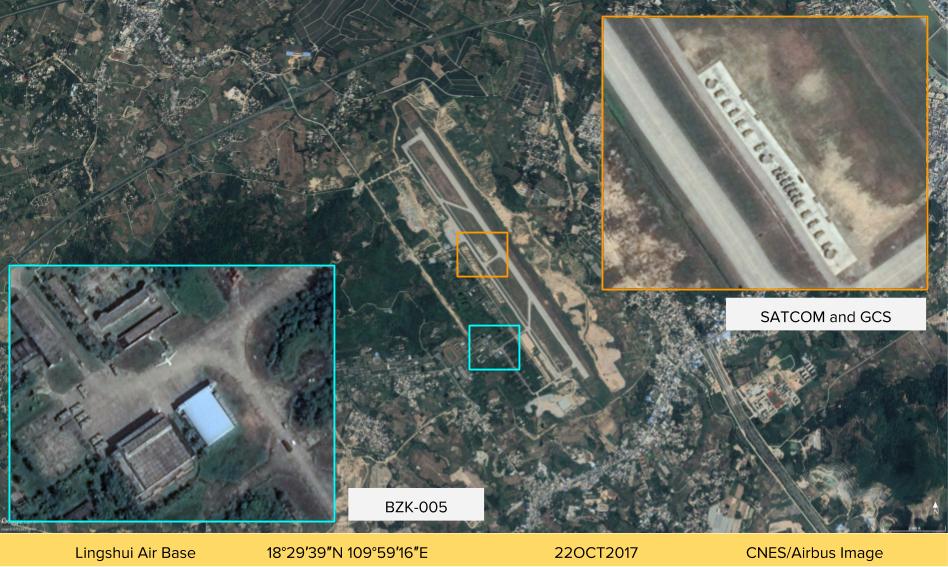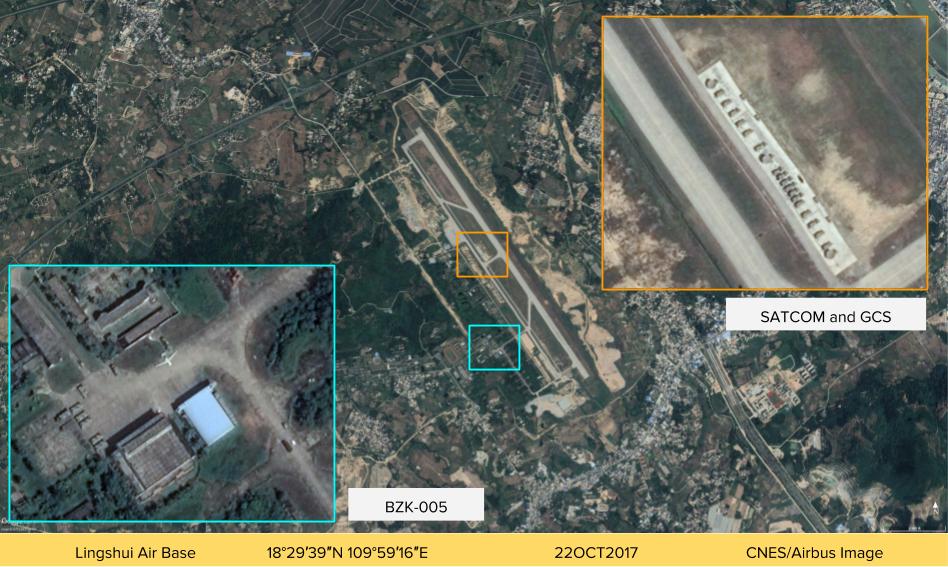 March 24, 2017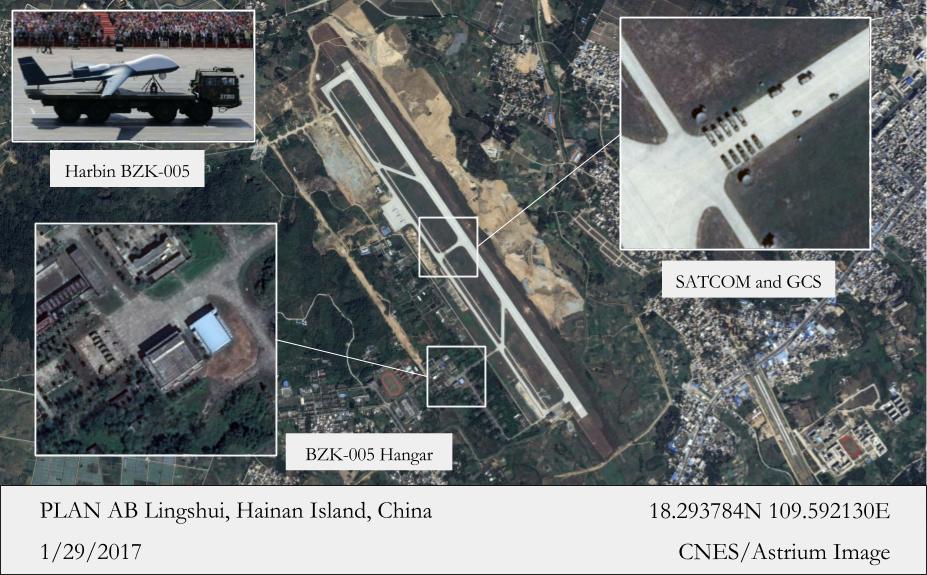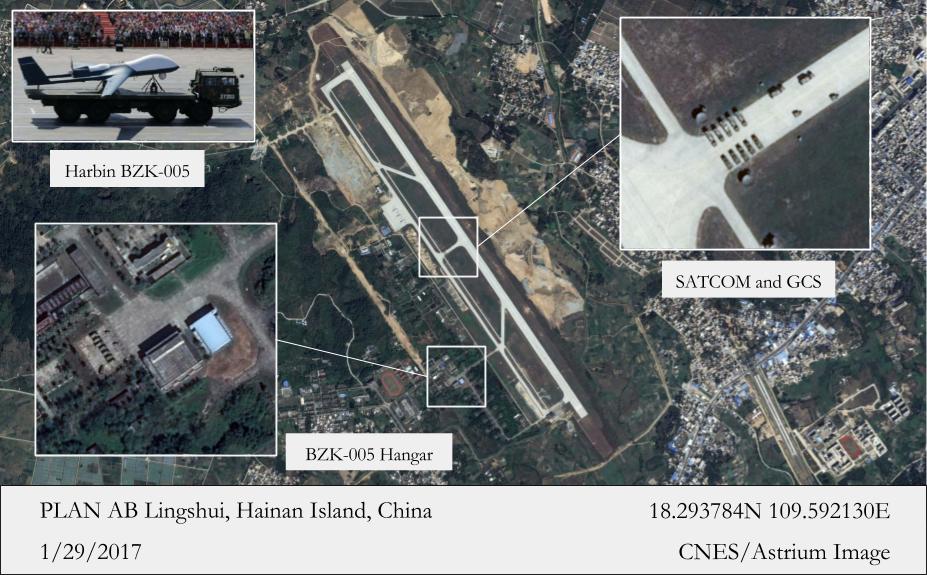 By Dan Gettinger
Several satellite images confirm China's deployment of a BZK-005 long-range surveillance drone to Lingshui Airbase on Hainan Island. The images, which are available on Google Earth and TerraServer, reveal that the drone has been deployed to Lingshui since at least late 2015. Although the BZK-005 was also sighted in a April 2016 image at Woody Island some 200 miles southeast of Lingshui, the lack of satellite communications equipment at Woody and the absence of the BZK-005 in multiple images of Woody since April suggest that the Island is not yet a permanent base for the drone. Rather, it appears as though Lingshui is, for the moment, the primary station for the BZK-005 in the region.
Multiple satellite images taken between in December 2015 and until January 2017 show the BZK-005 drone and associated command and control and communications equipment parked at Lingshui Airbase. The most recent image, dated January 29, 2017 and accessible on Google Earth, shows a pair of satellite communications and ground control stations used to control the BZK-005 situated near the main runway at Lingshui. Four images that are available on TerraServer from December 14, 2015, June 13, 2016, September 26, 2016, and December 26, 2016 show the BZK-005 parked outside or near an aircraft hangar.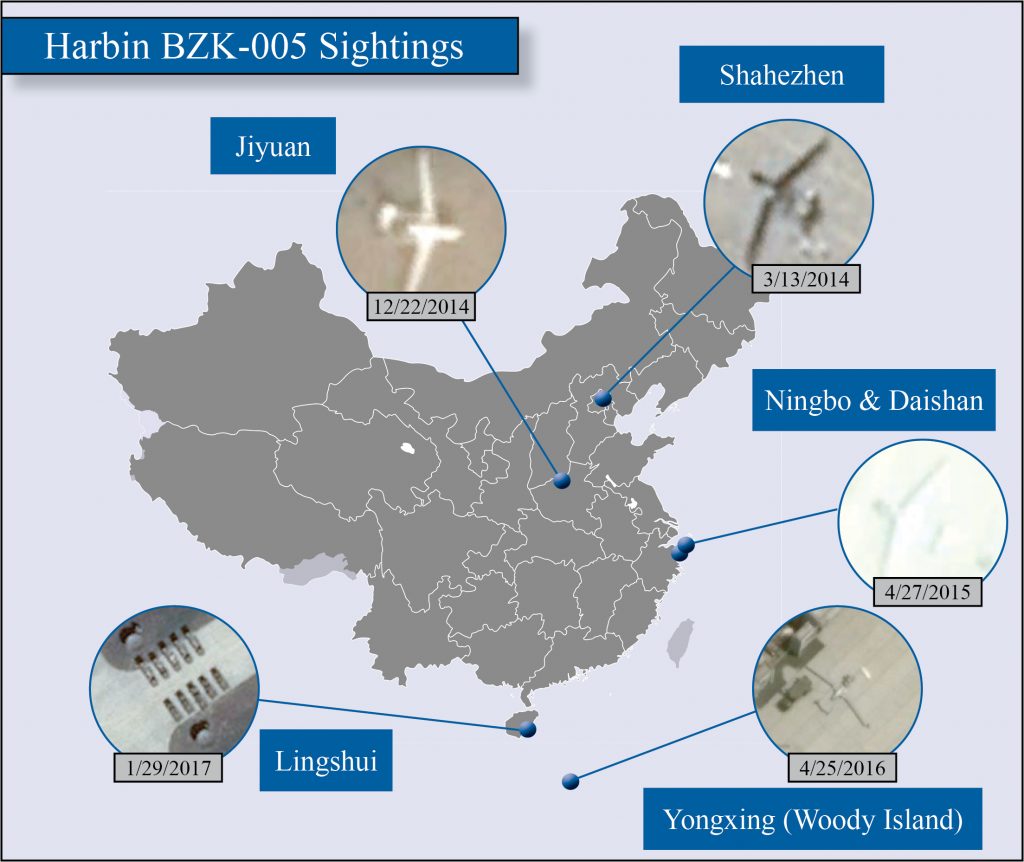 The BZK-005 is a medium-altitude long-endurance surveillance drone developed in the early 2000s by Beijing University of Aeronautics & Astronautics and Harbin Aircraft Industry. Other BZK-005s have been previously spotted at PLA Shahezhen (Beijing), PLANAF base Daishan Island, and PLANAF Woody Island in the South China Sea. Unlike some other BZK-005s that have an alternating gray and white paint scheme, this particular drone has an all white fuselage and wings. It is most similar to a BZK-005 that was located at PLAAF base Jiyuan in Henan Province for most of 2014. It also matches images of BZK-005s located first on the PLAN air base on Daishan Island and subsequently at Ningbo airbase.
Lingshui airbase is one of several bases belonging to the PLAN South Sea Fleet on Hainan Island, which abuts the South China Sea. In addition to the BZK-005, it hosts manned maritime surveillance aircraft and fighters. The January 27 image of Lingshui shows that the air base is undergoing considerable reconstruction. The runway and main taxiways have been refurbished over the past several years and updates to the main aircraft aprons are currently under construction. The deployment of the BZK-005 to Lingshui mirrors the deployment of the long-range surveillance drone to Daishan and Ningbo, home of the East Sea Fleet.
---
Bir Gifgafa, Egypt
30°24′26″N 33°9′15″E
February 4, 2017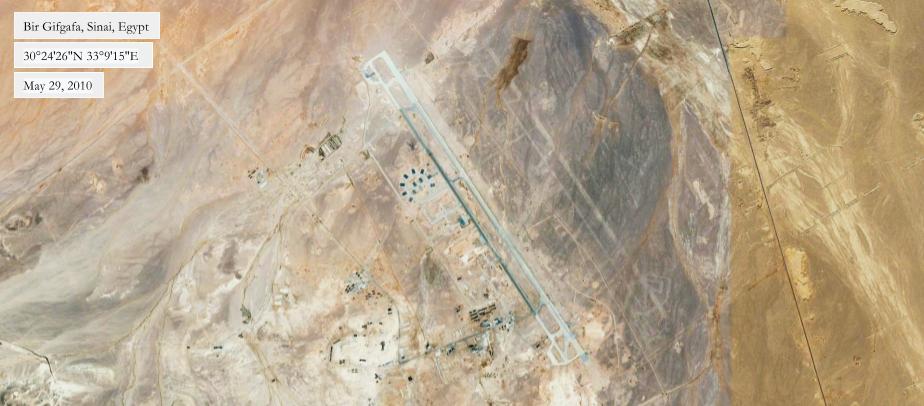 By Dan Gettinger
A November 13, 2016 satellite image shows two Chinese-made Wing Loong drones at Egypt's Bir Gifgafa Airfield in the Sinai Peninsula. The image, which is available on TerraServer, confirms Egypt's acquisition and active use of multiple Chinese armament-capable drones. The image, which also shows a large-scale effort to refurbish Bir Gifgafa, may suggest an expansion Egypt's military presence in the Sinai and Egypt's willingness to use new tools against the Islamist insurgency on the peninsula.
The image shows two Wing Loong aircraft parked on an apron in the center of Bir Gifgafa. The aircraft are determined to be Wing Loongs by their 9-meter-long fuselage and 14-meter-long wingspan. The Wing Loong (翼龙无人机) is a medium-altitude long-endurance drone that was developed for surveillance and strike missions. Support equipment, including what appear to be two transport cases and a ground control station, is located along the edge of the apron. A large hangar approximately 57-meters-wide and 70-meters-long—the only completed structure at the airfield— is located nearby. Historical imagery suggests that the deployment took place at some point between mid-October and mid-November 2016. In early November, photos circulated on social media purporting to show an Egyptian Wing Loong in a large hangar, though it has not been confirmed whether this was at Bir Gifgafa.
The November 2016 image shows that Bir Gifgafa is undergoing significant reconstruction. In addition to the completed Wing Loong apron and hangar, five revetted hardstands and eight reinforced aircraft shelters are under construction. A large aircraft apron and terminal are also under construction on the northeastern end of the airfield, potentially for civilian use. As of November, no other military aircraft appear to be deployed to the airfield. Several posts on Facebook indicate that the company responsible for the construction is Egypt's Orascom Construction and it's U.S.-based subsidiary, Contrack Watts.
The Wing Loong deployment to the Sinai and reconstruction of Bir Gifgafa are in line with a growing Egyptian military presence on the peninsula. Following the withdrawal of Israeli troops from the Sinai and Camp David Accords in 1978, the Sinai was divided into three zones, and Egypt was barred from deploying substantial military forces to most of the region. Bir Gifgafa was only permitted to receive Egyptian transport aircraft, and was largely abandoned. In the wake of the 2011 Arab uprising, however, the Sinai experienced a rise in Islamist militant activity. Israel began permitting Egyptian military forces to deploy to the region. In January 2017, the Associated Press reported that Israel has recently developed a policy that allows Egypt to quickly deploy new forces to the Sinai to fight the insurgents.
Update 2/28/17
A February 9, 2017 image shows four Wing Loong drones at Bir Gifgafa, two more than were originally believed to have been deployed to the base. A fifth drone may also be active. 
---
Zarqa, Jordan
December 1, 2016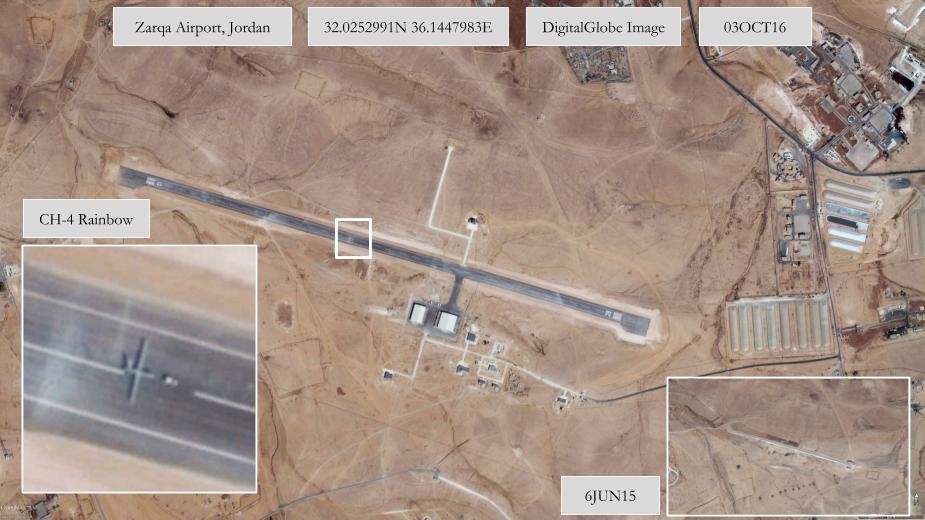 By Dan Gettinger
A satellite image from October 3, 2016 shows a Chinese-made CH-4 Rainbow surveillance and strike drone at Zarqa Airport in Jordan. The image, which was accessed on Google Earth, offers the first visual confirmation of Chinese-made drones operating in Jordan. It shows a CH-4 taxiing on the single runway at the airfield. The CH-4 is a medium-altitude long-endurance drone made by China Aerospace Science and Technology Corporation. It resembles the U.S. MQ-9 Reaper, although it has a slightly shorter wingspan and fuselage than the Reaper. The image confirms long-held suspicions that Jordan is either testing or already operating Chinese drones.
Zarqa Airport as it appears in the October 3 satellite image corresponds to footage from a July 2016 video showing the CH-4 undergoing tests at an undisclosed airport. The video, which was featured in our August update of CH-4s at China's Zhongwei airport, is a mashup of footage taken at multiple airports. The hangars and other airport infrastructure in the satellite image align with those that are visible in the July video. The July video shows a CH-4, at times armed with air-to-ground missiles, taking off and landing at the airfield. The video accompanied an article that was published in multiple Chinese outlets that reported that an undisclosed country had purchased the CH-4 Rainbow. The article reports that the unnamed buyer was a mountainous country with an average elevation of 1,000 meters that required a drone that could operate in high summer temperatures. Jordan's average elevation is 812 meters.
(Zarqa Airport footage begins at minute 2:22.)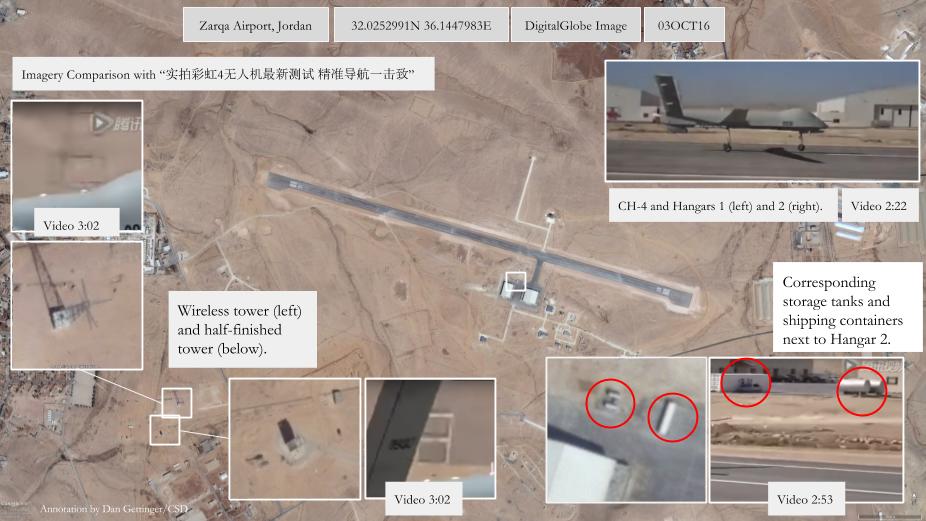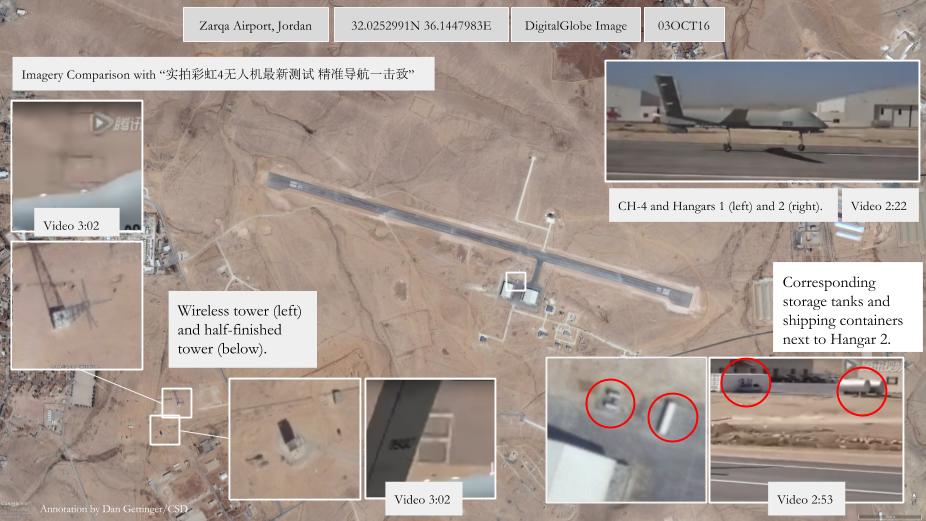 The satellite image also shows that the airfield has been refurbished in the past year. The runway has been paved and two large new hangars, as well as several administrative buildings, have been added. Construction of a new control tower is underway. Zarqa Airport is located nearby several Jordanian military installations, including King Abdullah II Air Base.
Jordan has long sought to acquire drones from the United States. In 2014, the Obama administration denied Jordan's request for unarmed Predators XP drones. In March 2015, a group of Republican-led U.S. lawmakers urged the administration to lend Jordan the drones for use against ISIL. Further east, at Muwaffaq Salti Air Base, the U.S. has set up a base from which to fly a number of both Predator (or Gray Eagle) and Reaper drones as part of the counter-ISIL air campaign. Although the acquisition of the CH-4 has not been confirmed by Jordan, the reports in Chinese media of the CH-4 sale, the infrastructure upgrades at Zarqa, and the continued presence of the CH-4 from July to October suggests that Jordan is indeed the latest country in the Middle East to purchase armed Chinese drones.
---
Sharurah, Saudi Arabia
November 18, 2016
Imagery updated to show four, not three, Wing Loongs at Sharurah in October 2016.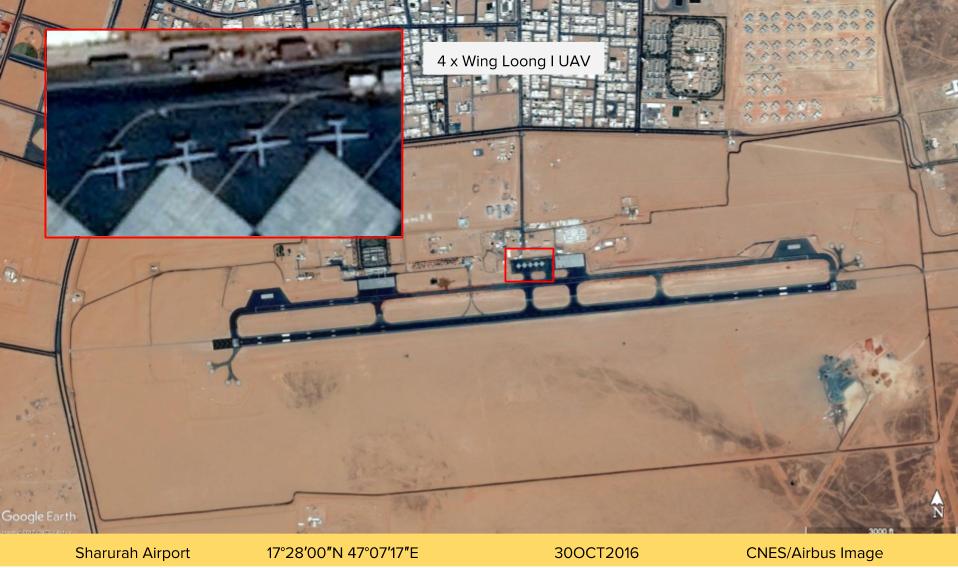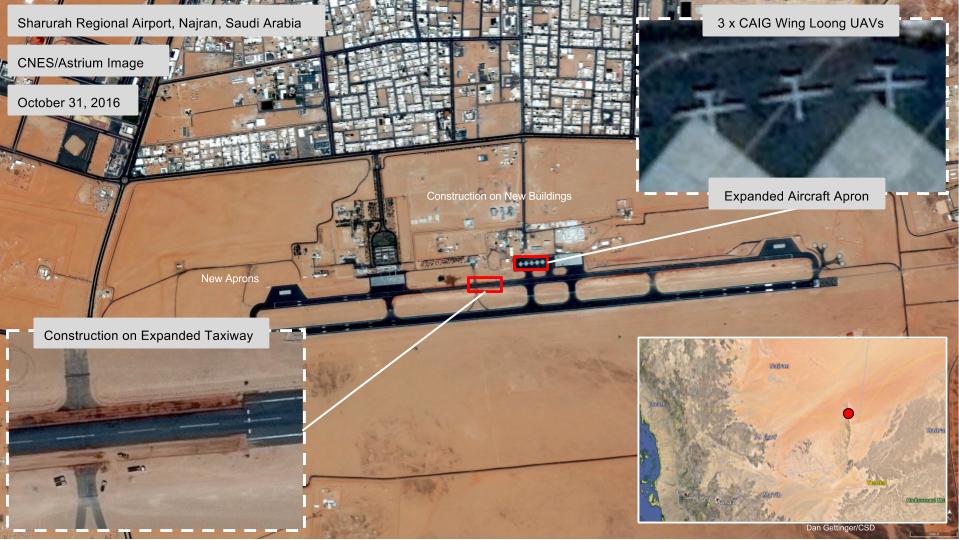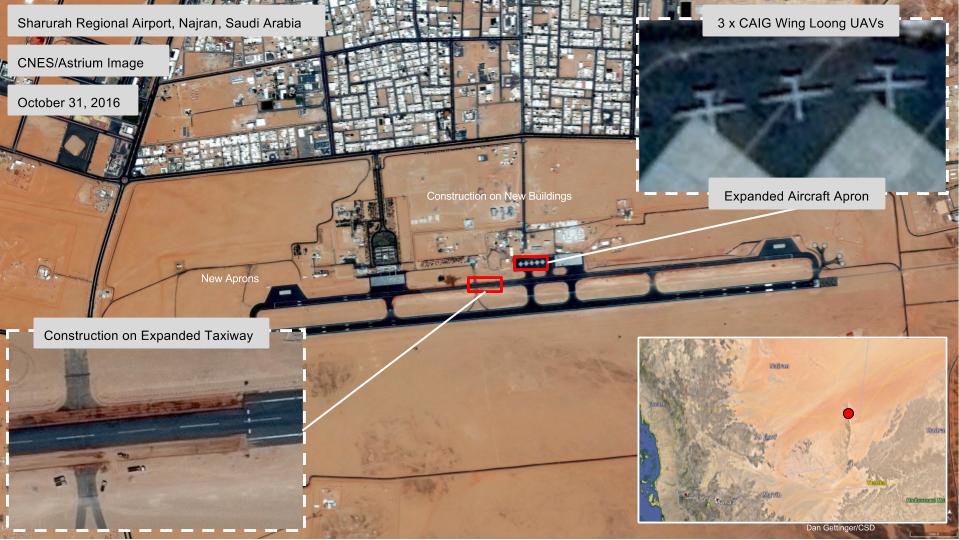 By Dan Gettinger
A satellite image from October 31, 2016 shows that multiple strike drones have been deployed to Sharurah Regional Airport in Najran Province, Saudi Arabia, near the border with Yemen. The image, which was accessed on Google Earth, shows three Chinese-made CAIG Wing Loong (also known as Pterodactyl) medium-altitude long-endurance surveillance and strike drones. The image also shows multiple manned aircraft and, as well as new construction to accommodate the increased military presence. The drones likely belong to the Saudi military, although the United Arab Emirates also flies the Wing Loong and is suspected of operating drones from Saudi air bases. The number of Wing Loong drones in the image suggests that the Chinese-made drones are playing a larger role in the Saudi-led air campaign over Yemen than previously believed.
The drones in the satellite image can be distinguished by the narrow fuselage and 45-foot wingspan. The Wing Loong drones are similar in size to the U.S. MQ-1 Predator and are smaller than the U.S. MQ-9 Reaper (66-foot-wingspan) and the Chinese CH-4 Rainbow (60-foot-wingspan). The Wing Loong has a V-shaped tail, which can be clearly identified in the satellite image. The image shows that the Saudi military has repaved and expanded the aircraft apron where the Wing Loong drones are parked. Construction is also underway to widen an aircraft taxiway that is parallel to the runway. The new threshold and boundary markings suggest that it could potentially serve as an auxiliary runway to accommodate the extra traffic. Additional aircraft parking aprons have been added on both ends of the taxiway. AH-60 Apache attack helicopters and UH-60 Black Hawks are also reportedly deployed to the base. Adjoining the military portion of the airfield, a host of temporary shelters have been added and four multi-story buildings are under construction. Sharurah Regional Airport is a mixed civil-military facility.
Reports that Saudi Arabia planned to acquire Wing Loong drones go back to April 2014 and as recently as September 2016. A July 2015 satellite image of Jazan Regional Airport in southwestern Saudi Arabia appeared to show a single Wing Loong deployed there for operations over Yemen. As of August 2016, however, the aircraft and support equipment have been removed from Jazan. In September 2016, images circulated on social media that appeared to show a downed Wing Loong drone in western Yemen.
#PT Images confirm a (Saudi ) Wing Loong crashed in Yemen. Wing long also known as WD-1. pic.twitter.com/Q6dQ5ByMtu

— Green lemon (@green_lemonnn) September 26, 2016
---
Bizerte, Tunisia
November 17, 2016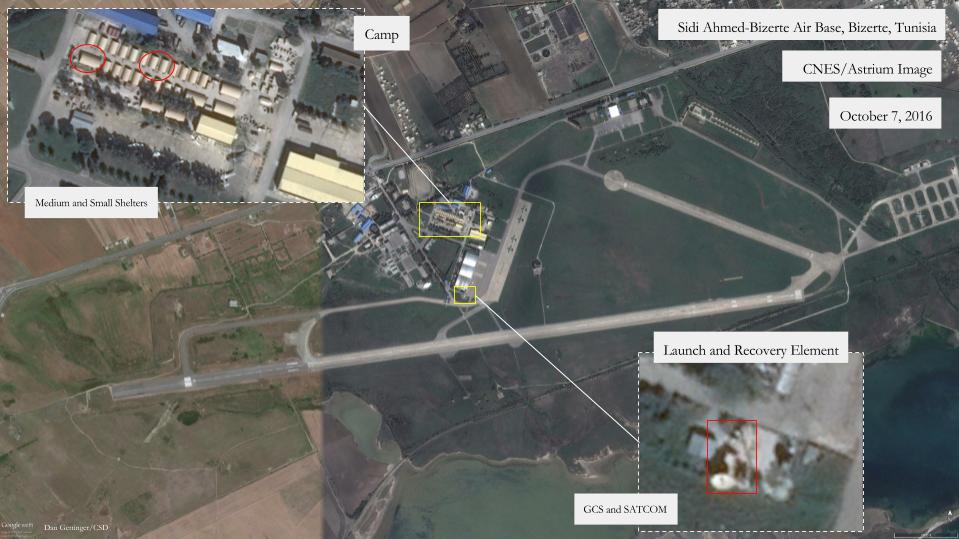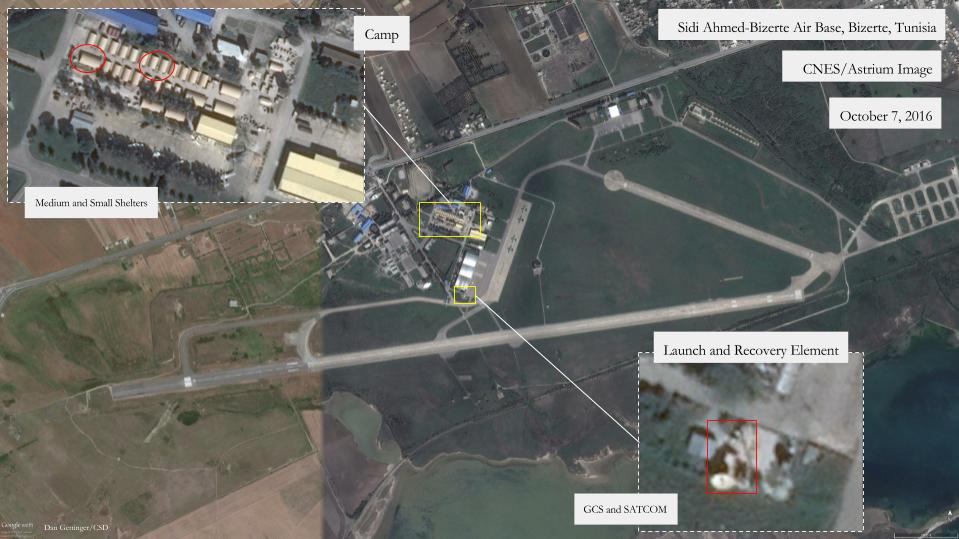 By Dan Gettinger
A satellite image from October 7, 2016 appears to show the previously undisclosed location of U.S. surveillance drones in Tunisia: Sidi Ahmed-Bizerte Air Base in the northwest of the country. The image, which was accessed on Google Earth, follows a report from the Washington Post that the United States deployed drones Tunisia in June 2016. According to the Post, which did not reveal the location of the U.S. drone operations, the unarmed drones fly surveillance missions over ISIL strongholds along the Libyan coast. Although the October 7 satellite image does not show any drones, it does show the ground control stations and satellite communications equipment that are required to operate drones, as well as rows of recently added troop shelters. This suggests that the U.S. drone deployment in Tunisia is at Sidi Ahmed.
The deployment consists of a launch-and-recovery element located on the edge of the tarmac and a bivouac set back slightly from the airfield. The launch-and-recovery element has been established on a newly-paved apron adjoining three permanent aircraft hangars. It includes a satellite communications dish and a ground control station. The bivouac includes 21 small shelter systems, a standard 32.5 x 20-foot tent for accommodating troops, and six medium shelter systems, which are typically used as dining halls, store rooms, or kitchen areas. According to the Post, around 70 personnel have been deployed to support the drone mission in Tunisia. The arrangement of the shelters depicted in the satellite image corresponds to photos published on social media that reportedly show U.S. soldiers and equipment at Sidi Ahmed. The images show a row of shelters and several soldiers.
#Tunisia: Photos circulating on social media allegedly showing #US troops & material at the Sidi Ahmed TAF base, #Bizerte pic.twitter.com/EkO5SZINeY

— MENASTREAM (@MENASTREAM) November 1, 2016
The Wall Street Journal reported in July 2015 that the U.S. was looking for a drone base in a North African country to supplement the drones that already based at Sigonella, Sicily. Drone flights from Sicily were frequently cancelled due to poor weather over Mediterranean. Sidi Ahmed is about as far from Libya as one can get within Tunisia. It's approximately the same distance to the Libyan border from Sidi Ahmed as it is from Sigonella. Sidi Ahmed is Tunisia's largest air base and home to the country's fleet of 12 F-5 fighter aircraft. There are military and civilian airfields that are closer to the Libyan border, but they would require the U.S. to invest in costly security upgrades in order to house drone operations. Sidi Ahmed Air Base is already a restricted facility, and the base is large enough to accommodate the U.S. troops and aircraft.
---
China: Ningbo and Daishan
October 2, 2016
By Dan Gettinger
Satellite imagery from July 2016 suggests that some Chinese military drones appear to be operating out of an additional airfield on the East China Sea coast. The image, taken on July 20, 2016 and accessed using Google Earth, reveals that mobile ground control stations and support equipment required to operate drones have been recently added to Ningbo airbase, a PLAN base in the city of Ningbo. The equipment at Ningbo matches the equipment that had been located at other Chinese military bases where drones have been deployed in the past, including nearby Daishan Island. In fact, some of the equipment has been placed on a recently-paved apron at the center of Ningbo airfield in nearly exactly the same manner that it was deployed at Daishan. This, combined with what appears to be a camouflaged command center, suggests that at least some drones are operating out of Ningbo.
The July image of Ningbo does not, however, show any actual drones. But this would not be the first time that drones have flown out of Ningbo. A satellite image of Ningbo airbase from May 30, 2011 shows three ASN-209 Silver Hawk tactical surveillance drones on mobile launchers. A second image, this one from December 2012, shows another ASN-209 being towed from the runway. Additional images accessible on TerraServer place ASN-209 drones at Ningbo until December 2013. Ningbo is home to China's East Sea Fleet, the oldest of China's three main maritime commands. The East Sea Fleet is responsible for the majority of the East China Sea and the Taiwan Strait. In the Office of Naval Intelligence's 2015 assessment of the PLAN, it argues that "UAVs will probably become one of the PLA(N)'s most valuable ISR assets." One of the earliest indications of PLAN drone operations was in June 2012, when a Japanese P-3 maritime patrol aircraft took a photo of what appeared to be an ASN-209 flying above a PLAN frigate during exercises in the east Philippine Sea.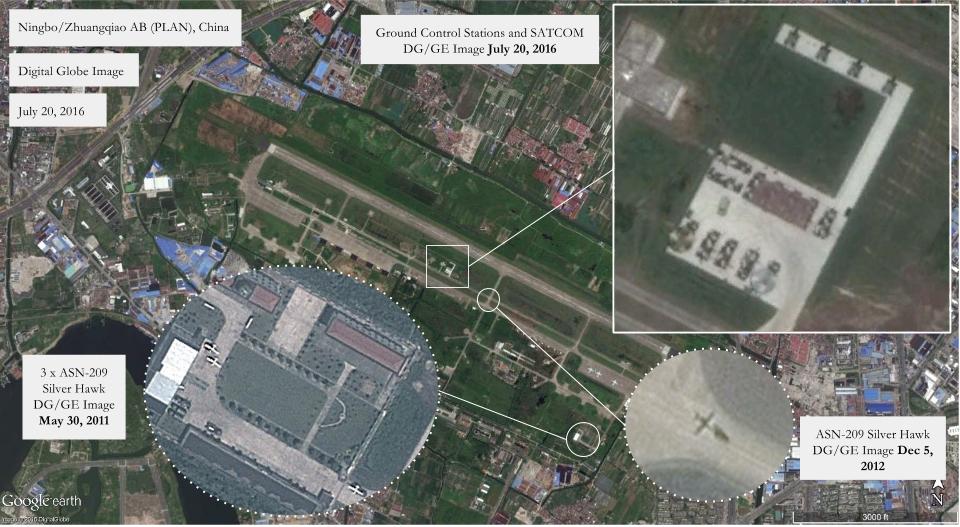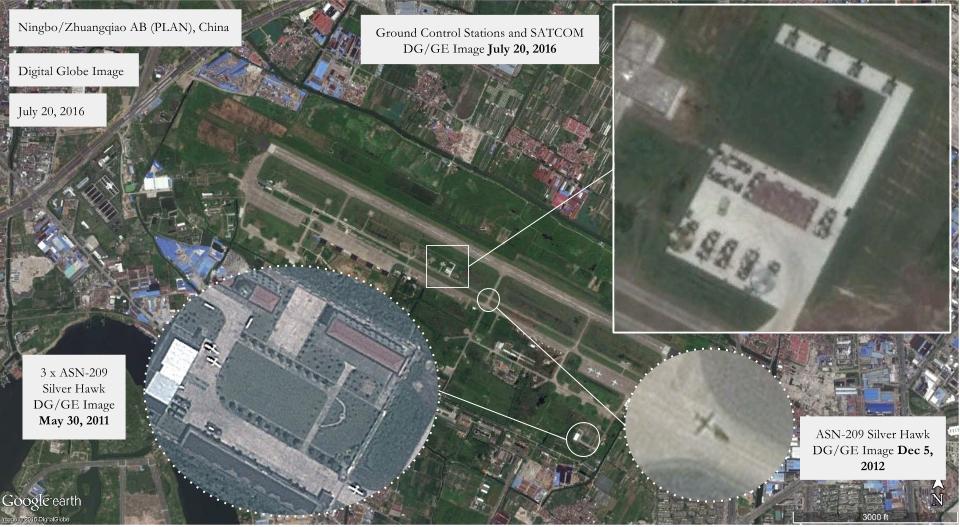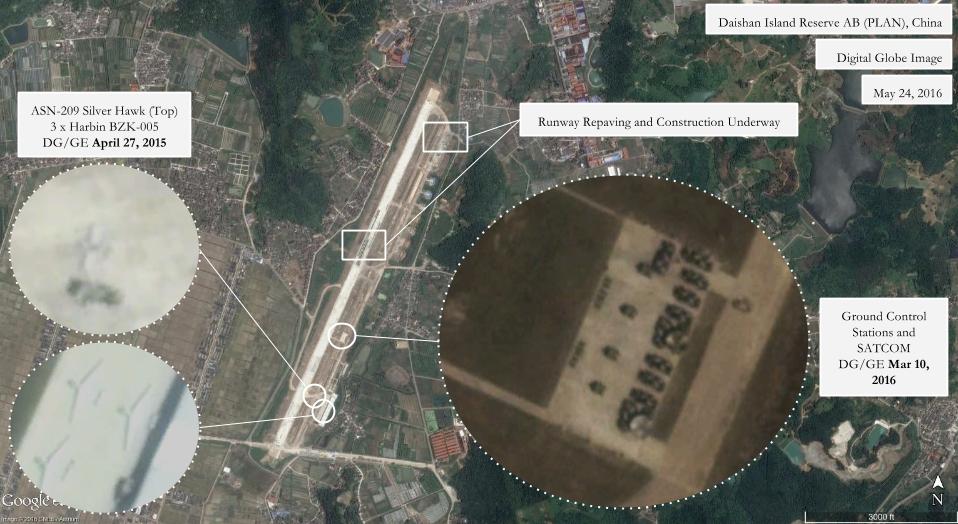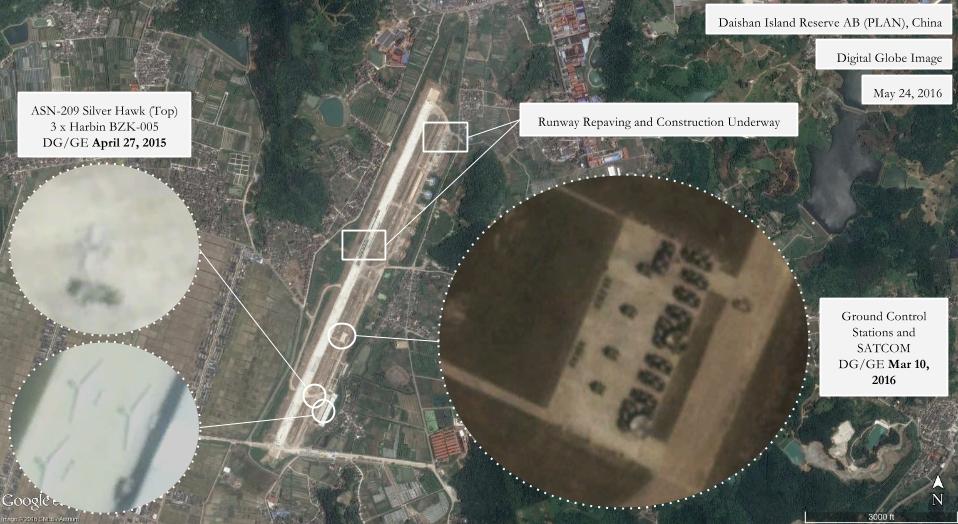 Two types of drones could potentially be deployed to Ningbo. The the ASN-209 Silver Hawk is a medium-range tactical reconnaissance drone that the Chinese Navy has used since at least 2011. With a wingspan of around 7.5 meters, the drones in the satellite images matches the characteristics of the ASN-209. The second drone, the Harbin BZK-005, is a high-altitude long-endurance surveillance drone made by the Beijing University of Aeronautics & Astronautics and Harbin Aircraft Industry Co., Ltd. It was first unveiled at the 2006 Zhuhai International Airshow.
For at least the past three years, these drones have actively engaged in surveilling China's territorial claims in the East and South China Seas. Both ASN-209s and BZK-005s have been based at an ex-reserve PLAN airfield on Daishan Island. From Daishan, the drones were able to conduct missions over China's maritime borders and, in particular, the Senkaku/Diaoyu Islands in the East China Sea. Historical satellite imagery accessed on Google Earth places the drones at Daishan in September 2013, following renovations to the airfield that took place between 2010 and 2013. Satellite imagery from early 2016 shows that the airbase at Daishan is undergoing a second transformation. The runway is being re-paved and a new aircraft taxiway has been added. Drone operations at Daishan are likely to resume after the construction is completed.
Possible equipment at Ningbo:


---
Indian Air Force Western Air Command
September 26, 2016
 By Dan Gettinger
On September 10, 2016, the Indian Air Force's Western Air Command announced that drones were to surveil all air bases under its control, an area of operations that runs from Delhi north to Kashmir. The announcement comes in the midst some of the worst violence in the Kashmir region in years; around 90 people have died in the past 10 weeks as a result of clashes between protesters and the Indian military. The Western Air Command's headquarters is located in Delhi and, with its territory largely lodged between Pakistan and China, it is considered to be the most sensitive and important of the five Air Force Air Commands. Within the Western Air Command, there are already several bases where drones are already deployed, and have been for some time.
Satellite imagery Google Earth reveals that drones have been deployed to Jammu Airport and Awantipur Air Force Station in Jammu and Kashmir province, and Bhatinda Air Force Station in Punjab province. The imagery, which was accessed on Google Earth, illustrates for the first time the scale of drone operations engaged in by the Indian military in the region. The drones in the images appear to match the dimensions the Israel Aerospace Industries Searcher Mk II and Israel Aerospace Industries Heron. The Searcher, a tactical reconnaissance drone, is flown by the both the Indian Navy and Air Force. The Heron is a medium-reconnaissance high-altitude drone for surveillance and reconnaissance that is flown by the Indian Air Force and Navy. At Jammu Airport, both Searchers and Herons are pictured beginning in February 2006. At Awantipur Air Force Station, an early Heron UAV is pictured in a satellite image from 2006, although one has not been seen there since then. At Bhatinda, south of Kashmir in Punjab province, a Heron drone is pictured in an image from May 25, 2016.
Of the three bases, however, Jammu appears to be the most significant. The satellite imagery shows regular and active drone operations at the base involving both Heron and Searcher drones. Jammu is situated 14 kilometers from the border with Pakistan, on the southern slopes of the Sivalik hills. From this position, drones are able to fly north along the Line of Control, the border that divides Kashmir and Pakistan, or into Kashmir itself. A medium-sized drone like the Searcher, which has a range of around 200 kilometers, cover large swaths of this territory.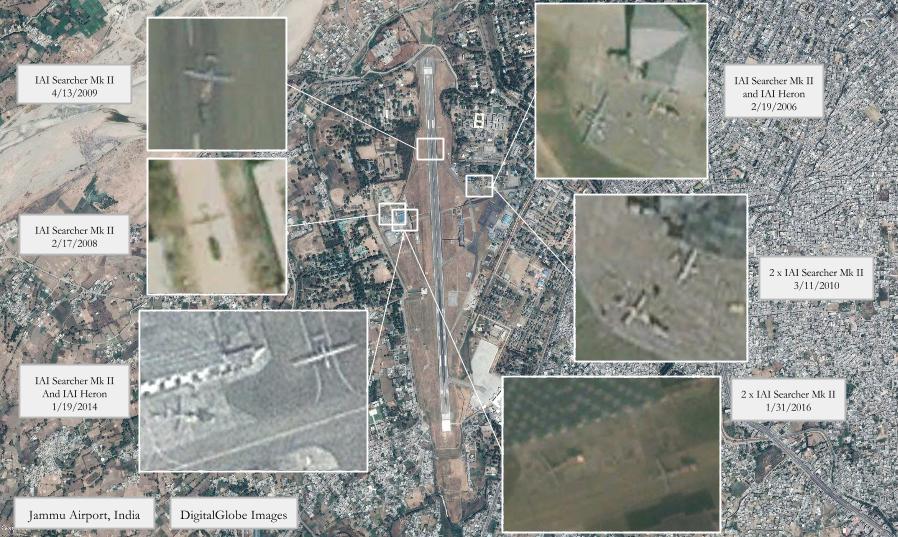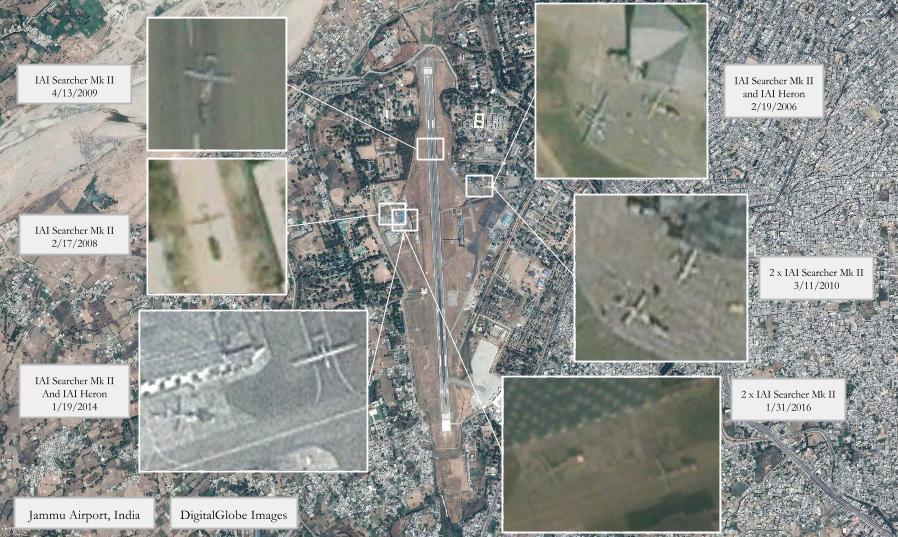 When it comes to drones in the news, India can be overlooked in comparison to China's burgeoning drone inventory and U.S. drone strikes in neighboring Pakistan. However, India has both a drone industry and a growing number of military drones. It also has a history of actively using drones to patrol its borders; in June 2002, Pakistani media reported that an Israeli-made Searcher drone was shot down near Lahore. In 2004, India entered into negotiations with Israel to purchase Heron drones, according to a report by IHS Jane's. The deal to acquire the Herons was finalized in September 2005. Since then, India has made additional purchases of drones from Israel and has looked to invest more in its own drone manufacturers. It has also sought to enter into negotiations to purchase the next generation of Predator drones from the U.S.
For more on the Indian military's drones, see the Center for a New American Security's "A Perspective on India."
---
Timbuktu, Mali
September 13, 2016
By Dan Gettinger
As of this month, three Hermes 900 drones are supporting United Nations peacekeeping missions in Mali. In August, IHS Jane's 360 reported that defense contractor Thales UK has been operating one Hermes 900 drone out of Timbuktu since at least July and that two more aircraft would join the deployment in September. The Hermes 900 is a medium-altitude long-endurance surveillance drone made by Elbit Systems, an Israeli company. It is similar to the U.S. General Atomics MQ-9 Reaper drone. According to IHS Jane's, Thales signed a three-year agreement with the UN Multidimensional Integrated Stabilisation Mission in Mali (MINUSMA) in December 2015. Unlike the military drones that are already operating in Mali, the Thales drones will be used to provide aerial surveillance for civilian operations such as humanitarian convoys.
Satellite imagery shows that the Thales deployment is located on the western end of the airport, where a group of concrete aprons and taxiways have recently been refurbished. A DigitalGlobe image from May 7, 2016 (accessed via Google Earth) shows the construction of three hangars to support the three Hermes 900 aircraft. More recent satellite imagery sourced from TerraServer (August) shows a Hermes 900 aircraft parked on the apron. Historical satellite imagery of the airport shows that the UN mission added aircraft taxiways and aprons to the Timbuktu airport 2015, enabling the deployment of additional aircraft such as the Hermes.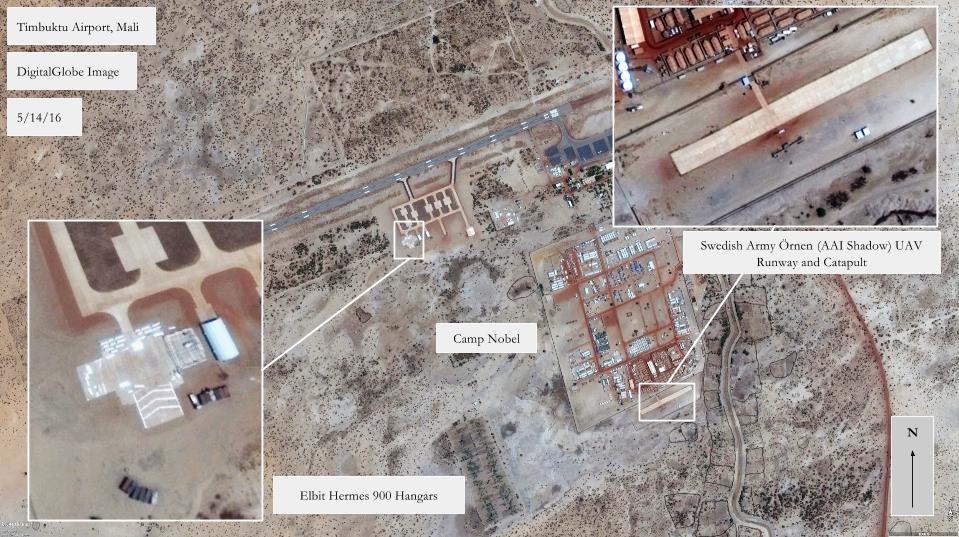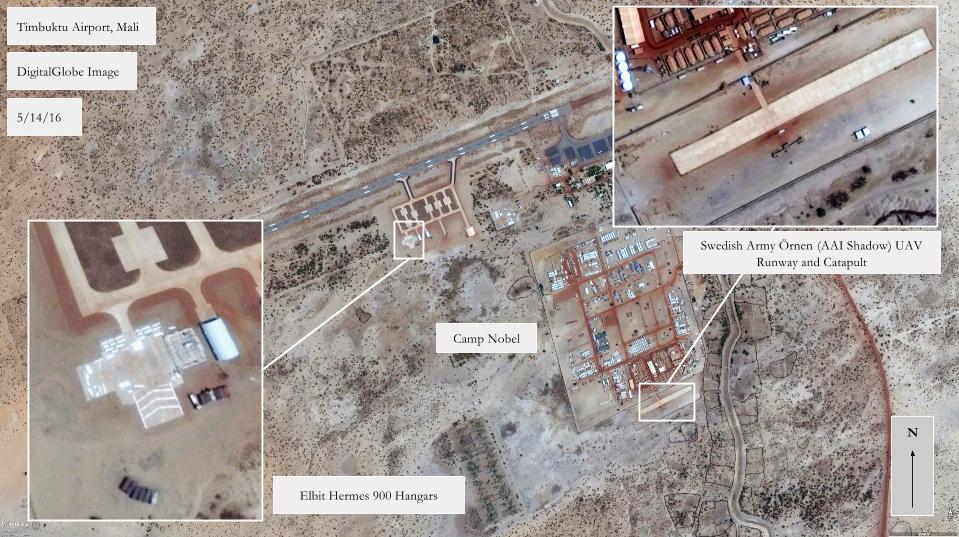 The Hermes drones join an airspace above Mali that is already busy with unmanned aircraft of various sizes and origins. The 2015 annual report of the UN's Aviation Safety Section, Department of Field Support stated that there 21 military unmanned systems with MINUSMA, although it did not specify the type of aircraft. The report also highlighted several safety shortfalls concerning drone operations as part of UN peacekeeping missions in Mali and the Democratic Republic of Congo, and outlined the Section's plan to carry out safety trainings. In August, the UN issued a request for information for vendors willing to provide drone safety training sessions to MINUSMA aviation staff.
Sweden, Germany, France, and the U.S operate drones over Mali. The Swedish Army flies the AAI Shadow (known as Örnen, or "Eagle") and AeroVironment Puma (Korpen, "Raven") from Timbuktu. The UN built a designated runway for the Shadow just south of Camp Noble, the UN base at Timbuktu Airport. The German military deployed the tactical reconnaissance LUNA drones to Gao, Mali in June 2016. Germany plans to deploy Heron drones leased from Israel Aerospace Industries and flown by Airbus contractors to Gao, although the schedule could be delayed due to recent legal battles over the contract. In neighboring Niger, France has deployed Reaper and Harfang drones since 2013 mainly for operations over Mali. The U.S. has deployed Predators and Reaper drones to Niamey, Niger beginning in 2013 and is building a new drone base in Agadez, a city in northern Niger.
---
Zhongwei, China
August 22, 2016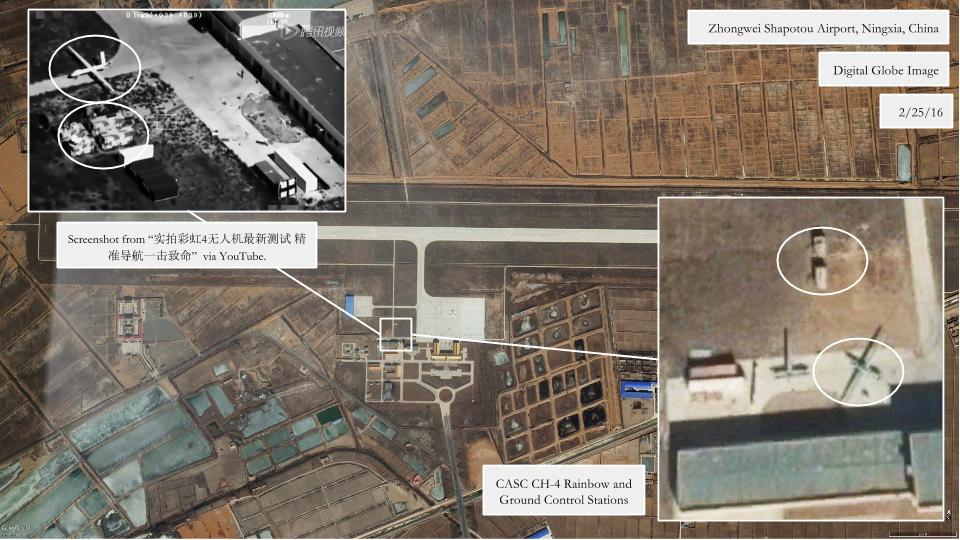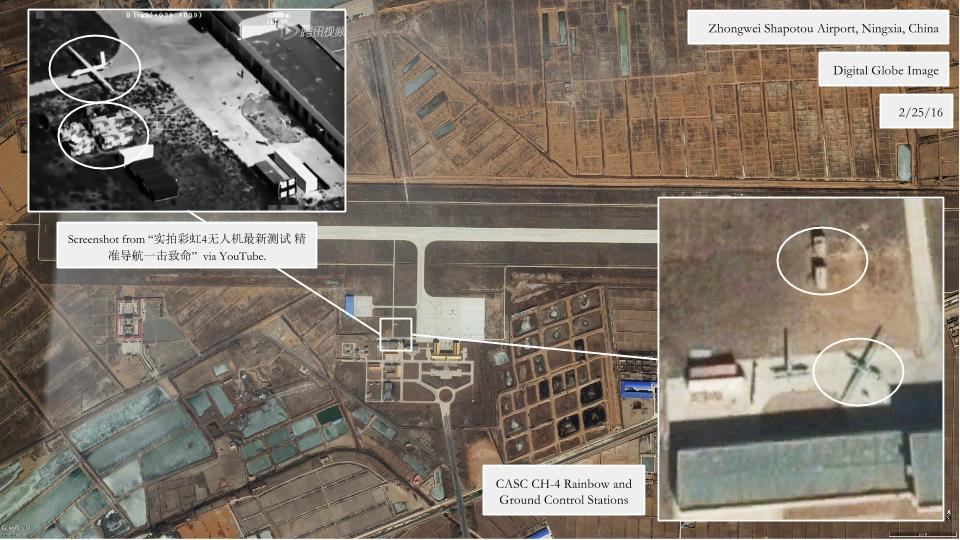 By Dan Gettinger
The CH-4 Rainbow is a Chinese-made medium-altitude long-endurance surveillance and strike drone. It is designed with capabilities and characteristics similar to the U.S. MQ-1 Predator or MQ-9 Reaper drones. Several countries besides China reportedly operate the CH-4, including Saudi Arabia, Iraq and Egypt. According to a July 22, 2016 article that appeared in numerous Chinese media outlets, a new country may soon begin flying the CH-4. The article explains how China Aerospace Science and Technology Corporation (CASC), the makers of the CH line of UAVs, delivered the CH-4 to an unidentified "mountainous" country for testing, where it flew in high-temperature summer conditions and reached a max altitude of 7460 meters. 
Accompanying the July 22 article is a video that featured footage of recent CH-4 tests. It is unclear whether any of the footage is from tests that took place in the "mountainous" country. When combined with satellite imagery, the video reveals that several CH-4 drones are based at a civilian airport outside of Zhongwei, a city located in Ningxia province and on the edges of the Tengger Desert and Inner Mongolia. The video and satellite imagery both show both aircraft, ground control stations and satellite communications stationed at Zhongwei. It also includes aerial footage from drones of nearby landmarks such as industrial plants and bridges. Zhongwei Shapotou Airport is 15 miles south of where the CH-4 carried out a live-fire missile test in mid-May. Historical satellite imagery, which was accessed on Google Earth, shows that the drones have been based at Zhongwei since at least July 2015. The video includes footage from tests that take place at other locations besides Zhongwei, as well as footage from the missile test in mid-May.
---
Chabelley Airfield, Djibouti
August 15, 2016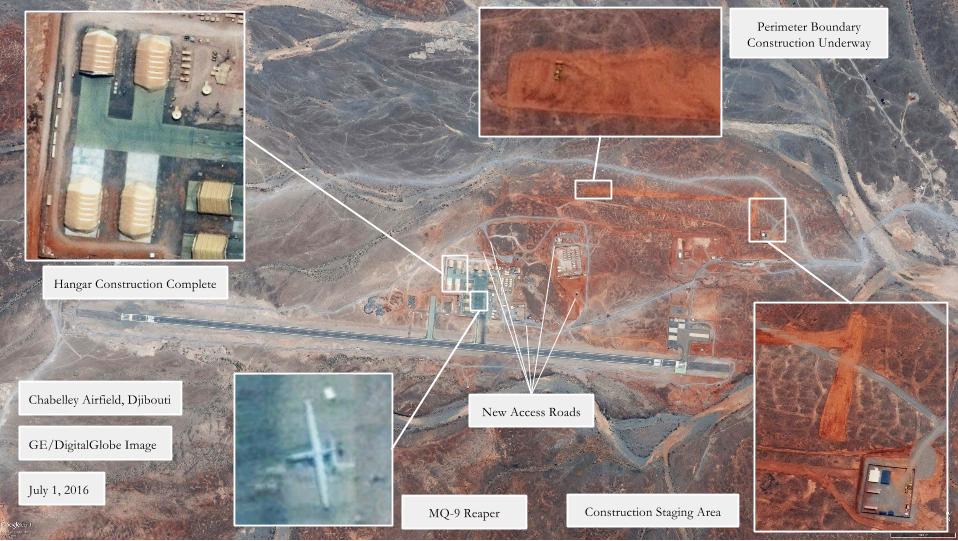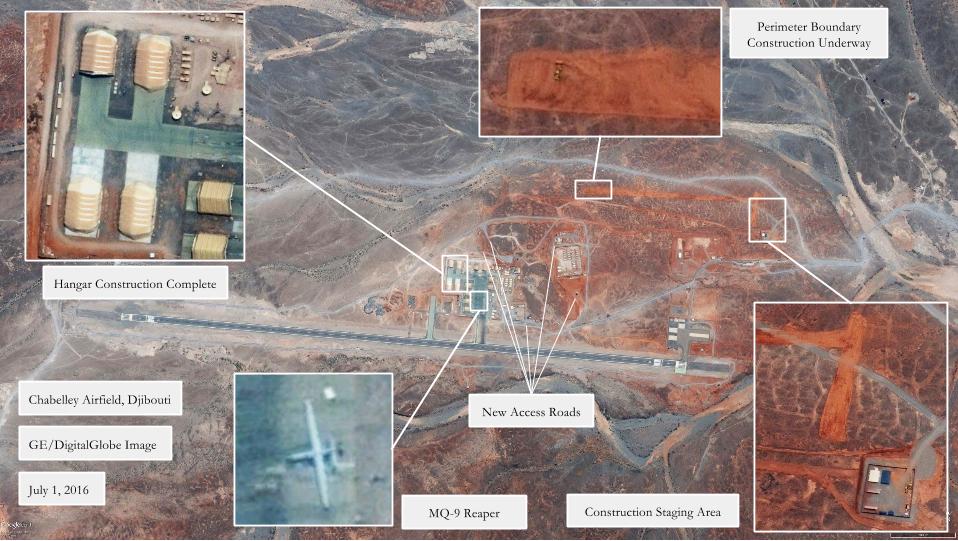 By Dan Gettinger
A satellite image from July 1, 2016 reveals changes at the Chabelley Airfield U.S. drone base in Djibouti. The image, which was accessed on Google Earth, shows a base buzzing with activity. Several construction projects are either underway or have been recently completed.
The latest construction is evidence that the U.S. military is readying Chabelley Airfield for continued drone operations in the Horn of Africa. When it was first set up in 2013, Chabelley was only meant to be operational for two years. In March 2014, however, AFRICOM reclassified Chabelley as an Enduring Support Location with a life expectancy of up to 10 years. Around the same time, construction began on an expansion of housing facilities at Chabelley, the first physical signs of the transition to a longer-term deployment.
In contrast to Pakistan, where the number of drone strikes has plummeted, U.S. drone operations in Yemen and Somalia—which are likely staged from Chabelley—have remained relatively steady, according to data compiled by the New America Foundation. In fact, there have already been more drone strikes in Somalia in 2016 than in 2015, and twice as many operations overall. Other nations besides the United States have also deployed drones to Chabelley: between September 2014 and February 2015, the Italian Air Force deployed MQ-1 Predator drones to Chabelley to support counter-piracy missions in the Horn of Africa.
The satellite image from July 1, 2016 shows that a project to add additional aircraft aprons and hangars has been completed. Historical satellite imagery reveals that construction began to expand the northeast corner of the base in November of 2014. The first two additional hangars were added in the spring of 2015 and the July 1 image reveals that work has finished on the final two hangars. In addition to the drone hangars, communications equipment and ground control stations for launching the drones have been set up adjacent to the aprons. The finished construction brings the total number of hangars currently in use to 12.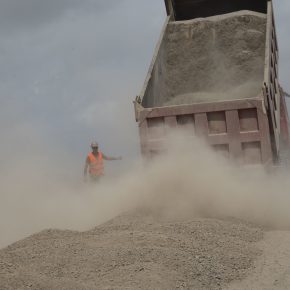 According to the Fiscal Year 2017 military construction budget, the Air Force has proposed spending $6.9 million on paving the parking aprons and taxiways with asphalt or concrete. Currently, the base is constructed using AM-2 metal matting, 12-feet-long aluminum panels that are used to rapidly build aircraft parking pads and taxiways. The AM-2 matting, which the Air Force has been using since the 1960s, is not intended for permanent use, and it can damage the aircraft if it is not maintained.
The FY17 budget proposal includes $3.6 million to pave the 3.4 mile gravel access road between Camp Lemonnier, the much larger U.S. military base that adjoins Djibouti–Ambouli International Airport, and Chabelley Airfield. Currently, the road is is subject to protruding boulders, edge washout, and potholes. Construction on internal access roads linking parts of Chabelley Airfield has already begun. On April 30, 2016, the Air Force issued a $22,272 contract to MGT Djibouti SARL for gravel for roads at Chabelley Airfield. The satellite image shows a walled staging area for construction vehicles near the entrance to the airfield.
The July 1 image shows a construction vehicle working on what will eventually be a 7,720-meter-long perimeter boundary surrounding the base. Currently, the main areas of the base are individually bounded by walls and a road is patrolled by security vehicles, but the base as a whole lacks a protective boundary. In a June 25, 2015 letter of notification to Rep. Charles W. Dent, the chairman of the Subcommittee on Military Construction, Committee on Appropriations, DoD comptroller Michael McCord determined that the $7.6 million project to build the wall was necessary to meet DoD requirements for physical security. It will be constructed out of four layers of concertina wire, six-foot metal fence posts and will include pedestrian and vehicle entrances, defensive fighting positions, and an upgraded entry control point. On September 29, 2015, the U.S. Navy awarded ECC-MEZZ LLC, a California-based construction company, a $6.96 million contract to construct the perimeter boundary. The July 1 image shows that part of an existing road in the northeastern corner of the base has been rerouted to make way for the construction of the boundary. According to military construction status reports, this project is expected to be completed in March 2017.
---
More: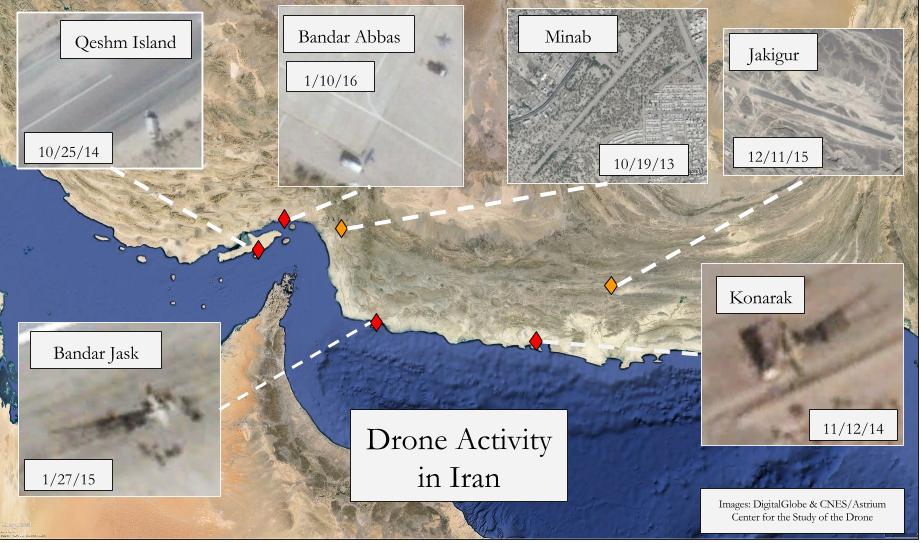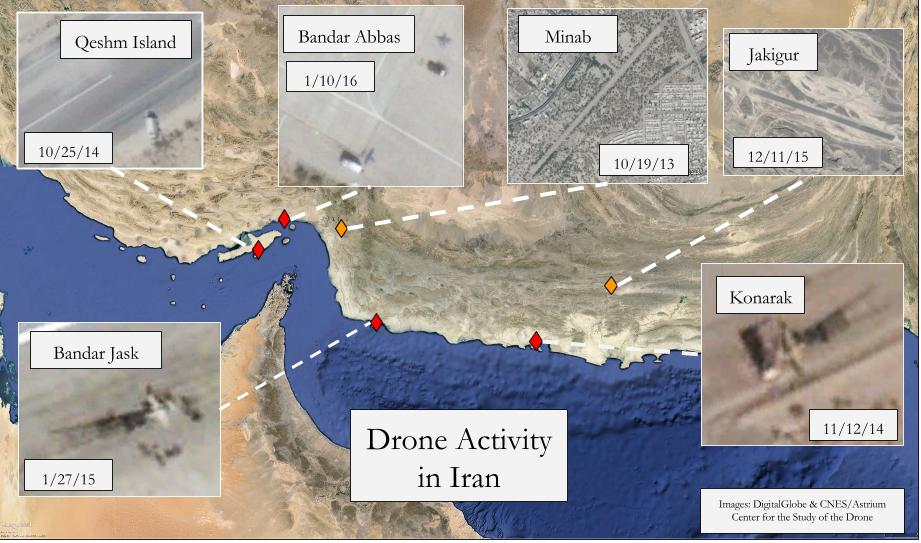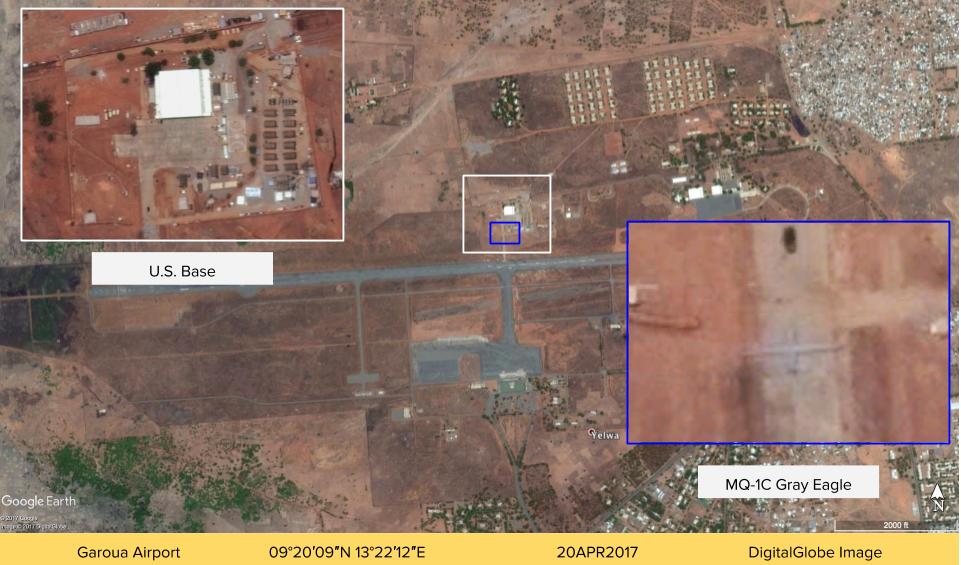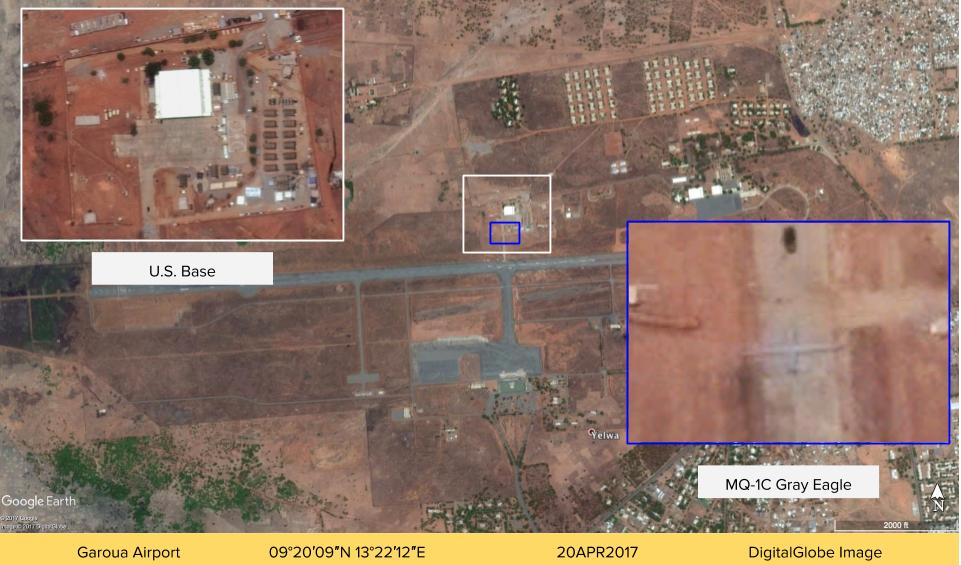 ---
[Wednesday, October 3, 2018] This post has been amended to reflect some ambiguity as to the identity of the aircraft at Aksu Airport. The drones at Aksu are either the Wing Loong 2 or the Caihong 5, two medium-altitude long-endurance drones that share similar characteristics and dimensions.
[Tuesday, October 10, 2017] This post previously contained an update for Kerman Air Base in Iran. Due to inconsistencies in the available imagery, we have removed the update until we can confirm the conclusions of the original post. We regret the error. 
For updates, news, and commentary, follow us on Twitter.