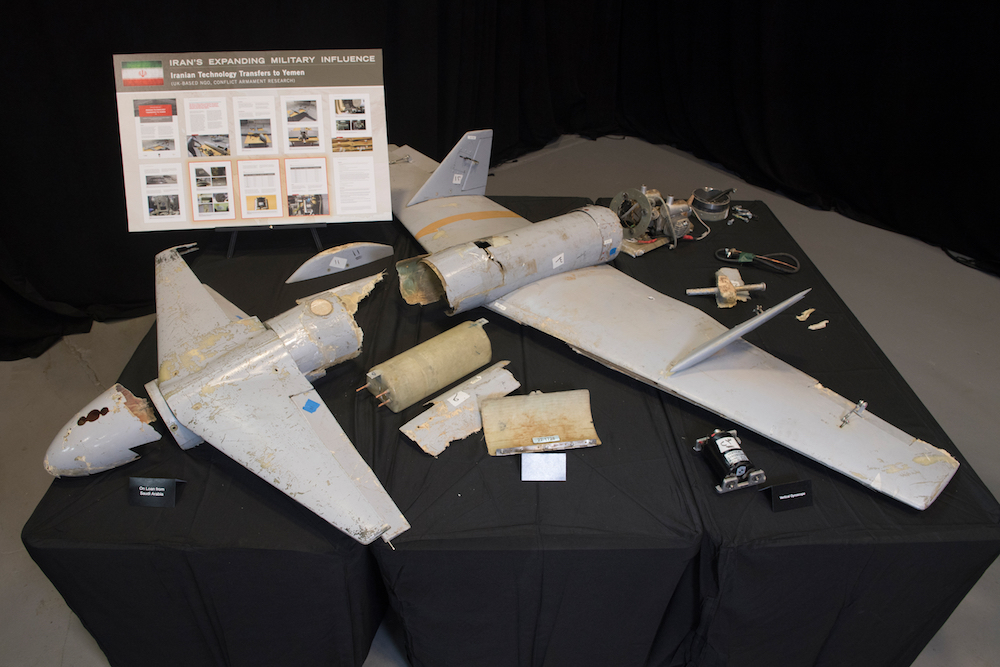 December 11, 2017 – December 17, 2017
If you would like to receive the Weekly Roundup in your inbox, please subscribe at the bottom of the page.
News
A U.S. drone strike in Somalia targeted a group at an al-Shabab explosives cache. In a statement, U.S. Africa Command said that the individuals posed "an imminent threat" to the residents of Mogadishu, the capital. (Associated Press)
The National Transportation Safety Board released the results of an investigation into a collision between a hobby drone and a U.S. Army helicopter over New York City earlier this year. The NTSB found that the drone pilot was at fault in the accident, having flown beyond line-of-sight and into a restricted area. The Federal Aviation Administration is conducting its own investigation into the incident and may issue the drone operator a fine. (AIN Online)
President Trump signed into law the National Defense Authorization Act, which includes a provision reinstating the Federal Aviation Administration's drone registration requirement for hobbyists. The registration requirement, which was first implemented in December 2015, was cancelled in May following a ruling by a D.C. Circuit judge. According to Popular Science, the registration requirement has taken immediate effect. For more on drone registrations, click here.  
Commentary, Analysis, and Art
The Augusta Free Press looks at how Virginia's investment in radar systems helped land the state a NASA grant for research into sense-and-avoid technology for drones.  
At Commercial UAV News, Jeremiah Karpowicz provides an update on recent progress in the European Union's efforts to develop regulations for drones.
At The Dover Post, Jeff Brown considers the legal and practical considerations of police drone programs.
The Economist considers the range of efforts to develop military micro drones and the effect that these systems could have on the battlefield.
At Just Security, Marc Garlasco argues that the U.S. must lower the threshold of tolerance for civilian casualties in airstrikes.
At Defense News, Adam Stone takes a closer look at a Defense Advanced Research Projects Agency program to improve the autonomous abilities of vehicles in complex environments.
At the Army News Service, Sean Kimmons visits the U.S. drone outpost in Garoua, Cameroon.
At C4ISR.net, John Spencer considers the various ways in which swarms of drones could change urban warfare.
At War on the Rocks, Jeffrey Cummings, Scott Cuomo, Olivia Garard, and Noah Spataro argue that, as more and more countries invest in autonomous drones, the U.S. needs an "artificial intelligence deterrence capability."
An essay series at the Strategy Bridge addresses the history and implications of drones and robots in warfare.
At Scout.com, Kris Osborn writes that the U.S. Central Command is accelerating the deployment of counter-drone systems.
At the Cipher Brief, Michael Horowitz summarizes recent developments in drone proliferation.  
Know Your Drone
China unveiled an armed high-speed unmanned surface vehicle, the Tianxing-1. (Jane's)
British defense firm BAE is developing a jet-powered drone called MAGMA that is steered using diverted jet air that exits its trailing edges. (New Atlas)
In a program for the U.S. Navy, Houston Mechatronics is developing an autonomous undersea vehicle that can operate at depths of up to 3,000 meters without an umbilical or an accompanying boat on the surface. (Jane's)
U.S. firm DZYNE Technologies conducted initial flight tests of DARPA's vanishing delivery drone. (Press Release)
A team from University of Tennessee at Chattanooga is developing a system to control drones with brain waves. (WRCB)  
The U.S. Marine Corps tested an unmanned Huey helicopter outfitted with the Autonomous Aerial Cargo/Utility System. (Popular Mechanics)
Researchers at Nanyang Technological University crashed nearly 600 drones into test dummies as part of a study to assess the safety risks of falling unmanned aircraft. (The Straits Times)
The Israeli Navy announced plans to equip its new fleet of Saar 6 corvettes with vertical take-off and landing drones. (FlightGlobal)
Meanwhile, the U.S. Navy announced that it will configure its MQ-8C Fire Scout helicopter drone to serve as a forward spotter for battleships. (Unmanned Systems Technology)
U.S. drone maker UAVOS unveiled a kit that can convert manned aircraft into drones. (Shephard Media)
Chinese firm Tengeon Tech unveiled a concept for a large cargo drone. (YouTube)
Drones at Work
U.K. police convicted ten gang members who used drones to smuggle over $1 million of contraband into various prisons. (BBC)
The UK Ship Register signed its first ever unmanned vessel to the flag. (Unmanned Systems Technology)
As part of preparations for the upcoming Winter Olympics, South Korean security agencies conducted a drill involving a drone carrying a bomb. (Reuters)
The Broken Arrow Police Department in Oklahoma has acquired a drone for a range of operations. (Tulsa World)
Ben Gurion Airport in Israel briefly grounded all flights after a drone strayed into its airspace. (Times of Israel)
The Flathead City-County Health Department is seeking permission to use drones for mosquito control. (Daily Inter Lake)
Police in the Indian state of Odisha detained four Russian nationals for allegedly flying a drone over the Sri Jagannath Temple. (NDTV)
Intel, Bauhaus University Weimar and Kulturstiftung Sachsen-Anhalt are using drones to inspect a 15th century cathedral in Saxony-Anhalt, Germany. (Press Release)
The Ballarat City Council in Australia passed a local law requiring drone operators to obtain a permit before flying drones over municipal property or roads. (The Courier)
The Brecon Mountain Rescue Team in Wales is testing drones for search and rescue operations. (BBC)
Athletic apparel company Under Armour used drones to deliver 30 signed pairs of Curry 4 sneakers to customers in San Francisco. (KTVU)
Industry Intel
U.S. firm Aeronyde raised $4.7 million in a seed funding round to develop the infrastructure for managing autonomous drone operations. (Press Release)
The U.S. Air Force awarded General Atomics Aeronautical Systems a $134 million contract for Block 30 ground control stations for remotely piloted aircraft. (UPI)
The U.S. Army awarded General Atomics Aeronautical Systems a $94.6 million contract for contractor logistics services for the MQ-1C Gray Eagle. (DoD)
The U.S. Navy awarded Leidos a $35.5 million contract for the Sea Hunter II (ACTUV) unmanned surface vehicle. (DoD)
Kratos reported receiving a $3.3 million contract for drones and electronic systems from an unnamed customer. (Press Release)
The Missile Defense Agency awarded Boeing a $9 million contract for work on the Low Power Laser Demonstrator program. (Military.com)
A jury in the Eighth Judicial Circuit found Florida-based Prioria Robotics in breach of contract when it used consumer-grade components in one of its drones. (WCJB)
The Bulgarian military reportedly awarded Textron Systems a $9.4 million contract for Aerosonde drones. (National Defense Magazine)
France's defense procurement agency (DGA) awarded Elistair a contract for work on the AIRWATCH tethered drone project. (Press Release)
The Defense Advanced Research Projects Agency awarded Applied Physical Sciences and Northrop Grumman contracts to develop a flexible payload bay for the Orca XLUUV. (Jane's)
The U.S. Army selected General Dynamics Land Systems, Polaris, Howe and Howe, and HDT to submit test vehicles for a year-long competition for the Squad Multipurpose Equipment Transport cargo robot program. (Jane's)  
The U.S. will supply the Lebanese Armed Forces with six additional ScanEagle drones as part of a $120 million arms package. (Jane's)
Orbital Corporation, an Australian drone engine maker, will open a factory in Hood River, Washington. (NW News Network)
Black Swift Technologies and Leptron Unmanned Aircraft Systems partnered to build a fixed-wing commercial drone. (AUVSI)
Drone USA, a drone reseller and provider of drone services, announced that it has sold 15 surveillance drones to an unnamed Fortune 500 company. (Press Release)
Last week's Roundup misstated the name of the company that unveiled the Scout agriculture drone system. It is produced by American Robotics, not Precision Robotics.
 For updates, news, and commentary, follow us on Twitter.