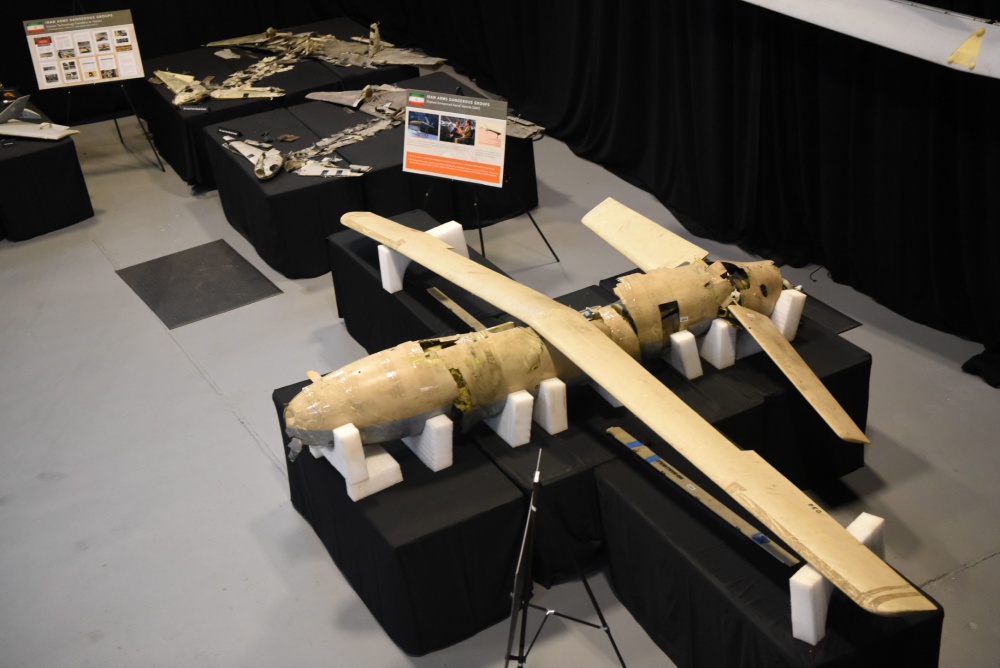 November 26, 2018 – December 2, 2018
If you would like to receive the Weekly Roundup in your inbox, please subscribe at the bottom of the page.
Top Stories
A suspected U.S. drone strike in Yemen reportedly killed six people who are believed to have been members of Al-Qaeda in the Arabian Peninsula. The strike took place in al-Bayda province. (Reuters)
According to an investigation by The Daily Beast based on data provided by the Pentagon and The Bureau of Investigative Journalism, the current U.S. administration has launched more drone strikes in Yemen, Somalia, and Pakistan in its first two years than the Obama administration did in 2009 and 2010. The Trump administration has relaxed targeting guidelines and granted military commanders greater authority to launch strikes.
The United Arab Emirates has cancelled an order for eight Piaggio Aerospace P1HH drones after Italy's new government delayed a plan to purchase 20 P2HH systems from the Italian company. Piaggio Aerospace declared bankruptcy earlier this month, and its primary funder, Abu Dhabi's sovereign fund Mubadala, has announced that it will no longer inject funds into the company. (Reuters)
India's Directorate General of Civil Aviation (DGCA) has implemented nationwide drone regulations. Under the new rules, all drones weighing more than 250 grams must be registered with the agency and users are required to file a plan for each flight using the Digital Sky Platform, a mobile app that uses an automated process to grant or deny permission for flights. (NDTV)
Know Your Drone
The U.S. Navy has issued a solicitation for companies wishing to demonstrate "state of the art" autonomous cargo drone technology at an exercise in spring 2019. (FBO)
The U.S. Marine Corps issued a request for information for unmanned ground vehicles that could carry soldiers' packs at the squad level. (Jane's)
As part of a collaboration with Audi and Airbus, design firm Italdesign has unveiled a scale model of an electric vertical take-off and landing aircraft that could transport a passenger capsule. (Aviation Week)
British firm Horizon Technologies has successfully mounted its Xtender signals intelligence module on a commercial quadcopter drone. (Press Release)
South African drone maker ALTI UAS unveiled a search and rescue variant of the Transition vertical take-off and landing drone. (Unmanned Systems Technology)
U.S. drone maker General Atomics Aeronautical Systems conducted the first flight of a drone using its Certifiable Ground Control Station. (Unmanned Systems Technology)
The Pakistani military unveiled an exportable version of the Burraq, a domestically produced long-endurance surveillance drone. (The News)
Drones at Work
The Northeast UAS Airspace Integration Research Alliance conducted a successful demonstration of an automated collision avoidance system for small drones. (Utica Observer-Dispatch)
Meanwhile, Manchester Airport in the United Kingdom conducted a demonstration in which drones and manned aircraft operated together within controlled airspace. (Airport Technology)
Multiple U.S. surveillance aircraft, including the RQ-4 Global Hawk, have been flying daily missions over the Black Sea and Eastern Ukraine since the incident between Russian and Ukrainian vessels in the Kerch Strait last week. (Jane's)
The Federal Aviation Administration is investigating an incident in which a drone reportedly flew near a sightseeing helicopter over the Las Vegas Strip. (KTNV)
The Pentagon has displayed a number of weapons that it claims were supplied to Houthi rebels in Yemen by Iran, including several drones. (CNN)
A study by researchers at North Carolina State University has found that commercial drones can be effective for identifying and tracking large marine animals, particularly in shallow waters. (Phys.org)
Industry Intel
The Seydoux family, the majority shareholder of French drone company Parrot, announced a takeover offer for the company. (Reuters)
General Atomics Aeronautical Systems has opened an office in India to pursue the sale of MQ-9B SeaGuardian drones to the Indian military. (FlightGlobal)
Meanwhile, General Atomics is seeking to partner with Japanese companies on its plans to sell the MQ-9B SeaGuardian to Japan's Self-Defense Forces. (FlightGlobal)
Hyundai Motor Company has partnered with Top Flight Technologies, a Boston-based drone startup, to develop commercial drones for various industries. (Unmanned Systems Technologies)
UMS Skeldar announced that the European Maritime Safety Agency has selected the Skeldar V-200 rotary-wing drone for a two-to-four year contract to conduct emissions monitoring and maritime surveillance. (Unmanned Systems Technologies)
Terra Drone, a Japanese company that specializes in commercial drone technology, has acquired Skeye, a Dutch drone services company. (Inside Unmanned Systems)
The Pakistani Navy is reportedly negotiating with Turkey to acquire the Anka-S medium-altitude long-endurance drone. (Quwa)
Commentary, Analysis, and Art
At FlightGlobal, Murdo Morrison writes that Piaggio Aerospace might not survive a financial crisis caused by the loss of key military drone contracts.
At The Sedona Red Rock News, Reed Perry looks into whether local prohibitions against drone use may be undercutting the FAA's responsibility to regulate the national airspace.
At the Associated Press, David Koenig and Joseph Pisani consider why Amazon's plans for large scale drone deliveries have yet to materialize.
Speaking at the annual European Defense Agency conference, European Union foreign affairs chief Federica Mogherini said that the EU needs to define boundaries for how artificial intelligence is used in warfare. (Defense News)
At Defense News, Burak Ege Bekdil writes that Turkey's progress on indigenous drone engines is a sign of growing Turkish independence from foreign suppliers.
Agence France-Presse looks into how Singapore's push to embrace commercial drones and robots has been accompanied by rising privacy and safety concerns.
In comments delivered at the Institute for Defence Studies and Analyses, India's army chief General Bipin Rawat said that India would not hesitate to use armed drones to attack targets in Kashmir. (The Wire)
At Aviation Week, Lee Hudson writes that the U.S Marine Corps is exploring a range of options for countering drones.
Meanwhile, at Avionics International, Calvin Biesecker writes that the U.S. Department of Homeland Security is planning to begin testing counter-drone systems next year.
At The Bulletin of Atomic Scientists, Michael C. Horowitz and Andro Mathewson argue that drone proliferation can be managed by making changes to the Missile Technology Control Regime.
At Commercial UAV News, Jeremiah Karpowicz looks into why the Los Angeles Fire Department's drone program has been so successful.
At The Japan Times, Andrew McKirdy profiles the growing community of drone racers in Japan.
For updates, news, and commentary, follow us on Twitter.
[includeme file="tools/sympa/drones_sub.php"]