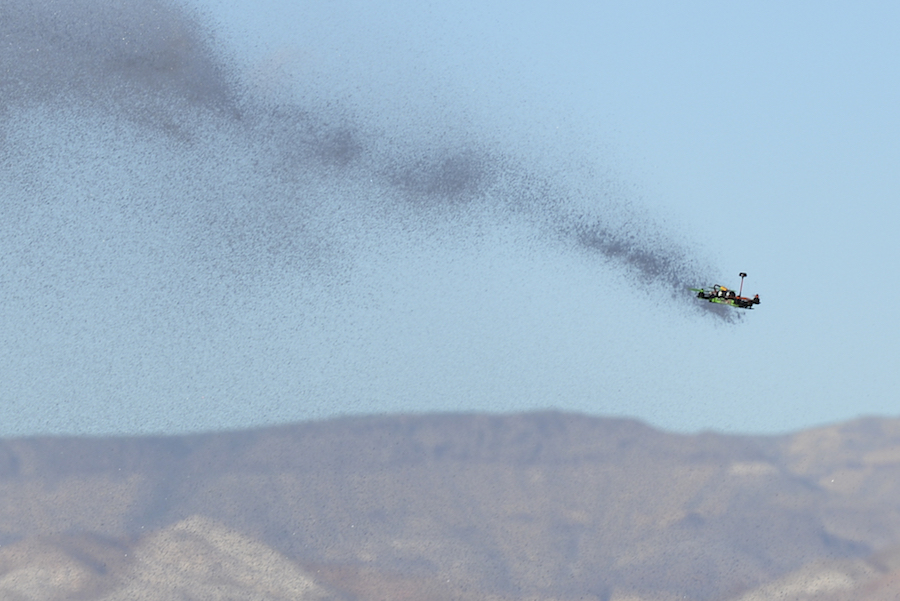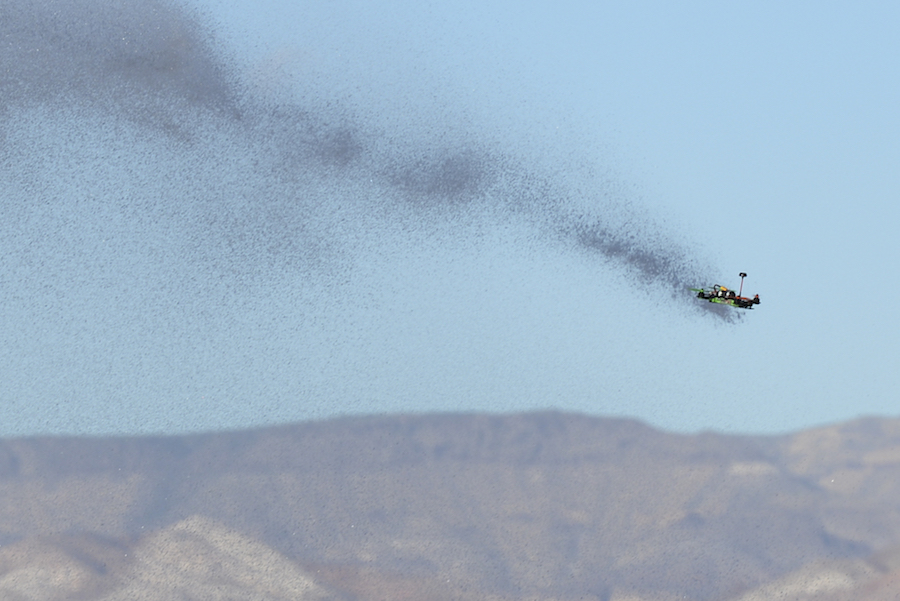 December 12, 2016 – December 18, 2016  
If you would like to receive the Weekly Roundup in your inbox, please subscribe at the bottom of the page.
Support Our Work
The Center for the Study of the Drones is committed to bringing you reliable and timely resources that help stakeholders get ahead of the many complex challenges and opportunities presented by the development, proliferation, and use of unmanned systems technology. In order to continue providing these resources for free, we depend on the support of individuals who care about the future of the field. Please follow this link to make a tax-deductible gift to the Center.
Field Guide to Drones in Syria and Iraq
In Syria and Iraq today, there are more drones, made in more countries and flown by more groups, than in any previous conflict. We have worked through years of records in order to identify every type of drone known to be operating in the conflict. Here is a guide to these systems, who makes them, who operates them, and how they are being used.
News
China seized a U.S. Navy underwater drone in the South China Sea. The Littoral Battlespace Sensing Glider, a small unmanned undersea vehicle designed for long-distance survey missions, was being operated from the USNS Bowditch, an oceanographic survey ship. Following negotiations, Beijing said it would return the drone. (Wall Street Journal) For more on unmanned undersea vehicles, click here.
Amazon conducted its first drone delivery on December 7 in Cambridgeshire, England. The drone delivered an Amazon Fire streaming device and a bag of popcorn. The two-mile delivery took thirteen minutes from order to completion. Amazon announced that it plans to carry out further drone deliveries to customers in the area around its Prime Air testing site. (New York Times)
The United Nations Convention on Certain Conventional Weapons voted to begin formal discussions on lethal autonomous weapons systems in 2017. The vote will establish a group of government experts, the next step towards a potential ban on future autonomous weapons. (TechRepublic)  
A Tunisian aviation engineer linked to Hamas was killed in southern Tunisia, allegedly by Israeli Mossad agents. Mohammed Al Zoari reportedly helped build unmanned aircraft for Hamas and Hezbollah. (Haaretz)
Commentary, Analysis, and Art
At the Guardian, Bradley L. Garrett and Adam Fish look at how drones are reshaping ownership of urban airspace.
At CIMSEC, Heiko Borchert reflects on some of the long-term consequences of China's seizure of the U.S. underwater drone.
At Lawfare, James Kraska and Raul Pedrozo argue that China's capture of the U.S. drone violates the law of the sea.
Also at Lawfare, Julian Ku argues that the drone incident in the South China Sea exemplifies how "China is veering further away from a putative rules-based global order."
At the Christian Science Monitor, Peter Ford writes that China's seizure of the U.S. drone will set the tone for the Trump administration's relationship with China.
At the Verge, Ben Popper looks at what the U.S. Navy might have been using the underwater drone for before it was captured by China.
At the Miami Herald, Carol Rosenberg writes that defense attorneys for the victims of the USS Cole attack are seeking information from the federal government regarding an individual killed in a U.S. drone strike.
At TechRepublic, Jonathan Chadwick writes that effective human pilots are crucial when it comes to using drones for environmental management.
In a podcast at Drone Radio Show, Colin Snow discusses drone industry trends in 2016 and how videography remains a major vertical for drone businesses.
In an interview with Bloomberg, Cameron Chell argues that there will continue to be growth in 2017 in specialized drone businesses that serve particular industries.
At Wired, Eric Adams writes that the forthcoming General Atomics Protector remotely piloted aircraft will be able to fly in the same airspace as civil aviation in Europe.
At Vocativ, Campbell MacDiarmid looks at how ISIL uses drones to guide suicide bombers to their targets.
In an interview with the U.S. Air Force, Airman 1st Class Matthew recalls his first drone strike.
At Just Security, Rachel Stohl writes that Jameel Jaffer's The Drone Memos offers a "critique of the shortsighted nature of Obama administration policies" regarding targeted killing.
At Defense One, Marcus Weisgerber looks at how U.S. weapons are increasingly being built by robots.
At C4ISRNet, Mark Pomerleau looks at how the U.S. Navy is seeking to integrate the MQ-25 unmanned refueler into carrier operations.
At War on the Rocks, Benjamin Jensen argues that the new U.S. administration should take a broader view on the third offset strategy beyond adopting new technologies.
At IEEE Spectrum, Toby Walsh argues that the United Nations should ban lethal autonomous weapons systems.
At KCBY, Dan Rascon examines how one teenager's drone invention landed him a spot on one of Time magazine's lists of influential people.
The latest edition of Interface Focus journal features 18 articles on how engineers are borrowing tips from nature to design the next generation of drones. (Seeker)
At KQED Science, Craig Miller looks at how heat-seeking drones could help firefighters reduce fire deaths.
At the Motley Fool, Rich Smith writes that the future TERN tailsitter drone could outclass the F/A-18 and F-35.
Know Your Drone
Car maker Ford is developing a system to equip its self-driving cars with drones. (Phys.org)
Researchers at the University of Zurich are developing small drones that can autonomously navigate through tight openings. (Digital Trends)
Researchers at several Japanese universities are developing a construction robot for disaster relief. (Press Release)
The Ohio Controlling Board approved a project to build a ground-based sense and avoid radar to test drones beyond line of sight. (Columbus Business First)
A team from William Carey University College of Osteopathic Medicine are developing a medical drone designed specifically for first responders. (Fox News)  
Two Afghan brothers have developed a drone that detects and detonates landmines. (Voice of America)
Researchers at the NASA Jet Propulsion Laboratory are experimenting with underwater drones as a possible option to explore the oceans on Jupiter's Moon, Europa. (Digital Trends)
Iran's Army has reportedly unveiled two military drones: the Oghab, a strike drone, and the Shahin, a reconnaissance system. (Press TV)
Meanwhile, Iran unveiled a jammer gun designed to bring down rogue drones. (Popular Science)
U.S startup LiquidPiston is developing a small rotary engine for use on unmanned aircraft. (Aviation Week)
Israeli firm Advanced Programs Group is developing two short take-off and landing military drones. (FlightGlobal)
The U.S. Office of Naval Research released details and video of a recent test of its swarming drone boats. (Engadget)
Canadian drone maker The Sky Guys has unveiled the DX-3, a commercial fixed-wing drone with 24-hour flight endurance. (Unmanned Systems Technology)
An investigation by the National Transportation Safety Board found that a portion of the wing of Facebook's Aquila, a high-altitude prototype drone, detached from the aircraft during its maiden flight this summer. (The Verge)
Researchers at Imperial College London have developed a drone that can both dive into the water and then launch itself back into the air. (Press Release)
The U.S. Naval Air Systems Command issued a Request for Information for a small surveillance and reconnaissance drone with a long endurance capability. (IHS Jane's 360)
The U.K. and France signed an agreement for the next phase of development for the U.K.-France Unmanned Combat Air System Demonstrator Programme. (Press Release)
At the 2016 Air Force Research Laboratory Commanders' Challenge, six U.S. Air Force teams demonstrated their counter-drone systems. (Press Release)
Drones at Work
The Swiss Federal Aviation Office has released an interactive map showing where drone operators can and cannot fly in the country. (The Local)
AirMap will begin issuing digital certificates to its drone users. (PC World)
UNICEF and Malawi's government are exploring the use of mapping drones to assist humanitarian relief missions. (Reuters)
A North Korean news website is claiming that a defector group is planning to use explosives-equipped drones to destroy statues of the country's former leaders. (BBC)
Atmospheric scientists are using drones to measure methane levels at the trade wind inversion over in the South Atlantic. (Spectrum IEEE)
The Somerset County Sheriff's Office in New Jersey has acquired a drone for Alzheimer's patients who go missing. (NJ 1015)
The Stafford County Sheriff's Office in Virginia is planning to acquire a drone. (Fredericksburg.com)
Officials in Bangor, Maine used a drone to assist in the search for a missing man. (Bangor Daily News)
The City of Orlando passed an ordinance restricting the use of drones. (WESH 2)
Scientists at Natural Resources Canada are using drones to map coastal erosion in the Western Arctic. (Local Express)
The Cobb County Police Department is looking to buy a drone for car accident investigations. (Marietta Daily Journal)
The San Diego County Sheriff's Department used its drone for the first time in a standoff in October, reports have revealed. (Voice of San Diego)
A team from Jordan College of Agricultural Sciences and Technology is experimenting with drones to support almond growing operations during droughts. (Mercury News)
Industry Intel
Infosys has invested an undisclosed amount in ideaForge, an Indian startup that aims to use drones for industrial applications. (Economic Times)
The U.S. Navy awarded Metron a $29.8 million contract to advance the development of autonomy in unmanned undersea vehicles. (DoD)
The U.S. Army awarded General Atomics Aeronautical Systems an $80 million contract for the continuation of contractor logistics support for the Gray Eagle system.
A report by Market Forecast predicts that the global military drone market will grow to $13.9 billion by 2016. (Press Release)
For updates, news, and commentary, follow us on Twitter.
[includeme file="tools/sympa/drones_sub.php"]