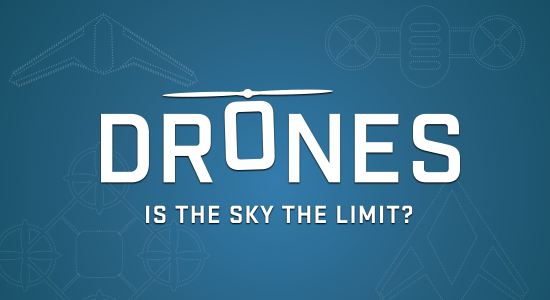 January 2, 2017 – January 8, 2017
If you would like to receive the Weekly Roundup in your inbox, please subscribe at the bottom of the page.
At the Center for the Study of the Drone
We are delighted to announce that we are collaborating with the Intrepid Sea, Air & Space Museum in Manhattan on their exhibition, "Drones: Is The Sky The Limit?" The show, which will bring together dozens of important drones, traces the history of unmanned systems technology, its rapid proliferation, and its expansive future. The exhibition opens in May; more information can be found here.  
News
A 737 passenger jet carrying 80 passengers on final approach to Tete Airport in Mozambique collided with an object that the airline believes may have been a drone. After the aircraft landed safely, ground crews discovered a large dent in the nose cone and determined that it had been caused by a large drone, not a bird. A more thorough investigation is underway. (Motherboard)  
Commentary, Analysis, and Art
At the Orlando Sentinel, Bryan Wynne argues that the Orlando City Council should not adopt new measures that could restrict drone businesses.
At The Intercept, Jeremy Scahill writes that Ibrahim al Banna, the target of a 2011 U.S. drone strike that killed Abdulrahman al-Awlaki, is still alive.
At Just Security, Luke Hartig considers whether the Trump administration may unravel President Obama's policies governing drone strikes.
At the Hill, Lisa Ellman offers three ways that the Trump administration can positively shape the drone industry.
At InterDrone, Christina Cardoza speaks with the CEOs of drone companies about what to expect in 2017.
At Al Jazeera, John Beck looks at how ISIL is increasingly turning to armed drones to carry out suicide attacks.
At TechCrunch, Matthew Lynley reports that the GoPro Karma drone could be fixed easily with a piece of tape, according to GoPro CEO Nick Woodman.
At Bloomberg, the editorial board writes that increasing automation in some industries will require "rethinking everything from immigration to regulation, taxes to social welfare."
At Reuters, Jeremy Wagstaff and Swati Pandey look at the growing number of companies that are developing counter-drone technologies.
At Forbes, five experts weigh in on how companies will manage the large quantities of data generated by drones.  
At Vocativ, Jennings Brown takes a closer look at the Defense Advanced Research Projects Agency's ALIAS program, which is developing systems to turn manned aircraft into autonomous vehicles.
The Digital Forensics Lab takes a closer look at the Russian Forpost surveillance drones that have been downed in Ukraine. (Medium)
At the Harvard International Review, Stephen Goose and Mary Wareham call for greater international cooperation in the campaign the to ban lethal autonomous weapons.
CBS 60 Minutes explores how artificial intelligence and swarms of autonomous drones could "revolutionize warfare."
The exhibition "Eternal Sites: From Bamiyan to Palmyra," currently on show in Paris, brings together images collected by drones as part of an initiative to preserve ancient sites in Syria threatened by ISIL. (PRI)  
Know Your Drone
Amazon has been granted a patent for a system of combining many small delivery drones into a single large flying aircraft with greatly increased range and payload. (Live Science)
The U.S. Defense Advanced Research Projects Agency announced that it has conducted a 56-hour test flight of the VA001 drone, a new endurance record for a diesel-powered unmanned aircraft. (IHS Jane's 360)
Chinese firm PowerVision has unveiled an unmanned undersea vehicle for fishing that can track and lure fish. (The Verge)
Security firm Alarm.com is developing a home security drone that tracks any unusual activities on a property. (Engadget)
Drone startup UVify unveiled the Draco, a consumer racing quadcopter. (Engadget)
Car maker Mercedes-Benz unveiled a delivery van concept featuring roof-mounted drones. (Quartz)
Meanwhile, BMW unveiled a concept for a sedan that can receive drone deliveries on the road. (Dezeen)
Epson has unveiled augmented reality glasses for use with DJI drones. (Unmanned Systems Technology)
A team at the U.S. Army Research Laboratory has developed a 3D-printed drone that can be produced and delivered in 24 hours. (TCT Magazine)  
Taiwan's Industrial Technology Research Institute has developed a fleet management system that allows users to operate multiple drones from any distance. (Press Release)  
In an exercise for the U.S., imagery analysis firm Cogniac demonstrated a software system that can automatically analyze live imagery from a commercial multirotor drone. (UAS Weekly)  
The U.S. Combating Terrorism Technical Support Office is seeking to acquire small drones that can be deployed from the V-22 Osprey tiltrotor aircraft. (Defense One)
Airspace Systems, a U.S. startup, is developing a drone that tracks and ensnares rogue drones. (Bloomberg)
Surveillance camera maker FLIR has unveiled a miniature thermal camera for drones. (Engadget)
In a demonstration, the U.S. Federal Trade Commission showed that it is possible to easily hack into several kinds of hobby drones. (Recode)
Drone maker Zerotech unveiled the Dobby, a small foldable drone designed for selfies. (The Verge)
Drone maker Yuneec unveiled the H520, a professional grade commercial drone. (Techno Buffalo)
Two firms, Geodis and Delta Drone, are developing a system for warehouse inventory using a drone and an unmanned ground vehicle. (Logistics Insight Asia)
The U.K. Royal Navy has been testing a small 3D-printed drone in harsh conditions in Antarctica. (Digital Trends)
Drones at Work
The FAA has authorized the Northern Plains UAS Test Site in North Dakota to perform beyond visual line of sight drone flights. (Executive Gov)
The Halifax Regional Fire & Emergency Department in Canada has acquired two thermal imaging drones for emergency operations. (Commercial UAV News)
Washington State legislators have filed a bill that would ban drone flights over private property.
Officials in Dar es Salaam in Tanzania are using drones to map flood-prone neighborhoods. (Reuters)
Officials in Ponce Inlet, Florida are considering an ordinance to regulate the use of drones in the town. (Aviation Pros)
Norwegian maritime firm Swire Seabed has acquired six unmanned undersea vehicles, which it will use simultaneously  for undersea mapping. (Offshore Engineer)
Industry Intel
At least four law firms, including Glancy Prongay & Murray LLP, Levi & Korsinsky LLP, Kahn Swick & Foti LLC, and Robbins Arroyo LLP, have either filed or are exploring the possibility of filing class action suits against GoPro on behalf of investors who purchased the Karma drone. (Press Releases)
Israel's Flytrex raised $3 million in funding to develop a drone delivery system. (TechCrunch)
Camera maker GoPro announced that it plans to re-launch its Karma consumer drone at some point this year. (Los Angeles Times)
DJI reportedly owns a majority share in iconic Swedish camera maker Hasselblad. (Luminous Landscape)
The U.S. Air Force awarded General Atomics Aeronautical Systems a $24 million contract modification for contractor logistics support services for the MQ-9 Reaper. (DoD)
The U.S. Air Force awarded General Atomics Aeronautical Systems a $56.7 million foreign military sales contract for the MQ-9 Reapers for Spain. (DoD)
The U.S. Air Force awarded General Atomics Aeronautical Systems a $24 million foreign military sales contract for the MQ-9 Reapers for France. (DoD)
The French Direction Générale de l'Armement awarded Thales a maximum $108.8 million contract for up to 210 Spy'Ranger small reconnaissance drones. (DefenseNews)
Leonardo-Finmeccanica has acquired Sistemi Dinamici, the makers of the SD-150 Hero helicopter drone. (FlightGlobal)
Following a deal with Boeing Insitu, Australian engine manufacturer Orbital is looking to establish a factory near Bingen, Washington. (Yakima Herald)
For updates, news, and commentary, follow us on Twitter.
[includeme file="tools/sympa/drones_sub.php"]