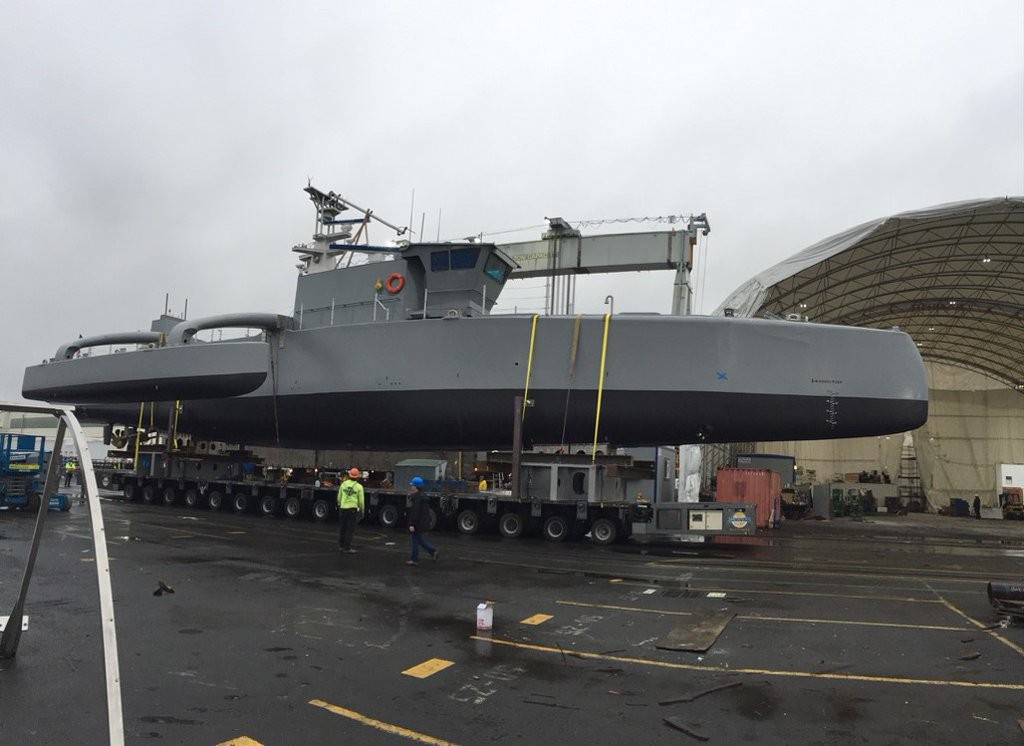 2/15/16 – 2/21/16
If you would like to receive the Weekly Roundup in your inbox, please subscribe at the bottom of the page.
At the Center for the Study of the Drone
In October, the White House announced that it will deploy a Predator drone unit to Cameroon. We have obtained the first photographic evidence of this drone outpost, which was erected in the northern city of Garoua. Here's a close look at what we found.
News
Hillary Clinton was delayed from appearing at a campaign rally in Chicago by a drone flying in the area. Secret Service agents prevented Clinton from leaving her vehicle after a drone was spotted nearby. The alleged operator of the aircraft was questioned by the agents. (ABC7)
The Wisconsin State Assembly passed legislation that imposes a $5,000 fine for anyone who flies a drone over a prison. Before the vote, a provision that would have allowed local municipalities to create "no drone zones" was removed from the bill. The State Senate will now consider the legislation. (Associated Press)
Yasuo Yamamoto, a 41-year-old man who landed a drone carrying a container filled with radioactive soil on the roof of the official residence of Japan's Prime Minister last year, was sentenced to two years in prison. Yamamoto flew the drone in protest against Japan's policy on nuclear energy. (The Japan Times)
A man in Australia is under investigation by Civil Aviation Safety Authority after he crashed a recreational drone at a ceremony at the Australian War Memorial. The individual, whose identity has not been released, could face penalties between $900 and $9,000. (ABC)
Militant group al-Shabab claims that it has seized an armed U.S. drone that crashed in southern Somalia. Among the wreckage were six missiles, according to details on websites that support al-Shabab. In an email to Voice of America, a Pentagon spokesperson denied that any U.S. drones had been lost.
Security forces in Israel intercepted a shipment of camera-equipped drones at the Kerem Shalom border crossing between Israel and the Gaza Strip. According to a statement by the Israeli Defense Ministry, the drones were intended to be used for espionage. (Times of Israel)
Meanwhile, Israeli government officials are denying that the U.S. and U.K. hacked into Israeli drones, contrary to reports published last month by the Intercept and Der Spiegel. Unnamed officials told the Times of Israel that an internal investigation found that the encryption protecting the drone feeds had not been compromised.
A U.S. Air Force MQ-9 Reaper drone crashed at Kandahar International Airport in southern Afghanistan. Although the exact cause of the crash remains unclear, Air Force officials told Reuters that the drone was not shot down.
Commentary, Analysis and Art
At the Washington Post, David Ignatius writes that autonomous weapons were a subject of discussion at the Munich Security Conference, and examines the dimensions of the debate.
Also at the Washington Post, Missy Ryan considers whether the U.S. did in fact kill a leader of al-Qaeda in the Islamic Maghreb in a drone strike.
A report by Ars Technica considers whether a National Security Agency program known as "SKYNET" might have resulted in civilian deaths in drone strikes.
At the New York Times, Michael V. Hayden argues that armed drones are the best option for combating terrorism.
The Armament Research Services published a report on the potential threats posed by non-state actors equipped with small unmanned air vehicles.
In a speech at the WEST conference, Vice Adm. Paul Grosklags, the head of Naval Air Systems Command, discussed the acquisition process for the new unmanned air refueling tanker. (U.S. Naval Institute)
At Rolling Stone, Vegas Tenold takes a look at some former members of the military who are speaking out about their time operating drones.
Meanwhile, "National Bird," a documentary about former U.S. military drone operators who now oppose the program, debuted at the Berlin Film Festival. (ABC News)
At the Diplomat, Robert Farley writes that Chinese military drones are an example of technology espionage on American drone designs and manufacturing.
In a campaign speech in South Carolina, Sen. Ted Cruz promised that he would increase the number of drone pilots in the U.S. military. (The Atlantic)  
At Motherboard, Joshua Kopstein examines the consequences of failing to register a drone with the FAA before the February 19 deadline.
Also at Motherboard, Ryan Faith argues that the push to prevent the development of lethal autonomous weapons is "pointless."
At Defense One, Patrick Tucker examines one way that the U.S. could establish rules for the development of autonomous weapons.
At DefenseNews, T.X. Hammes takes a look the strategic implications of the development of autonomous weapons for the United States.
Also at DefenseNews, Greg Zacharias discusses the development of autonomous capabilities in Air Force weapons systems.
At War on the Rocks, Joshua Steinman imagines a future drone war involving swarms of small drones.
In a speech in Singapore, Tony Tyler, the director-general of the International Air Transport Association, warned of the threats posed by drones to manned aviation. (BBC)
A U.S. Court of Appeals is debating whether drone strikes count as an intelligence activity, which would allow the CIA to withhold information from the public about the targeted killing program. (The Guardian)
At Newsweek, Abigail Fielding-Smith, Payenda Sargand and Jack Serle investigate a drone strike in Pakistan that is believed to have killed civilians.
At TED 2016, Raffaello D'Andrea gives an example of what a swarm of tiny autonomous drones can achieve.
At Slate, Justin Peters takes a look at how drones could actually make conservation more difficult by alienating human stakeholders.
At Drone Wars, Mary Dobbing considers the implications of the U.S. and U.K.'s alleged hack into the video feeds of Israeli drones.
The show "Once Is Nothing: A Drone Art Exhibition," now on view at the Toronto Gallery InterAccess, brings together a diverse collection of artworks that examine unmanned technology. (CBC)
Know Your Drone
Iran's military has unveiled a new version of its Shahed-129 medium-altitude long-endurance drone. (IHS Jane's 360)
Israel Aerospace Industries has developed two new loitering munitions drones, the Harpy NG and the Green Dragon. (IAI Press Release)
The Northrop Grumman MQ-4C Triton has completed the operational assessment phase of development for the U.S. Navy. It will now enter low-rate production. (Defense Systems)
The Russian military unveiled two new larger variants of its Orlan surveillance and reconnaissance drone. (IHS Jane's 360)
The U.S. Army announced that it will test on-demand 3-D printed drones in live exercises early next year. (U.S. Army Press Release)
Singapore company HUS Unmanned Systems has developed an autonomous drone recharging station that it claims could allow continuous flight operations for months at a time. (Slash Gear)
Meanwhile, ST Aerospace, another Singapore-based company, has unveiled an unmanned hybrid vehicle that can both fly and swim. (Shephard Media)
A team at the University of Southampton announced that it has conducted successful flight tests of a drone with membrane wings inspired by bats. (Discovery News)
The U.S. Defense Advanced Research Projects Agency has released a photo of its Anti-Submarine Warfare Continuous Trail Unmanned Vessel, a large naval drone that will begin sea trials in April. (Voice of America)
Drones at Work
Security forces in Kashmir deployed a small drone during an operation against militants who stormed a government building. (Greater Kashmir)
A labor union in Philadelphia is using a drone to monitor its protests from above. (Slate)
Mexican drug cartels are reportedly using drones to monitor stretches of the U.S. border. (Fox News Latino)
The Afghan military is set to begin using ScanEagle unmanned surveillance and reconnaissance aircraft in March. (Reuters)
A camera-equipped drone glided over a field filled with giant busts of U.S. presidents. (Mashable)
A U.K. drone firm achieved the first quadrotor drone crossing of the British Channel. (Drone360)
The government of Singapore is testing drones for delivering urgent items such as documents. (GovInsider)
Industry Intel
The Spanish Ministry of Defense awarded General Atomics Aeronautical Systems International a contract for four MQ-9 Reaper drones. The contract is estimated to be worth $243 million. (FlightGlobal)
The U.S. Navy awarded Northrop Grumman Systems Corp. a $15.2 million contract to replenish manufacturing materials for the MQ-4C Triton. (Contract Announcement)
Strat Aero received a $26,000 contract from Westar Energy, an electricity provider in Kansas, to use drones to inspect 53 wind turbines. (Windpower Engineering & Development)
UMS Skeldar, the Sweden-based manufacturer of helicopter drones, is anticipated to make its first sale of the Skeldar V200 drone to a customer in southeast Asia. (DefenseNews)
The U.S. Navy is looking for customers to purchase surplus MQ-8B Fire Scouts, an unmanned helicopter. (DefenseNews)
For updates, news, and commentary, follow us on Twitter.
[includeme file="tools/sympa/drones_sub.php"][/fusion_text]